Andrzej Sapkowski on the Mythologies Behind The Witcher
A Few Questions for the Author of a Global Blockbuster
Andrzej Sapkowski studied economy and business in his native Poland, but quickly found his way to the writer's life with the success of his fantasy cycle about the sorcerer Geralt of Rivia. The Witcher series has inspired both a popular video game and a successful Netflix adaptation.
*
Lit Hub: What kind of mythology did you draw on to create the world of The Witcher?
Andrzej Sapkowski: It would be easier to name the mythologies and cultures I DIDN'T draw on. Because there were—just to mention a few—Slavic mythology: vampires, leshies, kikimoras, vodyanoys. There was the Germanic Wild Hunt. The Portuguese bruxa. The Arabic ghul. The Scottish kilmoulis. There were dryads from Greek myths. Paracelsian gnomes. The Japanese kitsune or fox woman. There was the little mermaid, i.e. Hans Christian Andersen. There was Snow White by the Brothers Grimm. There was Jeanne-Marie Leprince de Beaumont's Beauty and the Beast. Elves and dwarves are—let's say—Tolkienesque. You could say it's quite an eclectic cocktail. But that was the modus operandi I adopted.
LH: What time of day do you write?
AS: In the morning. If we can agree that 11 o'clock is the morning. And why? Because it suits my lifestyle.
LH: How do you tackle writer's block?
AS: Writer's block is overrated. The term was invented and established by lazy writers who didn't feel like writing and needed to find an excuse to use with agents and publishers. But the truth is that there's always some work to be done with a book, even if you don't feel like writing. You can correct what you've already written; corrections never do any harm. You can do research, study source materials. You can read the competition's books—not to steal their ideas, but to be familiar with current trends and to find the right course to steer among them.
LH: Which book(s) do you return to again and again?
AS: When I was a little boy it was A. A. Milne, Winnie the Pooh. When I was a teenager it was Alexandre Dumas père, The Three Musketeers etc. And all of Jules Verne. When I was a student, it was Lem and Tolkien. Later there were Umberto Eco and Arturo Pérez-Reverte. And after that there were no books I returned to again and again. Reading them once was enough. And that's how it is today.
LH: Which non-literary piece of culture—film, tv show, painting, song—could you not imagine your life without?
AS: Non-literary? That would probably have to be whisky.
LH: What's the best writing advice you've ever received?
AS: No one has ever advised me about anything that might have come in useful. Perhaps because I never asked anyone for advice. A few people did indeed try to advise me, but their advice was stupid, so I ignored it. There were also people whose advice I would have listened to and from whom I expected it. But they kept quiet.
LH: What was the first book you fell in love with?
AS: First there was Winnie the Pooh, A. A. Milne. I was around seven then. A little later there was Karl May and Winnetou, and at the same time James Fenimore Cooper's The Last of the Mohicans. And why? Who knows? The question was about falling in love. But does anyone know why they fell in love? And is able to articulate it?
LH: Name a classic you feel guilty about never having read?
AS: I have to confess that several—or even a dozen or more—classics bored me so much I didn't make it through to the end. I put them on a shelf, in a conspicuous place, so that everybody would know I had them. I'll go further—they even included them classics from my genres: SF and fantasy. But did I feel guilty about it? Not in the slightest. After all, they bored me—so they were the guilty ones. QED.
LH: Is there a book you wish you had written?
AS: Well, The Bible. Owing to the number of editions and translations into foreign languages. But seriously: The Name of the Rose. It's an incredibly wise, incredibly compelling and splendidly written book. A rare combination.
(translation by David French)
__________________________________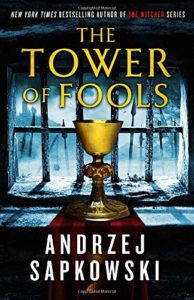 The Tower of Fools by Andrzej Sapkowski (trans., David A. French) is available now from Orbit Books.
---