Oh boy. Today, Crown, an imprint of Penguin Random House, announced that they would be publishing New York State Governor Andrew Cuomo's American Crisis on October 13th. The publisher describes the book as "a revealing, behind-the-scenes account of his experience leading New York State through the COVID-19 epidemic . . . an important chronicle of this unprecedented moment in history, an urgent assessment of the factors that have and continue to impede our national response to a devastating health and economic catastrophe, and a powerful testament to true leadership in times of extreme crisis."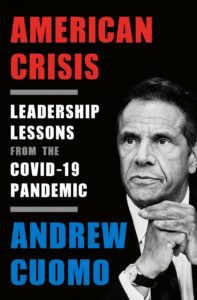 If it all seems a little, um, soon to you, and if you think probably Cuomo should be concentrating on things other than writing a book about how great his leadership has been while people are still dying (albeit more slowly, for now), you're not alone:
I mean the one consolation is that he's surely not going to be the one actually writing it, right? He's just also not gonna fix that other stuff

— Jess Zimmerman (@j_zimms) August 18, 2020
The true fact that he probably will not write any of it himself may console you, or it may not.
i think most people understand he didn't sit down and write it himself but it's still galling imo!

— Brandy Jensen (@BrandyLJensen) August 18, 2020
Especially if it all has the self-congratulatory tone as this excerpt: "The questions are what do you do with the fear and would you succumb to it. I would not allow the fear to control me. The fear kept my adrenaline high and that was a positive. But I would not let the fear be a negative, and I would not spread it. Fear is a virus also."
One thing we can all agree on: TOO SOON, CUOMO.