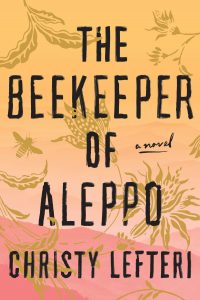 The Aspen Institute has just announced the winner of their 2020 Literary Prize: Christy Lefteri, for her novel, The Beekeeper of Aleppo, which tells the story of Syrian refugees in Great Britain. The Aspen Words Literary Prize was established to celebrate a work of fiction that spotlights a vital contemporary issue. The Beekeeper of Aleppo was inspired by Lefteri's time as a volunteer at a refugee center in Athens.
The head of the judging panel, Esmeralda Santiago, said: "With the first sentence, 'I am afraid of my wife's eyes,' we enter a world too visible for the protagonists who can't, nevertheless, turn away. How do human beings process the horror around them, the senseless violence, the loss of what we hold dearest? Is it possible to ever feel safe, to love, to appreciate beauty? Christy Lefteri asks these questions of her characters, and ultimately, of us."
In lieu of the usual celebration at the Morgan Library in New York City, there will be a virtual day-long event, celebrating Christy Lefteri and the other finalists: Brian Allen Carr, Nicole Dennis-Benn, Valeria Luiselli, and Bryan Washington. You can tune in here.