I will never forget the first and only time I visited Shakespeare and Company in Paris. I was 18. I was lost—no, not in the metaphysical, poetic angst way. I was actually, literally lost. (Ask anyone who knows me: I cannot read a map or follow directions to save my life. It's a miracle I made it back from France!) My family and I had been at Notre-Dame. My mom loves cathedrals. (My dad and younger brother? Not so much. I believe, after the tour, they went in search of a McDonald's. Yes, they were those Americans. Uncultured swine! I surely thought as I set out to have a Very Literary Experience in Europe.)
If you look at a map of Paris, you will see very plainly that Shakespeare and Company is ridiculously close to Notre-Dame. Right across the Seine. All you have to do is walk over a little overpass, which is to say the two are basically right across the street from one another. Google Maps clocks it at less than a 6-minute walk, door to door. (In my defense, we opted not to get the roaming data plan. I was on my own.) I spent a good half hour circling Notre-Dame, wandering off into side streets, utterly incapable of locating what was, to me, the second-most important thing to find in Paris. (The first was baguettes. I found those, no problem.)
I know this is going to sound so cheesy, but I swear it's true: then I heard music. A lone violin! It was playing "Hallelujah," which was my favorite song (which is to say I watched a lot of Shrek as a kid). I followed the sound, and then there it was: Shakespeare and Company, in all its glory.
Now, I had seen it in the movies. For instance . . .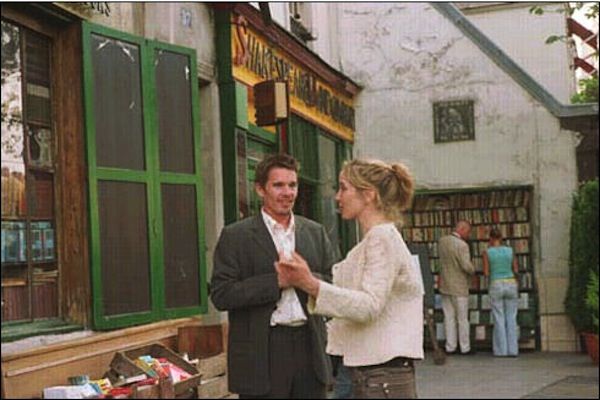 Ethan Hawk on a fabulous European book tour charming his lost love, Julie Delpy, in Before Sunset.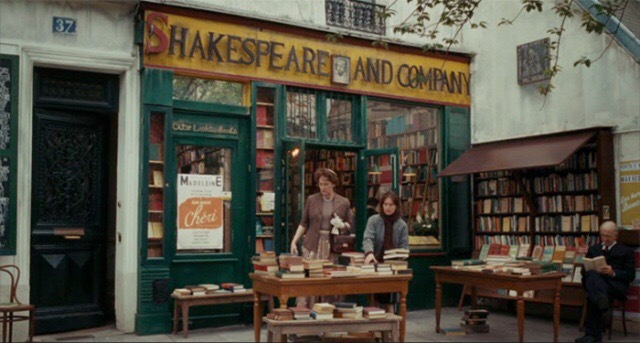 Meryl Streep, lamenting the fact that there are no books for Americans wanting to learn the art of French cooking and thereby swearing it to write it herself, in Julie & Julia.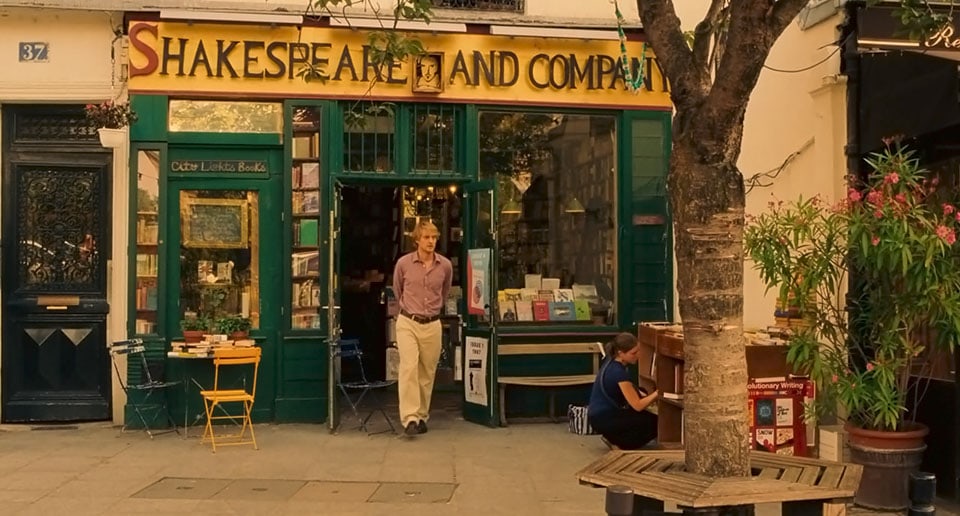 Owen Wilson being a straight white male writer in Midnight In Paris.
And I had loved these movies dearly. They made promises about how romantic being an artist could be. They showed me a life that, surely, my own family eating Big Macs and fries somewhere would not understand. I was primed for this moment. I stepped inside the Shakespeare and Company and was delighted to find, littered about the store, photographs of Audrey Hepburn (my favorite actress at the time!) and typewriters (my favorite obsolete object!). Obviously, it was all a sign! I, having just completed my freshman year at a liberal arts college with all my literary hopes and dreams before me, was destined to be standing in this very bookshop, which is to say I was destined to be a (big eye roll, cue vocal air quotes) Writer. It's like when your favorite song comes on the radio, and you think it's being played just for you when in reality you are just like every other stupid 18-year-old alive. No, you are not special.
Case in point: I heard a young woman somewhere behind me exclaim, as she walked in, "Oh! Audrey Hepburn—she's my favorite." And another: "Look at these typewriters!! Take a picture of me with this one!" Which is to say I am just like all the other 43,000 English majors in America who would nerd out about this place. Good!
But isn't that sort of the point of Shakespeare and Company? That it offered a safe haven, a warm bed, a refuge from the rain. It's a place writers go to meet writers. It's where you might've spotted Gertrude Stein and Hemingway and T.S. Eliot on the weekend. It's where founder Sylvia Beach crossed paths with James Joyce, an encounter that gave birth to Ulysses. Like my favorite (here we go again) writer Jeanette Winterson says, it's still "busy like the book has just been invented and everyone wants one." Yes, there's still a novelty to it. But the best thing about it is that even though, when you walk in, you might get that just for me feeling, it was really made for all of us, and isn't that much better?