An Oral History of the Landmark Magazine for Trans Men That Became a Movement
Amos Mac and Rocco Katastrophe on Original Plumbing
Ten years ago, Barack Obama was in the first year of his presidency, the Facebook "like" had just been invented, and Amos Mac and Rocco Kayiatos were friends living in San Francisco. Kayiatos, fresh from traveling the country as a hip-hop and spoken word artist, was getting ready to settle for a bit when Mac, a photographer working at a production company, brought up the idea of creating a zine for trans men—the kind of cultural space they had each struggled to find on their own—composed of portraits and interviews where they could be funny, forthcoming, and honest about their lives in ways that transcended the narrative of medical transition that was often at the forefront of trans issues in popular media.
Ten years later, after a self-taught crash course in InDesign, countless trips to the post office, and at least one bureaucratic crisis with PayPal, Kayiatos and Mac have released the 20th and final issue of Original Plumbing, which grew from its initial concept to a gathering point for trans men in communities around the country. This month, Feminist Press released a book gathering highlights from their decade editing the magazine.
Here's how they did it.
*
What was going on in both of your lives at the time you decided to start Original Plumbing in 2009?
RK: I started my transition about, a little less than a decade before the magazine started, and subsequently I'd already been performing. I went on a Sister Spit tour as a teenager, found out that trans men existed, and then began my own path to figuring out how to do that myself in what I consider to be the trans dark ages. Because the internet didn't really exist, social media didn't really exist, and there were a scant few publications that depicted what a trans man was, even. Like, Google wasn't even an option to go to, it was Ask Jeeves and there were only a couple of websites to show me that trans men existed.
I was about to take a bit of a break from everything. Amos and I had met a decade before the magazine started, and he had just moved back to San Francisco where I was living and we reconnected and he was doing a photo project and asked me to be a part of it. Through that, we started brainstorming and talking about the small pockets of trans male communities that were popping up everywhere, that I got to see as a result of traveling and performing, and how this could be bigger than just one zine, it could be a larger project. To be honest, I was really wrestling with stepping away from being on the stage as a trans person and being part of a larger trans community. I was looking at real estate in North Carolina and imagining what it would be like to not have a trans identity, or to be more stealth, and then this happened.
"I was super inspired by BUTT magazine, so I think going into it, I was like, it's going to be a sexy magazine."
AM: I had just moved back to San Francisco and I was trying to connect with and document the trans male community local to San Francisco at the time. I was very inspired by BUTT magazine, which was an artistic gay male zine that was found in independent bookstores but also in museum bookstores, it straddled this line of artistic queerness and also zine culture, so feeling inspired by that, I was photographing and wanted to interview the trans men that I was photographing to kind of put their voices next to their photographs. I had the idea of making a photocopied zine or doing a little one-time, one-off zine that spoke to the trans male experience in San Francisco at the time, and when I was photographing Rocco we were talking about it and brainstorming and he had great ideas. We just ended up making something much bigger.
Also, we didn't think very hard about it before jumping in. [laughs] Right, Rocco? We just did it.
RK: Yeah not at all, yeah. Having been written about, for making music and touring for almost a decade leading up to OP, I was so exhausted by well intentioned cis people asking me where I was at in my medical transition when I was releasing an album and it was pretty irrelevant. So the idea of something like Original Plumbing being a home to people's stories beyond their trans-ness was a huge motivator to me. We had no idea what it would be and it was instantaneously received with an outpouring of excitement from all over the globe. Amos was on tour, right? You were on tour with Sister Spit.
AM: Yeah, I was a last-minute addition to an international tour for Sister Spit and we had sent the magazine, the first edition, to the publishers in Oakland. We used 1984 Printing, a punk rock printer in Oakland. We built a Facebook page, and then I made a few stickers for the tour because I realized I wasn't going to have the zine in time to sell it. I made an OP sticker with the logo and then also one that said "scantily clad tranz" with a z. For the first edition, we were very focused on sexuality and less clothing on the models. I was super inspired by BUTT magazine, so I think going into it, I was like, it's going to be a sexy magazine. [laughs]
RK: Which it was, and is, and continued to be, but less specifically.
AM: Right. So then I was in Germany and something happened with the PayPal account, Rocco, right?
RK: Right. We had set up a preorder with PayPal in Amos' name, and because he was traveling internationally I had to deal with PayPal trying to shut our account down because they thought there was fraudulent activity because we got so many orders so quickly. And we couldn't prove that it was an actual product that we were selling or providing people with, because we didn't have the physical magazine. I had to pretend to be Amos and give all his information and deal with PayPal.
*
Did it work?
RK: It did, but it was a challenge. It was three or four go-rounds, and a couple weeks of them ironing it out and trying to stop sales as a result of us not having a physical copy to prove. We had to send the sticker before the magazine came out, just to prove that it was an actual business. [laughs] I think we're still trying to prove it's an actual business.
AM: Only to ourselves.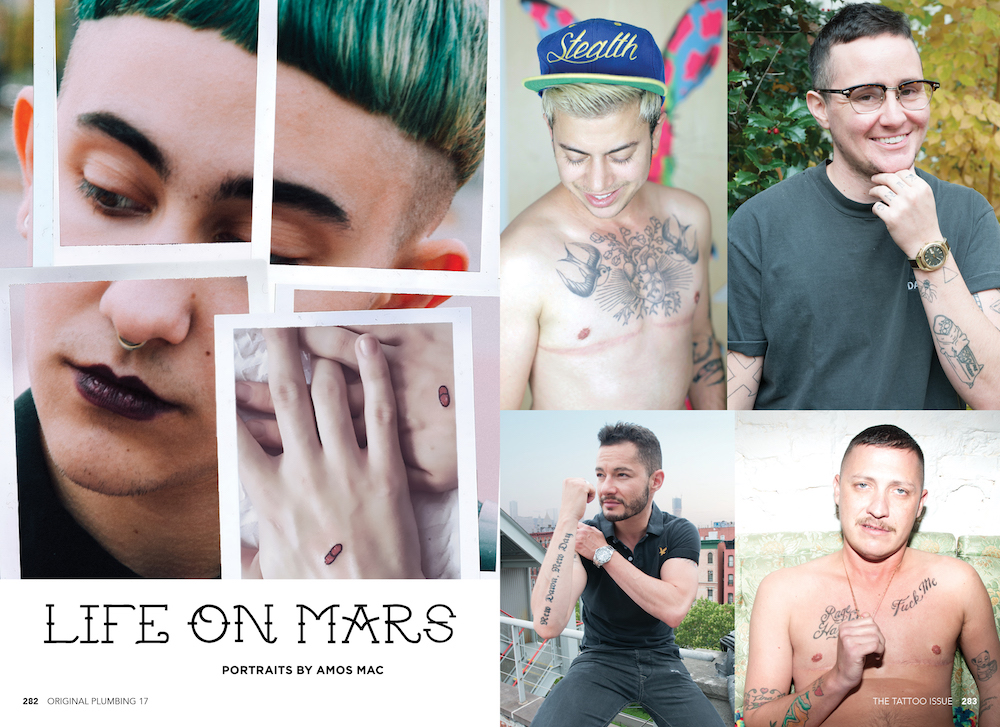 *
How did you go about printing the first edition?
AM: I did the layout.
RK: But even the layout! I think that's a good place to start—
AM: Oh my god. [groans] I taught myself InDesign, you know, the thing that lets you lay out magazines, and I went, like—my eyes were like black squares by the end of it. I was just trying to figure out how to lay out a magazine and it was not pretty, mentally. But I did it, I tried my best and it came out pretty good. People were impressed that it wasn't like a photocopied thing when they got it.
RK: The other piece of it is that it was a little nerve wracking—to have all of these scantily clad trans men, and a lot of printers wouldn't print something like that. So finding this punk East Bay press that really aligned with what we were doing and supported it, and were proud to have their brand aligned with Original Plumbing, was not easy. We solicited our friends who also made punk zines at the time and were printing things ourselves. Before we got that recommendation, we had called around and people were like, eh, I don't think that's a good fit. We were like, there's butts, there's frontal nudity, and they were like, yeah, we're not gonna print that. [laughs] Do you remember that?
AM: I don't, but I do remember the process with 1984 Printing and I remember being like a page off or something and Amy responding and being like, so you have a blank page, which I didn't realize. I didn't really understand how the pages worked, I just didn't get it, that the cover was one file and the inside of the magazine was another file—it was all very self taught. And then they printed it, we picked it up, maybe we rented a car to pick it up, like a ZipCar—
RK: And then we hand wrote and hand mailed every single one.
AM: Oh my God. [laughs] We couldn't even figure out, or maybe we just didn't want to, how to cut and paste—a way to print all of the forms. We literally hand wrote hundreds.
RK: We never figured out how to do electronic postal stamping, so all 20 issues were mailed individually stamped. When we were in San Francisco, we went to the same post office over and over again and had the same postal workers who were exhausted by us, couldn't believe that we were doing this quarterly, and so horrified to see us walk through the door each time. Each time they would give us the same spiel of, you know you can do this online now, and we were like yeah, we can't figure it out. [laughs]
AM: They would walk us through it, and we would be like, we don't get this. We eventually did get a stamping printer in New York and that lasted for about six months.
"People came out. It was jam packed. So many trans guys, shirts off, celebrating themselves, celebrating the community."
RK: There was one person who was generous about it, but it would take them hours to go through it, because it wasn't just national shipping, it was international shipping. In the very beginning, like I want to say the first three or four issues, we would just individually mail them, and we didn't even know to buy stamps and stamp them ourselves and just drop them off. The postal workers were going through each and every thing, weighing it, and stamping it, because it all weighed different amounts, too, because there would be stickers or other things in it. We were a nightmare. In Brooklyn in particular, people were less patient, and there was one woman who would, multiple times, shook her head and said, "Why would you do this to me? Why would you do this to me?"
*
What sorts of reactions did you get to those first few issues?
AM: Really positive stuff. It was not just trans men who were excited. It was allies, it was people who dated trans men who were super excited, people who were building community with trans men in cities, but then also folks in rural areas and internationally who were over the moon about the fact that this existed.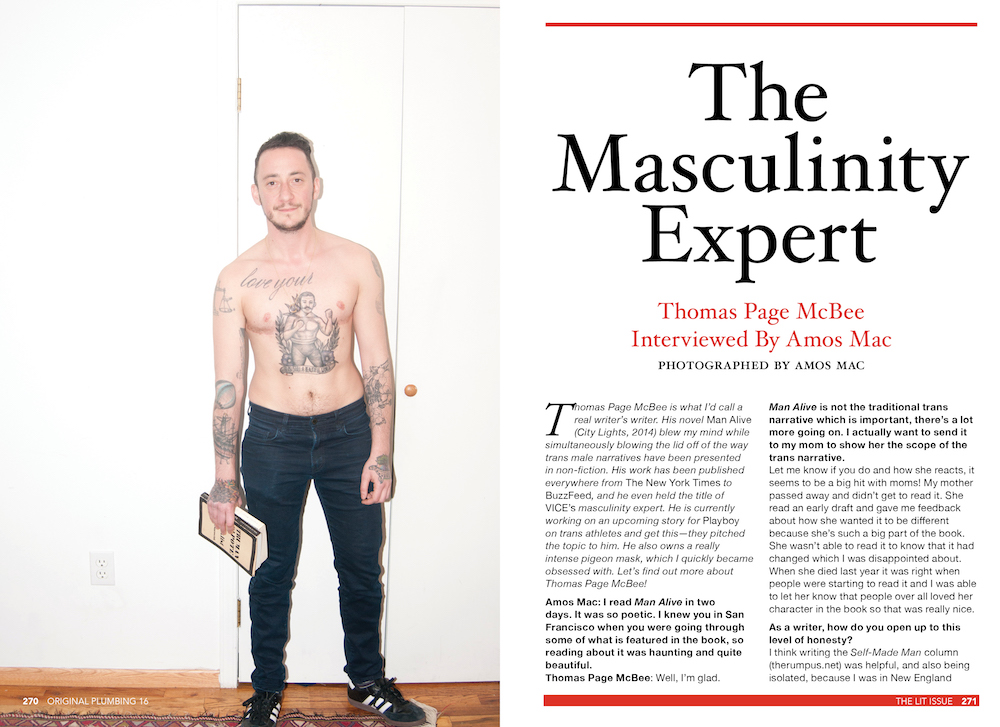 RK: It felt like a really blessed and magical project from the get go. We started having release parties. We had a benefit party that really helped us pay for the first issue in San Francisco, and then New York saw pictures from that on Facebook and someone reached out and said we want to throw a release party for what, issue two, was it? Or was it the first issue?
AM: I think it was for the first issue but it was later in the fall.
RK: People came out. It was jam packed. So many trans guys, shirts off, celebrating themselves, celebrating the community. I had been around trying to figure out where I fit as a trans guy for almost a decade and OP created that space. I think in part the decision to make a print magazine forced people to not be online. It was this tangible piece of art that celebrated the community and they wanted this component that was actually having a moment together around it. OP parties became really associated with the overall lifestyle experience that OP became.
AM: At the New York event, there was so much press. There were people from multiple magazines and New York newspapers reporting on it. It was at Sugarland in Brooklyn, which used to be called Capone's, which was a bar that had pizza if you bought a beer.
*
How did your editorial process change over time?
AM: In the beginning, it was really like, who was around? Who did I know? Rocco was one of the first people I photographed for the first issue, and then, who's interested in sharing their story in San Francisco and who wants to be photographed, who wants to be part of a fun project. … Rocco knew so many people outside of San Francisco, it was about like, let's figure out, we made a list of themes. Because I love a theme. So every issue had a theme, it was like, let's figure out who we know where, and how they could possibly fit into one of these feature themes. And it was going from there and reaching out to those people, and sometimes doing an open call and asking for submissions.
RK: And once we started traveling with the magazine too, we were able to take pictures at, like, the Philly Trans Wellness Conference, or guys in New York when we were there. Anytime we were somewhere else, we were able to get access to people in those areas.
AM: The Philadelphia Trans Wellness Conference was something where, really young kids we watched over the years transition. Jazz Jennings, we saw as a 5-year-old. I remember that being the first time teenagers would come up to us at the table and converse with us about how the magazine has helped them. And doctors, and therapists who would approach us and thank us. My mother is in the Philadelphia area so she would join us at the health conference at the table and help us out and talk to the kids, and sometimes oversharing with the kids. [laughs]
RK: We'd come back from lunch, and she'd be telling childhood stories to people who were fans of the magazine.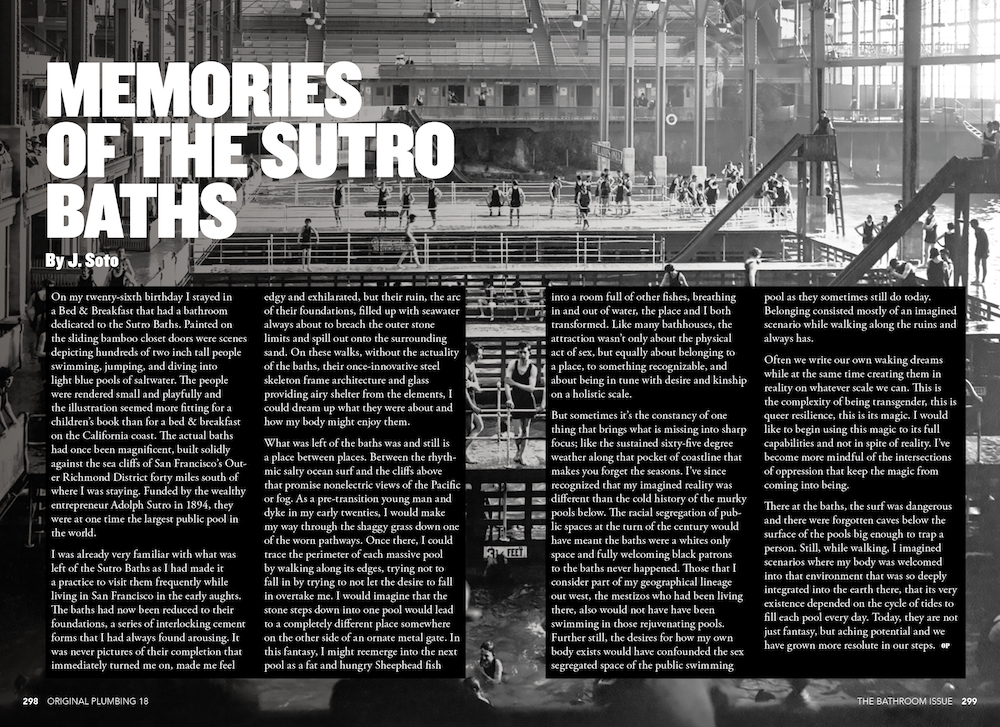 *
What led you to the decision to stop putting out the magazine?
AM: Honestly, I feel like it's been a long time coming. We promised to do 20 issues at a certain point and it took a very long time to get the final couple of issues out, but it was something that we had decided would be a way to close it off. Our lives have changed and it's hard to spend so much energy on something that does not financially sustain you after a certain number of years.
"I really wish something would step into this space and be created for trans men exclusively in the way OP did."
RK: Ten years ago was a really different moment for the trans movement and trans visibility in general. I think with the onset of so much representation and the focus being social media, that community itself has shifted and the community's desire to connect looks really different right now. I really wish something would step into this space and be created for trans men exclusively in the way OP did.
I know I'll always want to work in some capacity for better or worse for the trans male community but you gotta step away and recharge yourself in order to be able to do work like this. Working in and for a marginalized community, you get burned out being front facing and it's really important to make sure you're taking care of yourself so you can continue to do the work.
AM: I think it's important for the book to exist. It represents a piece of history. It doesn't feel like goodbye either, because it feels like this project is cemented in my life, cemented in my career, it's given me opportunities that I never imagined. It feels like a beautiful way to close.
---