"An Open Heart, Armor Down." Maud Newton and Ann Leary in Conversation
On Motivation, Family Histories, and Sleuthing Talents
When Maud Newton's Ancestor Trouble was released, I couldn't wait to get my hands on it—what a title; I devoured it. It's beautifully written and fascinating. My new novel, The Foundling, was published shortly after hers, and I was thrilled that we were able to do an author event together at The Center for Fiction in Brooklyn. I always love getting to know other authors, but I was especially interested in meeting Maud.
Ancestor Trouble is a memoir, The Foundling is a novel, but both were inspired by things we'd discovered about our families and their histories. Maud and I are both avid genealogy sleuths and like many others, we have a few troubling ancestors. After our event, we had the wonderful opportunity to continue our conversation for Lit Hub, and we discussed not only our books and our favorite authors, but also, eugenics, intergenerational trauma and the ethical dilemmas all authors face when writing about our families.
–Ann Leary
*
Maud Newton: One preoccupation we share is with the history of eugenics in this country and its intersection with institutions where women were locked up for all kinds of reasons. Your grandmother was raised in an orphanage and later went on to work in the institution that became the basis for your new novel, The Foundling. I bet I'm not the only reader who'd love to know how you unearthed this history, and when you knew that you wanted to write about it.
Ann Leary: Like you, I joined Ancestry.com years ago with lots of questions about my ancestors, but unlike you, I didn't have much in the way of anecdotal information from family members. My mother doesn't talk about her childhood. I last saw the grandmother who became the muse for this novel, when I was eight, but I was always curious about her. I knew she was raised in an orphanage, but I didn't know what happened to her parents so I thought I'd find her birth certificate or orphanage on Ancestry. As it turned out, I didn't.
I did learn that at age 17, according to a 1930s census record, my grandmother was working as a secretary at a place in central Pennsylvania called Laurelton State Village for Feebleminded Women of Childbearing Age. I thought it was a home for young women with intellectual disabilities. It was actually a eugenics asylum—one of many in this country at that time. It was a large institution/work farm where girls and women, deemed "mentally and/or morally unfit," were confined during their fertile years. If a girl was sent there at age 14, she would not expect to be free until she reached menopause.
So, finding out more about the institution, the women confined there, and the fascinating female doctor who ran it became a decade-long obsession. I knew early on that I would write about it and I prefer writing fiction, so I focused on a few people who caught my imagination—one being my grandmother—and came up with a story that was informed by them and the things I'd learned about the asylum.
I loved Ancestor Trouble, and was really fascinated with your grandmother and other colorful characters in your family. What advice do you have for aspiring memoirists who want to write honestly about their families, but worry about alienating relatives who feel ashamed when it comes to the sins or sorrows of their ancestors?
MN: That's a great question. My mom and my Texan granny modeled a kind of honesty for me. I was a preteen when Granny told me that her sister had died in a mental hospital and warned me to be on the lookout for signs of mental illness in myself. So it probably helps that the maternal side of my family never seemed to be big on secrets. Truth be told, my my motivations for writing about my family were complicated, but by the time I was working on Ancestor Trouble I was already in my 40s, and it was important to me to write in a spirit of openhearted honesty, not out of any desire to get even with or embarrass anyone, not out of a nihilistic desire to shock or expose difficult things just for the sake of exposing them, but out of a desire to free myself of toxic secrets in the hope that my experience might resonate with and even be of service to other people wrestling with similar family histories and how their families connect to deeper problems in this country.
I didn't want to cause pain for anyone in the course of sharing my story, although that's always a risk. Now, with the book in the world, some of my family members might be less than thrilled about its existence, and I'm available to hear any feelings or objections they might have. I view that as part of my obligation in publishing the book, approaching any conversations around it the same way I wrote it: with an open heart, armor down. But I have a clear conscience about my motivations and did my best to proceed ethically.
At our event with the Center for Fiction you asked me to describe some of the parts of Ancestor Trouble that delve into intergenerational trauma. And you also mentioned that aspect of my book in your New York Times By the Book interview (thanks!), so I know it's a preoccupation we share. I'm very drawn to books on the subject and recently read Stephanie Foo's What My Bones Know. Can you talk about your own interest and how it connects for you (if it does) with Mary's parents and her difficult childhood?
AL: I'm dying to read What My Bones Know. I'm currently reading and loving Ed Yong's An Immense World, so I'm thinking a lot about the evolution of senses in various species and I suppose intergenerational trauma must have a Darwinian component. It's not enough to just see a parent react in a fearful way to a threat. We need to have something in our genetic makeup that makes us react the way an ancestor did to something that might not really be a threat in our modern environment. I've been around horses and dogs most of my life and have always been very interested in their behavior.
Many horses are reactive to hoses or ropes being dragged along the ground until they learn that they're not dangerous. I guess (and have heard horse-folk say) that this is because horses are born with a fearful reaction to snakes, though many will never be bitten or have a parent who has been bitten by a snake. But many generations ago, their desert-dwelling ancestors would have been bitten by snakes, the bites would have caused them pain or made them lame and that trauma was absorbed into their DNA somehow, and now their pampered descendants are still freaking out when they see a rope uncoil.
I immediately thought of this while reading Ancestor Trouble, which is a memoir but includes fascinating scientific research on eugenics, neuroscience and especially, heredity and genealogy. You kind of zoom your lens in close on your family, then pull back to reveal a broader landscape. I also love a fellow genealogy nerd.
MN: You and I have both spent many late nights combing through the census and death certificates and newspaper archives. It's been comforting to me at times when I've gotten lost in an obsessive research alleyway to remember that lots of people are as drawn to genealogy nowadays as we are.
AL: My mother never talked about her childhood and I was never close enough to my father to learn much about his family. So no oral histories, really. I've discovered things about close relatives in newspaper archives online. I've found relatives who were criminals, others who had tragic deaths. Some are alive but we've never met. I have living family members who know about these people and events but I was never told anything about anybody because I think my family has intergenerational shame—if that's a thing. I suffer from a sense of curiosity that is almost painful at times and it drives me insane that nobody in my family remembers anything until I show them a newspaper clipping with a jarring headline.
MN: Oof, even with the… plethora of information I have about my own ancestors, I really relate to that almost painful curiosity, and I can imagine how the lack of oral histories would wear at you. Did imagining your way into the institution at the center of The Foundling and constructing it in such intricate detail, and putting a character based partly on your grandmother into that world, help satisfy any of that itch to know?
AL: In some ways it did. I learned so much about the lack of agency of all women in the early 20th century, and how precarious it was to be a young woman with no money or family like my grandmother. Women could vote after 1920, but they still had the legal status of children. Fathers or husbands made financial and other decisions for grown women until the mid-20th century and later. If a woman had no husband or father, the government served as her legal guardian, making decisions about her right to marry, have children or even to live freely in her community. So my grandmother's vulnerability and early traumas including the loss of her mother probably contributed to the struggles she later developed with her mental health.
But I still want some damn facts. I don't know what happened to her mother but I'm working on it.
MN: I have confidence in your sleuthing talents! We're both drawn to parts of our family histories that historically people prefer to keep secret. Do you think people are becoming more willing to talk about difficult or harmful histories of their ancestors?
AL: I hope so. I love what you said earlier about being mindful of one's motivation and trying to avoid judgment or blame when writing a personal essay or memoir. I have a hard time fully trusting an author when bitterness reveals itself in autobiographical material. You managed to maintain the same tone of honesty and openness whether you were writing about lab mice or your southern family's history of slave-ownership and the lingering damage that remains, generations later, in the psyche of your father who is an unapologetic racist.
You had Ancestor Trouble, for sure, but your personal story is very relevant and important today, with our persistent struggles with racial injustice and the rise of white-supremacism. The recent Supreme Court overturning of Roe v Wade really felt, to me, as if women were stripped of our hard-fought "adult" status again. The government feels entitled to make decisions regarding our sexual activities, personal health and freedom much like they did a century ago. So, I do hope more people will research and write about their own families, if only to try to illuminate the darker parts of our personal and national history and hopefully keep them in the past, where they belong.
MN: Before our event, I went back to your other novels. Hildy, the protagonist of The Good House, is descended from an accused Salem witch (which struck me on this reading for maybe obvious reasons). It's not a major plot point but it adds to the spooky vibe of the novel, a vibe that also, in a different way, permeates The Foundling. Does the atmosphere of your novels tend to flow naturally from story and setting, or do you consciously cultivate it?
AL: If I'm having trouble setting the scene or mood, I read poems.
MN: That's such a great technique. I learned from your New York Times interview that we share a love for Roethke and that we've both been drawn at times to the work of Muriel Spark, Mary Shelley, Toni Morrison, Edith Wharton, Shirley Jackson, Raymond Carver, Dorothy Parker, John Cheever, D.H. Lawrence, Theodore Roethke, and probably more. Are there particular novels or novelists that you returned to while working on The Foundling?
AL: I did reread Muriel Sparks' The Prime of Miss Jean Brodie while writing The Foundling. I was really interested in the dynamic between the girls and Miss Brodie—it helped me with the Dr. Vogel character in my book. I turn to Roethke when I'm struggling to describe elements of the natural world and how a character is influenced by the subconscious. If you read a scene I've written that involves the woods, the water, lust or dread, it was probably inspired by Roethke. I'm smiling as I type this, I guess if there was one person I would have liked to have met before they died it would be him. I love that you and I are drawn to the same authors. I think we both had childhoods that had some danger and darkness but we also had funny, quirky, intelligent mothers, so maybe that explains the Muriel Spark, Shirley Jackson… wait, did we mention Patricia Highsmith? Her too.
________________________________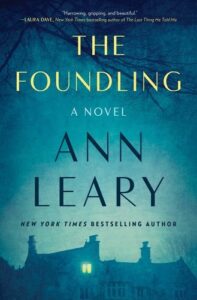 Ann Leary is the New York Times bestselling author of a memoir and four novels including The Good House. Her work has been translated into eighteen languages, and she has written for the New York Times, Ploughshares, National Public Radio, Redbook, and Real Simple, among other publications. Her essay, "Rallying to Keep the Game Alive," was adapted for the Amazon Modern Love television series. She lives with her husband in New York. www.AnnLeary.com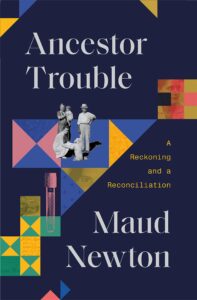 Maud Newton is a writer and critic. Her first book, Ancestor Trouble: A Reckoning and a Reconciliation (Random House, April 2022), has been called "a literary feat" by the New York Times Book Review and a "brilliant mix of personal memoir and cultural observation" by the Boston Globe. Excerpts from the book have appeared in Esquire, Time, and the Wall Street Journal. She has written for The New York Times Magazine, Harper's, Oxford American, Harper's Bazaar, and more. Maud grew up in Miami, lives in Queens, and has degrees in English and law.
---