An Op Ed by e.e. cummings in Which He Has Had Enough of France
"America may be going to Hell but at least she isn't standing still!"
The following is from the May, 1927 issue of Vanity Fair.
*
Like all vogues, the current pro France or anti American vogue constitutes a glorification of human credulity. Nor is the reason for this phenomenon far to seek. Persons who are incapable of thinking can only believe; hence to believe has always been the height of fashion. But the subject of belief, or what one believes, changes mightily from time to time. Some years ago (if the present writer remembers correctly) there was a vogue for patriotism; this year it is extremely fashionable to prefer la République française to les Etats Unis.
As usual, Paris contributes the vogue and New York exaggerates it. Your fashionably brained Frenchman is content to believe that France is superior to America; not so your fashionably brained American. According to him, France is the embodiment of whatsoever things are good, including life, liberty and the pursuit of happiness; America, by comparison, appears as a materialistic monster, an opportunist ogre, a degenerate dollardragon. Your fashionably brained American, then, becomes a sort of Saint Michael, armed in resplendent culture and bent on the heroic mission of quelling this hideous prodigy (alias his native land) in the name of reason, righteousness and Poincaré.
That is indeed a very pretty idea; but, for some obscure reason, the present writer's brain emanates unfashionableness. When he should have been patriotic, he wasn't. And now, when fashion dictates anti patriotism, he finds himself thanking his lucky stars for the large and lively U.S.A. The mere size of America delights him. Yet this statement will be received with ridicule; because, as everybody knows, mere size doesn't really matter.
What really matters, of course, is intensity. For example: would anyone contend that a certain painting by Cézanne is inferior to a certain painting by Sargent because Mr. Sargent's effort covered more canvas? Would anyone maintain that the Brooklyn Bridge is a thousand times more beautiful, since a thousand times larger, than the Pont Neuf? Ridiculous! America might be a million times as huge as she actually is and France might still be superior to America.
This argument sounds well. To be sure, intensity really matters. Intensity, however, is of various kinds. Size may be, and sometimes is, one kind of intensity—as in the familiar case of our skyscrapers, which noble structures owe their intensity primarily and fundamentally to their size. Your fashionably brained American, however, is very fond of twisting the fact that America's bigness has encouraged a lot of drivel into the falsehood that America is drivelling because she is big. One might as well assume that the magnificent ceiling of the Sistine Chapel is a mass of balderdash because the authors of guidebooks use it as an excuse to slop all over themselves. Indeed, like the bigness of the Sistine ceiling, the bigness of America is intrinsic; or, to put the matter a little differently, America is essentially not an enlargement of something else. Her very size is an essential part of America's life in the same way that France's culture is an essential part of her life. And this brings the unfashionably brained writer to something which amounts to a full fledged conviction: he thoroughly believes that America is more alive than France.
"For some obscure reason, the present writer's brain emanates unfashionableness. When he should have been patriotic, he wasn't. And now, when fashion dictates anti patriotism, he finds himself thanking his lucky stars for the large and lively U.S.A."
Hereupon, the Saint Michaels cry "What do you mean 'alive'? You mean 'efficient' and 'progressive.' Having observed that the typical American business man is too busy with his business to digest his luncheon, you have probably run amuck in your typical American way and have credited the entire American nation with a superior degree of vitality. Like a host of other materialists, you are mistaking motion for movement, tempo for rhythm, mere liveliness for life. Half drowned in the typical American inferiority complex, you clutch desperately at appearances. You pretend that at the root of existence lies the almighty dollar. You deliberately ignore spiritual values. The things which make life living for sensitive people mean nothing to you. What of Art, for instance? Is anything so vital as Beauty? And where, in the whole expanse of noisy, vulgar, ugly America, can you find a museum like the Louvre or a cathedral like the cathedrals of Chartres, Notre Dame and a score of other masterpieces?"
The answer to all such questions is itself a question: "Where, in the entire smallness of France or in the unmitigated amplitude of anywhere else, can you find a painter 'like' John Marin, a sculptor 'like' Gaston Lachaise and a phenomenon 'like' Niagara Falls?" But by "more alive" the present writer meant something which does not contain itself in such adjectives as "efficient" and "progressive." He meant that France has happened more than she is happening, whereas America is happening more than she has happened.
This rather clumsy idiom seems to suggest merely that France's past is of greater dimensions than America's past. Actually, however, it implies something quite different, viz., that France takes refuge in her past. It may be that France takes refuge in her past because her past is luxuriously enormous, while America is forced to live in her present because her past is uncomfortably microscopic. At any rate, the fact remains that France is not a happening nation. And this fact is tremendously important, because to take refuge in the past—be your refugee a nation or an individual—means to commit a neurotic deed; the past, from this point of view, being a substitute for living.
America makes prodigious mistakes, America has colossal faults, but one thing cannot be denied: America is always on the move. She may be going to Hell, of course, but at least she isn't standing still. The same cannot be said of la République française. Nor can France's immobility be excused on temperamental grounds; the fact being, that France's past has undermined her present. More and more, indeed, the world realizes that France does not move because she is sick. Yet, sick though France is, she cannot hold a candle to your fashionably brained American who would have us believe that the land of Coolidge is a snare and a delusion, that Greenwich Village is boring while Montparnasse is inspiring, etc.—but who, in reality, is using la République française as a wooden horse to enter the Troy of his own past.
Prohibition! With this dread word still echoing in his ears, your humble servant proceeds to invoke the extraordinary assistance of that occult science which is popularly called "relativity." Hounded by prohibition, he takes refuge in Einstein. A moment's concentration suffices; then, fortified against all evils, he boldly faces his parched accusers and demands, "Gentlemen, which is more important: wine or women?" Then, as the enemy staggers at this unexpected blow, the Einsteinian follows up his advantage thus: "Indeed, prohibition is a curse. To endure this ordeal requires quite unprecedented fortitude. Only a nation endowed by Heaven with supernatural vitality could invent for itself a torture so infernal. Small wonder if those carping 'Yanks' who, not so long ago, belittled the republic of 'frogs' now laud the land of cognac to the skies! Small wonder if the ships are filled with weaklings en route to Burgundy and Champagne! Prohibition corrupts the soul; it is a blemish, a blot upon the scutcheon of liberty, a stigma whereof all good men and true may well be ashamed—or what have you.
"But for a' that (as one R. Burns has so happily observed) a man's a man. To every man, if he be a man, it is not wine which matters most. You, an American, demand of me, an American: where in all France will you find a drink as dreadful as the best of America's synthetic substitutes or diluted verities? And as man to man, I ask you: where in all France will you find a woman as authentic, delicious and otherwise incomparable as (name supplied upon request)?"
__________________________________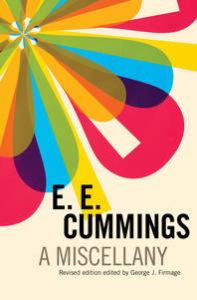 From A Miscellany. Courtesy of Liveright. Copyright 2018 by e.e. cummings. Originally published in Vanity Fair, May 1927.
---