An Illustrator Brings Realism into Octavia Butler's Speculative Fiction
In Conversation with James E. Ransome on the New Edition of Kindred
The Folio Society recently published a special edition of Octavia Butler's 1979 novel Kindred, a time-travel narrative set between modern-day Los Angeles and a pre-Civil War US. I interviewed the book's illustrator, James E. Ransome, about what it took to depict scenes of slavery, Ransome's artistic influences, his dream projects, and more.
Ransome has illustrated more than 60 acclaimed picture books written by numerous authors, including many by his wife, Lesa Cline-Ransome. A three-time winner of the Coretta Scott King Award for his book illustrations, Ransome has also exhibited his work in group and solo shows across the United States. His work features in public and private collections of children's book art, and his commissioned murals appear in The Children's Museum of Indianapolis and the National Underground Railroad Freedom Center in Cincinatti.
*
Aaron Robertson: In her introduction to the book, Tananarive Due quotes Butler as saying, "I really had to do enough research to understand it [slavery] on a level I didn't really want to understand." Did you draw on sources other than the novel itself? Were you thinking of other slave narratives (films, books, etc.) as you prepared?
James Ransome: I have an ongoing interest in slavery and have done a few books about the subject, so when a new project comes across my desk, I'm never starting from zero. It's really just an extension of what I've already learned. I have an entire bookshelf in my studio dedicated to the history of slavery, so I have lots of material to pull from.
Some of my primary influences are books such as Before Freedom Came: African-American Life in the Antebellum South edited by Edward D.C. Campbell, Jr. and Kim S. Rice; Bullwhip Days by James Mellon; and From Slavery to Freedom: A History of African Americans by John Hope Franklin. Those are just a few examples. There are many others.
AR: Had you read the Damian Duffy/John Jennings graphic novel of Kindred before working on this?
JR: I hadn't read it beforehand, but I came across it at a bookfair in the middle of working on this project. I was impressed. It was good to see a graphic novel with an illustration for every scene, and as a creator I enjoyed getting another take on the material.
AR: How did you decide which scenes to showcase?
JR: The Folio Society's art director, Sheri Gee and I discussed it in a series of conversations. We were looking for dramatic scenes that would be interesting to capture. Things that were more dynamic than, say, two people sitting at a table talking. The very beginning scene, with the boy drowning, was a natural choice. Butler's chapter titles—"The River," "The Fire," etc.—were also helpful leads.
AR: You've illustrated books about African-American public figures from Louis Armstrong to the Williams sisters, folklore, specific moments in Black history, and more. Were there books of yours that helped prepare you for Kindred?
JR: There always are. I'm always building on things I've done in the past. They can't help but have an effect on what comes after them. It's a continuum. I think about things that worked and didn't work in previous projects, and if something worked, then often I will use it as a starting point.
AR: The illustrative style of some of your books, like The Secret of the Stones and The Wagon, made me wonder if Eastman Johnson, Jean-François Millet, or the genre paintings of the Dutch masters were among your influences. What attracts you to the Realist style of art? Or would you align yourself differently?
JR: To be honest, I align myself differently. Probably Degas, the Post-Impressionists, and a group of artists called the American Realists are the biggest influences on my style. The American Realists didn't necessarily paint in a realistic style. They depicted realistic scenes with a lot of changes and distortions. They didn't just take a thing and copy it, and those are the people I'm most interested in looking at.
AR: Were you previously familiar with Butler's work?
JR: My wife Lesa is an avid reader. She read Kindred in the Nineties and loved every second of it. I had never read the story before this project, but I have fond memories of Lesa truly enjoying it and telling me all about it as she was reading.
AR: Are there other Black writers whose work you would like to depict?
JR: It's an endless list! Any and every thing by my favorite Toni Morrison. I would be absolutely giddy to illustrate anything by her.  Zora Neale Hurston, James Baldwin, Alice Walker or Richard Wright. And there are contemporary writers for example James McBride, Yaa Gyasi, Erica Armstrong Dunbar and Jesmyn Ward's Sing Unburied Sing. And of course there are a large group of children's book writers who write for middle grade and YA, Jason Reynolds, Jacqueline Woodson, Virginia Hamilton and my wife Lesa Cline-Ransome.
__________________________________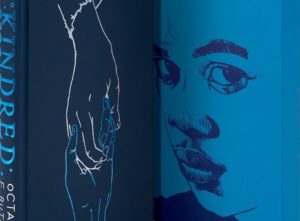 The Folio Society edition of Octavia Butler's novel Kindred, illustrated by James E. Ransome, is now available.
---