Americans in Search of Utopia
19th-Century Experiments in Perfection
The US has experienced two great waves of utopian experimentation—from approximately 1820 to 1850 and 1960 to 1980. While the first was more explicitly religious in character, both waves combined a commitment to social reform with the quest for a perfect society, an exceptional American heaven on earth. The parallels between the two have a lot to teach us about the America syndrome.
The word "utopia" was first coined by Sir Thomas More in 1516 in his book by that name. One of Henry VIII's closest advisors, who rose to be Chancellor of England in 1529, More was beheaded six years later for opposing the Reformation. More derived the word utopia from the Greek prefix ou, meaning "no," and topos, meaning "place." Utopia was no place. He may have intended it as a pun, since ou also sounds like eu, meaning good. Utopia is thus the good place that is no place. Set on an island off the coast of the New World, More's utopia is a vision of highly regulated communal life with an efficient balance between town and country and a representative government. Its labor system also includes slavery.
Utopian visions are powerful precisely because, being nowhere, they aren't constrained by present reality but rather point the way to a desirable future. "Utopia's 'nowhereness' incites the search for it," writes scholar Krishan Kumar. "Utopia describes a state of impossible perfection which nevertheless is in some genuine sense not beyond the reach of humanity. It is here if not now."
It is the promise of the millennium that joins utopia and apocalypse together. In the Book of Revelation, the millennium is the thousand golden, peaceful, and prosperous years, a Heaven on Earth, when Christ reigns before the final Judgment Day. Other biblical passages also speak of Jesus's return to build a kingdom on Earth. Christians differ as to whether the Second Coming ushers in the millennium or marks its conclusion ("premillennialism" vs. "postmillennialism") and whether Christ's epic battle with the Antichrist will occur before or after the Second Coming. Dispensational premillennialism, first prophesized by 19th-century British theologian John Nelson Darby, preaches that the present age (dispensation) will end in the Rapture, with the true believers taking to the sky, and the sinners left on Earth to suffer miserably through the seven year rule of the Antichrist. After that, Christ and his raptured armies will return to Earth to battle the Antichrist and usher in the millennium.
These differences in timing can have a profound impact on one's world view. The belief that the dreadful battle will occur before Christ returns can lead to the acceptance, or even welcoming, of current wars, plagues, and disasters as harbingers of the Messiah's imminent arrival. By contrast, a more hopeful version of millennialism urges believers to prepare for Christ's rule by creating a more just and equal society. This view helped stoke the fires of the American anti-slavery movement and other social reform movements in the 19th century.
Millennialism extends well beyond scripture, deeply affecting Western secular thought. The roots of modern ideas of progress reach back to the early 17th-century English revival of millennial theory. As the scientific revolution progressed, religious scholars began to frame a redemptive view of history congruent with both natural and biblical laws. The radically new concept of nature allowed for a more optimistic reading of the future human prospect. The universe was not irrevocably evil, but instead was the source of hidden wonders that would ultimately help, not hinder, human progress. The great earthquakes and other cataclysms that lay ahead would cleanse the Earth, preparing the ground, literally and figuratively, for the promised millennium. "The notion of history as a process generally moving upwards by a series of majestic stages, culminating inevitably in some great, transforming event which is to solve the dilemmas of society—that is the concept destined to dominate 'modern' thought," writes historian Ernest Tuveson. Seventeenth-century apocalyptic theorists were in this sense the forbears of nineteenth-century progressive philosophers, whether of the Hegelian, Marxist, or positivist variety.
While the millennium provides the big picture, utopias fill out the smaller picture of what a heaven on Earth would look like. You can have one without the other (in the Book of Revelation, John offered very little in the way of a utopian blueprint for the New Jerusalem), but the millennium and utopia often exist in dynamic relationship with each other, sharing in particular an obsession with perfection. The Puritans' conception of America as the city on the hill, as well as later versions of American exceptionalism, were deeply informed by millennial expectations of progress toward perfection—"manifest perfectionism." Belief in the perfectibility of mankind is in turn the foundation upon which utopias are constructed, and along with it a yearning for physical and ideological purity, efficiency, and order. 
Utopias enshrine perfection into the quest for a better world. But as the old saying goes, the perfect can be the enemy of the good, as evidenced in many utopian experiments and movements gone awry. Does that mean the search for utopia has no value? Utopian thinkers from Thomas More onwards have challenged us to think beyond the status quo and imagine new forms of living and relations between individual and community, man and woman, rich and poor, town and country, humanity and nature. "A map of the world that does not include Utopia is not worth even glancing at," wrote Oscar Wilde, "for it leaves out the country at which Humanity is always landing. And when Humanity lands there, it looks out, and seeing a better country, sets sail. Progress is the realization of Utopias."
The New World held a powerful allure for utopian thinkers and practitioners. The (fictive) narrator, Raphael Hythloday, of More's utopia accompanies the (real) Italian mariner Amerigo Vespucci on his exploration of the New World at the turn of the 15th century. Vespucci, not Columbus, was the first European explorer to realize he had encountered a new continent, and "America" is derived from the Latin version of his first name. Hythloday stays on and happens upon the island of Utopia after Vespucci returns to Europe. More's tale may draw on Vespucci's accounts of the communal customs of the Natives he encountered, but in the end the utopian appeal of the New World wasn't so much its original inhabitants as their land, taken by the Europeans through disease, depopulation, and dispossession.
A century after More's book, a small band of Pilgrims landed in Plymouth, Massachusetts, searching for a place to create a closed, religious community in the service of an apocalyptic vision. This became a recurrent theme in the settlement of colonial America as other Christian sects sought the freedom and empty land to realize their ideal societies, under God's guiding hand. William Penn encouraged millennial sects from northern Europe to immigrate to Pennsylvania. Many of these newcomers practiced communal ownership of property. In the case of the Plymouth Pilgrims, who did so for their first three years, that arrangement was necessary for survival. Other sects were driven by their desire to recreate the faith and lifestyle of early Christian communities, inspired by the biblical passage from Acts 2:44–45: "And all who believed were together and had all things in common; and they sold their possessions and goods and distributed them to all, as any had need."
Thus from the very start utopia, apocalypse, millennialism, and communalism were intertwined in the search for heaven on Earth in colonial America. In 1774, on the eve of the American Revolution, the founding members of the United Society of Believers in Christ's Second Appearing set sail from Liverpool, bound for New York. Better known as the Shakers, they would become America's longest-lasting utopian sect.
'Tis the Gift to Be Simple, 'Tis the Gift to Be Free
Today there are only three remaining Shakers left who live in a community in Maine. But over the group's 200-plus year history, an estimated 20,000 Americans kept the faith. Shaker Villages, now museums, can be found from New England to Ohio to Kentucky. One is located in the western Massachusetts town of Hancock. Its impressive site, showcasing the Shakers' considerable talent for architecture and design, includes a massive, three-floor Round Stone Barn. 
The barn is a model of efficiency. On its top level, wagons delivered hay. They dropped their loads into the central haymow on the ground floor and then circled to exit from the same door they entered, eliminating the need to back awkwardly out of the barn. Dairy cows were housed on the ground floor, facing toward the hay to make it easy to feed them. Their manure was shoveled through trapdoors to the cellar where it was stored for use as fertilizer. The barn's stonework, cupola, and Shaker windows make it a work of striking beauty.
Today, to make ends meet, the Hancock Shaker Village, like many museums, rents its facilities to wedding parties. Its website features a photo of a bride and groom kissing with the barn in the background. Since abstinence was one of the Shakers' central tenets, this image would probably be enough to make their founder, Mother Ann Lee, roll over in her grave.
Mother Ann Lee was a rarity: one of the few women to lead a utopian religious movement in the United States. Born into a poor family in Manchester, England in 1736, she broke with the Anglican Church at a young age to join a sect that was scornfully called the "Shaking Quakers" for their unusual mode of worship, which included speaking in tongues, shaking, and shouting as the spirit moved them. They believed that the end of the world was near, and that Christ was on his way. Ann married and bore four children, none of whom survived infancy. The experience of her children's deaths, coupled with an abhorrence of sex, led her to embrace celibacy. While imprisoned in a Manchester jail in 1770 for heresy, she had a vision of Christ, who revealed to her that the root of all human depravity lay in the coupling of Adam and Eve. Exalted now as the Mother in Christ and Bride of the Lamb, she became the sect's leader, admonishing all followers to live a celibate life. She decided that the Millennium had begun, and received another revelation that she should emigrate to America to establish the Church of Christ's Second Appearing. That goal she accomplished in the town of Niskayuna, called Watervliet by the descendants of the Dutch settlers and now known as the Town of Colonie, in upstate New York in 1776. From there, the Shaker faith spread through the region.
To achieve their kingdom of peace and perfection, the Shakers adopted four core principles: communalism, celibacy (men and women slept in different quarters), confession of sin, and detachment from the outside world. They believed in the spiritual equality of men and women, though they maintained a strict gendered division of labor, with women focused more on domestic tasks like cooking and cleaning and men on heavier agricultural work. They welcomed Jews and blacks into their settlements, making them one of the more radical groups of their time. As pacifists, they suffered persecution during the Revolutionary War.
When a family joined a Shaker community, parents legally relinquished care of their children to the community. If parents decided to leave, the community had the right to keep the children until they reached adulthood. This led to custody battles, lawsuits, and kidnappings, as happened in Hancock in the mid-1840s when a father made multiple attempts to kidnap his sons. The Shaker effort to break the parent-child bond presaged later conflicts over family structures in other utopian communities. All was not simple and all was not free, despite the lyrics of the Shaker dancing song, "Simple Gifts," made famous by composer Aaron Copland in his orchestral suite, Appalachian Spring.
Neither were the Shakers completely detached from the outside world. Their business enterprises networked them into the wider community, where they were exemplars of the self-sufficient, communal ideal. Shaker texts influenced the British utopian socialist Robert Owen's model communities set up in New Lanark, Scotland and later in New Harmony, Indiana. Visitors were common in Shaker villages. Authors Nathaniel Hawthorne and Herman Melville reportedly ran a foot race in the round stone barn when they visited the Hancock community.
By the middle of the 19th century, the Shakers had attracted about 4,000 adherents. Their success can't be separated from the larger wave of utopian experimentation in the US that peaked in the years 1820-1850. Many of the experiments were explicitly religious. A Second Great Awakening, beginning at the turn of the 18th century, drew many converts to evangelical Protestantism and marked a definitive break with Calvinism. Through God's love and religious faith, sinners could be saved. All were eligible for God's grace, not just a predestined few.
The Second Great Awakening stoked postmillennialism to fever pitch. To prepare the ground for Christ's Second Coming, society had to be cleansed of sin. This fervor to usher in the new millennial age also galvanized social reformers, utopian socialists, and transcendentalists. As before, the line between secular and religious was ill-defined—for all manner of communities, America was considered the Promised Land. It's impossible to do justice here to the wide diversity of experiments in those times, so my focus is on the ones with clear relevance to the second utopian wave of the 1960s.
Blueprints for Perfection 
The German philosopher Hegel wrote that America "is the land of the future, where, in the ages that lie before us, the burden of the World's History shall reveal itself . . . It is a land of desire for all those who are weary of the historical lumber-room of old Europe." Yet out of that lumber-room came ideas that galvanized utopians in the United States. Count Henri de Saint-Simon, a French aristocrat who fought in the American Revolution, proposed a benevolent society in which industry and science would be harnessed for the good of the greatest number of people. Even more influential were the ideas of another Frenchman, Charles Fourier (1772–1837), who foresaw a 35,000-year millennial era during which society would be organized into self-sufficient cooperatives called "phalanxes," the Greek word for a rectangular military formation. Each phalanx would ideally contain around 1,620–1,800 people. According to Fourier, 2,985,984 phalanxes would ultimately cover the globe, and Earth would be transformed into a paradise with the climate of the Garden of Eden. The oceans would turn into lemonade.
In Fourier's division of labor, agriculture and industry would complement each other and the workday would be short, allowing plenty of time for leisurely pursuits. At the end of the year, profits would be apportioned five-twelfths to labor, four-twelfths to capital, and three-twelfths to skill and talent, but there would be no cause for jealousy because people could freely change roles and become capitalists if they so desired. Children would join scavenger groups, called "the Little Hordes," to clean refuse and excrement since they delighted in playing in the dirt. Everything, in fact, was supposed to be delightful. Fourier's elaborate architectural plans for the phalanx included a central Phalanstery with amenities such as a ballroom and a sanatorium.
Fourier's ideas came to America through Albert Brisbane, who as a young man studied social philosophy in Europe. On return to the US, Brisbane published a book called Social Destiny of Man in 1840 that summarized the more practical elements of Fourier's design while omitting some of the more outlandish fantasies. The book won converts in the highest echelons of American intellectual society, among them Horace Greeley, the editor of the New Yorker. When Greeley became editor of the New York Tribune, he let Brisbane write a regular column. Between 1843 and 1858, 28 phalanxes were established in both rural and urban areas of the US, drawing in an estimated 15,000 Americans. The philosophy influenced other utopian endeavors as well, such as the Northampton Association of Education and Industry, where radical social reformers, including the well-known African American abolitionist and women's rights activist Sojourner Truth, came together to form a communally-owned and -operated silk mill in the mid-1840s.
While Fourier himself never had the means or opportunity to put his theories into practice, Robert Owen had both. The industrial and educational improvements he introduced in the early 1800s at the New Lanark mills in Scotland, where he was part-owner, established his reputation as one of the most important social reformers of his time. As Owen's ideas grew more radical, and more grandiose, he turned toward America. "I am come to this country," he declared in 1825, "to introduce an entire new state of society; to change it from an ignorant, selfish system to an enlightened social system which shall gradually unite all interests into one, and remove all causes for contest between individuals." Eight years later he announced, with messianic zeal, "I therefore now proclaim to the world the commencement, on this day, of the promised millennium, founded on rational principles and consistent practice." He compared his utopian philosophy to the second coming of Christ, because "Truth and Christ are one and the same."
Like Saint-Simon and Fourier, Owen saw people as the products of their environment. Dramatically transform their environment and humankind would become generous, cooperative, and compliant within a few short years. Malleability and perfectibility went hand in hand. In 1825 Owen and a Scottish colleague, William Maclure, purchased land and buildings that had been used by an earlier utopian community, the German Rappites, in southwestern Indiana. They invited "the industrious and well-disposed of all nations" to join this socialist community, which they named New Harmony. Over 800 people from all walks of life answered the call, including educators, scientists, laborers, and artisans, as well as some people looking for a free ride. The community soon divided along class and factional lines, and Owen and Maclure had a falling out. Life turned out to be anything but harmonious, and the New Harmony community dissolved in a few short years, as did other Owenite experiments in the US and England. However, some of the reformers, including Maclure, stayed in New Harmony, and left an impressive legacy. Maclure founded the nation's first comprehensive co-educational public school system and one of its first free public libraries. Owen's son, Robert Dale Owen, went on to become a champion of universal education and women's rights. Another son, David, established the early headquarters of the US Geological Survey in New Harmony.
Transcendentalism also offered blueprints for perfection, though of a more individualized variety. From 1835–1880, the philosophy held great sway in American intellectual, political, and artistic circles, especially in New England. Among its illustrious proponents were Ralph Waldo Emerson, Henry David Thoreau, Margaret Fuller, and the Alcott family. It became a powerful frame of reference for believers and skeptics alike. Drawing from Western and Eastern philosophy, mysticism, and German and English romanticism, transcendentalism is notoriously hard to define. In his allegorical short story "The Celestial Railroad," Nathaniel Hawthorne caricatures transcendentalism as a horrible giant who makes it his business to seize upon honest travelers and fatten them for his table with plentiful meals of smoke, mist, moonshine, raw potatoes, and sawdust. He is German by birth . . . but as to form, his features, his substance, and his nature generally, it is the chief peculiarity of this huge miscreant that neither he for himself, nor anybody for him, has ever been able to describe them.
This vagueness was also transcendentalism's strength. It allowed for a freer range of thought, an unapologetic mingling of reason, sensation, intuition, and spirituality as a way to explore the human condition and its relation to the miraculous patterns and series found in nature. The simplest natural object was worthy of serious contemplation. For both Emerson and Thoreau, the structure of a leaf had much to say about the structure of the entire universe. The whole was not merely the sum of its parts; each part contained within it the whole. In its celebration of connectedness, of the unity of all things, transcendentalism positioned the individual self and soul as the vehicle of enlightenment.
Transcendentalism departed from the mainstream religions of its day, but the work of Emerson in particular bore the imprint of Christian apocalyptic thinking. "No American writer since Jonathan Edwards is more thoroughly steeped in the Christian Bible than Ralph Waldo Emerson," writes scholar Alan Hodder. Like Edwards, Emerson also experienced intense spiritual insights into the other world through his contemplation of nature.
Yet Emerson's apocalypse is not the same as Edwards's Puritan one. For Emerson, Nature, not Christ, is the messiah, and the ultimate consummation isn't the marriage between Christ and his church, but instead between Nature and Mind. And it is through the mind that one achieves revelation, an interior process that ultimately leads to perfect vision. The process is arduous, requiring sacrifice, purification, and emptying the mind of ego in order to achieve an apocalypse of the self. "All mean egotism vanishes," Emerson writes of that moment. "I become a transparent eye-ball; I am nothing; I see all; The currents of the Universal Being circulate through me; I am part or particle of God."
It might seem that such a philosophy would lead one away from engagement with the world in the spirit of a lone yogi meditating in a dark cave or on a high mountaintop. However, Emerson and many of his fellow transcendentalists were social reformers who believed in the need for a moral law. If a fierce Christian God no longer sat in judgment of their deeds, then the God within them did. "Build, therefore, your own world," Emerson exhorted his readers at the end of his essay Nature. "As fast as you conform your life to the pure idea in your mind, that will unfold its great proportions. A correspondent revolution in things will attend the influx of the spirit . . . until evil is no more seen." Not all transcendentalists were utopians, but this urge to build one's own world inspired the more experimental among them to do just that, by heading back to the land.
Transcendentalism's Wild Oats 
In 1873, Louisa May Alcott, author of the American classic Little Women, penned a parody of Fruitlands, a short-lived rural utopian experiment that was led by her father, the innovative educator Bronson Alcott, and the English transcendentalist, Charles Lane. "Transcendental Wild Oats: A Chapter from an Unwritten Romance" peels the romance off the adventure to depict the tensions that ultimately caused Fruitlands, like so many other utopian projects, to fall apart. 
Louisa was ten years old when her family moved from the genteel town of Concord to the old wooden farmhouse that was to become a communal home in Harvard, Massachusetts, 20 miles to the west. Today it's a quick ride between the two towns, but back then the Alcotts travelled by horse and wagon over muddy dirt tracks, "with the pleasing accompaniments of wind, rain, and hail" as recounted in the parody. Despite inclement weather, "these modern pilgrims journeyed hopefully out of the old world, to found a new one in the wilderness." Louisa cast a reproachful but loving eye on the New Eden fantasies of her father, reserving her more stinging criticism for Lane, aka Timon Lion, depicted as the stern, Spartan fanatic behind the enterprise. He "intended to found a colony of Latter Day Saints," she wrote, "who, under his patriarchal sway, should regenerate the world and glorify his name for ever."
Today the farmhouse is part of a museum complex of other historical buildings, including a Shaker office that was relocated there. At the entrance, a panoramic view of the hills and mountains of central Massachusetts and southern New Hampshire greets the visitor. The Fruitlands farmhouse is on low land near a river, without the view. It's painted red, as it was back then, with furnishings representative of the period. It seems comfortable, quaint, even charming, belying the austere order that was once imposed there for seven short months that must have seemed much longer to its occupants.
An impecunious idealist, Bronson Alcott was often short on funds, and his family had to struggle to make ends meet. He relied on the generosity of others, including his friend Ralph Waldo Emerson, to feed his family and carry on his work. Until he met Lane, his austerity wasn't so much a philosophical choice as a practical necessity. In his teaching practice, Alcott is credited with making important pedagogical reforms in children's education, moving away from rote learning to creative expression. In 1842 he crossed the Atlantic to England where a progressive school called Alcott House had been founded in his name in Surrey. By that time his own school in Boston had collapsed, in part because he had had the temerity to admit the daughter of a fugitive slave. In England he met Lane, businessman and reformer, and the two hit it off so well that they decided to return to Massachusetts together to establish a community founded on their shared principles. In June 1843 they arrived in Fruitlands, accompanied by Alcott's wife Abigail, their four children, Lane's son William, and a few other brave and eccentric souls. Soon they were joined by an English nudist, a hired hand, a refugee from another utopian farm, and a woman named Anna Page—until she was banished for the sin of eating fish at a neighbor's house.
Sin it was to stray from the path of abstemious righteousness set out by Lane and Alcott. The entrance to Paradise is "through the strait gate and narrow way of self-denial," Alcott wrote. Their ascetic code included the refusal of any products that depended on "the degradations of shipping and trade." In an early form of veganism, no animal products were allowed in their diet. They subsisted on raw fruits and nuts, grain, porridge, and unleavened bread. The pleasures of coffee, tea, and alcohol were eschewed in favor of plain water. Clothes were stitched from rough linen, and at first no draught animals were used in farming. Only cold baths were taken, even in freezing weather. After bathing, Alcott followed up by flaying his body with a brush to experience the spiritual ecstasies of mortification of the flesh. Convinced like the Shakers that individual family life needed to cease, Lane espoused sexual abstinence, straining the relationship between Bronson and his wife Abigail to the breaking point. 
When it came to travel, however, Alcott and Lane were far from abstemious. At the height of harvest season, they wandered off to preach their gospel along the eastern seaboard. This month-long excursion was ill-timed. "Some call of the Oversoul wafted all the men away," Louisa recounts in her parody, leaving her mother, her sisters, and Lane's son to make a desperate effort to gather the grain crop before a storm.
Inside the house, Abigail was responsible for all the cooking and cleaning, not only for the residents but also for the many visitors who came to see the project. In letters and diaries, she left her own record behind of the bitter fruits of Fruitlands. "They spare the cattle," she wrote to her nephew, "but they forget the women and children." She was acutely aware of her situation and of the inferior position of women in the society at large. After visiting a nearby Shaker community, Abigail wrote in her journal that the women were servile and reserved, while the men were "fat, sleek, comfortable . . ." She went on:
Wherever I turn, I see the yoke on women in some form or other . . . A woman may perform the most disinterested duties. She may "die daily" in the cause of truth and righteousness. She lives neglected, dies forgotten. But a man who never performed in his whole life one self-denying act, but who has accidental gifts of genius, is celebrated by his contemporaries, while his name and his works live on, from age to age. He is crowned with laurel, while scarce a "stone may tell where she lies."
Ultimately, it was Abigail who ended the Fruitlands experiment. She encouraged her brother to withdraw his financial support, which then put the farm into foreclosure. After a brutally cold and snowy December, she removed herself and her children to the home of a neighbor in January 1844. Bronson soon rejoined his biological family, while Lane joined the Shakers. There, ironically, he had a change of heart about the importance of family bonds. When he decided to leave the Shaker community in August 1845, they refused to let him take his son. It took three painful years to secure his son's release, during which time he returned to England, where he married and had five more children. Today Fruitlands, like the Hancock Shaker Village, is a venue for rustic weddings, a place to celebrate the nuclear family.
Not far from Fruitlands, a longer-lasting utopian experiment unfolded at Brook Farm in West Roxbury, Massachusetts, about eight miles from Boston. Founded in 1841 by a transcendentalist former Unitarian minister, George Ripley, Brook Farm was to be an egalitarian and self-sufficient community, with no distinction between intellectual and manual work, no hired labor, and a healthy balance between work and leisure. Certainly more fun was had at Brook Farm than at Fruitlands. Its members partook in picnics, plays, masquerades, and boating parties on the nearby Charles River.
At its peak, Brook Farm had more than 70 members. For all the fun, they worked hard, if ultimately unsuccessfully, to make ends meet. They sold farm produce and handmade clothes, charged a fee to visitors, and ran a boarding school that was one of the best known of its day. Ripley tried and failed to woo Emerson to Brook Farm. He had more luck with Nathaniel Hawthorne, who joined Brook Farm during its first year not so much from utopian conviction as with the intention of living cheaply and saving money to marry his fiancée, the transcendentalist Sophia Peabody. Hawthorne soon found the manual labor required in farming was more than he'd bargained for—he was put in charge of shoveling manure—leaving him with little time to write. He wrote to Sophia, "Oh; belovedest, labor is the curse of this world, and nobody can meddle with it, without becoming proportionately brutified. Dost though think it is a praiseworthy matter, that I have spent five golden months in providing food for cows and horses? Dearest, it is not so. Thank God, my soul is not utterly buried under a dung heap."
Hawthorne left the farm, and later based his caustic novel The Blithedale Romance on his experience. In 1844, Ripley was swayed by the editor Horace Greeley, a frequent visitor to the farm, and other Fourierist friends, to make Brook Farm into a phalanx. More artisans joined the community, and work began on constructing a giant Phalanstery that could house a hundred members. Brook Farm emerged as the center of Fourierist thought in America, publishing the weekly Harbinger that became widely known as a source of radical social and literary criticism. But a lack of funds continued to plague Brook Farm, and in 1846 the unfinished Phalanstery burned to the  ground, effectively bringing the project to an end. Now all that is left is the farmland, preserved as a park.
__________________________________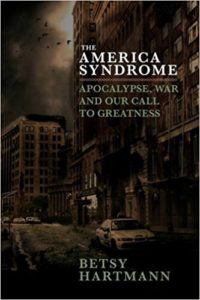 From The America Syndrome: Apocalypse, War, and Our Call to Greatness. Used with permission of Seven Stories Press. Copyright © 2017 by Betsy Hartmann.
---