AM ENDE SCHMEISSEN WIR MIT GOLD or, IN THE END WE'LL CHUCK GOLD AROUND BY FABIAN HISCHMANN
At the Festival Neue Literatur, a Crash Course in Contemporary German Literature
Fabian Hischmann will be appearing as a featured writer at The Festival Neue Literatur, March 2-5. The following is translated by Tim Mohr.

Nobody comes out to greet me. I park in front, fine gravel crunches and dust billows up as I brake. I slam the car door shut. Nothing.
A couple of chickens scoot past me. All the windows of the house are open, curtains wafting in the breeze.
Finally, and so suddenly that I jump, the door flies open and a guy in a tank top and shorts hops down the four stairs of the stoop and approaches me with a "Hello, you're Max, right?" He looks so athletic that I'm afraid he's going to throw me over his shoulder with some kind of judo move after he shakes my hand.
"I'm Anton. The others are back in the garden. White wine or apple juice?"
"Both."
I wait until Anton reemerges from the cellar with a box loaded with drinks and follow him into the house, where it smells of garlic and sweet yeasty bread. I notice that most of the furniture is made out of wood, and the place is pretty clean.
Arriving in the garden, I pause for a moment and take stock of the situation: off to the right there's another young man sitting on a beer bench in the sun, he nods at me cheerfully. His hair is short and very blond. He's carefully picking currants and tossing them into a bowl with quark. Straight ahead are vegetable beds, I recognize zucchini and tomato plants, and beyond that there's a meadow with three fruit trees. In the half-shadow of the trees sits a table, covered with a tablecloth, and a woman is sitting at the table cutting bread. There's a grill set up next to the table and Maria and Jan are standing in front of it. He's fanning the flames with a piece of cardboard, she's smoking, flicking the ash off, watching the poisonous powder float away, and in so doing sees me. Her dress is sea-blue with a white triangle on the chest. She waves hello. Jan, too, turns briefly toward me and then turns away again. I cautiously raise my hand as if I'm a hesitant bidder at an auction and the object being sold is out of my price range. Anton reaches the table and kisses the woman.
I tromp over too, walking as casually as can be.
"Hey Max, nice to see you. Did you find your way alright?" Maria looks sexy with a cigarette stuck in the corner of her mouth, but also a little foolish. When we hug she smells of smoke.
"Yeah, no problems. There's a GPS in the car."
The kissed woman stands up and shakes my hand. "Julia."
"Nice to meet you."
Anton hands me a drink, which could be either wine or apple juice based on the color.
"We've already met," he explains to the others, raising his glass toward me.
"Right. Thanks for having me."
I take a sip. White wine.
Beads of sweat form in my armpits and start to soak into my white shirt. It's going to cause stains that will be harder to get out every time I wash the shirt, and which will leave yellow outlines.
"We're all set," says Jan, letting the cardboard fall to the ground like a knight drops his shield after a battle, and looking at me.
"Flieger, been a long time. You eat meat?"
"Yep."
"Great."
He smiles inscrutably.
"We're having lamb chops."
Our mouths and fingers are smeared with grease, and the glasses we're drinking from are covered with brown prints. I gnaw on my last chop, sever a sinew with my teeth, the longer end of which snaps back toward the bone. In the last half hour I have learned the following: the blond guy is named Pelle. He's from Lund, in Sweden, and is a fellow student of Maria's back from her time in Gothenburg, though she never mentioned him to me back then. He's in his second semester off from school and teaches a Swedish course for beginners at the community college in Donaueschingen. Anton is the youngest, he's just finished high school, Julia is a psychotherapist and is sixth months pregnant with Anton's baby. Their situation isn't something they exactly sought out, but they're happy. They met Jan somewhere while traveling, but I don't know any more details than that. Jan doesn't say a word during the entire meal.
Julia asks me whether I like being a teacher. I think for a second and say: "It's alright. I feel useful." Julia nods and Jan lets the chewed bone of his chop fall purposefully loudly to his plate, gulps down a glass of wine, and burps. Maria looks at him mildly irritated, at which point he turns his head from left to right like an owl, looking around with wide eyes, as if to say that we're alone, far from anything, and out in the fresh air. I have to admit he looks good with his tanned face and black curls, the lumberjack shirt mostly unbuttoned and the shadows on his slender chest. He looks more like the old Jan again. Before he quit school in the twelfth grade and disappeared.
Pelle wants to know what the story is with dessert. We decide to take a break to digest our food first. Anton and Julia lie down in the grass, Pelle and Jan kick a beach ball around.
Maria kneels down next to me and says: "Come on, Max, I'll show you around."
She talks to me as if we were close friends seeing each other again after a long time. She's deluding herself, but I go along with it.
*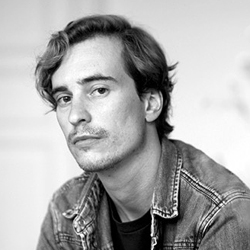 About the Author
Fabian Hischmann studied creative writing and cultural journalism in Hildesheim and at the German Literature Institute in Leipzig, and is now based in Berlin. He has worked as a dramaturg in theaters in Heidelberg and Freiburg. While his short stories have appeared in numerous journals and anthologies, Am Ende schmeissen wir mit Gold (In the End We'll Chuck Gold Around) (2014) is his debut novel, and was nominated for the highly prestigious Leipzig Book Fair Prize.
*
Fabian Hischmann will be participating in these events during the Festival Neue Literatur:
Words with Writers
FRIDAY, MARCH 3, 6PM
Austrian Cultural Forum New York (11 East 52nd Street, Manhattan)
Selected students from Columbia University, Pratt Institute, New York University, Vassar College, and Hunter College take on FNL authors in a lightning round of literary interviews.
Featuring all six German-language authors and moderated by festival curator Peter Blackstock.
The Author's Voice
SUNDAY, MARCH 5, 2PM
Deutsches Haus at NYU (42 Washington Mews, Manhattan
The six German-language authors of Festival Neue Literatur pair up with NYC actors to give a sampling from their work, providing a taste of new writing from Austria, Germany, and Switzerland.
Featuring all six German-language authors and moderated by festival curator Peter Blackstock. English Excerpts read by actors.
Silence Is Violence: LGBTQ Writing in A Fracturing Political Climate
SUNDAY, MARCH 5, 6PM
McNally Jackson (52 Prince Street, Manhattan)
Larry Kramer once said: "I don't consider myself an artist. I consider myself a very opinionated man who uses words as fighting tools." This panel promises a lively discussion of the intersection between LGBTQ writing and politics, from HIV/AIDS activism, to class and race identity, to gay persecution both historical and contemporary, exploring what it means to be a sexual minority in today's political climate.
Featuring Marlen Schachinger, Simon Froehling, Fabian Hischmann, and Francine Prose, and moderated by William Johnson of Lambda Literary.
---