"All He Wanted From Us Was Truth." Remembering Stephen Dixon
Courtney Zoffness on Finding Authenticity in a Great Writer and Professor
I've long used "fluke" to explain my admission to Johns Hopkins University Writing Seminars graduate program. I was 23, and had applied with an experimental rant from my journal, one organized by parts of the body and stitched together with anxiety. It lacked various components of traditional storytelling, including, you know, a plot. Sometimes I wonder what would have happened to my professional trajectory had that sample not landed on the desk of Stephen Dixon, a writer whose own work eschewed conventional narrative trappings—even though I spent the next year trying to write the kind of derivative stories I thought I was supposed to. Johns Hopkins was the only grad school that said Yes.
As a writer and professor, Steve epitomized authenticity. He cared so much—not about publishing industry hoopla or literary celebrity (though he was a two-time finalist for the National Book Award). Not about his image either; he famously wore sweatpants. He cared about the work. His own. His students'. The hallway outside his office was forever filled with the clangs and dings of his manual typewriter, a composition process he once compared to playing the piano. What did it matter that the rest of the world had graduated to electronic devices and, eventually, computers? The typewriter made him feel creative.
This was the instrument on which he wrote, and subsequently published, an astounding oeuvre of nearly 700 short stories and 35 books, modeling for any aspirant that the only way to get the work done is to persistently, relentlessly do it. It was also the machine on which he composed critiques of student stories: multi-page, single-spaced responses that he then edited, and doodled on, in pen.
He cared about the work. His own. His students'.
Steve was not only attentive to a story's depth and believability. He prized accuracy. I once described how a character "sprinted toward the sea like a child," to which Steve replied: "I don't get it as simile? A child sprints differently than an adult? Does a child sprint or just run fast? Is it the motion you're working at?"
He had a habit of assigning his own preoccupations to his characters. In "Out for a Spin," a posthumous piece published in McSweeney's issue 63, an elderly couple considers and reconsiders their dialogue as they speak. At one point the wife claims she won't find their day together "unmemorable," then asks her husband, a writer: would "unrememorable" work better? Later she claims that her husband never gets "excited," then revises. "I used the wrong word," she tells him. "I should've said 'rattled,' which you never get, at least around me. I don't even know if that would have been the right word to use."
Steve has a distinct, frenetic, unsentimental writing style, one attuned to the humdrum of daily life. His characters are profoundly humane. In "The Lost One," also from McSweeney's, readers meet an old man helplessly devoted to his immobilized, dying wife, and it's impossible not to grieve with him. Steve was transparent about writing himself and his loved ones onto the page; his late wife, Anne, had multiple sclerosis and was confined to a wheelchair for years. While he said his fiction relied on imagination and artistry to succeed, he explained that his stories hewed closely to "what I think, what I do." Which is to say, he wrote autofiction before it was on-trend.
"When I write about myself and situations I'm in, simple stories like breakups," he explained in his last interview in 2019, "it comes with a whole fuselage of emotion. Because I've lived it rather than sort of mentally or fantastically lived it. They're not made up."
His commitment to genuineness fueled his ability to detect its absence in the work of others. To an affected story I submitted early on, Steve replied, "I didn't think much of it 1st reading; I was tired; 2nd reading, I came around." (He qualified "came around": "It's not a strong story. It's a pleasant one.") Nonetheless, he marked up every other line on my 15-page manuscript, not to show me all the ways I was failing, but to show me how I could do better. He believed that I could. It took me a while to stop smarting and accept this, but eventually I did.
His commitment to genuineness fueled his ability to detect its absence in the work of others.
My final submission to workshop drew from real life, chronicling the experience of visiting a close family member in a mental institution. It was imbued, one might say, with a fuselage of emotion. "Your best work," Steve typed at the top of his critique. "Serious subject matter handled seriously and artistically."
I've lived in seven different apartments since my time in Baltimore, and while I've shed more belongings than I can count, I have lugged a folder full of his feedback to all of them.
I also saved the letter of recommendation he wrote when I graduated, one in which he described me as someone "in it for the long haul." Indeed, it would be 18 years until McSweeney's released my first book, Spilt Milk. The same publisher that supported Steve throughout his career, even as other editors considered his work too fringe, took a chance on an unconventional memoir-in-essays. I was a student of fiction, but don't doubt that Steve would have applauded this book, and also challenged my descriptor: "fluke." Ultimately, all he wanted from us was truth. All he wanted was commitment.
______________________________________________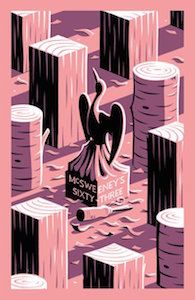 McSweeney's 63 is available now.
---