Alexandra Kleeman on Not Taking Water for Granted
This Week on the So Many Damn Books Podcast
In this episode, Alexandra Kleeman is back for the third time! This visit, she's brought along her new novel, Something New Under the Sun. We are thrilled to discuss the menace of water that doesn't taste right, online forums, and what she'd write if she could add to it, and so much more, including André Gide's Marshlands, which renders a writer's life in relatable terms.
What'd you buy?
Drew: The Between by Tananarive Due // Let the Record Show by Sarah Schulman
Christopher: Very Cold People by Sarah Manguso // Natch by Sophia Dahlin
Alexandra: a Two Hounds no-pull dog harness
*
Recommendations:
Drew:  End of the World House by Adrienne Celt // Manhunt by Gretchen Felker-Martin
Christopher: Y: The Last Man (2021-present)
Alexandra: In Search of Nella Larsen by George B. Hutchinson

*
From the episode:
Drew: Can you pinpoint when you started feeling menaced by water? Or when you were interested?
Alexandra: I've always been a sensitive—or superstitious—person. I have this thing, personally, about water that doesn't taste right. Because, for example, most refrigerator water doesn't taste right. It's a foreign taste intermingled with this stuff that my body otherwise recognizes.
And I always pay a lot of attention to tap water—whether good or bad or neutral, there's so much to learn about a place by how their tap water tastes. I've always been attuned in that way. But I became more attuned while writing this because one of the mini challenges I gave myself was "can I really get down the feeling of drinking water?" because we've gotten so habituated that we pick it up and we drink water, and we haven't really processed that experience. I thought, what if I slow it down and what if I try and get into how it feels down the throat, and around the mouth?
Christopher: It's sort of an othering experience.
Alexandra: Yeah, and it's something similar to my first book. I'm really curious about what our body does for us when we're not looking—the intelligence and the skill and mechanics. When you're thinking about something that shouldn't be in your body—moving through those same passageways—it's a very unearthly feeling.
Drew: The language around water is so uncanny and disturbing. I asked Rumaan Alam when he was on for Leave the World Behind as well, but what does it take to choose that language—that is so othering, so unnatural?
Alexandra: It's almost a mental n+1 exercise that you do. You ask, what's the word I would normally use? What are some words in the orbit of that word? And what happens when I start pulling those words in? I also thought a lot about water in the way that we use it as a symbol of trust—trust in infrastructure and trust in government.
*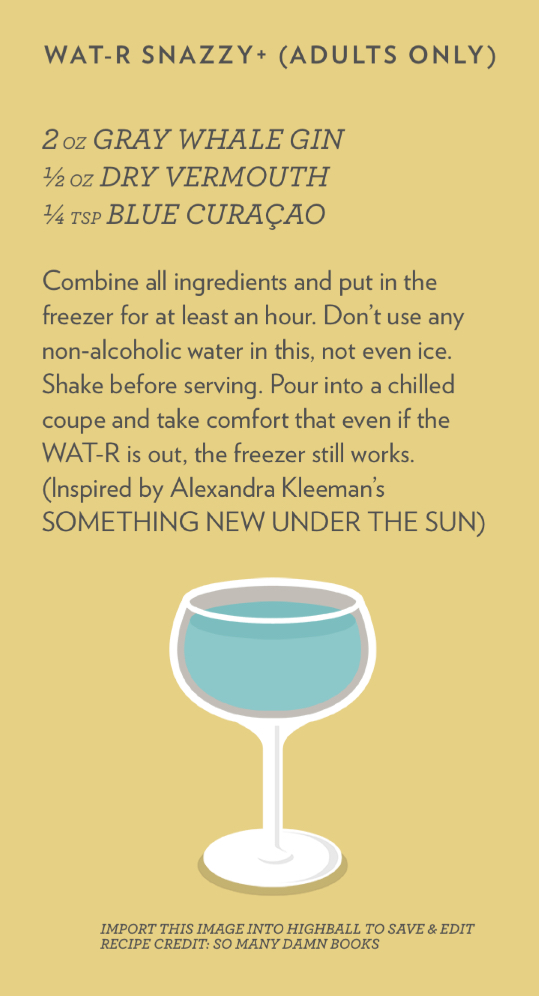 ---