Adrian Tomine on the Delight of Collaborating on the Shortcomings Adaptation
"My wife was actually kind of freaked out by how happy I was during that time."
The feature film adaptation of Adrian Tomine's 2007 graphic novel, Shortcomings—directed by Randall Park and starring Justin H. Min, Sherry Cola, and Ally Maki—hits theaters on August 4th. To celebrate, we asked Adrian about the experience of seeing his book come to life in another medium, his favorite literary adaptations, and more.
*
How does it feel to see your characters come to life on screen?
As soon as they appeared on screen, I no longer felt like they were "my characters." I think the versions of the characters that are in the film are really a collaboration between the respective actors, me, Randall, and a lot of other crew members, especially everyone in the hair and makeup and costume departments. And to be honest, in many cases, these versions have kind of overwritten the original version in my mind. For example, when I go back and look at the book now, the character of Alice looks weird to me because I expect to see Sherry Cola. And Ben's hair looks too short.
What's the best part of having your work adapted for film?
Much to my surprise, I really enjoyed the whole process. I mean, there were definitely some disappointing and frustrating days, but in hindsight I even feel grateful for those experiences. Prior to this, I had basically spent my whole life working in the same way: sitting at a desk in the corner of my bedroom, with no coworkers or collaborators, and with complete control over what I created. I know that probably sounds pretty idyllic to some people, but for me, after 30 years of that, I was ready for a change.
But I guess to answer your question more specifically, the best part for me was being on set and, as corny as it sounds, feeling like part of a team for the first time. My wife was actually kind of freaked out by how happy I was during that time.
What's your favorite book to movie adaptation (other than your own)?
Adaptation. Although I'd be remiss if I didn't mention The Ice Storm and almost all of Stanley Kubrick's films. In terms of being incredibly faithful to the source material while also just creating a great film, I think No Country for Old Men is pretty unbeatable.
If you could see any book adapted, what would it be?
This obscure short story called "A Brief History of the Art Form Known as Hortisculpture."
What notes or pieces of inspiration for the story/characters did you share with the creators?
I think the most significant thing I tried to impart was that I didn't personally think of these characters as "shitty." Or at least, not just "shitty." Charles Schulz used to talk a lot about how people always assumed that Charlie Brown was his alter ego, but that he actually felt like all the Peanuts characters were some part of him, and I definitely relate to that.
____________________________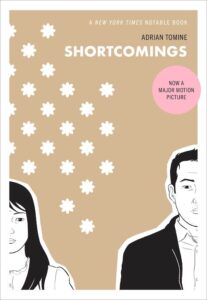 Adrian Tomine's Shortcomings is available from Drawn & Quarterly.
---