Adrian Tomine Confronts Shame, Failure, and Jerks in Cartooning
Emily Gould on The Loneliness of the Long-Distance Cartoonist
Adrian Tomine's new book, The Loneliness of the Long-Distance Cartoonist, is an awe-inspiring chronicle of the embarrassments and failures that Tomine has suffered over his long artistic career. The humiliations catalogued here range from bodily—a seduction lavishly foiled by lactose intolerance—to existential, as when a flubbed chat with Terry Gross leads our narrator to disassociate so hard that he briefly contemplates suicide. These stories are often hilarious, but their cumulative effect is poignant, as Tomine examines what it has meant to give so much of his life to his work.
It's something he's still thinking about, I learned when we talked on the phone recently. "I don't remember anything that happened in college—I mean, absolutely nothing. But I remember what I was working on—which pages of what comic I was drawing at the time."
Tomine has been famous, or as famous as comics creators get, since he was a teenager. The earliest stories in this book date from the early 1990s, when his Optic Nerve comics were first winning acclaim and awards. His publisher, Drawn & Quarterly, published the first Optic Nerve collection in 1996, when Tomine was only 21.
Being subject to the highest levels of attention and criticism at the very beginning of one's career was about as pleasant as you'd expect it to be. In "San Diego, 1996," the reader sees young Adrian excited to be nominated for an Eisner award, then sitting in the audience trying to conceal his emotions as the announcer skips over his nominee-ship because it's "too hard" to pronounce his last name. He's continually expecting respect and love to come from his work, and being met with disappointment that's even more crushing because it comes from some of the same people he admires.
Tomine has a theory that the comics process itself is what causes these men to calcify into assholes. "I sometimes think that maybe working too long and too exclusively in this medium causes mental illness," he tells me, clearly half-kidding.
Writing without imagining an audience freed Adrian Tomine to grapple head-on with the ways having an audience has deformed his creative process.
More so than just writing?
Yes, Tomine says, and walks me through why he thinks this might be: Writing, he says, has moments of creative momentum, when you can be carried by a burst of inspiration through thousands of words in a day. Cartooning, by contrast, is inevitably a painstaking, laborious, even Sisyphean process. He used to write first and then draw, which only exacerbated the sloggy aspect of the work.
Now, though, he consciously avoids separating the work into steps, and instead focuses on stories that are short enough that he can keep the plot in his head as he writes and draws simultaneously. It's a tradeoff that makes long, multi-thread stories impossible, but it keeps the work from being too onerous.
Lingering for days at a time not just in memories of one's life's lowest moments but also being tasked with re-creating them visually seems like a recipe for not-great mental health. Tomine says he managed to get through the creation of the book, especially its most shameful, shame-filled pages, by imagining that it might never be published. He didn't tell his publisher about until the work was well underway.
Writing without imagining an audience freed him to grapple head-on with the ways having an audience has deformed his creative process. "The criticism had started to guide me. I felt like there was no right way to turn—like, if I read somewhere that my lettering had gotten too tight, I'd purposely make it much wider in the next book. I'd become reactionary."
The book's final story is about a brush with mortality that leads Tomine to confront what he has given up by devoting himself so single-mindedly to comics over the past two decades. In it, someone says "I think your life is about to change."
So, I ask him … did it? He has given up caffeine, he tells me. And even more radically, he has found a kind of peace around his relationship to his career:  "My identity isn't tied up in being a capital A artist."  It's the kind of shift that might only be possible after the kind of expulsive midlife reckoning contained in this book.
__________________________________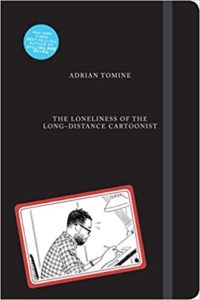 Adrian Tomine's The Loneliness of the Long-Distance Cartoonist is available from Drawn & Quarterly.
---