A World Outside Time: Pico Iyer on the Deep Pleasure of Handel's Chorale Music
"What so moves me—literally transports me—is the way he blends ceremony with emotion."
Every November day, in our two-room apartment in Japan, as the sun rises over Mount Ikoma, casting golden stripes across our dinner table, my wife puts into our creaking boom box a CD of Handel arias. His high, ringing chords and notes of jubilation begin to echo around our home. Sometimes we put on Bach as well, or even Van Morrison, but it's Handel who feels to me like the laureate of the season: so often, he's bringing us a sense of slightly wistful celebration, a mix of rhapsody and sobriety, that seems to rhyme with the cloudless blue skies and the pinch of cold, the turning leaves outside.
Handel has been my unexpected companion, across several continents, for thirty years now. It feels strange to say that because if my friends were asked, they'd likely tell you that I listen to Jackson Browne and Joni Mitchell, to Springsteen and U2, and in recent times to my wife's beloved Green Day. My colleagues recall how close I was to a boyhood hero who became in time a boon companion, Leonard Cohen, whose liner notes I used to write. But my private joy, known only to my wife, perhaps, is George Frideric Handel, and in particular the choral music.
This is strange because I've never attended an opera, and have no real interest in arias as a whole. I feel abashed at times not to be a devotee of one of the accepted geniuses of the canon. When once I tried to learn more about my unmet friend, I heard only rather dismissive words about how much he wrote on commission and seemed a kind of Elton John of the eighteenth century, turning out coronation anthems on cue and seldom regarded as a composer truly listening to and channeling the music of the spheres.
Yet I think back to the long summer evenings of my English childhood: the rolling lawns, a stately home in the distance, the rare benefaction of light in a land so often dreary and sodden and chill. I think of the aesthetic that has called to me ever since I began commuting three times a year, from the age of nine, between my fifteenth-century boarding school near Windsor and my parents' home in hippie California. I longed for works that would bring the rigor of school together with the bright possibilities of my young adopted home. I've always been in flight from England, but I can no more get it out of my system than I can my earliest recollections; maybe it helps to hear from a longtime English resident who'd always seem a foreigner, and who could mix sentiment with an outsider's sense of order.
My private joy, known only to my wife, perhaps, is George Frideric Handel, and in particular the choral music.
Or maybe it makes no sense at all to try to explain it away. I watch Lars von Trier's impenitent film Antichrist, and, during a shocking opening scene, am soothed by "Lascia ch'io pianga." I'm sluggish of a morning, and turn on "Tornami a vagheggiar." I go to the London museum celebrating the foreign rebel of my youth, Jimi Hendrix, and there—spirit of modern London!—I find a museum also consecrated to Handel.
Like most of us, I turn to music to reach the places that words find less accessible; even contemporary singers are unafraid of the very states of affirmation, the numinous, that writers increasingly shy away from. We more and more lack a Gospel spirit in prose; even those who dare to approach what cannot be spoken—Annie Dillard, say—have to use antic humor and irreverence to ground their flights. "Silly," they never stop reminding us, comes from the Old English word for "blessed."
I go to Sigur Rós concerts, therefore, to see what I cannot catch so easily on my bookshelves. Four figures silhouetted behind a screen, bodiless and invisible spirits giving voice to something far beyond them; there's a piercing high emotionalism in their lead singer Jónsi's voice that chimes with the otherworldliness (the Iceland) they're trying to evoke in all of us.
In the realm of popular music, Van Morrison can carry me up, up, up—"previous," to use his talismanic word—but by that very token, he snarls or throws out his songs like trash when the spirit fails to move him; the gruff and sunglassed figure onstage protects the candle inside him like a battlement. I like the respect he's paying to what's beyond our reach, the way he intones the same word again and again—much as Aretha Franklin used to do—so as to burst through the veil of words. Whether singing hymns or trying to invoke the "Sunday six-bells" and choral chants of his youth, he's always pointed toward the "ancient," which could be his word for what's hidden deep inside us. Every writer knows—in fact seeks out—that sense of surrender, and yet the impulse toward craft makes many of us recoil from the crack through which the light comes in.
Leonard Cohen—who brought that line to us from Rumi or Emerson or both—takes us deep, while worrying at theodicy and the words he cannot say like a theologian on the backstreets of Jerusalem. In person he was as gracious and open as Van Morrison was guarded. He had no secrets, he liked to suggest, and he didn't believe in either shortcuts or resolutions; he laid himself bare in every piece.
With Handel, though, I don't face the static of personality; I don't know who he was, or care. And what so moves me—literally transports me—is the way he blends ceremony with emotion. His pieces proceed like a courtier walking up a nave, yet they never can quite keep a smile or a skip out of them. Feeling slips out at the edges. Perhaps this is an Old World trick: to see how emotion becomes stronger the more it is contained; rhymed verse in a quatrain can bring more passion home to us, pressing against the edges of the line, than any free verse could.
Sometimes, in the autumn days in Japan, my wife and I would take my recently widowed mother-in-law, in her late eighties, on a drive along the Western Hills. She'd never had a car, so even a three-hour drive was a rush of exhilaration for the old lady, whose faculties were failing. We wheeled her out of her little nursing home cubicle, and into a tiny Toyota rented for six hours. Then we drove out to the Arashiyama Parkway, and as we watched the gold and scarlet leaves, under the radiant blue, what else could we listen to but Handel, not least his concerti grossi?
With Handel, I don't face the static of personality; I don't know who he was, or care. And what so moves me—literally transports me—is the way he blends ceremony with emotion.
I'm not a religious person, but I've always noted that my friends who observe a religion have a solidity, a kindness, a sense of direction not always visible in the rest of us. All my life I've worked to try to mix hopefulness with realism: once by writing a book on the XIVth Dalai Lama, so practical and down-to-earth even as he never gives up on hope; once by coming at the same theme through the back door, with Graham Greene, undeluded observer of the modern world who never could turn his back entirely on faith. These days I try to put the radiance of the Japanese autumn together with the melancholy, in honor of the local precept that life is a matter of what some have called a "joyful participation in a world of sorrows."
Perhaps Handel is the meeting of those forces at some level deeper than the mind. He finds that place in me that will always rise to celebrations, and never want to forget that we have limits. Perhaps he is the voice of what I sometimes think is the point of life: to see autumn as the birth, as well as the obvious death, of spring.
In 2018, I, like many, tuned in to see the wedding of Prince Harry and Meghan Markle in a church just down the road, a fifteen-minute walk, from my old school. I'm not much moved by wedding ceremonies, but that opening clear sound, as the bride entered the holy space, of a single, silver voice summoning the heavens—a soprano singing Handel's "Eternal Source of Light Divine"—so pierced me that I could not stop thinking about it.
The next day, after I'd flown to Colorado, as I heard of an old friend's sudden death, I listened to the same piece again and again, on a trumpet played by Alison Balsom, then delivered once more by Elin Manahan Thomas. Then I turned to "Waft her, angels, through the skies." Then to "As steals the morn." It's now my morning service, the musical equivalent of lectio divina, that reminds me that there's something beyond what I see and know: each day as I awaken I turn on any of the Handel arias that speak of light creeping through the dark.
It's how I ground myself. It's how I return to a world outside of time. It's how I polish the silver and gold of my daybreaks. Of course I can turn to "Unto us a child is born" and other of his pieces if I long for jolts of energy. But such soulful, unhesitant, public expressions of what is deeply private feeling will always give me voice as not even the lines I've written here can do. It's not just Handel I'm listening to; it's everything that is deepest in me—and beyond me— for which I could never find the words.
________________________________________________________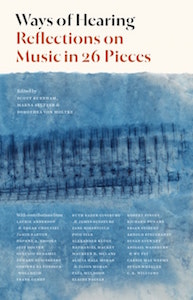 Excerpted from Ways of Hearing: Reflections on Music in 26 Pieces edited by Scott Burnham, Marna Seltzer, and Dorothea von Moltke. Copyright © 2021 by Princeton University Concerts. Reprinted by permission of Princeton University Press.
---