A Visual Tour of 35 Literary Bars and Cafés from Around the World
Drink Where Your Favorite Writers Once Drank
In our habitual fantasies, writers do nothing but sit at small café tables, sometimes meeting with their friends, other times gazing wistfully into a pint or swirling an espresso before they scribble down their latest brilliant thought. It may have worked for Hemingway, but I'm here to tell you: that's not usually what writing looks like. But hey, it's Friday. So what better time to indulge our daydreams and salivate over a few of the bars and cafés that famous writers frequented in days of yore? I mean, writerly fantasies aside, I wouldn't mind reading for a while in any one of these. Of course, this is nowhere near a complete list of every place a famous writer ever drank—not least because in the interest of avoiding the New York/Paris/Dublin trap, I've limited the choices to one per city—so feel free to add on to the list. Now, without any further ado: 35 literary watering holes in 35 cities. Which one would you visit?
Café Tortoni, Buenos Aires, Argentina
Address: Av. de Mayo 825, 1084 CABA, Argentina
Literary Pedigree: Jorge Luís Borges and modernist poet Alfonsina Storni were frequent visitors in the '70s, and they're still there, in wax figure form, at Borges's regular table, hanging out with Carlos Gardel.
Café la Habana, Mexico City, Mexico
Address: Calle Morelos 62, Cuauhtémoc, Juárez, Ciudad de México, México
Literary Pedigree: Roberto Bolaño (who changed the name to Café Quito when he referred to it in his work), Octavio Paz, Gabriel García Márquez and Mario Santiago Papasquiaro (not to mention Fidel Castro and Che Guevara, meeting to plan the revolution) were regulars here.
The George Inn, London, England
Address: Borough High Street, London, SE1, United Kingdom
Literary Pedigree: Charles Dickens drank here (and he refers to it in Little Dorrit); so did William Shakespeare (although the actual building he frequented was burned down).
Vesuvio Café, San Francisco, California, USA
Address: 255 Columbus @ Jack Kerouac Alley, North Beach, San Francisco, California
Literary Pedigree: Just across the alley from Lawrence Ferlinghetti's City Lights bookstore (said alley was renamed "Jack Kerouac Alley" in 1988), Vesuvio was a Beat hotspot, the favorite haunt of Jack Kerouac (obviously), Neal Cassady, and Allen Ginsberg.
El Floridita, Havana, Cuba
Address: Obispo 557 esq a Monserrate Habana Vieja, Havana 10100, Cuba
Literary Pedigree: The first of many places on this list that Ernest Hemingway frequented—it was just down the street from the hotel where he kept a room for years, but even afterwards, he'd take Martha Gellhorn there. A life-size bronze statue of Papa still sits at the bar, listening for good dialogue. Ezra Pound, John dos Passos, and Graham Greene were also patrons.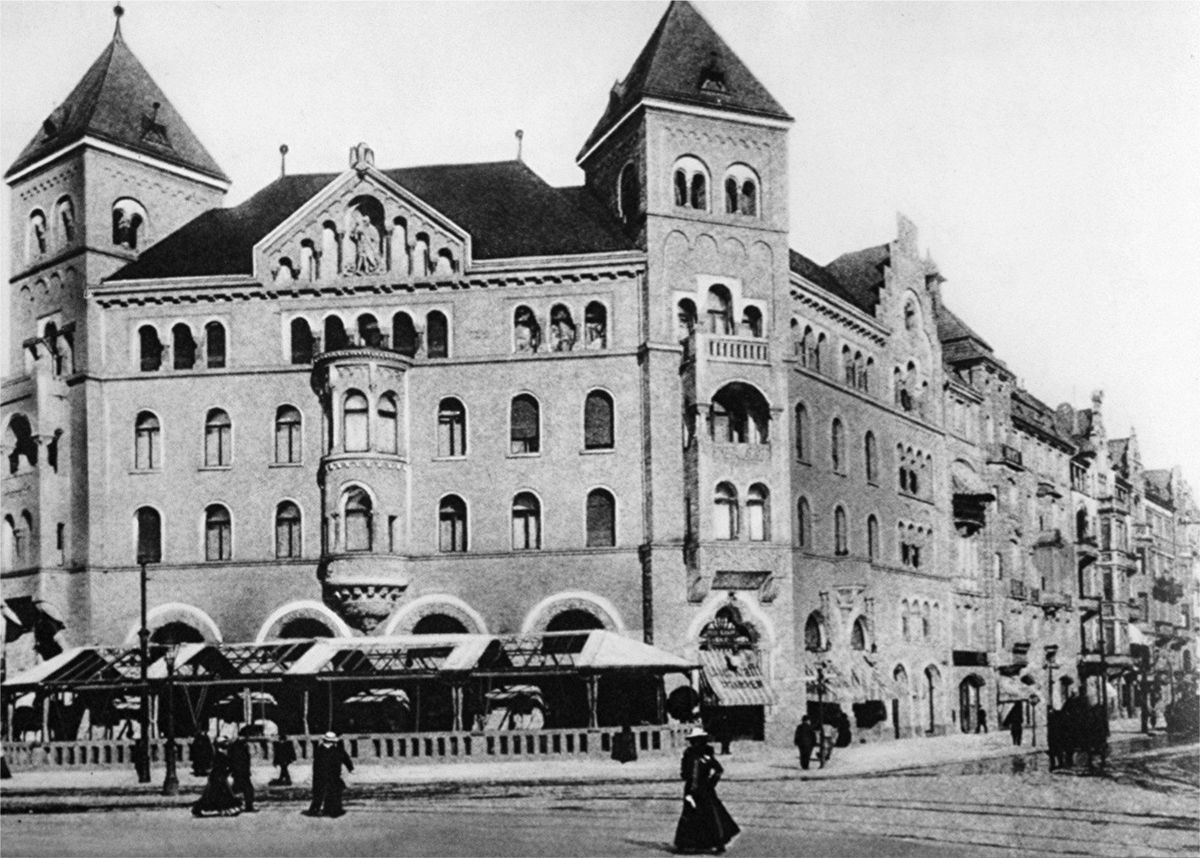 Romanisches Café, Berlin, Germany
Address: Budapester Str. 47, 10787 Berlin, Germany
Literary Pedigree: After opening in 1916, this café-bar quickly became a regular meeting place for Berlin's intelligentsia, including Bertolt Brecht, Joseph Roth, and Erich Maria Remarque. The whole building was destroyed in a 1943 air raid.
Café Haiti, Lima, Peru
Address: Diagonal 160, Miraflores Lima 18, Peru
Literary Pedigree: Julio Ramón Ribeyro was a regular here.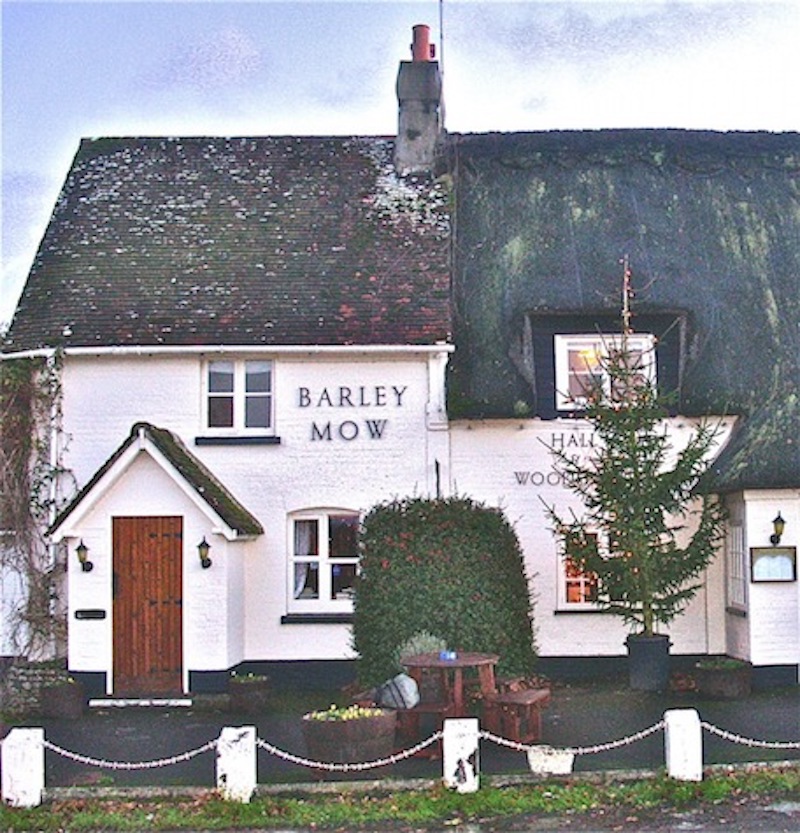 The Barley Mow, Dorset, England
Address: Long Ln, Wimborne BH21 7AH, UK
Literary Pedigree: Evelyn Waugh took rooms here while he worked on his first novel, Decline and Fall—and spent no little time in the pub downstairs.
Caffé Pedrocchi, Padua, Italy
Address: Via VIII Febbraio, 15, 35122 Padova PD, Italy
Literary Pedigree: The café's proximity to the University of Padua made it a frequent haunt of students and intellectuals, including Lord Byron, Stendhal, and Dario Fo.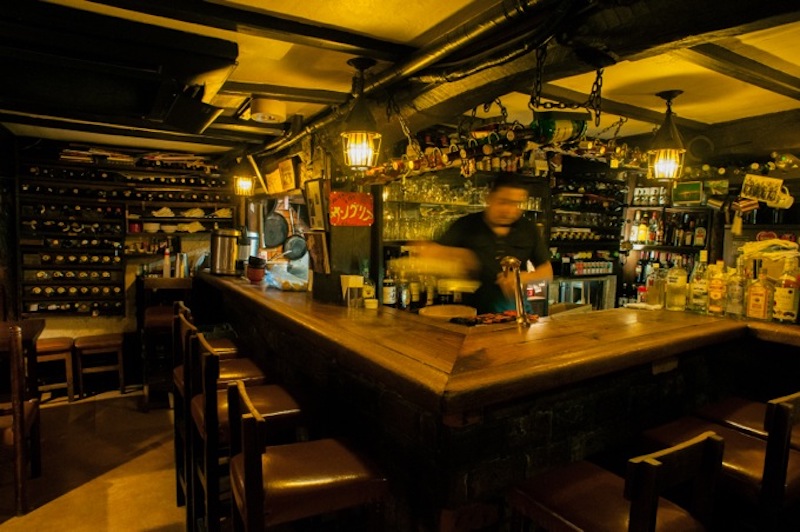 Donzoko, Tokyo, Japan
Address: 3-45-3 Yushima, Bunkyo-ku, Tokyo
Literary Pedigree: Takes its name from the Japanese title for Maxim Gorky's play The Lower Depths, and was also a favored watering hole of Yukio Mishima (though it sounds like Mishima drank in quite a number of bars).
Les Deux Magots, Paris, France
Address: 6 Place Saint-Germain des Prés, 75006 Paris, France
Literary Pedigree: Paris is filled with literary cafés (La Rotonde, Dingo Bar, Le Procope, Café de Flore, etc. etc. etc.) but since I can only choose one, it will have to be Les Deux Magots, arguably the most famous, and as far as I know the only café with its own literary prize. Famous for being frequented by Verlaine and Rimbaud, Simone de Beauvoir and Jean-Paul Sartre, as well as Ernest Hemingway, James Joyce, Albert Camus, Bertolt Brecht, James Baldwin, Chester Himes, Richard Wright, and even Julia Child.
The Woody Creek Tavern, Aspen, Colorado, USA
Address: 2858 Upper River Rd, Woody Creek, CO, 81656
Literary Pedigree: The favorite bar of Hunter S. Thompson, who lived nearby. The bar's regulars report frequent appearances by "Hunter hunters" on a pilgrimage—and that they like to give them the wrong directions.
Sloppy Joe's, Key West, Florida, USA
Address: 201 Duval Street, Key West, FL 33040
Literary Pedigree: This is the site of the annual Ernest Hemingway look-alike contest—though the Sloppy Joe's the author actually visited is down the street, and renamed Captain Tony's Saloon. Still, tourist dollars are tourist dollars.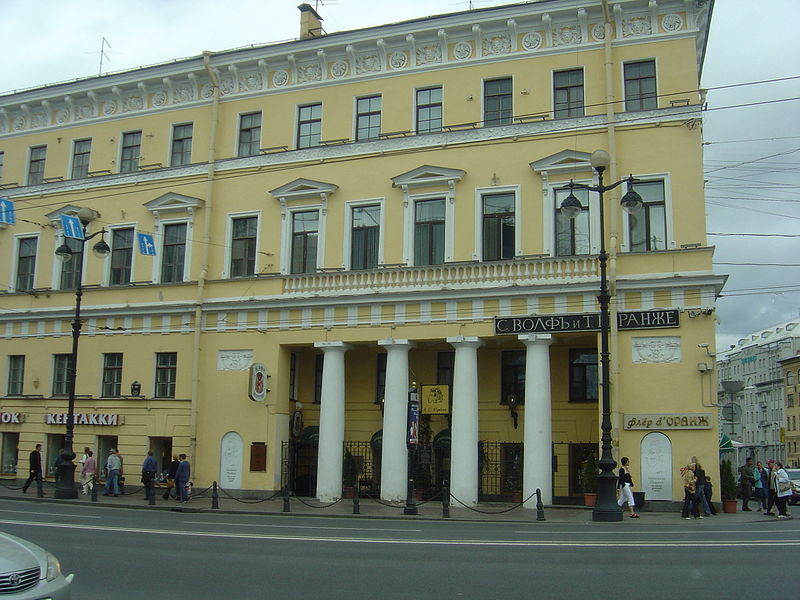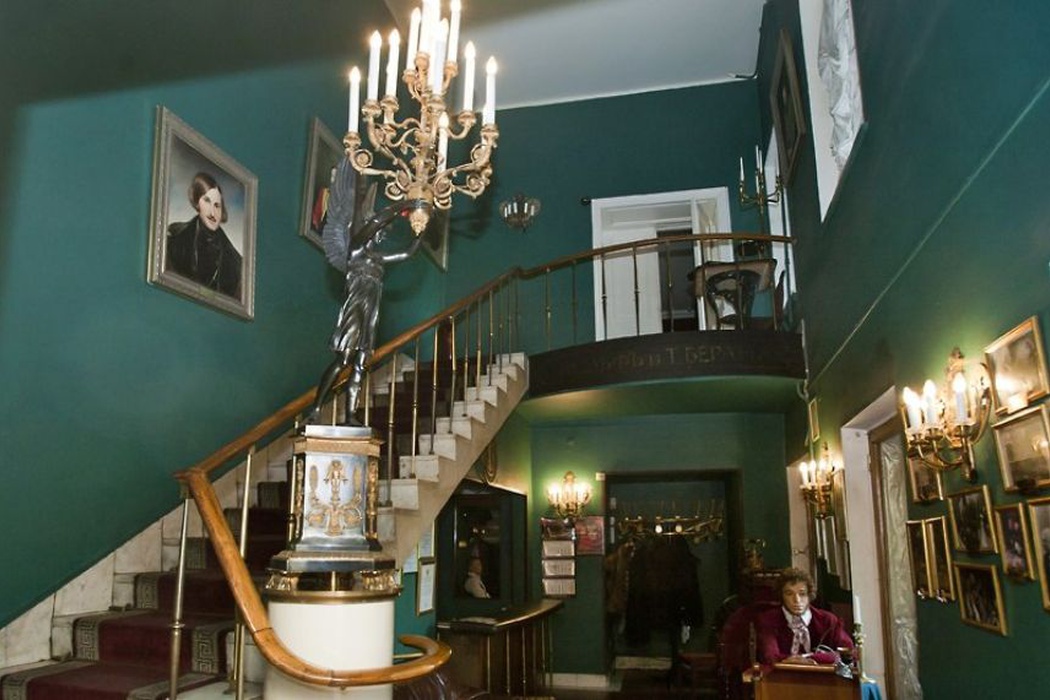 Literaturnoe Kafe (Wolff et Beranget Confectionery), St. Petersburg, Russia
Address: 18, Nevsky Prospekt, St. Petersburg
Literary Pedigree: Another restaurant with a wax effigy of a literary legend: this time it's Aleksander Pushkin, sitting at a table by the window. It's fitting: this spot, then a candy shop-cum-Chinese café (whatever that means), was where Pushkin met his second and had his last meal on the way to the duel that would kill him. Mikhail Lermontov and Taras Shevchenko were regulars. It's also where Fyodor Dostoyevsky met Mikhail Petrashevsky for the first time, ultimately joining his utopian socialist circle.
Liguanea Club, Kingston, Jamaica
Address: Knutsford Boulevard, New Kingston, Kingston 5, Jamaica, W.I
Literary Pedigree: Ian Fleming spent a lot of time here after establishing his estate in Jamaica, and it just so happens to be the inspiration behind the Queen's Club in Dr. No.
Cervecería Alemana, Madrid, Spain
Address: Plaza Santa Ana, 6 28012, Madrid, Spain
Literary Pedigree: You have to drink somewhere after the running of the bulls. In a piece in a 1960 issue of LIFE magazine, Ernest Hemingway called it "a good café and beer place on the Piaza Santa Ana in Madrid which I had frequented for many years."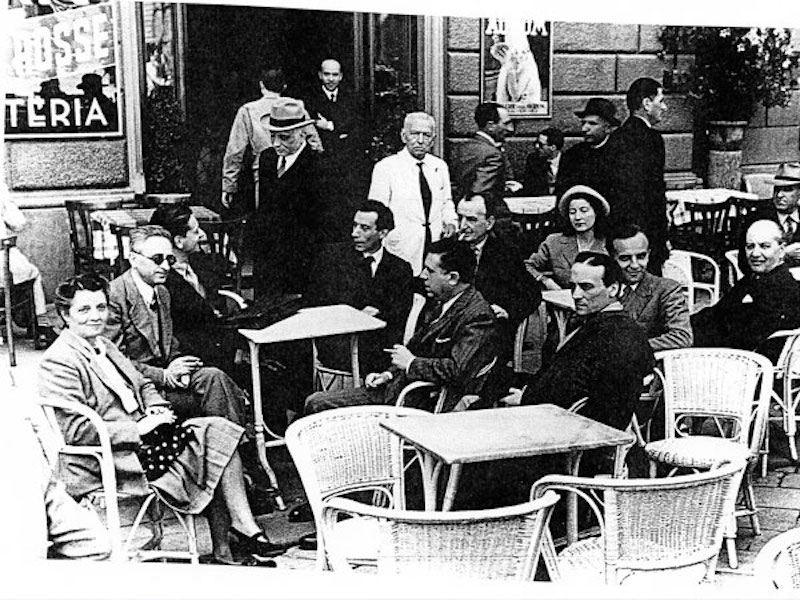 Caffé Giubbe Rosse, Florence, Italy
Address: Piazza della Repubblica, 13/14r, 50123 Firenze FI, Italy
Literary Pedigree: Where all the Futurist poets used to hang out. See also.
Café Bräunerhof, Vienna Austria
Address: 01, Stallburggasse 2, Vienna, Austria
Literary Pedigree: The favored drinking hole of Thomas Bernhard.
The Frolic Room, Los Angeles, California, USA
Address: 6245 Hollywood Blvd, Los Angeles, CA 90028
Literary Pedigree: Reportedly one of the many places in L.A. that Charles Bukowski liked to get drunk.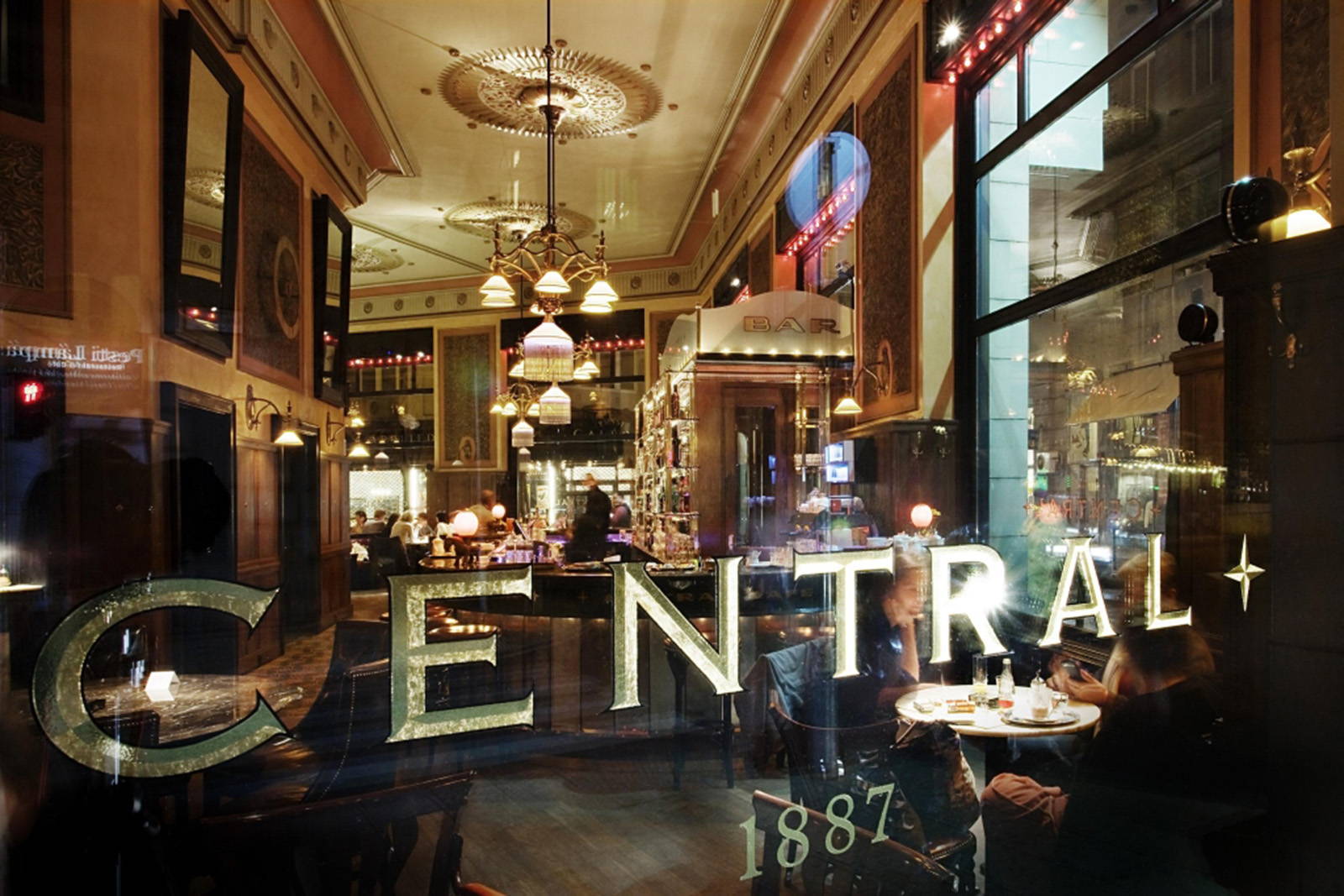 Centrál, Budapest, Hungary
Address: Karolyi utca 9., Budapest 1053, Hungary
Literary Pedigree: The favored café for the staff of Nyugat, Budapest's most influential literary magazine, as well as a watering hole for Hungarian authors Géza Gárdonyi and Ferenc Molnár.
Antico Caffé Greco, Rome, Italy
Address: Via dei Condotti, 86, 00187 Roma RM, Italy
Literary Pedigree: Famous for serving coffee to a slew of artists, philosophers, and other luminaries, the literary of which included: Johann Wolfgang von Goethe, Lord Byron, Percy and Mary Shelley, John Keats, Nikolai Gogol, Nathaniel Hawthorne, Mark Twain, Hans Christian Andersen, and Stendhal.
Café A Brasileira, Lisbon, Portugal
Address: R. Garrett 122, 1200-273 Lisboa, Portugal
Literary Pedigree: Another hotspot for intellectuals of all stripes, including the novelist Aquilino Ribeiro and the poet Alfredo Pimenta, but the most famous denizen must be Fernando Pessoa, who still sits outside, forever in bronze. (Apparently the secret is that his favorite café was actually somewhere else.)
Zonars, Athens, Greece
Address: Voukourestiou 9, Athina 106 71, Greece
Literary Pedigree: In the 1930s, many writers and other intellectuals stopped here while traveling through Greece, including Jorge Luis Borges, Henry Miller, Lawrence Durrell and Evelyn Waugh.
Pasticceria Caffe Pirona, Trieste, Italy
Address: Largo della Barriera Vecchia, 12, 34129 Trieste TS, Italy
Literary Pedigree: Rumor has it that James Joyce worked on Ulysses in this café—rumor has it he wrote the opening pages there, standing up—but either way, he definitely frequented the place, as he lived across the street for two years. Italo Svevo and Umberto Saba were also patrons.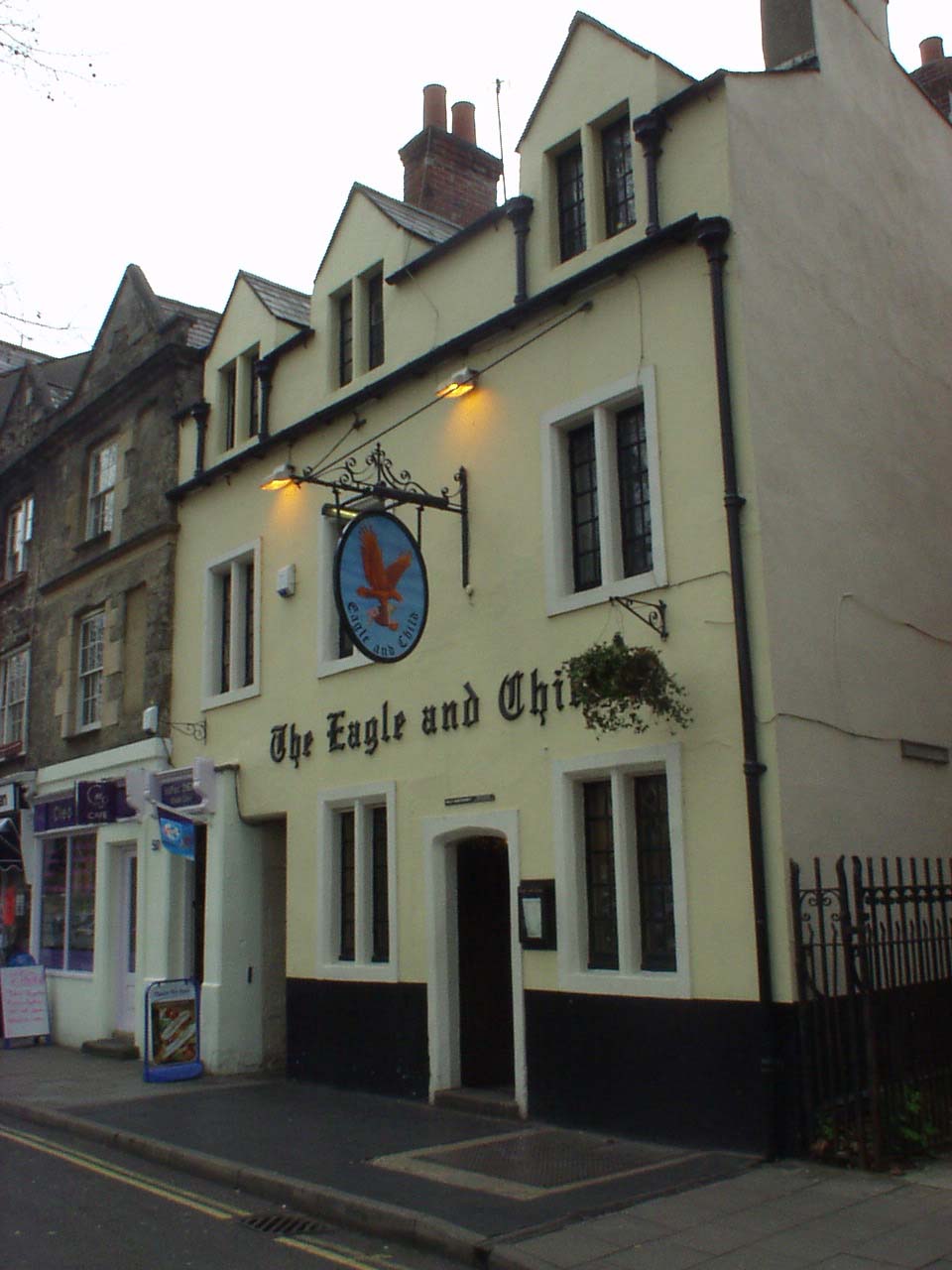 The Eagle and Child, Oxford, England
Address: 49 St Giles', Oxford OX1 3LU, UK
Literary Pedigree: Where J.R.R. Tolkien, C.S. Lewis and the rest of their writers' group, the Inklings (who knew they could be so corny), had weekly lunches for many years—in the private lounge they called the Rabbit Room.
Café a Porta, Copenhagen, Denmark
Address: Kongens Nytorv 17, 1050 København K, Denmark
Literary Pedigree: Hans Christen Andersen lived above the café for three years, and was a regular; after he'd moved out, Karen Blixen frequented the spot as well.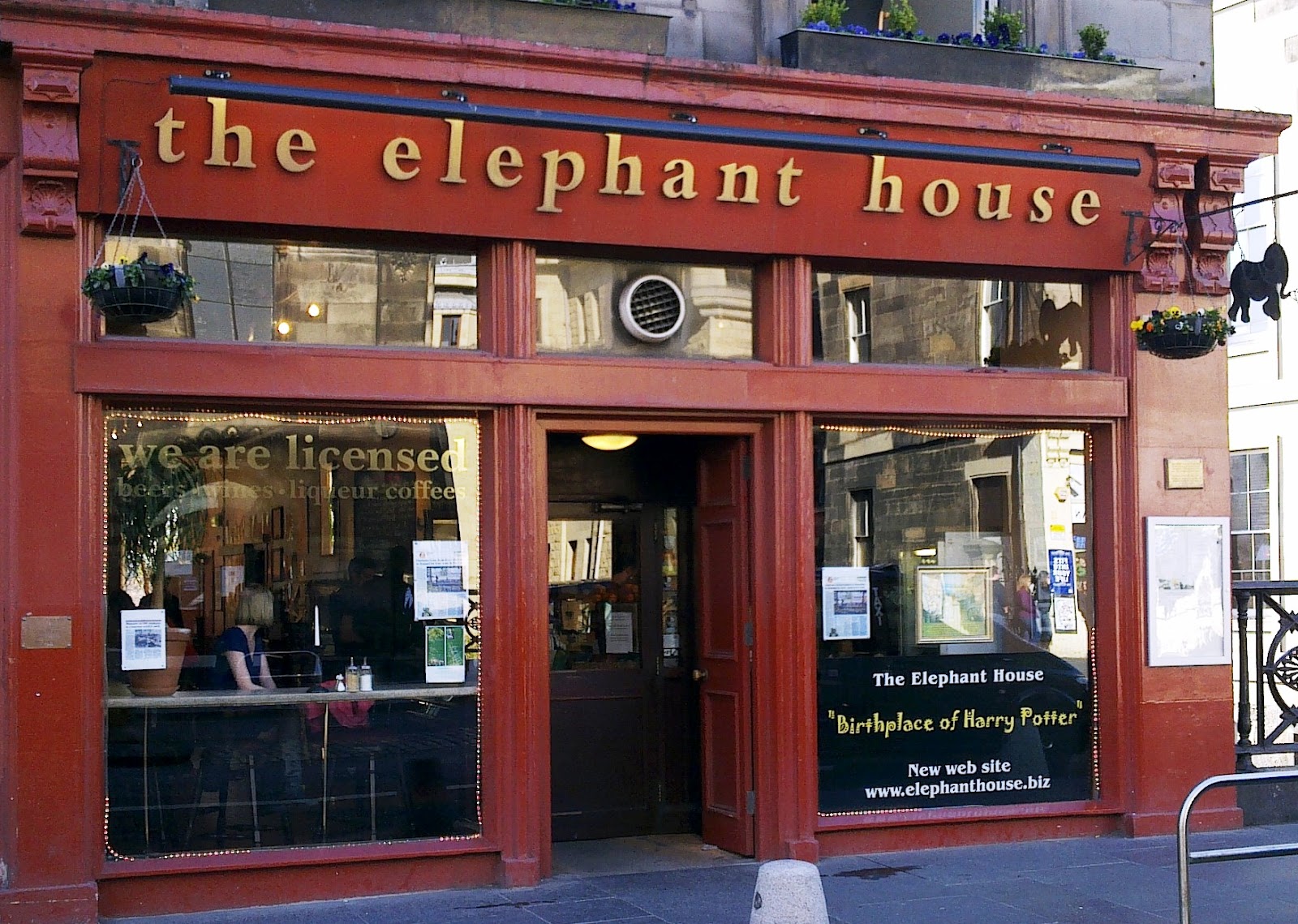 The Elephant House, Edinburgh, Scotland
Address: 21 George IV Bridge, Edinburgh EH1 1EN, UK
Literary Pedigree: This café is famous for being the place where J.K. Rowling started writing the first Harry Potter book—but as it opened in 1995, but that fact seems rather up for debate. The fans have accepted it as a place of pilgrimage, however, something the management does nothing to dissuade. Ian Rankin and Alexander McCall-Smith have also had their tea there.
Café Louvre, Prague, Czech Republic (or Café Monmarte)
Address: Národní 22, 110 00 Nové Město, Czechia
Literary Pedigree: Franz Kafka (and his BFF Max Brod) used to eat here. See also: Café Monmarte.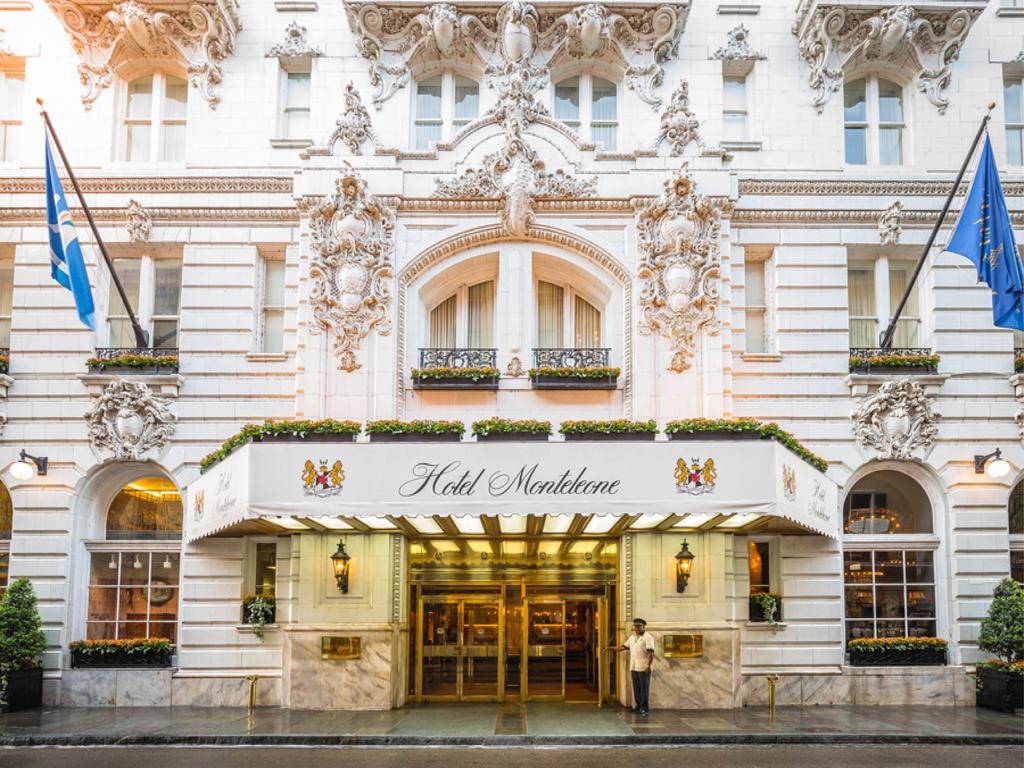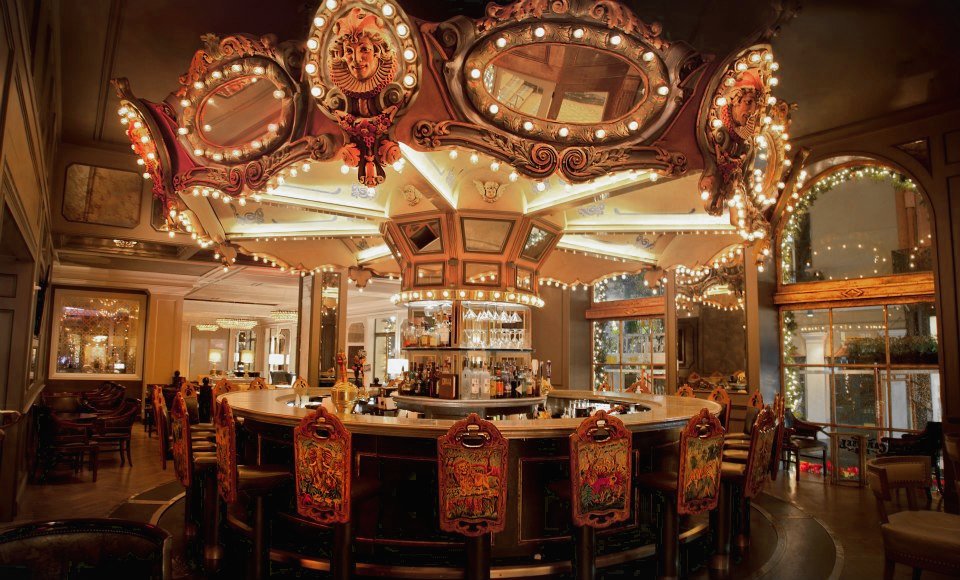 Carousel Bar at Hotel Monteleone, New Orleans, Louisiana, USA
Address: 214 Royal St, New Orleans, LA 70130
Literary Pedigree: According to the Monteleone's website, William Faulkner, Tennessee Williams, Truman Capote, Ernest Hemingway, Eudora Welty, Anne Rice and Rebecca Wells all stayed at the hotel and drank at the bar—and Capote even used to claim, over drinks, that he had been born there. "He wasn't," the hotel assures us. "Though his mother lived at the historic hotel during her pregnancy, she safely made it to the hospital in time for Truman's debut."
Mellqvist Kaffebar, Stockholm, Sweden
Address: Rörstrandsgatan 4, 113 40 Stockholm, Sweden
Literary Pedigree: In his Millennium trilogy, Stieg Larsson gave Mikael Blomkvist his own favorite coffee shop. It's located just below the offices of Expo, the magazine where Larsson was editor from 2004 until his death (another detail he gave his characters).
Nowa Prowincja, Kraków, Poland
Address: Bracka 3-5, 31-005 Kraków, Poland
Literary Pedigree: Reportedly a favorite spot of Nobel Prize-winning poet Wisława Szymborska and a revolving cast of other Polish writers, including Czesław Miłosz.
Ritz-Carlton, Boston, Massachusetts, USA
Address: 15 Arlington St, Boston, MA 02116 United States
Literary Pedigree: Sylvia Plath and Anne Sexton used to meet at the hotel bar for martinis (usually at least three) after their poetry seminar with Robert Lowell. Tennessee Williams is also rumored to have written parts of A Streetcar Named Desire at the bar. (It is now the Taj Boston.)
Grand Café, Oslo, Norway
Address: Karl Johans gate 31, 0159 Oslo, Norway
Literary Pedigree: According to the restaurant's website, this was once Henrik Ibsen's daily lunch spot. Also, not for nothing, they say that "Edvard Munch once offered to swap the painting "Sick Girl" in return for 100 steak dinners." I hope they took that deal.
Grogan's Castle Lounge, Dublin, Ireland
Address: 15 William St S, Dublin 2, D02 H336, Ireland
Literary Pedigree: Almost every bar in Dublin is a literary bar. But I've heard that this bar, in addition to being a favorite of Flann O'Brien's, is where the literary dudes still hang out, so that pushed it over the edge. See also: Kennedy's, Davy Byrnes, Brazen Head, The Palace Bar, etc.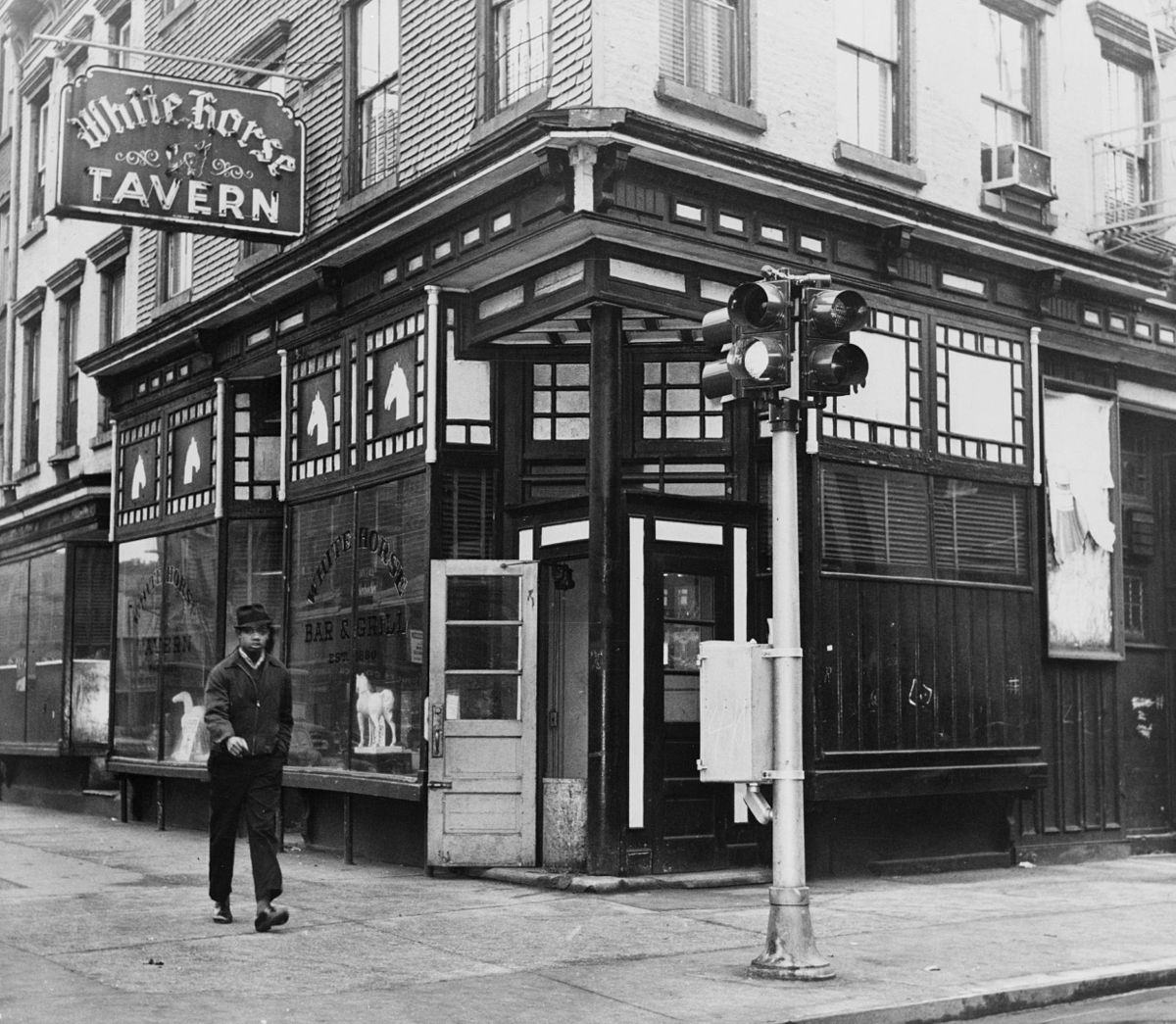 The White Horse Tavern, New York, New York, USA
Address: 567 Hudson St, New York, NY 10014
Literary Pedigree: There are a zillion literary bars and cafés in New York City to choose from—but we can only put one here, and for my money, the White Horse is the most famous. After all, it's where Dylan Thomas drank himself to death. On the other hand, James Baldwin, Norman Mailer, Anaïs Nin, Hunter S. Thompson, Jack Kerouac, John Ashbery, and Frank O'Hara all made it out more or less alive. See also: Elaine's, Cedar Tavern, Algonquin, Chumley's, Pete's, etc. etc. etc.!
---