A State-By-State Survey of Literary Masterpieces
As Determined by the Most Prestigious Literary Prizes in the Country
Probably not all offices have regular arguments about which states are the most literary. Or maybe they do. In any case, our office does, and it's a never-ending discussion, not least because there are a hundred different metrics you could use to determine the "literariness" of a state—which is itself a made-up distinction, of course.
Still, it's fun to think about. So this week, I thought I'd figure out which states have produced the most literary masterpieces—"literary masterpiece" of course being determined by the most objective possible (read: not objective at all, but what we've got) criteria: those who have won one or more of the country's three most prestigious literary prizes: the Pulitzer, the National Book Award, and the National Book Critics Circle Award.
NB that I looked only at poetry and fiction, not because nonfiction isn't (or can't be) "literary," but because it's a huge field, and the many and varied categories proved too difficult to negotiate for this exercise. I credited each state with the works by authors born there (though they may or may not live there now), and eliminated recipients who were born in other countries, for obvious reasons. I counted a total of 421 prizes awarded. I was surprised to find that only 38 states and Washington D.C. have produced prizewinning authors. I was not surprised to see that the top states are the most populous ones (the law of averages wins again), or that Marilynne Robinson singlehandedly puts Idaho on the map, and ditto Robert Penn Warren with Kentucky.
But I'll let you draw your own conclusions—without any further ado, I present the states with the most National Book Awards, Pulitzers, and National Book Critics Circle Awards to their names:
*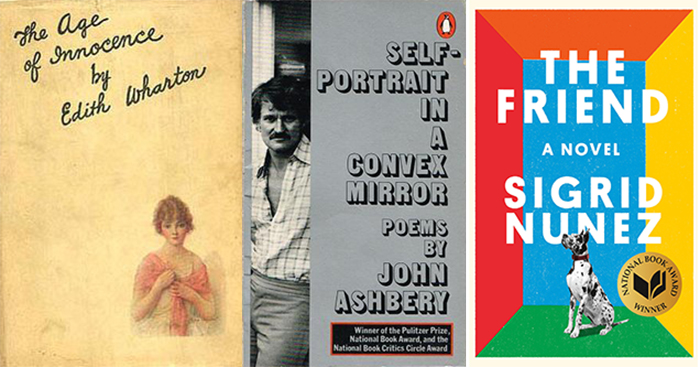 New York – 71
1921: Edith Wharton, The Age of Innocence, Pulitzer (Novel)
1930: Oliver La Farge, Laughing Boy, Pulitzer (Novel)
1935: Rachel Field, Time Out of Mind, National Book Award (Most Distinguished Novel)
1942: William Rose Benét, The Dust Which is God, Pulitzer (Poetry)
1949: Peter Viereck, Terror and Decorum, Pulitzer (Poetry)
1952: Herman Wouk, The Caine Mutiny, Pulitzer (Fiction)
1957: Richard Wilbur, Things of This World, Pulitzer (Poetry)
1957: Richard Wilbur, Things of This World, National Book Award (Poetry)
1959: Bernard Malamud, The Magic Barrel, National Book Award (Fiction)
1962: Alan Dugan, Poems, Pulitzer (Poetry)
1962: Alan Dugan, Poems, National Book Award (Poetry)
1967: Bernard Malamud, The Fixer, Pulitzer (Fiction)
1967: Bernard Malamud, The Fixer, National Book Award (Fiction)
1967: James Merrill, Nights and Days, National Book Award (Poetry)
1968: Anthony Hecht, The Hard Hours, Pulitzer (Poetry)
1969: George Oppen, Of Being Numerous, Pulitzer (Poetry)
1970: Joyce Carol Oates, them, National Book Award (Fiction)
1971: William S. Merwin, The Carrier of Ladders, Pulitzer (Poetry)
1972: Howard Moss, Selected Poems, National Book Award (Poetry)
1974: Thomas Pynchon, Gravity's Rainbow, National Book Award (Fiction)
1975: Robert Stone, Dog Soldiers, National Book Award (Fiction)
1975: E. L. Doctorow, Ragtime, NBCC (Fiction)
1975: Marilyn Hacker, Presentation Piece, National Book Award (Poetry)
1975: John Ashbery, Self-Portrait in a Convex Mirror, NBCC (Poetry)
1976: John Ashbery, Self-Portrait in a Convex Mirror, Pulitzer (Poetry)
1976: John Ashbery, Self-Portrait in a Convex Mirror, National Book Award (Poetry)
1976: John Gardner, October Light, NBCC (Fiction)
1976: William Gaddis, J R, National Book Award (Fiction)
1977: James Merrill, Divine Comedies, Pulitzer (Poetry)
1978: Howard Nemerov, Collected Poems, Pulitzer (Poetry)
1978: Howard Nemerov, Collected Poems, National Book Award (Poetry)
1979: James Merrill, Mirabell, National Book Award (Poetry)
1982: Stanley Elkin, George Mills, NBCC (Fiction)
1982: William Bronk, Life Supports, National Book Award (Poetry)
1982: Katha Pollitt, Antarctic Traveler, NBCC (Poetry)
1983: James Merrill, The Changing Light at Sandover, NBCC (Poetry)
1983: William Kennedy, Ironweed, NBCC (Fiction)
1984: William Kennedy, Ironweed, Pulitzer (Fiction)
1985: Don DeLillo, White Noise, National Book Award (Fiction)
1985: Louise Glück, The Triumph of Achilles, NBCC (Poetry)
1986: E. L. Doctorow, World's Fair, National Book Award (Fiction)
1988: William Meredith, Partial Accounts, Pulitzer (Poetry)
1989: E. L. Doctorow, Billy Bathgate, NBCC (Fiction)
1989: Richard Wilbur, New and Collected Poems, Pulitzer (Poetry)
1990: Oscar Hijuelos, The Mambo Kings Play Songs of Love, Pulitzer (Fiction)
1993: Louise Glück, The Wild Iris, Pulitzer (Poetry)
1994: William Gaddis, A Frolic of His Own, National Book Award (Fiction)
1994: Mark Rudman, Rider, NBCC (Poetry)
1995: Stanley Elkin, Mrs. Ted Bliss, NBCC (Fiction)
1996: Jorie Graham, The Dream of the Unified Field, Pulitzer (Poetry)
1997: Steven Millhauser, Martin Dressler, Pulitzer (Fiction)
1997: William Meredith, Effort at Speech, National Book Award (Poetry)
1998: Alice McDermott, Charming Billy, National Book Award (Fiction)
1998: Marie Ponsot, The Bird Catcher, NBCC (Poetry)
1999: Jonathan Lethem, Motherless Brooklyn, NBCC (Fiction)
2000: Susan Sontag, In America, National Book Award (Fiction)
2000: Lucille Clifton, Blessing the Boats, National Book Award (Poetry)
2001: Alan Dugan, Poems Seven, National Book Award (Poetry)
2001: Stephen Dunn, Different Hours, Pulitzer (Poetry)
2002: Richard Russo, Empire Falls, Pulitzer (Fiction)
2005: E.L. Doctorow, The March, NBCC (Fiction)
2005: W.S. Merwin, Migration, National Book Award (Poetry)
2008: Peter Matthiessen, Shadow Country, National Book Award (Fiction)
2008: Philip Schultz, Failure, Pulitzer (Poetry)
2009: W. S. Merwin, The Shadow of Sirius, Pulitzer (Poetry)
2013: James McBride, The Good Lord Bird, National Book Award (Fiction)
2014: Phil Klay, Redeployment, National Book Award (Fiction)
2014: Louise Glück, Faithful and Virtuous Night, National Book Award (Poetry)
2016: Colson Whitehead, The Underground Railroad, National Book Award (Fiction)
2017: Colson Whitehead, The Underground Railroad, Pulitzer (Fiction)
2018: Sigrid Nunez, The Friend, National Book Award (Fiction)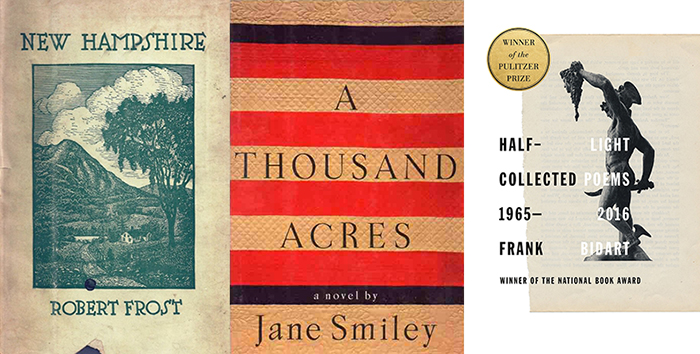 California – 29
1924: Robert Frost, New Hampshire, Pulitzer (Poetry)
1931: Robert Frost, Collected Poems, Pulitzer (Poetry)
1937: Robert Frost, A Further Range, Pulitzer (Poetry)
1939: John Steinbeck, The Grapes of Wrath, National Book Award (Favorite Fiction)
1940: John Steinbeck, The Grapes of Wrath, Pulitzer (Novel)
1943: Robert Frost, A Witness Tree, Pulitzer (Poetry)
1944: Martin Flavin, Journey in the Dark, Pulitzer (Novel)
1970: Jean Stafford, Collected Stories, Pulitzer (Fiction)
1975: Gary Snyder, Turtle Island, Pulitzer (Poetry)
1984: Sharon Olds, The Dead and the Living, NBCC (Poetry)
1990: Amy Gerstler, Bitter Angel, NBCC (Poetry)
1991: Norman Rush, Mating, National Book Award (Fiction)
1991: Jane Smiley, A Thousand Acres, NBCC (Fiction)
1992: Jane Smiley, A Thousand Acres, Pulitzer (Fiction)
1996: Gina Berriault, Women in Their Beds, NBCC (Fiction)
1996: Robert Hass, Sun Under Wood, NBCC (Poetry)
2005: William Vollmann, Europe Central, National Book Award (Fiction)
2007: Robert Hass, Time and Materials, National Book Award (Poetry)
2008: Robert Hass, Time and Materials, Pulitzer (Poetry)
2008: Juan Felipe Herrera, Half the World in Light, NBCC (Poetry)
2009: Rae Armantrout, Versed, NBCC (Poetry)
2010: Rae Armantrout, Versed, Pulitzer (Poetry)
2011: Kay Ryan, The Best of It, Pulitzer (Poetry)
2013: Sharon Olds, Stag's Leap, Pulitzer (Poetry)
2013: Frank Bidart, Metaphysical Dog, NBCC (Poetry)
2015: Paul Beatty, The Sellout, NBCC (Fiction)
2015: Robin Coste Lewis, Voyage of the Sable Venus, National Book Award (Poetry)
2017: Frank Bidart, Half-light, National Book Award (Poetry)
2018: Frank Bidart, Half-light, Pulitzer (Poetry)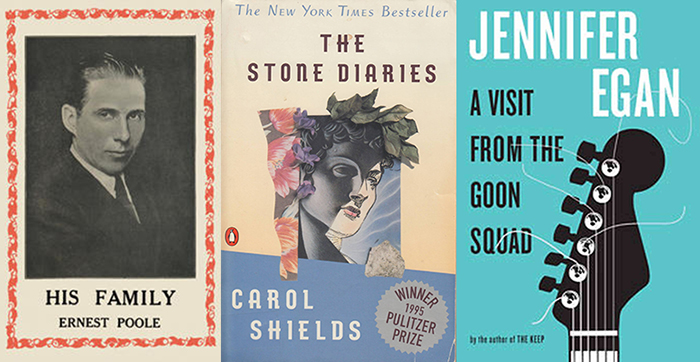 Illinois – 28
1918: Ernest Poole, His Family, Pulitzer (Novel)
1919: Carl Sandburg, Corn Huskers, Pulitzer (Poetry)
1925: James Jones, From Here to Eternity, National Book Award (Fiction)
1931: Margaret Ayer Barnes, Years of Grace, Pulitzer (Novel)
1933: Archibald MacLeish, Conquistador, Pulitzer (Poetry)
1940: Mark Van Doren, Collected Poems, Pulitzer (Poetry)
1949: James Gould Cozzens, Guard of Honor, Pulitzer (Fiction)
1951: Carl Sandburg, Complete Poems, Pulitzer (Poetry)
1953: Ernest Hemingway, The Old Man and the Sea, Pulitzer (Fiction)
1953: Archibald MacLeish, Collected Poems, Pulitzer (Poetry)
1953: Archibald MacLeish, Collected Poems, National Book Award (Poetry)
1959: Robert Lewis Taylor, The Travels of Jaimie McPheeters, Pulitzer (Fiction)
1963: J. F. Powers, Morte d'Urban, National Book Award (Fiction)
1981: James Schuyler, The Morning of the Poem, Pulitzer (Poetry)
1985: Alison Lurie, Foreign Affairs, Pulitzer (Fiction)
1986: Edward Hirsch, Wild Gratitude, NBCC (Poetry)
1987: Larry Heinemann, Paco's Story, National Book Award (Fiction)
1990: Charles Johnson, Middle Passage, National Book Award (Fiction)
1991: Albert Goldbarth, Heaven and Earth, NBCC (Poetry)
1993: Robert Olen Butler, A Good Scent from a Strange Mountain, Pulitzer (Fiction)
1994: Carol Shields, The Stone Diaries, NBCC
1995: Carol Shields, The Stone Diaries, Pulitzer (Fiction)
2001: Jonathan Franzen, The Corrections, National Book Award (Fiction)
2001: Albert Goldbarth, Saving Lives, NBCC (Poetry)
2004: Jean Valentine, Door in the Mountain, National Book Award (Poetry)
2006: Richard Powers, The Echo Maker, National Book Award (Fiction)
2010: Jennifer Egan, A Visit from the Goon Squad, NBCC
2011: Jennifer Egan, A Visit from the Goon Squad, Pulitzer (Fiction)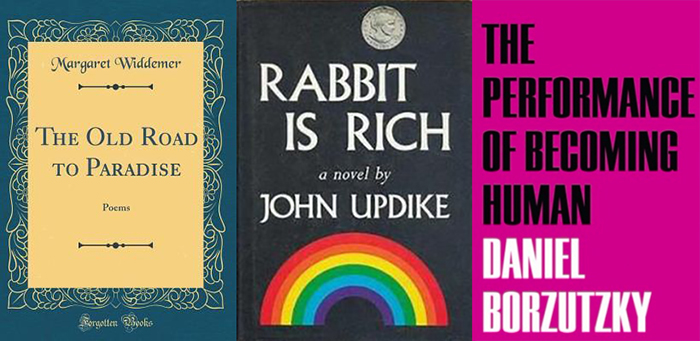 Pennsylvania – 24
1919: Margaret Widdemer, Old Road to Paradise, Pulitzer (Poetry)
1929: Stephen Vincent Benét, John Brown's Body, Pulitzer (Poetry)
1944: Stephen Vincent Benét, Western Star, Pulitzer (Poetry)
1948: James A. Michener, Tales of the South Pacific, Pulitzer (Fiction)
1951: Conrad Richter, The Town, Pulitzer (Fiction)
1951: Wallace Stevens, The Auroras of Autumn, National Book Award (Poetry)
1955: Wallace Stevens, Collected Poems, Pulitzer (Poetry)
1955: Wallace Stevens, Collected Poems, National Book Award (Poetry)
1956: John O'Hara, Ten North Frederick, National Book Award (Fiction)
1960: W.D. Snodgrass, Heart's Needle, Pulitzer (Poetry)
1961: Conrad Richter, The Waters of Kronos, National Book Award (Fiction)
1964: John Updike, The Centaur, National Book Award (Fiction)
1973: Maxine Kumin, Up Country, Pulitzer (Poetry)
1981: John Updike, Rabbit is Rich, NBCC (Fiction)
1982: John Updike, Rabbit is Rich, Pulitzer (Fiction)
1982: John Updike, Rabbit is Rich, National Book Award (Fiction Hardcover)
1990: John Updike, Rabbit at Rest, NBCC (Fiction)
1991: John Updike, Rabbit at Rest, Pulitzer (Fiction)
1998: Gerald Stern, This Time, National Book Award (Poetry)
2003: Susan Stewart, Columbarium, NBCC (Poetry)
2005: Jack Gilbert, Refusing Heaven, NBCC (Poetry)
2013: Mary Szybist, Incarnadine, National Book Award (Poetry)
2015: Gregory Pardlo, Digest, Pulitzer (Poetry)
2016: Daniel Borzutzky, The Performance of Becoming Human, National Book Award (Poetry)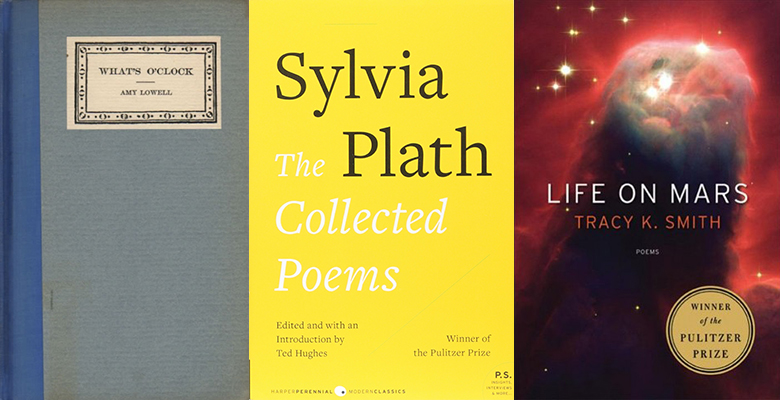 Massachusetts – 20
1926: Amy Lowell, What's O'Clock, Pulitzer (Poetry)
1947: Robert Lowell, Lord Weary's Castle, Pulitzer (Poetry)
1956: Elizabeth Bishop, Poems, Pulitzer (Poetry)
1958: John Cheever, The Wapshot Chronicle, National Book Award (Fiction)
1959: Stanley Kunitz, Selected Poems, Pulitzer (Poetry)
1960: Robert Lowell, Life Studies, National Book Award (Poetry)
1967: Anne Sexton, Live or Die, Pulitzer (Poetry)
1970: Elizabeth Bishop, The Complete Poems, National Book Award (Poetry)
1974: Robert Lowell, The Dolphin, Pulitzer (Poetry)
1976: Elizabeth Bishop, Geography III, NBCC (Poetry)
1977: Robert Lowell, Day By Day, NBCC (Poetry)
1978: John Cheever, The Stories of John Cheever, NBCC (Fiction)
1979: John Cheever, The Stories of John Cheever, Pulitzer (Fiction)
1982: Sylvia Plath, The Collected Poems, Pulitzer (Poetry)
1989: John Casey, Spartina, National Book Award (Fiction)
1995: Stanley Kunitz, Passing Through, National Book Award (Poetry)
1996: Andrea Barrett, Ship Fever and Other Stories, National Book Award (Fiction)
2002: Julia Glass, Three Junes, National Book Award (Fiction)
2010: Paul Harding, Tinkers, Pulitzer (Fiction)
2012: Tracy K. Smith, Life on Mars, Pulitzer (Poetry)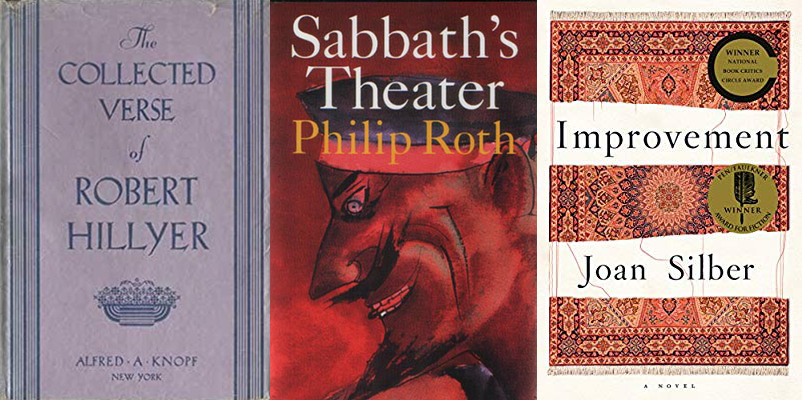 New Jersey – 17
1934: Robert Hillyer, Collected Verse, Pulitzer (Poetry)
1950: William Carlos Williams, Paterson, National Book Award (Poetry)
1960: Philip Roth, Goodbye, Columbus, National Book Award (Fiction)
1963: William Carlos Williams, Pictures from Brueghel, Pulitzer (Poetry)
1974: Allen Ginsberg, The Fall of America, National Book Award (Poetry)
1975: Michael Shaara, The Killer Angels, Pulitzer (Fiction)
1980: Norman Mailer, The Executioner's Song, Pulitzer (Fiction)
1987: Philip Roth, The Counterlife, NBCC (Fiction)
1987: C. K. Williams, Flesh and Blood, NBCC (Poetry)
1995: Philip Roth, Sabbath's Theater, National Book Award (Fiction)
1998: Philip Roth, American Pastoral, Pulitzer (Fiction)
2000: C. K. Williams, Repair, Pulitzer (Poetry)
2003: C. K. Williams, The Singing, National Book Award (Poetry)
2008: August Kleinzahler, Sleeping It Off in Rapid City, NBCC (Poetry)
2012: David Ferry, Bewilderment, National Book Award (Poetry)
2016: Peter Balakian, Ozone Journal, Pulitzer (Poetry)
2017: Joan Silber, Improvement, NBCC (Fiction)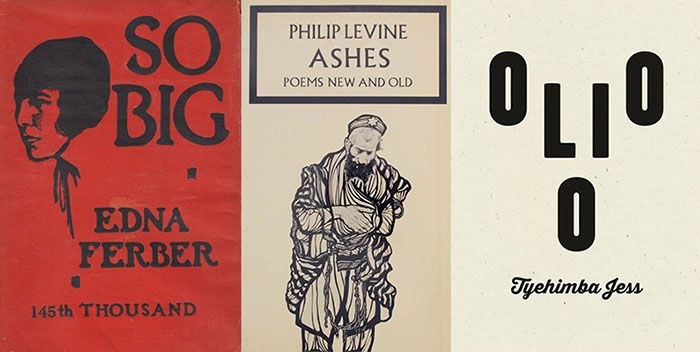 Michigan – 15
1925: Edna Ferber, So Big, Pulitzer (Novel)
1941: Leonard Bacon, Sunderland Capture, Pulitzer (Poetry)
1950: Nelson Algren, The Man with the Golden Arm, National Book Award (Fiction)
1954: Theodore Roethke, The Waking, Pulitzer (Poetry)
1959: Theodore Roethke, Words for the Wind, National Book Award (Poetry)
1965: Theodore Roethke, The Far Field, National Book Award (Poetry)
1978: L. E. Sissman, Hello, Darkness, NBCC (Poetry)
1979: Philip Levine, Ashes, NBCC (Poetry)
1980: Philip Levine, Ashes, National Book Award (Poetry)
1988: Pete Dexter, Paris Trout, National Book Award (Fiction)
1991: Philip Levine, What Work Is, National Book Award (Poetry)
1995: Philip Levine, The Simple Truth, Pulitzer (Poetry)
2003: Jeffrey Eugenides, Middlesex, Pulitzer (Fiction)
2011: Laura Kasischke, Space, In Chains, NBCC (Poetry)
2017: Tyehimba Jess, Olio, Pulitzer (Poetry)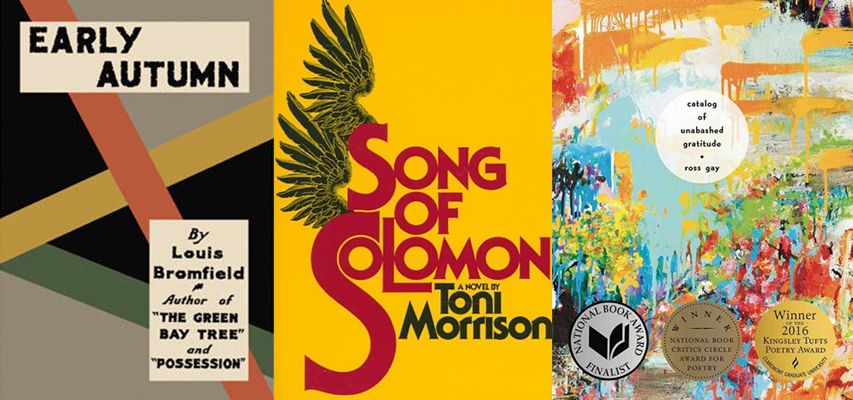 Ohio – 12
1927: Louis Bromfield, Early Autumn, Pulitzer (Novel)
1970: Richard Howard, Untitled Subjects, Pulitzer (Poetry)
1972: James Wright, Collected Poems, Pulitzer (Poetry)
1977: Toni Morrison, Song of Solomon, NBCC (Fiction)
1984: Mary Oliver, American Primitive, Pulitzer (Poetry)
1987: Rita Dove, Thomas and Beulah, Pulitzer (Poetry)
1988: Toni Morrison, Beloved, Pulitzer (Fiction)
1992: Mary Oliver, New and Selected Poems, National Book Award (Poetry)
1995: William Matthews, Time and Money, NBCC (Poetry)
1999: Michael Cunningham, The Hours, Pulitzer (Fiction)
2015: Anthony Doerr, All the Light We Cannot See, Pulitzer (Fiction)
2015: Ross Gay, Catalogue of Unabashed Gratitude, NBCC (Poetry)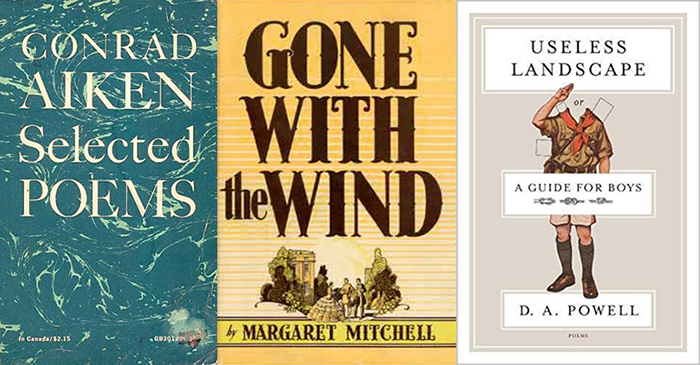 Georgia – 11
1930: Conrad Aiken, Selected Poems, Pulitzer (Poetry)
1934: Caroline Miller, Lamb in His Bosom, Pulitzer (Novel)
1936: Margaret Mitchell, Gone With the Wind, National Book Award (Most Distinguished Novel)
1937: Margaret Mitchell, Gone With the Wind, Pulitzer (Novel)
1954: Conrad Aiken, Collected Poems, National Book Award (Poetry)
1966: James Dickey, Buckdancer's Choice, National Book Award (Poetry)
1972: Flannery O'Connor, The Complete Stories, National Book Award (Fiction)
1978: James Alan McPherson, Elbow Room, Pulitzer (Fiction)
1983: Alice Walker, The Color Purple, Pulitzer (Fiction)
1983: Alice Walker, The Color Purple, National Book Award (Fiction Hardcover)
2012: D. A. Powell, Useless Landscape, NBCC (Poetry)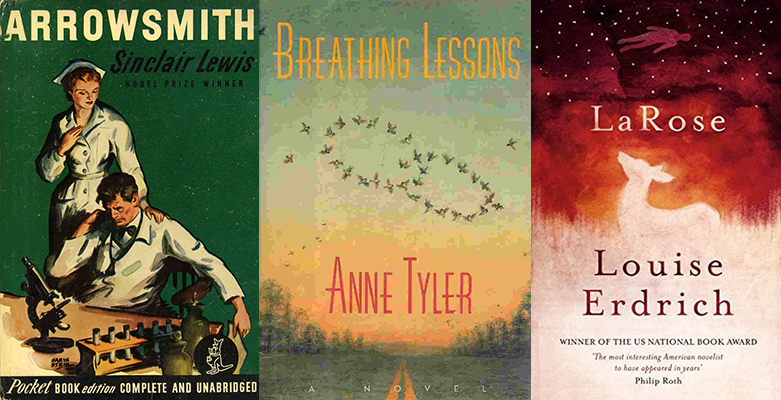 Minnesota – 11
1926: Sinclair Lewis, Arrowsmith, Pulitzer (Novel)
1966: Richard Eberhart, Selected Poems, Pulitzer (Poetry)
1968: Robert Bly, The Light Around the Body, National Book Award (Poetry)
1975: Thomas Williams, The Hair of Harold Roux, National Book Award (Fiction)
1977: Richard Eberhart, Collected Poems, National Book Award (Poetry)
1979: Tim O'Brien, Going After Cacciato, National Book Award (Fiction)
1984: Louise Erdrich, Love Medicine, NBCC (Fiction)
1985: Anne Tyler, The Accidental Tourist, NBCC (Fiction)
1989: Anne Tyler, Breathing Lessons, Pulitzer (Fiction)
2012: Louise Erdrich, The Round House, National Book Award (Fiction)
2016: Louise Erdrich, LaRose, NBCC (Fiction)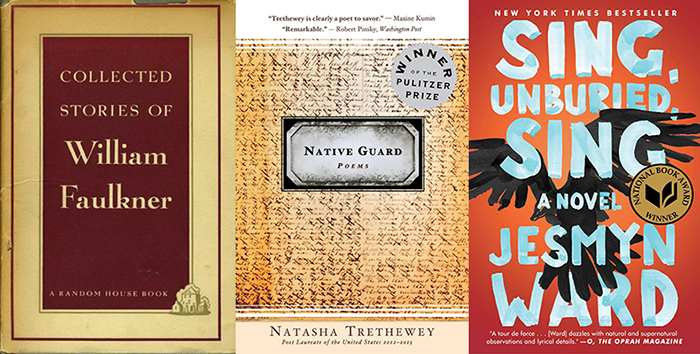 Mississippi – 11
1951: William Faulkner, Collected Stories of William Faulkner, National Book Award (Fiction)
1955: William Faulkner, A Fable, Pulitzer (Fiction)
1955: William Faulkner, A Fable, National Book Award (Fiction)
1963: William Faulkner, The Reivers, Pulitzer (Fiction)
1973: Eudora Welty, The Optimist's Daughter, Pulitzer (Fiction)
1984: Ellen Gilchrist, Victory Over Japan, National Book Award (Fiction)
1996: Richard Ford, Independence Day, Pulitzer (Fiction)
2007: Natasha Trethewey, Native Guard, Pulitzer (Poetry)
2011: Jesmyn Ward, Salvage the Bones, National Book Award (Fiction)
2014: Donna Tartt, The Goldfinch, Pulitzer (Fiction)
2017: Jesmyn Ward, Sing, Unburied, Sing, National Book Award (Fiction)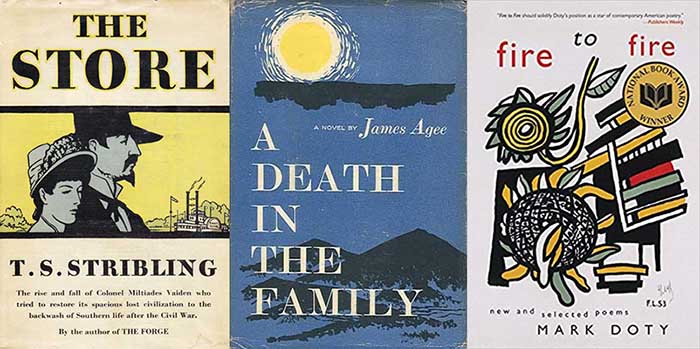 Tennessee – 10
1933: T. S. Stribling, The Store, Pulitzer (Novel)
1958: James Agee, A Death in the Family, Pulitzer (Fiction)
1961: Randall Jarrell, The Woman at Washington Zoo, National Book Award (Poetry)
1964: John Crowe Ransom, Selected Poems, National Book Award (Poetry)
1983: Charles Wright, Country Music, National Book Award (Poetry)
1987: Peter Taylor, A Summons to Memphis, Pulitzer (Fiction)
1993: Mark Doty, My Alexandria, NBCC (Poetry)
1997: Charles Wright, Black Zodiac, NBCC (Poetry)
1998: Charles Wright, Black Zodiac, Pulitzer (Poetry)
2008: Mark Doty, Fire to Fire, National Book Award (Poetry)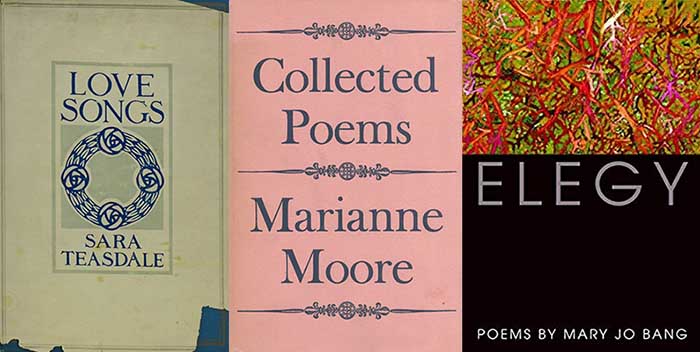 Missouri – 9
1918: Sara Teasdale, Love Songs, Pulitzer (Poetry)
1935: Josephine Winslow Johnson, Now in November, Pulitzer (Novel)
1952: Marianne Moore, Collected Poems, Pulitzer (Poetry)
1952: Marianne Moore, Collected Poems, National Book Award (Poetry)
1980: Frederick Seidel, Sunrise, NBCC (Poetry)
1992: James Tate, Selected Poems, Pulitzer (Poetry)
1994: James Tate, The Worshipful Company of Fletchers, National Book Award (Poetry)
2002: Carl Dennis, Practical Gods, Pulitzer (Poetry)
2007: Mary Jo Bang, Elegy, NBCC (Poetry)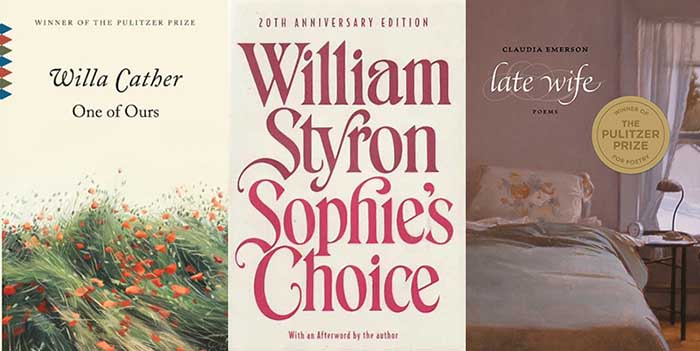 Virginia – 8
1923: Willa Cather, One of Ours, Pulitzer (Novel)
1942: Ellen Glasgow, In This Our Life, Pulitzer (Novel)
1968: William Styron, The Confessions of Nat Turner, Pulitzer (Fiction)
1980: William Styron, Sophie's Choice, National Book Award (Fiction Hardcover)
1986: Henry Taylor, The Flying Change, Pulitzer (Poetry)
1999: Ruth Stone, Ordinary Words, NBCC (Poetry)
2002: Ruth Stone, In the Next Galaxy, National Book Award (Poetry)
2006: Claudia Emerson, Late Wife, Pulitzer (Poetry)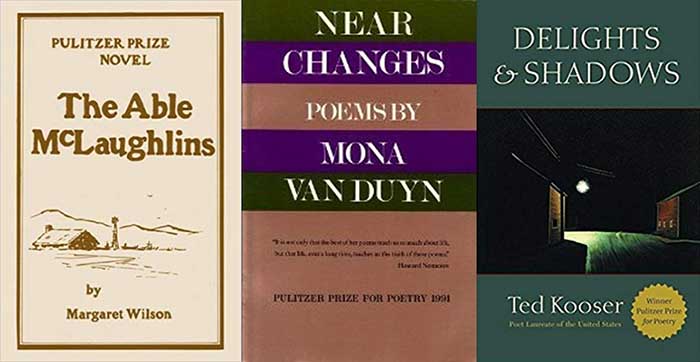 Iowa – 7
1924: Margaret Wilson, The Able McLaughlins, Pulitzer (Novel)
1956: MacKinlay Kantor, Andersonville, Pulitzer (Fiction)
1971: Mona Van Duyn, To See, To Take, National Book Award (Poetry)
1972: Wallace Stegner, Angle of Repose, Pulitzer (Fiction)
1977: Wallace Stegner, The Spectator Bird, National Book Award (Fiction)
1991: Mona Van Duyn, Near Changes, Pulitzer (Poetry)
2005: Ted Kooser, Delights & Shadows, Pulitzer (Poetry)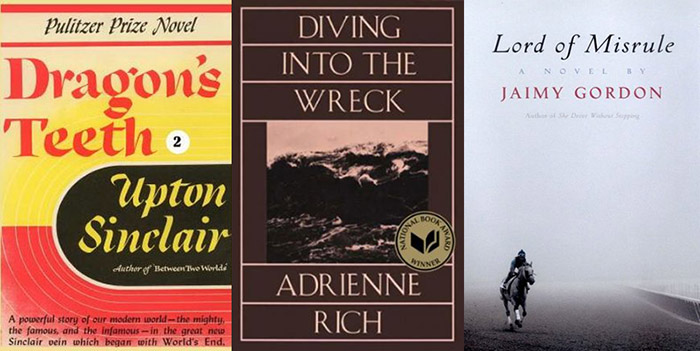 Maryland – 7
1943: Upton Sinclair, Dragon's Teeth, Pulitzer (Novel)
1945: Karl Shapiro, V-Letter and Other Poems, Pulitzer (Poetry)
1972: Frank O'Hara, The Collected Poems of Frank O'Hara, National Book Award (Poetry)
1973: John Barth, Chimera, National Book Award (Fiction)
1975: Adrienne Rich, Diving into the Wreck, National Book Award (Poetry)
2004: Adrienne Rich, The School Among the Ruins, NBCC (Poetry)
2010: Jaimy Gordon, Lord of Misrule, National Book Award (Fiction)
North Carolina – 7
1973: A. R. Ammons, Collected Poems, National Book Award (Poetry)
1981: A. R. Ammons, A Coast of Trees, NBCC (Poetry)
1986: Reynolds Price, Kate Vaiden, NBCC (Fiction)
1993: A. R. Ammons, Garbage, National Book Award (Poetry)
1997: Charles Frazier, Cold Mountain, National Book Award (Fiction)
2000: Judy Jordan, Carolina Ghost Woods, NBCC (Poetry)
2012: Ben Fountain, Billy Lynn's Long Halftime Walk, NBCC (Fiction)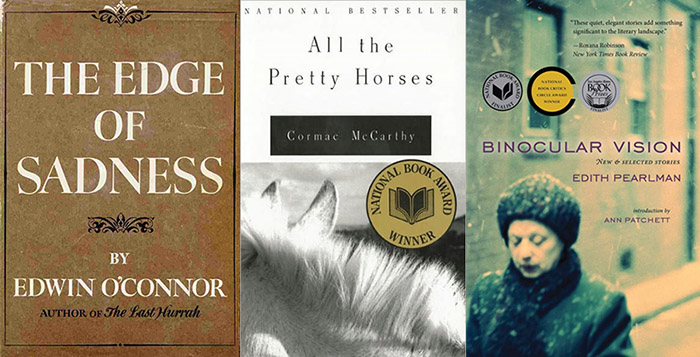 Rhode Island – 7
1962: Edwin O'Connor, The Edge of Sadness, Pulitzer (Fiction)
1983: Galway Kinnell, Selected Poems, Pulitzer (Poetry)
1983: Galway Kinnell, Selected Poems, National Book Award (Poetry)
1992: Cormac McCarthy, All the Pretty Horses, National Book Award (Fiction)
1992: Cormac McCarthy, All the Pretty Horses, NBCC (Fiction)
2007: Cormac McCarthy, The Road, Pulitzer (Fiction)
2011: Edith Pearlman, Binocular Vision, NBCC (Fiction)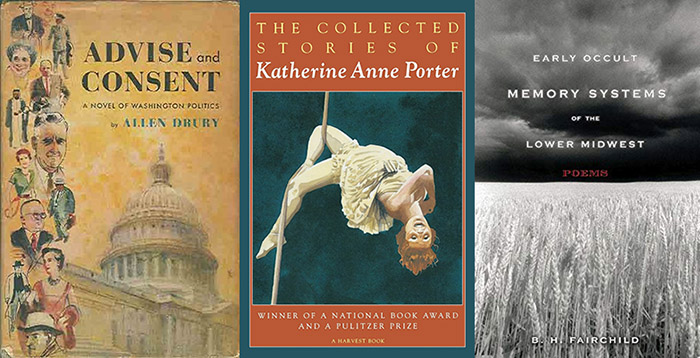 Texas – 7
1960: Allen Drury, Advise and Consent, Pulitzer (Fiction)
1966: Katherine Anne Porter, Collected Stories, Pulitzer (Fiction)
1966: Katherine Anne Porter, Collected Stories, National Book Award (Fiction)
1973: John Edward Williams, Augustus, National Book Award (Fiction)
1986: Larry McMurtry, Lonesome Dove, Pulitzer (Fiction)
1999: Ai, Vice, National Book Award (Poetry)
2002: B. H. Fairchild, Early Occult Memory Systems of the Lower Midwest, NBCC (Poetry)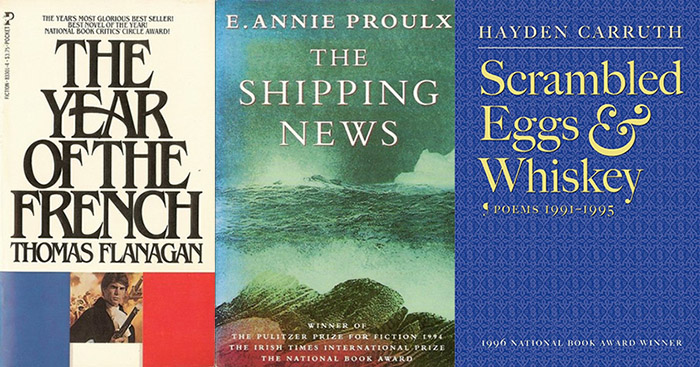 Connecticut – 6
1979: Thomas Flanagan, The Year of the French, NBCC (Fiction)
1988: Donald Hall, That One Day, NBCC (Poetry)
1992: Hayden Carruth, Collected Shorter Poems, NBCC (Poetry)
1993: E. Annie Proulx, The Shipping News, National Book Award (Fiction)
1994: E. Annie Proulx, The Shipping News, Pulitzer (Fiction)
1996: Hayden Carruth, Scrambled Eggs & Whiskey, National Book Award (Poetry)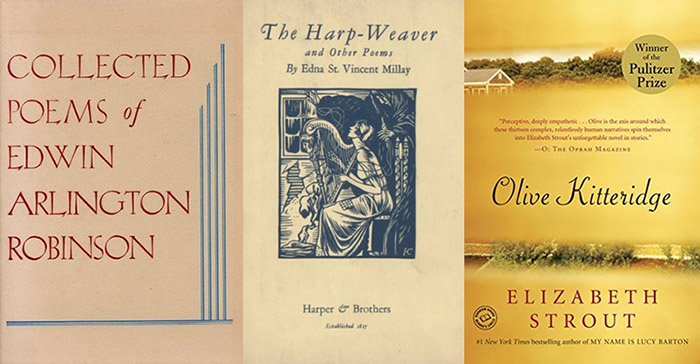 Maine – 6
1922: Edwin Arlington Robinson, Collected Poems, Pulitzer, (Poetry)
1923: Edna St. Vincent Millay, The Ballad of the Harp-Weaver, Pulitzer (Poetry)
1925: Edwin Arlington Robinson, The Man Who Died Twice, Pulitzer (Poetry)
1928: Edwin Arlington Robinson, Tristram, Pulitzer (Poetry)
1936: Robert P. Tristram Coffin, Strange Holiness, Pulitzer (Poetry)
2009: Elizabeth Strout, Olive Kitteridge, Pulitzer (Fiction)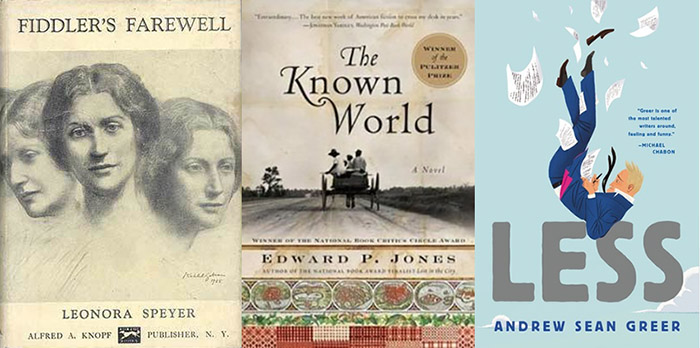 Washington D. C. – 6
1927: Leonora Speyer, Fiddler's Farewell, Pulitzer (Poetry)
1939: Marjorie Kinnan Rawlings, The Yearling, Pulitzer (Novel)
2001: Michael Chabon, The Amazing Adventures of Kavalier & Clay, Pulitzer (Fiction)
2003: Edward P. Jones, The Known World, NBCC
2004: Edward P. Jones, The Known World, Pulitzer (Fiction)
2018: Andrew Sean Greer, Less, Pulitzer (Fiction)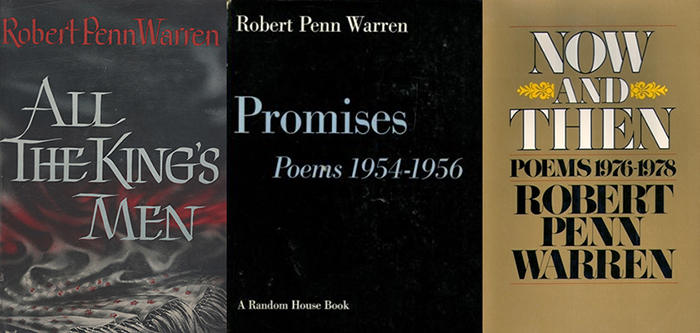 Kentucky – 4
1947: Robert Penn Warren, All the King's Men, Pulitzer (Novel)
1958: Robert Penn Warren, Promises, Pulitzer (Poetry)
1958: Robert Penn Warren, Promises, National Book Award (Poetry)
1979: Robert Penn Warren, Now and Then, Pulitzer (Poetry)
Louisiana – 4
1965: Shirley Ann Grau, The Keepers of the House, Pulitzer (Fiction)
1981: John Kennedy Toole, A Confederacy of Dunces, Pulitzer (Fiction)
1993: Ernest J. Gaines, A Lesson Before Dying, NBCC (Fiction)
1994: Yusef Komunyakaa, Neon Vernacular, Pulitzer (Poetry)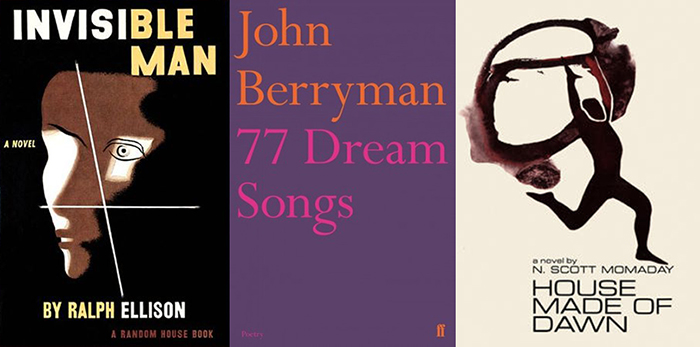 Oklahoma – 4
1953: Ralph Ellison, Invisible Man, National Book Award (Fiction)
1965: John Berryman, 77 Dream Songs, Pulitzer (Poetry)
1969: John Berryman, His Toy, His Dream, His Rest, National Book Award (Poetry)
1969: N. Scott Momaday, House Made of Dawn, Pulitzer (Fiction)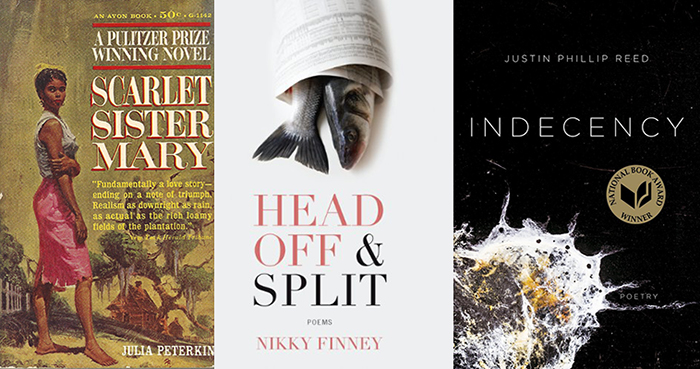 South Carolina – 4
1929: Julia Peterkin, Scarlet Sister Mary, Pulitzer (Novel)
2010: Terrance Hayes, Lighthead, National Book Award (Poetry)
2011: Nikky Finney, Head Off & Split, National Book Award (Poetry)
2018: Justin Phillip Reed, Indecency, National Book Award (Poetry)
Alabama – 3
1961: Harper Lee, To Kill a Mockingbird, Pulitzer (Fiction)
1962: Walker Percy, The Moviegoer, National Book Award (Fiction)
1989: Rodney Jones, Transparent Gestures, NBCC (Poetry)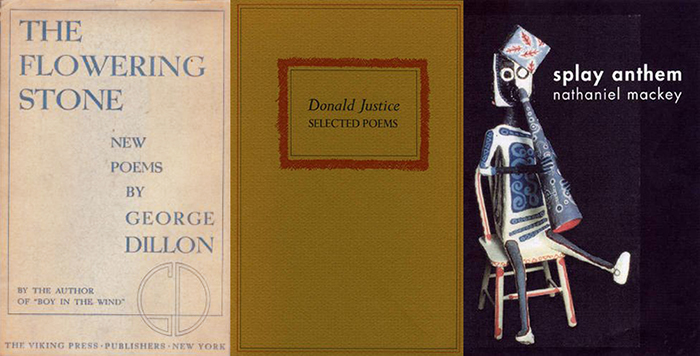 Florida – 3
1932: George Dillon, The Flowering Stone, Pulitzer (Poetry)
1980: Donald Justice, Selected Poems, Pulitzer (Poetry)
2006: Nathaniel Mackey, Splay Anthem, National Book Award (Poetry)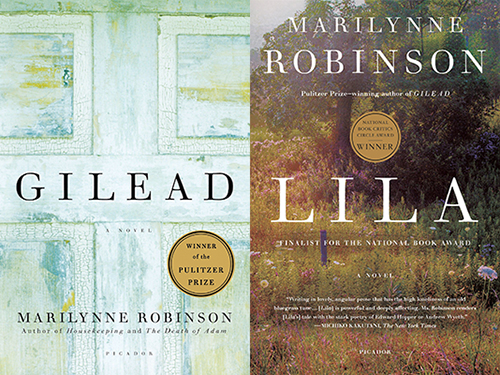 Idaho – 3
2004: Marilynne Robinson, Gilead, NBCC (Fiction)
2005: Marilynne Robinson, Gilead, Pulitzer (Fiction)
2014: Marilynne Robinson, Lila, NBCC (Fiction)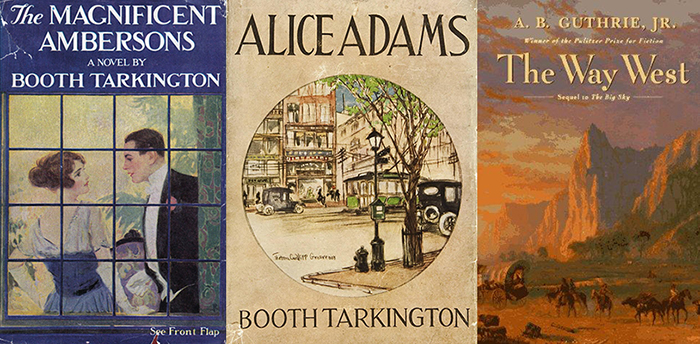 Indiana – 3
1919: Booth Tarkington, The Magnificent Ambersons, Pulitzer (Novel)
1922: Booth Tarkington, Alice Adams, Pulitzer (Novel)
1950: A. B. Guthrie, The Way West, Pulitzer (Fiction)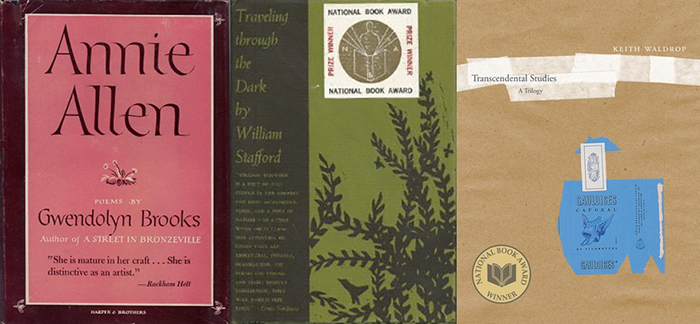 Kansas – 3
1950: Gwendolyn Brooks, Annie Allen, Pulitzer (Poetry)
1963: William Stafford, Traveling Through the Dark, National Book Award (Poetry)
2009: Keith Waldrop, Transcendental Studies, National Book Award (Poetry)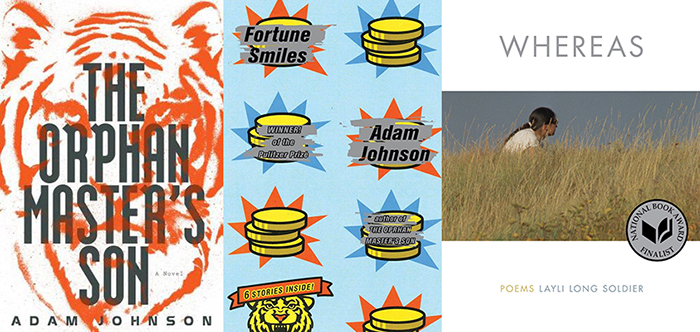 South Dakota – 3
2013: Adam Johnson, The Orphan Master's Son, Pulitzer (Fiction)
2015: Adam Johnson, Fortune Smiles, National Book Award (Fiction)
2017: Layli Long Soldier, Whereas, NBCC (Poetry)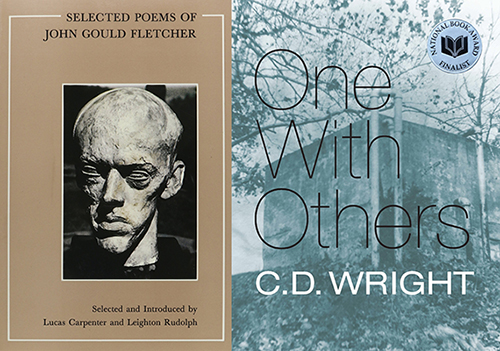 Arkansas – 2
1939: John Gould Fletcher, Selected Poems, Pulitzer (Poetry)
2010: C. D. Wright, One With Others, NBCC (Poetry)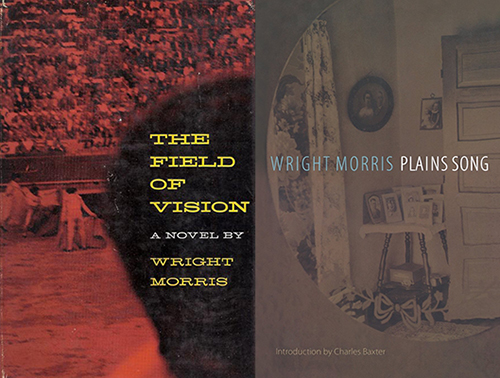 Nebraska – 2
1957: Wright Morris, The Field of Vision, National Book Award (Fiction)
1981: Wright Morris, Plains Song, National Book Award (Fiction Hardcover)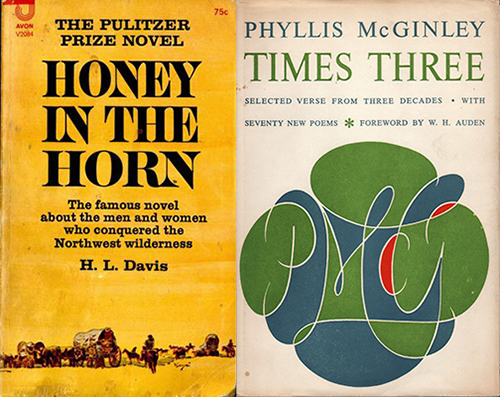 Oregon – 2
1936: Harold L. Davis, Honey in the Horn, Pulitzer (Novel)
1961: Phyllis McGinley, Times Three, Pulitzer (Poetry)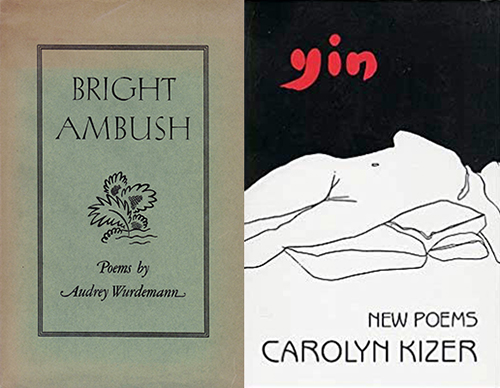 Washington – 2
1935: Audrey Wurdemann, Bright Ambush, Pulitzer (Poetry)
1985: Carolyn Kizer, Yin, Pulitzer (Poetry)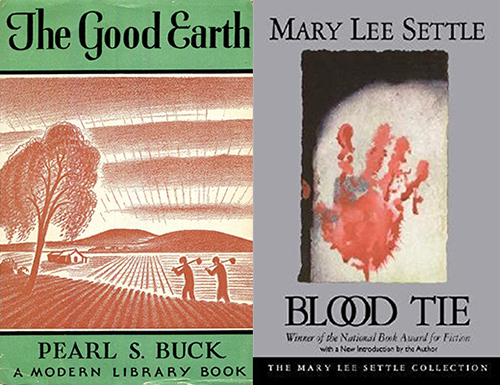 West Virginia – 2
1932: Pearl S. Buck, The Good Earth, Pulitzer (Novel)
1978: Mary Lee Settle, Blood Tie, National Book Award (Fiction)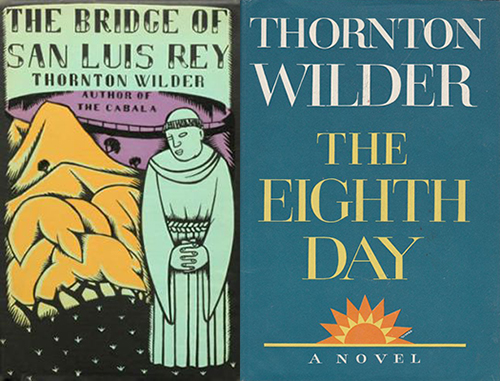 Wisconsin – 2
1928: Thornton Wilder, The Bridge of San Luis Rey, Pulitzer (Novel)
1968: Thornton Wilder, The Eighth Day, National Book Award (Fiction)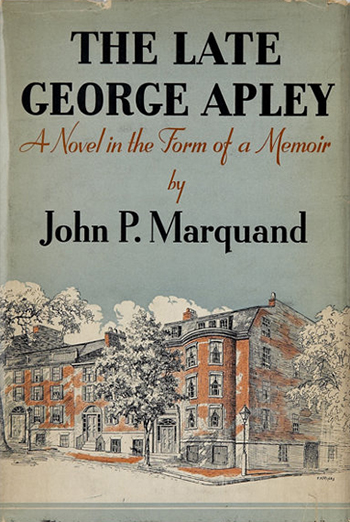 Delaware – 1
1938: John Phillips Marquand, The Late George Apley, Pulitzer (Novel)
---