A Spaniard, a Frenchman, and Several Dead Russians: What I Owe Roberto Bolaño
Chris Power on the Deep, Dark Influences Behind His Debut Novel
On the first page of notes I took for what would become my first novel, A Lonely Man, I wrote two names in the margin. One was Patrick Modiano, the other Enrique Martín. One is a Nobel laureate, a writer of hypnotic, existential detective novels that return obsessively to questions of identity, betrayal, deception and memory. The other was a failed Spanish poet turned paranormal investigator who came to a sad end in the rooms behind a bookstore in Barcelona.
There's an even more fundamental difference between these two men than their career trajectories. It's possible, with a little bit of luck, to run into Modiano on a Paris street, but Martín, the Spanish failure, could only ever be found in the pages of a book by Roberto Bolaño. The story which has his name as its title, one of several featuring Bolaño's alter ego, Arturo Belano, describes an on-off relationship between Belano and Martín spanning several years. It was this aspect of the story—the men aren't frenemies exactly, more enemies that might, had the chips fallen only somewhat differently, have been friends—that I was thinking about when I wrote down its title on that notebook page. But also there was the atmosphere the story, read several years before, had left in my memory: a residue of uncertainty, paranoia, and ill-defined threat.
In fact, as I discovered when I went back to Bolaño's story after finishing my book, it unfolds with a beautiful mixture of melancholy and wry humor. Consider this summary of a dinner-party conversation:
That night, or at one of the other four dinners, the conversation turned to children… Predictably, the others all wanted to have children, and I, predictably, didn't, and in the end, of the four who were present at that dinner, I am the only one who has a child. Life is mysterious, as well as vulgar.
The two central characters of my novel, Robert and Patrick (no prizes for how I chose their names) are writers who meet in Berlin. One is a ghostwriter who's been working for a Russian oligarch who has recently killed himself—according to the coroner's verdict—or been murdered—according to Patrick. The other is a fiction writer who is long past deadline with a non-starting novel.
Arturo and Enrique are writers too, but of a different stripe: poets. Belano doesn't like Enrique's poetry, and he resents him not taking some of his own work for a short-lived journal Enrique published. They drift in and out of touch, never really friends but men who chance, or apparent chance, keeps bringing back into each other's orbit. Halfway through the story, with the arrival of an anonymous map, it shifts into something stranger. Enrique has become involved with investigating the paranormal and has apparently given up poetry. Now the melancholy is replaced by a paranoid tension—or maybe it's better to say it's over-ridden by tension because the melancholy's still there, down in the story's roots.
It's possible, with a little bit of luck, to run into Modiano on a Paris street, but Martín, the Spanish failure, could only ever be found in the pages of a book by Roberto Bolaño.
There's an incredible scene, where Enrique unexpectedly visits Belano late at night, that brings these two elements or moods together. It's like something out of a conspiracy thriller, as Enrique gives Arturo a package for safekeeping. "It isn't poems," he says. "I don't want you to read it; I only want you to look after it." As they speak, mysterious explosions sound from a nearby floodlit quarry; Arturo has no idea why they're still working at this time of night, a subtly destabilizing detail that I, exhibiting an instinct shared by Robert in A Lonely Man, would dearly love to steal.
But in the midst of this tense scene, a small, downbeat moment of tenderness occurs that completely reconfigures the story. It changes it from an entertaining satire about grubbing minor poets, about literary jealousy, about eccentricity, into a truly great story about thwarted friendship and human loneliness.
This is the emotional heart of the story, and I think it's the aspect of it that forced its way most significantly into the subconscious mulch I draw on (unconsciously) when I'm writing or thinking about writing. The original idea for my novel stemmed from a grim fascination with the numerous killings on British soil of Russian ex-security service officers and oligarchs, such as Alexander Litvinenko (poisoned with radioactive tea in a London hotel in 2006), Boris Berezovsky (found hanging in the bathroom of his ex-wife's mansion in 2013), and the Skripals (a father and daughter poisoned with a nerve agent in the city of Salisbury in 2018; they recovered, but a local woman later died after spraying herself with the poison, which had been hidden in a perfume bottle). But its locus shifted as I began to map the story out.
The relationship between Robert and Patrick—one based on deception, as Robert decides to extract Patrick's story without telling him that he intends to use it for his own novel—went from being a way into this story about geopolitics, corruption and assassination, to being the arena where some of the book's main questions are raised: what are the ethics of telling someone else's story? How much freedom does the term "fiction" give an author? When multiple versions of a story conflict—a strategy popularized by Putin's administration, and later adopted by that of Donald Trump and the architects of Brexit—how is it possible to locate the truth?
This is the emotional heart of the story, and I think it's the aspect of it that forced its way most significantly into the subconscious mulch I draw on (unconsciously) when I'm writing or thinking about writing.
These are different questions to the ones that concern Bolaño in "Enrique Martín," but that fraught relationship between two writers, that queasy blend of attraction, envy and contempt (because what else is the act of taking someone's story without telling them, other than an act of contempt? And, of course, cowardice), are very much the same.
If I were a smarter writer, maybe I would keep my influences more obscure. After all, I don't think those readers of A Lonely Man who also know "Enrique Martín" would necessarily discern any connection between them. But that would be such a perverse thing to do with regards to Bolaño, a writer whose texts are sprayed with nods to and namechecks of other writers. More than any other writer I know, he puts reading's influence on writing at the heart of his fiction. That's why so many of his characters are writers, or men and women who have in some other way devoted themselves to literature, often to a harmful extent. Literature "goes beyond the page", he told an interviewer, "and establishes itself in the territory of risk." A lesson that Robert, in A Lonely Man, perhaps learns too late.
I don't think writing about writing has the best reputation at the moment. It might just have been unconscious selective paranoia on my part, but it felt like every time I logged onto Twitter while writing A Lonely Man, I would see someone talking about how they were sick of reading novels with writer protagonists. My glib response is, well, how about a book with two writer protagonists? My more sincere one is that I don't think it matters if your characters are writers or doctors or sex workers or Uber drivers. What matters is whether or not those characters, and the questions their stories throw up, live on the page powerfully enough that their experiences become, for as long as you're reading and maybe for some amount of time afterwards too, your experiences. And only you can answer that.
__________________________________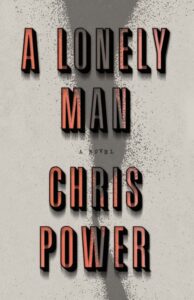 A Lonely Man by Chris Power is available now via Farrar, Straus and Giroux.
---