A Shed of One's Own: Louise Kennedy on the Blissful Semi-Solitude of Her Backyard Writing Space
"During the pandemic, I felt like the luckiest woman in Ireland."
We bought our house in 2007. The previous owner was one of those people who click your back in when you put it out, and she had converted a very basic outhouse into a neat little clinic with electricity, heat, running water. The walls had been insulated and the ceiling covered with pine panelling. A wooden structure had been added to the front, an entrance hall of sorts, along with a toilet.
The week we moved in, my husband said, What will we use that shed for? I told him I planned to write dirty books in it, which he thought was hilarious; I was a chef whose writing was limited to prep lists and menus.
For want of something more exciting, we put the washing machine and drier out there, but a pipe burst during a cold spell and the flooring had to be ripped out. After that, the shed filled with contentious objects—stuff that I believed to be junk and my husband believed to be useful—and the usual garden tools, half-empty paint cans and children's bicycles.
I started writing in 2014. For the first year or so I roamed from room to room, trying to get away from my husband and children to write flash fiction, short stories, little bits of memoir. Printed drafts and notebooks began piling up. It must have been bad, because my not terribly tidy husband suggested I take myself and my bits of paper out to the shed. We cleared it, moved the laundry operation into the house and spent €50 on Ikea flooring that was, fittingly, made from recycled paper. Now I had a writing shed, which somehow made me feel that I had a job; that even if no one ever paid me a penny to do it, I was a writer.
It is a gift to have a room of one's own, to paraphrase Virginia Woolf. And great to have somewhere to put all the bits of paper.
I wrote a play there during a Christmas wild with three back to back storms someone in the Meteorological Office had named Desmond, Eva, and Frank. I began sending my work out, submitting to literary journals and contests. I enrolled in an MA Creative Writing and worked on my dissertation from early morning until night. The MA led to a PhD and hours of reading journal articles. It wasn't all rosy.
A few weeks before I was due to submit my dissertation, I left the key in the door and a thief came in the night and made off with my laptop. After the police left, I cleaned up the powder residue and sat down to work, but it was upsetting to think of strangers moving around what had become my place. It was a few weeks before I went out there again. The following winter, mice got into the eaves—I am irrationally terrified of these little creatures—and I took to singing loudly as I typed to drown out the scratching.
During the pandemic, I felt like the luckiest woman in Ireland. In the absence of anything else to do, I completed The End of the World is a Cul de Sac, a short story collection, pulled my novel Trespasses through several drafts, wrote up my PhD thesis and did countless Zooms at my desk. I was so busy that when a guy two streets away took to doing karaoke on his patio with a full PA every weekend, it only annoyed me a little. (I swear it wan't me who complained to the Guards.)
Spending so much time in my shed, it's not a surprise that things around me made their way into the books. The basket on top of the bookcase belonged to my aunt when she was a student and inspired the one the protagonist of Trespasses, Cushla Lavery, carries to school and to the Irish classes. Books that I took from the shelves appear in the book too: Jude the Obscure, The Black Prince, the poetry of Ciaran Carson. A box of family snaps gave me the idea for a short story told in photographs. And just being in the garden has helped me understand the ways in which nature can be used to convey the passage of time in fiction.
I don't need solitude to work. A couple of years ago, I went to a cottage on an island, all on my lonesome, to write. After a week I was seeing dead people—real isolation, I guess, hinders me. While I sometimes manage to sit at my desk in the shed for long periods of time, on other days I am in and out of the kitchen to make tea (I drink a lot of tea). I take a break and peel vegetables for dinner and squirt bleach around the place. There is a primary school behind our house and I like being outside when the children are, sitting at a table in the garden to hear them chanting, squealing, and negotiating.
But it is a gift to have a room of one's own, to paraphrase Virginia Woolf. And great to have somewhere to put all the bits of paper.
___________________________________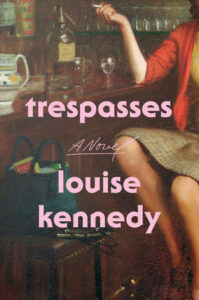 Trespasses by Louise Kennedy is available now via Riverhead Books. 
---