A Reading Series for People to Share Their Grief
Since U Been Gone Aims at Catharsis for Those Experiencing Loss
It's the first cold Thursday in October, and an audience is assembling at the back of Branded Saloon on Vanderbilt Avenue in Prospect Heights, Brooklyn for the launch of Since U Been Gone, an evening of readings about grief and loss curated by Lena Afridi, Lena Solow, and Muna Mire.
The front bar is packed and pulsing with a thrumming, check-me-out energy. Through two velvet curtains is a quick transition to the blue room, which radiates a steadfast seriousness. About 20 people are sitting on scattered folding chairs in front of a long, lean stage with seven empty seats. Antler chandeliers are mounted to the ceiling and large, empty antique frames litter the walls. People from the LGBTQ community steadily stream in.
Mire looks around nervously, connects their iPhone to the speaker, and spikes Kelly Clarkson's syrupy voice to initiate the event: But since you been gone/I can breathe for the first time. The pop chords pump out the familiar words; tonight they take on a new meaning. Suddenly, the readers are on stage, the room has filled to standing room only, and we're readying ourselves to encounter the all-consuming weight of grief.
*
The series was inspired by a July Instagram post from Solow, a union organizer and writer, who had shared a piece they had written about loss triangulated through their uncle's death, a recent break-up, and daily life as a queer person. The piece resonated with Mire, Solow's friend and  a freelance writer and associate segment producer for the Showtime series Desus & Mero.
Since U Been Gone was not an impromptu, unprincipled reading—it emerged from the tragedy of losing loved ones.
In reply to the post, Mire suggested they launch a reading series focused on grief and loss. Solow and Mire looped another friend into the conversation—Lena Afridi, a writer and policy director at a housing and economic justice organization—and Since U Been Gone was born.
The trio of activists and creatives was naturally suited to curating such a series, given that, according to Solow, "We have supported each other in dealing with tremendous personal loss—loss of people within our communities and coping with upticks in anti-Semitic and Islamophobic violence."
Since U Been Gone was not an impromptu, unprincipled reading—it emerged from the tragedy of losing loved ones. "My dad died in January after a ten-year long illness. In those ten years, I lost friends, the world felt like it was collapsing, and the violence against the community I was raised in as a Muslim was constantly on my mind," Afridi says. "Muna and Lena were there throughout all that. We were there for each other in those moments."
As Mire points out, "I was tired of the fact that there isn't a lot of space dedicated to honoring grief in a public way. When Lena Solow asked where they could read, I knew that reading series didn't exist in our city because I'd been looking for it unsuccessfully for a while. And I'm pretty plugged in to literary New York! I decided even though none of us had ever done anything like this, we might as well do it ourselves."
To turn an Instagram post into a live event, Afridi, Mire, and Solow spent months defining and articulating the vibe of the event—they knew that for such a fragile and important subject, the atmosphere had to be right. The friends support one another in writing, pitching, and editing and share strong beliefs around accessibility and comfort. Curating an evening that did not feel draining was important to them.
The readings showcase loss in all of its blinding, infinite arrangements—loss of loved ones, pets, the planet, neighborhoods, parents, brothers, and relationships.
Branded Saloon on a Karaoke Thursday was their top choice for venue —Mire calls it their "church, therapist's office, living room." The three friends have been drinking, emoting, singing, chatting, grieving, and drag show-watching at Branded for many years. As Afridi explains, "Branded sort of brings back an era of queer spaces that have begun to disappear across this city due to gentrification, displacement, and real estate market cycles. Karaoke has been happening at Branded for at least seven years, with longtime neighborhood residents and newcomers all in one room."
After pitching the event to the bar and getting approval, they asked their friend Sophia Giovannitti to create the flyer. They publicized the event on Twitter, starting to tweet a month in advance to make sure people had the date and were committed to attending.
*
From the moment they grace the stage, Afridi, Mire, and Solow are taking care of each other and us. Afridi begins by pointing out the resources they have compiled. On the program, there is a list of actions to take if, while listening, you start to feel "heavy/activated/disassociated." These include "run cool water over your wrists, breathe slowly, drink water."
The audience either knows of the hosts' grief firsthand or is intuitive enough to sense it—everyone is attentive, present, and open. Phones are away and bodies lunge forward—folks are here to listen. Perhaps we have also been waiting for this, desperate for a communal way to share our own grief and recognize others'.
The curators invite us all to stay after the reading for karaoke, with Mire pointing out, "Karaoke while grieving is a lifestyle."
The bill for Since U Been Gone's launch is impressive, with writers representing varied genres: Shuja Haider, Stephen Ira, Bridget Read, and Charlotte Shane. Their readings are introduced by each of the curators with thoughtful articulations of how the piece impacted them.
Shuja Haider begins with "Song for My Father," lyrically stringing together the songs of catharsis after his father's death. Before reading her pointed, terrific piece about climate change, "Let Yourself Feel How Bad This Is," Bridget Read comments, "Grief in the City is a show I want to watch."
Afridi's piece "Death and Life in American Cities" invites us all to think into the future of death in New York, where it is projected that, within the next five years, the city will run out of space to bury its dead. Stephen Ira, the only poet, begins with the wake his community hosted recently for a friend at Branded; his sparse words evoke earth, weather, little birds.
Charlotte Shane, who has brought her cat's ashes, reads from her newsletter, and the laughs are loud and bellied.  Mire's tutorial on grief and makeup has us all considering the masks we wear. Solow ends the evening astutely and heartbreakingly, pointing out that "even queer joy feels tinged with grief."
The readings showcase loss in all of its blinding, infinite arrangements—loss of loved ones, pets, the planet, neighborhoods, parents, brothers, and relationships. They spell out methods for dealing with our loss: accepting public gestures offered by strangers, music, karaoke, banyas, frequenting the ocean, friendship, and writing, of course.
Since U Been Gone ends too soon, at least for me. In the quiet, we can hear the din of the front bar—people flirting, beckoning bartenders, buying each other drinks. It's true that the world is still alive and a thin curtain away; adjacent, we are stilled, languishing, and soft.
—————————————————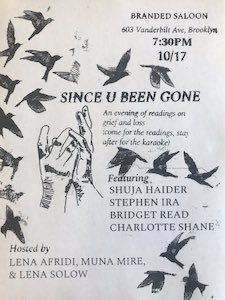 Since the launch, there has been a surge of interest, and the curators intend to host the reading quarterly. The next event will be held at Branded Saloon on February 13 at 7:30pm. If you'd like to attend or read at the next installment of Since U Been Gone, please contact the hosts at sinceubeengone.info@gmail.com.
---