A Poem by Ai
Featured in Kevin Young's New Anthology of African American Poetry
Twenty-Year Marriage
You keep me waiting in a truck
with its one good wheel stuck in the ditch,
while you piss against the south side of a tree.
Hurry. I've got nothing on under my skirt tonight.
That still excites you, but this pickup has no windows
and the seat, one fake leather thigh,
pressed close to mine is cold.
I'm the same size, shape, make as twenty years ago,
but get inside me, start the engine;
you'll have the strength, the will to move.
I'll pull, you push, we'll tear each other in half.
Come on, baby, lay me down on my back.
Pretend you don't owe me a thing
and maybe we'll roll out of here,
leaving the past stacked up behind us;
old newspapers nobody's ever got to read again.
___________________________________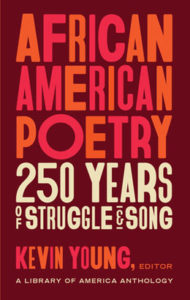 "Twenty Year Marriage" copyright © 1973 by Ai from The Collected Poems of Ai. Reprinted with the permission of W. W. Norton & Company.
Excerpted from African American Poetry: 250 Years of Struggle and Song, edited by Kevin Young. Compilation copyright © 2020 by Library of America. Used by permission of the publisher.
---