A Personal Catalogue of the World's Most Storied Bookstores
Kerri Maher on the Shops That Comprise Her Writing DNA, from Marcus Bookstore to The Strand
Two decades ago, I wrote my very first novel while working at The Community Bookstore, an independent bookstore in Brooklyn, New York. That job enabled me to complete my book, not just because of the flexible hours, but because the other staffers were all aspiring writers, and many of our regulars were famous writers, and so the conversations we had there fostered a love of literature and writing that picked me up when I fell down, and cheered me on when I was close to the finish line.
That novel was never published, but it and the store taught me how to write a book, and the pages ultimately helped me get into grad school. At the same time I wrote it, I was learning the art of bookselling—and putting the right book into the right hands truly is an art and not a science. That intimate and inspiring experience shaped the ways I'd think about books and bookstores for the rest of my life.
Every reader has a story about their favorite store, be it a local institution or a cozy little place they stumbled into on holiday. There are some shops that just seem to attract well-known people and create memorable events, all of which accumulate over time and make the place as "storied" as the books on the shelves. Below is a list of bookstores that live in my imagination as most storied, and have become part of my own writing DNA.
Shakespeare and Company, Paris
I can't not start with Sylvia Beach's first-of-its-kind, woman-owned, English-language bookstore and lending library in Paris, which she opened in 1919—and is the setting of my new novel, The Paris Bookseller. It quickly became the home away from home of the Lost Generation, all of whom found her little store to be an oasis and refuge. Even famously difficult Ernest Hemingway said of her, "no one I ever knew was nicer to me." Not only was the shop itself entirely unique, Sylvia published the very first edition of James Joyce's novel Ulysses in 1922 under the auspices of Shakespeare and Company, after it had been banned. Book and store were equally works of art that changed the world—and my world especially, from the time I first read Sylvia's own memoir as an undergrad in college obsessed with the 20's.
City Lights, San Francisco
I grew up in a Bay Area family, and City Lights was one of those meccas I was always trying to get to—and with good reason. When the poet Lawrence Ferlinghetti opened City Lights in 1953, it was an instant beacon for the counter culture that came to define San Francisco. In the 50's, that meant the beat poets. And like Shakespeare and Company, it was also a press, publishing only the most literary and avant garde of work by American greats.
Marcus Bookstore, Oakland
This is another Bay Area institution with national importance: originally located on Fillmore Street in San Francisco and relocated to Oakland right near Berkeley where I went to college, Marcus Books (named for Marcus Garvey) is the first and longest running black-owned bookstore in the U.S. It was opened by Doctors Raye and Julian Richardson to be a bookstore and press focused on black history and experience, and continues to be a bastion today, hosting some of the most important writers for events, from Angela Davis to Walter Mosely and Michael Eric Dyson. They have some excellent suggestions on their website, and will ship to you wherever you live.
Every reader has a story about their favorite store, be it a local institution or a cozy little place they stumbled into on holiday.
Heywood Hill, London
This shop, named for its first owner who opened the doors in August of 1936, has been the setting of two terrific recent novels I've loved—The Bookseller's Secret by Michelle Gable, and The Little Mayfair Bookshop by Eliza Knight. It rivals 84 Charing Cross Road for most famous bookstore in England, perhaps because during the second world war, the infamous socialite, writer, and "bright young thing" Nancy Mitford worked there and shone her star power on the stacks. Fun Fact: Heywood Hill was known for its literary soirees, and one of their first celebrated the first (legal) English edition of James Joyce's Ulysses.
The Strand, New York
18 miles of Books! You can buy a t-shirt or hat and boast that you browsed some of these miles in the labyrinthine stacks of this world-famous bookstore, which opened in 1927 on 4th Avenue in the Village, when it was known as "Book Row" because there were 48 bookstores on 6 blocks. Originally, the Strand was a used bookstore, but now those 18 miles are located in a building on 12th and Broadway and contain plenty of recent releases; plus, it's still known as an amazing place to find a great read at a bargain price. Among book nerds, it's an essential destination. When I lived in New York years ago, all my reader-friends would ask about the Strand, and demand to spend at least two hours there on any visit to the city. Now, writer-friends get a special thrill out of locating their novels amongst the millions of others on the shelves—many an Instagram post is made of just this moment!
Warwick's, La Jolla
I love the fact that the oldest continuously family-run bookstore in the U.S. is located in the state where I grew up. It opened in 1896, but it didn't actually get off the ground in sunny southern California, where you can find it today; no, William T. Warwick opened his first shop in Mankato, Minnesota. The current store is the marriage of Warwick's and Redding's Book Store of La Jolla, which opened in 1902—I'll let you do a deeper dive into the families' and stores' histories, which you can find on their website. Today Warwick's is a premier stop for literary events of all kinds (virtual and live), and a terrific place to buy yourself a book to enjoy locally, or have shipped to yourself or loved ones anywhere they reside.
Powell's, Portland
Powell's is famous as a beloved institution in the Pacific Northwest, but in fact its story began in the Midwest, a fact I learned when I went on a research trip to Chicago recently for my fourth historical novel. It turns out that in 1970, then-grad-student Michael Powell borrowed three grand to open a bookstore near the University of Chicago campus. It was a huge and immediate success, and Michael's dad Walter opened a branch in Portland. In 1979, son joined father on the west coast. It's still run by a Powell, Emily, and is one of the most coveted places to do an event or sign a book, if you're an author. There is still a Powell's near the University of Chicago, but it is not affiliated with the original.
Munro's Books, Victoria, B.C.
Yes, Munro as in Alice Munro. I just love the tradition of bookstores founded by authors, which includes Books & Books (Judy Blume), Books and Magic (Emma Straub), and Parnassus (Ann Patchett). Alice and her husband Jim opened the first iteration of Munro's in 1963, and though the couple divorced in 1972, Jim ran the store with gusto until he retired in 2014 and handed off the reigns to four devoted staffers (which I find to be more glorious evidence that bookstores are second homes to the people who frequent them). It's especially famous for its stunning building, which Jim bought in 1984: originally a beautiful Royal Band of Canada building from 1909 that had lost its way, Munro renovated it into a gorgeous, light-filled space, and while I haven't been there myself, the pictures are enough to get lost in.
Livraria Lello & Irmao, Porto
When my friend and fellow historical fiction writer Laura Kamoie mentioned that this store was the inspiration for parts of J.K. Rowling's description of Hogwarts—specifically the staircase in the wizarding boarding school—I had to know more. I'm a big Harry Potter fan, though I'm not quite obsessed, which probably explains why I didn't know this delicious tidbit until recently. Now that I have Googled Livraria Lello, I see it's as magical as Harry's beloved school: full of books and remarkable, ghost-worthy architecture. Not only did the store inspire Rowling, the coffee shop where she wrote the first draft of Philosopher's Stone is in the same neighborhood. Portugal has always been in my top 10 places to visit, but this store definitely cracks it into the top five.
__________________________________________________________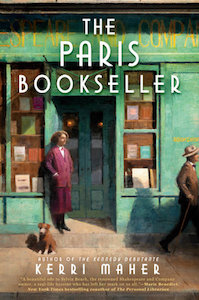 Kerri Maher's The Paris Bookseller is available now via Berkley. 
---