A Million Voices: In the Praise of the Polyvocal Novel
Sara Lippmann Recommends Virginia Woolf, Bernadine Evaristo, Joshua Henkin, and More
When I first conceived of Lech, character came first. One grim NaNoWriMo, I scribbled in a set of legal pads, chasing one voice, then two. From there, It went like this: the fourth, the fifth, the minor falls, the major lifts—and, oh crud, I had a polyvocal novel. If that sounds ill-conceived, welcome to my creative brain.
For me, narrative originates in voice as opposed to linearity. Once I figured out I was telling a story not only about people but also about place—namely, Sullivan County, NY—it felt necessary to offer certain inhabitants front seats to the narration. I needed locals, tourists, transplants; I needed someone on the religious cultural fringe. I purposefully did not grant point-of-view power to the worst abusers. Years passed. Of course, in a sense, novels are inherent exercises in failure, in that they will never arrive on the page in quite the same form as they live in our heads. One can never render a place in full. There will always be stories left untold.
I was drawn to polyphony as a way to cast the Catskills of 2014 into relief, to incorporate texture, tonality and expansiveness, to wrest out some meaning from the book's imperative of lech lecha: how to go forth? How to break free of the things we carry to help us build out our one little life?
Coined by the Russian philosopher Mikhail Bakhtin in reference to Dostoevsky's work, polyphony, or "a plurality of independent and unmerged voices and consciousnesses," has been calling me since long before I ever encountered my first Russian maximalist. From a young age, I questioned the authority of a singular narrator. (How did Goldilocks' bears really feel about her brazen, privilege-driven invasion?) The inner life is infinitely more compelling than the outer life. Which can make me a drag at cocktail parties. But that's another story.
Over the past year, I'd often speak with my novel-writing students about point of view and its accompanying structural challenges, tailoring recommendations to the particularities of their manuscripts. As writers, we are readers first (despite whatever the latest discourse claims) and books like The Hours by Michael Cunningham, Anthropica by David Hollander, and Sing, Unburied, Sing by Jesmyn Ward have much to teach us, among innumerable others. To wit, here is an extremely incomplete list of multi-POV novels that helped forge the roadmap to Lech.
*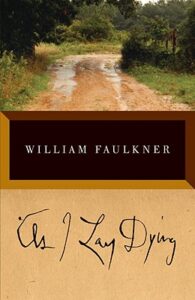 William Faulkner, As I Lay Dying
When I first read it as a student more than 25 years ago, Faulkner's 1930 novel cracked me open. Its 59-chapter, 15-points-of-view structure is a rulebreaker; like all good literature, it imparts its own rules to the reader. The voices of the Bundren family and surrounding figures as they pilgrimage from fictional, iconic Yoknapatawpha County to Jackson, Mississippi to bury the family's matriarch, Addie, are indelible not only for the rich imagery or syntactical differentiation, but for the immediacy of all that unmediated interiority.
The viewpoints are in first person, with chapters anchored by character names so the reader never gets lost. We have the heightened poetics of the primary narrator Darl, the earthy lushness of his pregnant teen sister, Dewey Dell; we have the youngest Bundren, Vardamon, who drops us with his famous one liner: "My mother is a fish." (We even have the poor mother narrating from the dead.) Even if the plot is thin—a journey, in which efforts to transport the mother's body take much longer than anticipated, thanks to a host of natural disasters—it provides ample framing in which to explore the emotional landscape of each character, the true driver of the plot. By refracting the story through various points of view, Faulkner creates a scintillating, breathtaking kaleidoscope of a fractured family.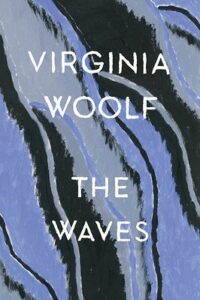 Virginia Woolf, The Waves
This 1931 novel is astonishing. And wild. I suggest entering it as you would the sea: dive into the center of the swell and let The Waves wash over you. If As I Lay Dying emerges from monologue, then The Waves is all spellbinding soliloquy, yet the effect of both is pure symphony. We follow six friends—Bernard, Louis, Neville, Jinny, Susan, and Rhoda—from childhood through life, as they wrestle with grieving another friend, Percival, and grapple with love, desire, individuality, collectivity, memory, and the melancholic ache of time and life's meaning. The voices are simultaneously distinct and intentionally overlapping: "we melt into each other with phrases." Of all listed titles, this is the most formally inventive as it is veritably absent of buzzy "stakes" or "tension." But if you trust it, The Waves will hold you. And that last section by Bernard may never let you go.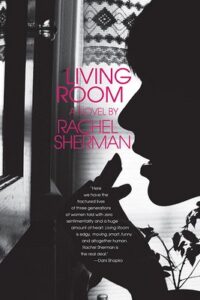 Rachel Sherman, Living Room
If Faulkner and Woolf got me punch-drunk on possibility, Sherman brought me to earth. A longtime teacher of mine, her spare, unsentimental 2009 debut novel skewers suburban comfort as it mines the pervasive loneliness and entrapments of three generations of women torn between what they want and what they have. With only three voices, it's not exactly a Greek chorus, but the alternating close thirds establish expectation, and patterns, I've come to appreciate, as a generosity to the reader. Each character—mother (Livia), daughter (Abby), grandmother (Headie)—is absorbed in their own dramas and dilemmas: Headie is crawling along her floor in the throes of senility, Abby is falling prey to high-risk high school behavior, and Livia plunges into her own existential crisis: "If this was the truth, if the truth was that she was empty, then what?" Their stories intersect eventually, but for much of the wry, unflinching braided narrative, we are reading for each disparate arc, which makes sense, considering how disaffected, alienated and emotionally cut off they are from each other.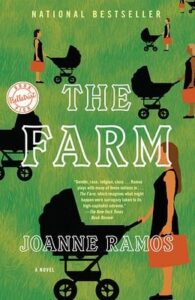 Joanne Ramos, The Farm
Ramos and I met in a Sherman workshop. Reading her early pages before they were published, I was struck by how seemingly effortlessly she was able to juggle the four shifting close-third points of view in this brilliantly-woven 2019 dystopian social novel that revolves around the crop potential of surrogacy in an easily conceivable future where "everything is up for sale." (And yet, fun fact: Ramos did not outline her project; she allowed impulse and intuition to guide her on when and where to switch.) Each character has an urgent stake in the surrogacy business at Golden Oaks (aka The Farm)—Jane, a young Filipina mother whose healthy womb makes her an ideal candidate; Ate, a mature Filipina nanny to the richest white families in Manhattan; Regan, a blonde Duke-educated Premium Host and Jane's roommate, and Mae Yu, the ambitious, Harvard MBA Chinese-American director of Golden Oaks—so that together, the dynamic mosaic of motive cranks up the heat at The Farm and propels us swiftly to its thrilling end.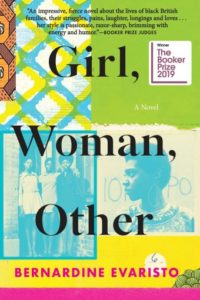 Bernadine Evaristo, Girl, Woman, Other
Evaristo demonstrates that language is power. This 2019 Booker Prize–winning novel is absolute music, as the cool dozen voices ranging from ages 19-93—Amma, Yazz, Dominique, Carol, Bummi, LaTisha, Shirley, Winsome, Penelope, Megan/Morgan, Hattie and Grace—create an affirming polyphonic symphony, and it is also a forceful protest song. In language lyrical and alive, Evaristo's poetics deliberately subvert ingrained patriarchal expectations on how narrative is "supposed" to unfold. Lines fall and break and keep breaking. The only period in the whole book occurs after the final word "together." Bookended by the opening of a play produced at the National Theater in London, written by 50-year-old lesbian playwright Amma, an expansive, sprawling, overlapping narrative collage unfolds in the pages between.
From Amma we meet Yazz, her firebrand daughter, from which connections continue to ensue in a six-degrees-of-separation style, as Evaristo introduces us to the many facets of identity and struggle that make up the black British female experience. With so many characters, not all are granted equal time, which buoyed my decision (in the eleventh hour) to embrace a more ethereal, elegiac fifth voice, told in flash-like sections. Girl, Woman, Other carves out a space for novels that center many characters, granting the stage to stories that too often go untold, while dealing a knockout punch to Freytag's pyramid and the inherent phallocentrism (rising action, climax, falling action) of traditional storytelling. Haven't we seen enough obelisks? Heck, yes.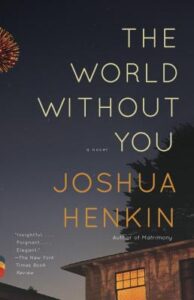 Joshua Henkin, The World Without You
Whenever I found myself in the weeds, I turned to Henkin's 2012 novel for a lesson in craft. The multiple perspectives are confined to the Frankel family (mother Marilyn, sisters Clarissa, Lily, Noelle, and widow, Thisbe) who are gathering in the Berkshires for a memorial service a year after their journalist brother's death. Like my novel, the story is told in present tense. Henkin's use of time is another touchstone. Because the action transpires over a contained Fourth of July weekend, the clock is ticking from the outset, which creates a natural sense of urgency even as most of the conflict remains internal. Place is vital, too. By housing all characters under one roof, Henkin creates a palpable claustrophobia that amplifies sibling rivalry and marital tension. Most of all, this book remains a beacon for its quiet rate of unfolding. The big event—Leo's death on assignment in Iraq—has already happened offstage. What's left is a nuanced, fraught, and riveting "afterstory," a novel about how grief isolates, unites, and divides the complicated lives of its characters, and how to move through it all to what's next.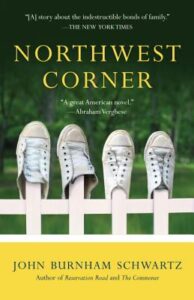 John Burnham Schwartz, Northwest Corner
Recently, when a student asked for multi-POV novels that include first- and third-person narration, I was reminded of Northwest Corner There was a time when I, too, toyed with the idea. An admittedly quieter story than its devastating prequel, Reservation Road, this 2011 book opens a dozen years after the Arno family was torn apart by a tragic hit-and-run accident, which lands the father in prison and solidifies his estrangement from his son, Sam. Now in college, Sam suddenly returns to his father in California, sulking, wary, damaged, and in need. He's carrying his own fresh violence. While the ex-wife Ruth, the son, and other less pressing characters (potential love interests of the men) are narrated in close third person, the haunted father, Dwight, is dealt a first-person vantage point in a well-structured novel that meditates on connection, hope and forgiveness.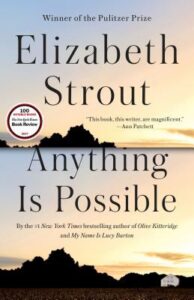 Elizabeth Strout, Anything Is Possible
We may be wading into the territory of Is it a novel? Is it a linked story collection? whose semantics I'm not that interested in, but this 2017 follow up to My Name is Lucy Barton is a sheer wonder and a study in place—namely, Amgash, Illinois, as rendered through the direct viewpoint of nine deeply human characters where little is how it seems. It is a book about want, or as haunted Vietnam veteran Charlie Macauley puts it, "the itch of desire," however forbidden or ruined by an undercurrent of trauma. Strout, as we know from Olive Kitteridge, is the queen of bringing place to life through people, and it is always the ostensibly small moments that loom largest. (Amy and Isabelle was also integral to building out the mother/daughter relationship in my novel, but as it contains only two points of view, falls short of the poly criteria.) In a world of judgment, where widow Patty Nicely says, "People were always looking to feel superior to someone else," Strout offers only compassion. How does she do it? "To listen to a person is not passive. To really listen is active," a Bed & Breakfast owner named Dottie reflects.
*
This may be the secret to the sausage making: Check the authorial ego at the door. Projections, and individual agendas have no place in polyphony. Silence those impulses toward overdetermination. Let the characters speak for themselves. The unburdening is what we as writers can allow our characters, which may be the biggest gift: friendship. Then as ol' Abel Blaine says, only then, "anything was possible for anyone."
_____________________________________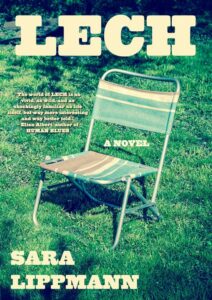 Lech by Sara Lippmann is available from Tortoise Books.
---