A Literary Night in West Philadelphia
Crowed a Community, One Salon at a Time
We're in the narrow living room of a Victorian row house in West Philadelphia. It's the first day that really feels like summer, which in Philly can be surprisingly swamp-like. My husband, who spent the last ten years in brisk London, is overwhelmed by the heat. Someone brought in a lone fan to cool the room, and we sit around making small talk and waiting for the Still Untitled salon to start. We walked in at 7 PM, the start time, and two of the residents of this collective house were in the kitchen making dinner. People are still trickling in from the associated book signing at Bindlestiff Books, including today's readers, the novelist Asali Solomon and poet Ely Shipley.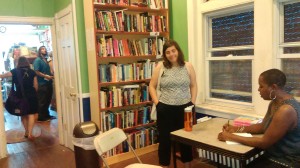 Bindlestiff is a small, volunteer-run independent press with an impressive collection of radical literature, graphic novels, and contemporary fiction and nonfiction. It's composed of a storefront the size of a medium-sized bedroom, plus a back room, where the book signing took place. By the time we got there, the front room was housing a small line, and in the back, there was a small table where Asali received one person at a time.
The collective house is cutely titled "Little Earthquakes," which I guess is a reference to the Tori Amos song, and not the novel by fellow Philadelphian Jennifer Weiner. The house is decorated with thrift store furniture and posters with radical slogans. The residents we meet are that mix of punk and outdoorsy bike hipster you tend to find in Philadelphia's outer reaches. Rittenhouse Square, where Weiner's novels are set, is the city's most expensive neighborhood, and a world away from Little Earthquakes. West Philadelphia is home to many such housing cooperatives, places built on ideals of community, activism, and sustainability.
West Philly is the setting of Disgruntled, Solomon's novel, and the site of a contentious history. It was home to one of the most infamous state-perpetrated crimes in US history: the 1985 bombing of the MOVE headquarters. The incident destroyed a block of homes a few blocks west, a neighborhood for now just out of reach of gentrification, most likely a result of the bombings themselves. That event was chronicled in John Edgar Wideman's classic 1990 novel, Philadelphia Fire, part of the stable of literature about this place, to which Disgruntled belongs.
Before MOVE, West Philly was originally the land of the Lenni Lenape Indians, then European settlers (who built the grand Victorian mansions of the type we're sitting in), then thousands of blacks fleeing the South during the Great Migration. Recently, gentrification has seen whites slowly seep back into the neighborhood, starting near The University of Pennsylvania's campus and spreading north, to where we are now. Solomon remembers visiting the Penn Campus when she was younger and realizing why her family couldn't live near there: because of their race and class.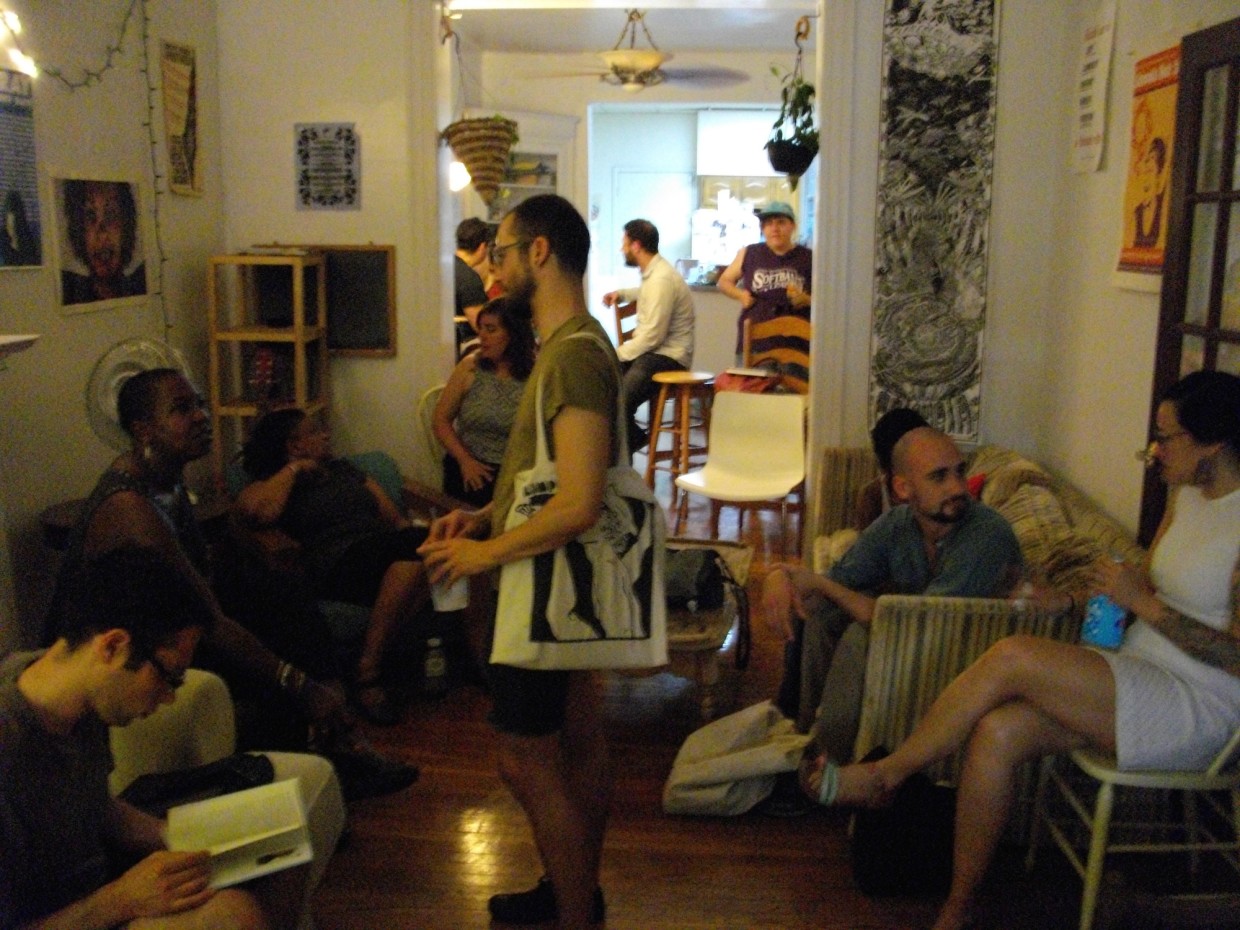 The atmosphere of the salon is much different than a typical reading. There's a lot of conversation before, during and after. Solomon, who's seated a few feet away from me, tells me there are many writers living in Philadelphia, but "there are fewer trust fund writers." If they had more money, she reasons, they would live in New York. She still lives in the neighborhood, a few blocks away, and teaches at Haverford College, in the suburbs. She jokes over how "extremely local" she is.
No discussion of Philadelphia's lit scene can be had without discussing New York's. This is a symptom of Philly's famous inferiority complex, a result of our proximity to other larger, more popular cities on the Eastern Seaboard. (Someone says that people in other cities look down on Philly. Someone else says they can see why.) We're defined by our scrappy underdog attitude, embodied by our unofficial mascot, Rocky, whose bronze statue adorns the city's biggest landmark, the Philadelphia Museum of Art. This is the reason our sports fans are so colorful, and why our lit scene is so different.
There is a mainstream lit scene in Philadelphia, which is basically a smaller, less flashy version of the one in NYC. There are the Barnes and Noble book signings and the $30-a-head readings at the deceptively titled Free Library, but Philly's underground scene is where it's at. Infused with social justice ethos and DIY spirit, it's more focused on advancing political ideals and fostering community than on landing a big book contract (although I'm sure few of them would turn one down).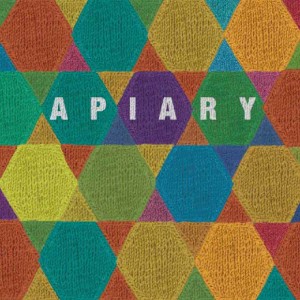 One of the most visible literary magazines right now is Apiary, a literary journal founded by Lillian Dunn and Tamara Oakman in 2010. It is a magazine with clear ambitions beyond a paper object, to build a diverse literary community in Philadelphia. They bill themselves as Apiary Corp., and sell memberships instead of subscriptions, which are intended to help fund the cost of workshops and "an all-youth edition for schools." Apiary produces a colorful print issue twice a year, that's available for free at locations around the city. They also host some of the most lively and well-attended literary events around the city.
Also making its presence known is The Head and The Hand Press, a "craft publisher" that uses an agricultural model in its approach to book publishing. They run a Community Supported Publishing share (based on a CSA, or Community Supported Agriculture model), where members pay a flat rate and receive whatever books the company has published that season. This method of sponsorship allows publishers to support themselves outside of a risky sales model.
"There's not much vodka sponsorship of events here," says Marissa Johnson-Valenzuela, the organizer of the Still Untitled series, so-called because after several installments, she had still not come up with a name.
Before the reading begins, Johnson-Valenzuela makes a short introduction to the series and the readers. She says that with Still Untitled, she was creating the type of event she wanted to go to. A quarterly series, Still Untitled is laid back and mostly local. It's also, in the spirit of West Philadelphia, radical as far as readings go, and based on principles of community and egalitarianism. Hence the circular seating arrangement. The crowd and readers are also pretty diverse. It's a place where ideas and conversation are exchanged, not handed down from author to listener.
For the writers, the format presents advantages but also challenges. There's no protective bubble around them, so they need to be comfortable interacting one-on-one with the listeners. It's something Johnson-Valenzuela doesn't mention, but that both writers seem very adept at handling.
I met Johnson-Valenzuela at a Still Untitled salon about two years ago. A published author and MFA alum, Johnson-Valenzuela is also proprietor of Thread Makes Blanket press, an independent publisher that last year released Dismantle: An Anthology of Writing from the VONA/Voices Workshop. The book's introduction was the much-discussed essay MFA vs. POC by Junot Diaz, published on The New Yorker's website.
Johnson-Valenzuela is very active in the Philadelphia lit scene, and in some ways is emblematic of it. Alternative, an activist concerned with social justice and diversity, she is a full-time professor at a community college and also teaches writing in a jail in the city. Accomplished and well-connected on the local and national scenes, she's also incredibly welcoming and friendly. In the spirit of  West Philadelphia, she seems focused on widening the literary circle, rather than keep it closed and exclusive.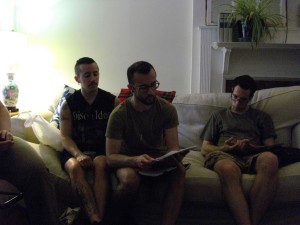 The first reader is the poet Ely Shipley, who has come down from New York. At the end of his reading, we pass around a jar collecting money to help offset his travel costs. Shipley's poems are engaging from the start. He begins with a short selection from his book, Boy with Flowers, which contains lyric and visceral poems. He closes with a selection from an unpublished manuscript. The work is a hybrid text, a combination of quoted material and lyric essay. The selection he reads begins with quotes from Keats, the story of Tiresias, and Kafka. All carry themes of metamorphosis that reflect on the experience of being transgender.
By the time Solomon reads, the audience is quiet, rapt. She reads animatedly from a section of the novel where the narrator's parents are fighting. The father's affair with the mother's friend has yielded a baby, and at the end of the scene, it's revealed that the mother and father were never married in the first place. The adolescent protagonist, per the book's title, is hilariously disaffected. The excerpt is sharp and funny, and leaves you wanting more: both to read it in print, and to consume more of the author's delicious humor.
When Solomon is done reading, conversations spring up quickly, and listeners and readers linger around the living room chatting. Johnson-Valenzuela passes out chapbooks from the West Philly Rogue Poetry Workshop produced by Thread Makes Blanket. They're hand-assembled and nicely illustrated. I ask why she doesn't charge for them.
"Well, we made all our money back at another event. I started giving some out here, and so I decided to just give out the rest." She says.
Everyone is happy to receive their gift. Slowly, the house's residents disappear, and the rest of us trickle out into the night.
---