A Literary History of the Nose
In Which Very Few Olfactory Puns Are Committed
Nikolai Gogol's enigmatic "The Nose" (1836) is a well-known literary audible. The story goes something like this: Gogol initially planned to have Major Kovalyov awaken from the loss of his titular appendage, the surreal happenings thereby comfortably couched within the limbic world of dream; however, in a felicitous turn of creative fate, he dispensed with this conventional device, in the process creating a bizarrely inscrutable gem, prefiguring magical realism and a great deal more besides.
This is all well and good, an agreeable literary yarn.
But what is often left out of the retelling is that "The Nose" was but one part of a larger body of literature improbably concerned with, of all things, the human nose. How and why this vogue for the nose arose within Russian letters—what critics and scholars have called a "nosology"—are questions of lasting interest. Was it the consequence of a then-recent translation of Laurence Sterne's Tristram Shandy (similarly preoccupied with noses)? A tangled product of intuition and inspiration emerging from an inchoate modernity? Whatever its origin, this knowledge must color our contextual understanding of Gogol's peculiar little story; however wonderful it may be—and "The Nose" is most certainly that—it should perhaps be taken more as a thread in a largely overlooked tapestry than the visionary one-off of popular conception. As one critic put it, "it seems that the adventures of the nose in the guise of a state-counselor must have been much less puzzling for Gogol's contemporary readers than for the 20th-century ones."
But is "The Nose" really all that strange to the reader of 2015? Haven't we, rather, been haunted by enough literary noses to become habituated to this humblest of organs, reading, writing, and revising our own "nosologies" all the while? The history of the written nose is rich, varied, and wildly unpredictable, marshaled for a host of potential uses and meanings from slapstick gag to moral emblem to racial signifier. For Rabelais, the nose was a symbol of wit, reason, and wisdom. In his celebrated series of novels Gargantua and Pantagruel (1532-1564), Brother John's large nose is meant as a compliment, a sign of his humanistic good sense, whereas the senseless inhabitants of Ennasin "have their noses shaped like an ace of clubs" (Ennasin, in fact, means "noseless"). Across the Channel, not even the Bard himself proved immune to the nose's charms. In Henry IV Part 2 (1599), Bardolph, a thief and member of Falstaff's entourage, is labeled "the Knight of the Burning Lamp" thanks to his bulbous, fiery red nose. Shakespeare wastes no time in putting Bardolph's unfortunate feature to use, as Falstaff and Prince Hal one-up each other with nosey wordplay. "Thou hast saved me a thousand marks in links and torches," says Falstaff, "walking with thee in the night between tavern and tavern."
The late 19th-century children's classic The Adventures of Pinocchio (1883) is perhaps the novel most associated with the nose, the animated film having affixed Carlo Collodi's adventure to the annals of cultural memory. But despite its Disnification, there remains something pleasantly low and earthy, even creaturely, at the heart of Pinocchio's tale that, I think, helps to articulate the nose's often ignored narrative utility. The literary history of the nose is, in some sense, a reconsideration (and reprioritization) of the human visage. Whereas the eyes and the mouth have historically received the lion's share of poetic and imaginative attention, it is the nose's position on Pinocchio's face, its very centeredness, that makes it such a compelling moral barometer for our little marionette. After all, Collodi could have chosen anything for his symbol: ears or lips, arms or legs, an elongating neck, a sprouting shock of hair. But, of course, it is Pinocchio's nose that betrays his dishonesty, and part of Collodi's genius was locating the perceived decency and humility of the olfactory organ, a symbolic distillation of basic human physicality that stays with us long after we finish reading, even if only as an unconscious echo. Where other features might overwhelm, the nose humbly disarms, allowing the story (and its cautionary moralism) to shine.
In The Great Gatsby (1925), noses hover uneasily over much of the text (both literally and figuratively), wielded as signposts for class, race, and the crassness of American consumerism. Fitzgerald, never anything less than a keen social observer, was certainly aware of the nose's prominent role in establishing and reinforcing power structures among WASPs and immigrants, as nose size, length, and shape communicated a kind of racial or ethnic shorthand, sketching the limits of social viability. The blunt and callous description of the gangster Mayer Wolfschiem—"a small, flat-nosed Jew" with "two fine growths of hair which luxuriated in either nostril"—is an unfortunate staple of racist caricature in which the nose signals an avaricious and unsavory Jewishness. Elsewhere the nose is used as a narrative device in a completely different context when Tom Buchanon punches Myrtle Wilson, the shattered nose here serving to communicate a shattered dream of upward mobility, necessitated by her playing at status and invoking the higher-class Daisy's name.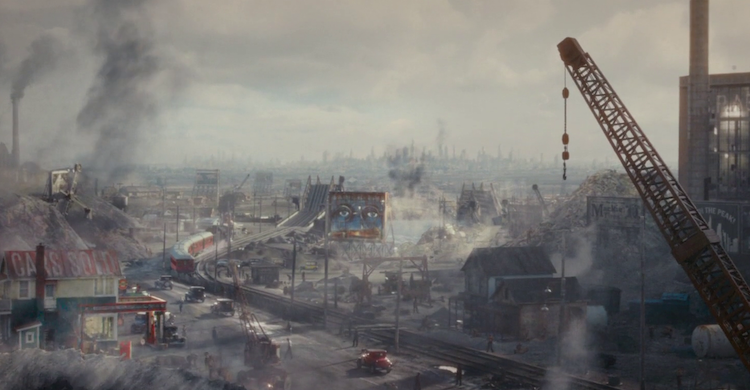 But it is perhaps in Dr. T.J. Eckleberg's sign where Gatsby uses—or, rather, doesn't use—the nose most interestingly. The faded oculist's billboard in the Valley of Ashes is merely a set of eyes looking out from behind a pair of yellow spectacles "over a nonexistent nose"; however, Fitzgerald imbues it with something of a ponderous metaphysical weight: "Over the ashheaps, the giant eyes of T.J. Eckleberg kept their vigil." That Fitzgerald specifically mentions the "nonexistent nose" is, to me, telling. If Eckleberg's eyes are meant to be a kind of surrogate God frowning over the moral disintegration of the Valley, the lack of nose serves to dehumanize this faded deity, granting it an austere and terrible presence. Fitzgerald knew that including the nose would make Eckleberg too personal, too fallible, perhaps even too silly to convey the necessary deistic aura of silent judgement. Gatsby shows us that, in some cases, taking away a nose is as meaningful to narrative as including it.
The German writer Patrick Süskind takes away not his protagonist's nose—which is, indeed, preternaturally sensitive—but rather his defining personal odor in Perfume (1985). Grenouille, an 18th-century perfume apprentice, is something of an olfactory genius; yet, in a cruel irony, he cannot smell himself, and sets about murdering virgin women in order to craft from their essence a perfect compensatory scent. Süskind here makes use of the intimacy of the body's smell as a symbol of personal identity. Grenouille's position as the world's best perfumer, the astonishing power of his ability to parse the aggregate smells of a teeming Paris, brings him no closer to a sense of himself. His world is ruled by the quasi-Cartesian maxim "I smell, therefore I am," a credo he always finds himself on the losing end of.
Saleem Sinai, the protagonist of Salman Rushdie's Midnight's Children (1981), is equipped with a similar, albeit more cosmic, olfactory issue: a blocked sense of smell that somehow grants him telepathic powers. "Between my eyes it mushroomed, outwards and downwards," he says of his nose, "as if all my expansionist forces, driven out of the rest of my body, had decided to concentrate in this single incomparable thrust." This ever-clogged, ever-dripping appendage allows him to communicate with other Indian children born in the same hour and day as himself: the nose as magical portal, as cultural communicator. His scent-nostalgia triggers episodes that can only be described as Proustian, madeleine and Combray here replaced with something cruder but no less powerfully involuntary: "pickle-fumes stimulate the juice of memory."
More recently we've seen Smell (2001) from Radhika Jha, wherein a young Indian woman navigates an alienated world when she is displaced from Kenya to Paris. Leela Patel, the woman in question, has what we might call a postcolonial nose, an organ preternaturally sensitive to an environment in constant flux: the smells of food, bodies, animals, cars and buses, certainly; but also the more abstract scents of love and abuse, hope and fear. An immigrant is awash in sensual stimuli, a heady brew of new languages, new homes, new behaviors, and, less often appreciated, new smells. Jha succeeds in depicting the exoticism of that new world by way of a rich evocation of scent, the titular sense through which Leela's perceptual awakening is refracted. Leela's is a nose-in-transit, a nose assaulted by the new, and Smell subtly makes a case for scent as the sense of globalization, and the nose as the organ of the global village. It encompasses Leela's own odor ("a dark, feral smell, too strong to be civilized"), her connection to the past (ginger, cardamom, and coriander), and the reality of her present (the bodies on the Paris Metro). That that framing is both perceptual and intellectual is a matter of course for Leela: "The smell," she says, "begins in the brain," the nose being not merely a sensual guide, but a way of analyzing, understanding, and synthesizing her world.
As a voracious reader of novels, the vistas I've seen with my mind's eye are plentiful—lighthouses, Mexican villages, dense forests, suburban tracts—while the places I've smelled remain something of a rarity within the fictive dream. While I can't speak for everyone, I don't think I am alone in this.
It seems to me that the aesthetics of our direct forebears, while unquestionably rich in sense, time, and memory, privilege the visual above all: a legacy of sight and seeing, of color and cinematic detail. There is nothing wrong with this, per se—my readerly eye returns to Woolf's bustling London, the ice-blue bleakness of Gass's Midwest, and the blood and dream of Bolaño's apocalyptic Santa Teresa often, and always with pleasure. But when I find myself in need of perceptual refreshment, I seek out the literature of the nose. A less celebrated organ, a less celebrated sense, to be sure; and yet, it is this very strangeness—an understatedness, even a mysteriousness—that creates the context for a new reading experience, one that challenges our inherited visual primacy.
"Nosology" has infiltrated literature across times and cultures, and those that wield it seem to me to be part of a secret club, a group of writers who have located a malleable symbolic power in this little lump on our faces. And even if the nose is, in itself, something funny, even absurd—the punchline of the human face—the true literature of the nose sees the olfactory organ as essential to human character, a supple referent, an irresistible charm.
Perhaps, finally, it should come as no surprise that we, as readers, so often smell the insides of our books, inhaling the odors of ink and glue and old paper; perhaps, in some way, we've been reading the literature of the nose all along.
Feature image: detail from Graham Baker-Smith's Pinocchio illustrations for the Folio Society. 
---