A Life Told in Dishes: Five Essential Food Memoirs
Sylvie Bigar Recommends Nora Ephron, Edward Lee, Diana Abu-Jaber, and More
The stew would not let me go. Was it its plump, sexy beans or the bubbly, golden crust? Was it its grassy undertone that spoke of the forests, high up in the Montagne Noire? Once I'd tasted cassoulet made by Eric Garcia in Carcassonne, I was bewitched. And to think that this had started with what I assumed would be a simple assignment for Food Arts magazine on the history of the dish! Instead, the trip changed my life and led to the writing of Cassoulet Confessions, Food, France, Family, and the Stew that Saved my Soul.
Food memoirs rarely center on just one moment. Often, it's time in the kitchen with a beloved family member that kickstarts a lifelong passion, or the realization that one flavor can transport you back to another time. The truth is that there's no better vehicle than food for nostalgia. In my case, it would take more than ten years to understand why I'd become obsessed with a clay pot full of pork, duck and beans.
*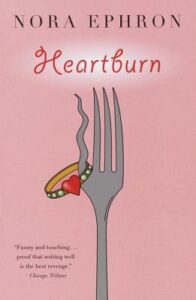 It may not seem very appetizing to open a list of treasured food memoirs with the word 'heartburn' but Nora Ephron's first novel, Heartburn, remains a personal favorite. But wait, novel or memoir? When the book came out in 1983, recounting the story of cookbook author Rachel Samstat's discovery of her husband's affair with her friend Thelma, most readers understood that this fictionalized tale was really a personal memoir. Ephron had recently uncovered her second husband Carl Bernstein's affair with Margaret Jay, the daughter of a former British Prime Minister. And if this wasn't enough to inspire an opera, the plot thickens since the author is slugging through the seventh month of her pregnancy.
Heartburn is a food memoir disguised as a novel, and its cast of characters include a vinaigrette and the key lime pie Rachel/Nora throws at her husband. Throughout, she delivers easy to follow recipes mixed in with her unique, punchy wit, "Even now," she says, "I cannot believe Mark would want to risk losing my vinaigrette."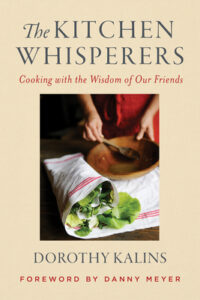 Recipes on the page are just the start of the adventure for Dorothy Kalins, founding editor-in-chief of Metropolitan Home and Saveur Magazine, whose memoir, The Kitchen Whisperers: Cooking with the Wisdom of Our Friends is coming out in paperback. Led by her passion for "the larger story," Kalins has been questioning, writing, and cooking with some of the most important chefs of our era. As she moves in her kitchen, they whisper in her ear.
There's Marcella Hazan, the Italian food authority whose opinions are rooted in authenticity, "I teach cooking, I do not teach measuring," she said before explaining to Kalins how to make risotto all'onda and why the shape of the rice matters as much as the shape of the pot. Author Colman Andrews, co-founder of Saveur and a man passionate about Catalan cuisine shows Kalins how to cook with salt cod. "Elemental and ancient," she muses, "cooking with cod is redolent of history and danger." In her kitchen, we learn about overfishing, Basque Spain, and lost species.
Then we sit at Zahav, Mike Solomonov's celebrated Israeli restaurant in Philadelphia, as documentary filmmaker Roger Sherman prepares the filming of In Search of Israeli Cuisine. A whole world of spices and ingredients, one that will forever change Kalins' flavor landscape, is revealed. Kalins ends up editing and producing several cookbooks with the chef.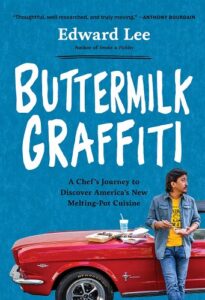 It's that same larger story that Edward Lee explores in Buttermilk Graffiti: A Chef's Journey to Discover America's New Melting-Pot Cuisine, a memoir named for the iconic Southern ingredient Lee grows to love in his Louisville restaurant and the art form that first defined his identity. For Lee, the story may start on the plate, but it's just the opening of the trail. Who's the person at the stove, what have they gone through, why have they landed in this particular corner of the universe?
In Brighton Beach, Brooklyn, Lee enjoys Russian specialties, but for dinner he picks Kashkar, which may be the only Uyghur restaurant in America. Suddenly, he feels the world is larger, mysterious, and the lamb broth noodles rock every cultural reference the chef associated with lamb. In Seattle for a movie premiere, Lee finds himself in the Ballard neighborhood, once a hub of Scandinavian immigrants. At the Swedish Club, he asks a fellow diner what it means to be Scandinavian. "We're not a soup, we're a stew," she answers, meaning each country is distinct but the identity is harmonious. Over locally made aquavit, the quintessential Scandinavian spirit, the chef reminisces about his late father and their difficult relationship.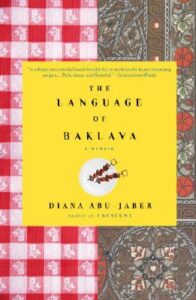 The relationship with one's father made me fall in love with Diana Abu-Jaber's The Language of Baklava on page four, when she described her Jordanian father at the stove, holding her six year-old self, slung over his shoulder. "We are Arab at home," she writes later, "and American in the streets." The memoir opens while the family is living near Syracuse, NY but after her father disappears for a while, turns out he is back in Jordan where everybody joins him for a year.
Back in America and torn between pancakes and kebabs, Abu-Jaber juggles both identities as she grows into a defiant teenager. "I hate Arabic food," she says to her Aunt Aya before they start baking baklava together. While her father holds on to the tastes of his youth, the author finally accepts that she can handle two identities. That's exactly what makes her who she is and her writing so true.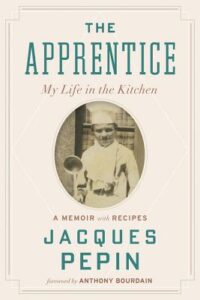 Talking about true, have you heard of the original The Apprentice, Jacques Pépin's charming memoir? Chances are you've seen him on television, with James Beard, Danny Kaye or Julia Child. First, we follow his childhood during World War II, his life as a boarder at a Jesuit lycée, and his efforts to find a saucisson in 1942 France as a first communion gift for his older brother!
With the opening of his mother's restaurant, Pépin finds himself spending more and more time in the kitchen. At 13, he quits school, "More than anything in the world, I wanted to be a chef," he says, but he starts, of course by becoming an apprentice. Everything changes when he boards the Ascania bound for New York City in 1959. The day after his arrival, he meets Pierre Franey, Executive Chef of the original Le Pavillon, who takes a quick look at his letters of recommendation. "Can you start tomorrow?" is all he says.
After my initial trip to Carcassonne and the encounter with Chef Eric Garcia, I wrote numerous articles inspired by the stew, its ingredients, and the region of Occitaine. I knew there was a book to write about this experience and that it was much more personal than reporting on learning to cook a dish. Still, it took me more than ten years to find the key to the familial and dramatic stories that hid under the cassoulet crust.
__________________________________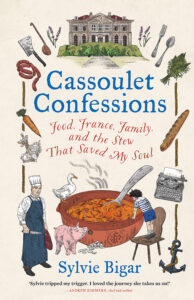 Cassoulet Confessions: Food, France, Family, and the Stew That Saved My Life by Sylvie Bigar is available from Hardie Grant Publishing.
---