A Hierarchy of American Presidential Lies
How The Washington Post Tracks Politicians' Falsehoods
Every president lies—at some point.
 It's the nature of politics and diplomacy. Sometimes, a president might convince himself that a lie is in the national interest. A president might lie to shield the public from damaging information that could undermine sensitive missions. A lie could be a way to protect intelligence vital to national security. Or a presidential falsehood could be inadvertent, the result of sloppy staff work or wishful thinking.
Not every lie is equal. There is the daily fluff of campaigning— marketing embellishments meant to secure political support, such as Barack Obama's "If you like your health-care plan, you'll be able to keep your health-care plan." There are lies to prevent embarrassment, such as John F. Kennedy's denial that he had Addison's disease or Bill Clinton's denial that he had an affair with Monica Lewinsky. There are lies to protect national security, such as Kennedy faking a cold to cancel a campaign tour so he could meet with top aides about the still-secret Cuban Missile Crisis.
And at the top of the scale, there are lies to cover up important crimes—such as the Watergate scandal—and lies of policy deception: Lyndon B. Johnson minimizing the war in Vietnam, Richard Nixon hiding the secret bombing of Cambodia, and Ronald Reagan denying the Iran-Contra scandal.
Just about every recent president is associated with one big lie. Sometimes, a falsehood becomes notorious because it seemed out of character for that president.
Dwight Eisenhower, now ranked by many historians as one of the greatest presidents, approved a series of statements designed to cover up secret overflights of the Soviet Union by American U-2 spy planes. The president's misleading comments were based on the mistaken belief that the pilot of a missing U.S. "weather plane" was dead and his aircraft had been destroyed. But the pilot, Gary Powers, had miraculously survived after being shot down by Russian surface-to-air missiles.
Eisenhower's error proved to be a propaganda bonanza for Soviet leader Nikita Khrushchev, as the Soviets could disprove US claims with both a live pilot and the plane's wreckage. Years later, Eisenhower was asked what his "greatest regret" as president was. "The lie we told," he said. "I didn't realize how high a price we were going to pay for that lie."
October is an especially dangerous month for the truth: In October 2018, the president tallied 1,205 claims, and in October 2019, the count was 1,159.
And then there's Donald Trump, the most mendacious president in US history. He almost never expresses regret. He's not known for one big lie—just a constant stream of exaggerated, invented, boastful, purposely outrageous, spiteful, inconsistent, dubious and false claims.
From the start of Trump's presidency, The Washington Post Fact Checker team has catalogued every false or misleading statement he has made. As of January 20th, 2020, three years after Trump took the oath of office, the count stood at 16,241.
*
That works out to about 15 claims per day. But the pace of deception has quickened exponentially. He averaged about six claims a day in 2017, nearly 16 a day in 2018 and more than 22 a day in 2019. Indeed, the president made more false or misleading claims in 2019 than he did in 2017 and 2018 combined.
Some days are simply astonishing: On September 7th, 2018, he made 125 claims. On December 18th, 2019, 126 claims. And on November 5th, 2018, 139 claims. October is an especially dangerous month for the truth: In October 2018, the president tallied 1,205 claims, and in October 2019, the count was 1,159.
The pace and frequency of Trump's falsehoods can feel mind-numbing—and many Americans appear to have tuned out the torrent of presidential misstatements. In 2003, George W. Bush's administration was thrown off course for months, with a top official offering his resignation and a presidential aide eventually convicted of perjury, after the president's State of the Union address included 16 words—"The British government has learned that Saddam Hussein recently sought significant quantities of uranium from Africa"—that turned out to be based on inconclusive evidence.
By contrast, Trump routinely says dozens of things in each State of the Union address, campaign rally and major speech that are flat wrong—with barely any consequence.
At a January 2020 rally, Trump casually announced that he had "made a deal. I saved a country." He contended that he should have been awarded the Nobel Peace Prize for achieving peace between Ethiopia and neighboring Eritrea. Ethiopia's prime minister had been given the Nobel for negotiating a peace deal after 20 years of bloody conflict. Trump had had nothing to do with those peace talks.
Trump had confused these negotiations with another set of talks, between Ethiopia and Egypt, and he had maligned the head of another country. In any other presidency, such remarks likely would have resulted in a scandal or at least days of negative news reports. In the Trump presidency, the statement passed by with virtually no notice.
The construction of false but boastful narratives about his achievements is at the core of his political strategy and it is a key to his personality. Trump took office as trust in government institutions was rapidly declining—a drop he has exacerbated with attacks on the FBI, intelligence agencies and what he calls the "deep state." He has constructed a vision of America that connects with the frustrations of his supporters—but leaves little room for opposing viewpoints or even respectful dialogue with people who are not in his base.
That laser focus on his base, and his tradition-shattering embrace of lurid rhetoric and coarse insults, helps explain why many of his supporters believe in him with such fervor—and also why a majority of Americans continue to disapprove of his performance, despite economic numbers during his first three years in office, before the coronavirus crisis hit, that would have earned the envy of many past presidents.
Facts and figures are a critical part of most politicians' arsenals. But whether people actually care if those facts are correct is open to question. Supporting a "blue" or "red" candidate increasingly is an important part of Americans' identity. In the age of Trump, there is evidence that Republicans have grown less concerned about presidents being honest than they were a decade ago.
A 2007 Associated Press–Yahoo poll found that 71 percent of Republicans said it was "extremely important" for presidential candidates to be honest, similar to 70 percent of Democrats and 66 percent of independents. Fast-forward to 2018, when a Washington Post poll asked the same question and found that identical shares of Democrats and independents still prioritized honesty in presidential candidates, but the share of Republicans who said honesty was extremely important had fallen to 49 percent, 22 points lower than in the poll a decade earlier.
That statistically significant shift suggests that many Republicans realize that Trump often lies, yet they have decided that truth-telling is less important than the message he sends about the country's sorry state and the forces he blames for its troubles.
Social science research shows that people are receptive to information that confirms their preconceived notions, especially when it comes to politics. One study quizzed participants on data measuring the effectiveness of a skin-cream product; people with good math skills could interpret the data correctly. But when the same survey participants were shown similar numbers on whether gun control increased or decreased crime, liberals and conservatives who were good at math misinterpreted the results to conform to their political leanings. In other words, once politics was introduced, people could not accept a finding that conflicted with their beliefs.
The Washington Post launched The Fact Checker in 2007, coincidentally at the same time that PolitiFact, another early fact-checking organization, was founded. Both projects were born out of journalistic frustration. Editors and reporters concluded that they had not consistently vetted the claims of politicians and advocacy groups, and they had failed to expose the shaky intelligence on weapons of mass destruction that was used to justify George W. Bush's invasion of Iraq in 2003. Campaign controversies such as the "swift boat" attacks on 2004 Democratic presidential candidate John Kerry and the release of fabricated documents concerning Bush's National Guard service also demonstrated the need for a dedicated fact-checking team.
In politics, you only succeed if you win. After more than three decades of covering government, politics and diplomacy—in the halls of Congress and at the White House and the State, Treasury and Transportation departments—I have found little difference between the two parties on this basic fact: They will both stretch the truth if they believe it will give them a political advantage.
The rationale behind The Fact Checker was this: Just like most people would not buy a used car without checking under the hood, neither should people accept what a politician says to advance his or her policy preferences without checking out the facts.
For political fact-checkers, there's nothing more satisfying than finally figuring out how a politician has manipulated statistics to promote a policy.
At least five days a week, we take detailed looks at a politicians' statements and examine the facts behind those claims. We dig through government reports, find relevant data, speak to analysts and experts and of course challenge the politician's staff to explain the source of their information. Then, in what at the time was considered a groundbreaking innovation, we make a ruling on how truthful each statement is, using a Pinocchio scale.
It is like a reverse restaurant review, ranging from One Pinocchio (selective telling of the truth) to Four Pinocchios (a whopper). Those Pinocchios got politicians' attention. No longer could they expect the newspaper to settle for dueling quotes from both sides, leaving readers puzzling over who was right. Instead, we are the readers' advocate, showing them how we do our research and why a politician's claim is misleading.
We aim to write deeply about policy issues. In many cases, a politician's statement is simply a jumping-off point to educate readers about complicated policy issues—health care, taxes, foreign policy and so forth. Politicians often speak in code or shorthand. We have found that the more complex a subject is, the more likely a politician will try to hoodwink voters about it. Our goal is to make people better informed, not to change votes. (Indeed, one study found that fact checks of Trump improve the accuracy of readers' beliefs about what's true, even among his supporters, but they do not change attitudes toward Trump.)
For political fact-checkers, there's nothing more satisfying than finally figuring out how a politician has manipulated statistics to promote a policy. After all, if a politician has to fiddle with the facts to sell a proposal, maybe something's wrong with the policy.
But we had never encountered a politician like Trump—so cavalier about the facts, so unconcerned with accuracy, so willing to attack people for made-up reasons and so determined to falsely depict his achievements. Presidents previously sought to speak with authority; Trump wants to brag or berate, usually armed with false information.
One hallmark of Trump's dishonesty is that if he thinks a false or incorrect claim is a winner, he will repeat it constantly, no matter how often it has been proven wrong. Many politicians are embarrassed to receive a Four-Pinocchio rating; often, they will drop or refine the offending talking point. Some even apologize for their departure from the truth. Trump digs in and doubles down. He keeps going long after the facts are clear, in what appears to be a deliberate effort to replace the truth with his own, far more favorable, version.
When Trump was elected president, The Fact Checker team faced a conundrum. In fact-checking Trump, we did not want to have our core function—writing about policy—sidelined by chasing down the president's latest tweet or ignorant assertion. We also wanted to note when he simply repeated a false claim without having to constantly write new fact checks to respond to old deceptions. So we decided to create a database, starting with the first 100 days of the new administration, to record every false or misleading claim.
Our standard was that it had to be a statement that merited at least Two Pinocchios (essentially "half-true") on our rating scale. The president sometimes repeats the same claim several times in a speech, but to keep it simple we decided we would record only one entry per news event (a speech, rally or remarks to reporters), no matter how often he repeated the same falsehood in that setting.
In those first 100 days, we counted 492 claims, or almost five a day. Readers urged us to keep going. Though maintaining the database was time-consuming, it seemed manageable. We decided to continue at least through Trump's first year. He maintained a pace of about six claims a day. This behavior clearly was not going to go away. We announced we would keep the database going through the rest of his term.
__________________________________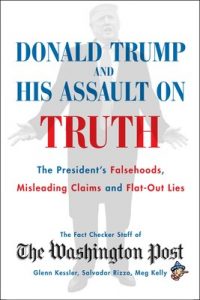 Excerpted from Donald Trump and His Assault on Truth: The President's Falsehoods, Misleading Claims, and Flat-Out Lies by The Washington Post Fact Checker Staff. Copyright © 2020 by WP Company LLC with permission by Scribner, a division of Simon & Schuster, Inc.
---