A Good Research Librarian Can Help You Find Information You Didn't Even Know You Needed
Sarah Shoemaker on Following Where the Research Leads
People sometimes ask me if having been a librarian helps me in being a writer. The honest answer is that sometimes it does and sometimes it doesn't. It doesn't help to know, for example, how many books already get published every year in all categories (close to a million, not counting self-published books), or how many books on almost any subject already line library and bookstore shelves, or how seldom books get universal rave reviews, or how damaging even one poor review can be, or how few newspapers even carry book reviews. Or, how hard it can be to get a book published.
Still, experience as a librarian does definitely have an advantage as far as a writer's research is concerned. My librarianship was as a reference librarian in a large university library that contained about 14 million books. And that's not even counting magazines, journals, newspapers and other ephemera.
That library is so large that it contains multiple smaller collections within it, running from one of the world's largest collections of ancient Biblical manuscripts to a collection of early twentieth century radical political publications. One of the responsibilities of my position was to teach classes about how to put such a gigantic collection to effective use in research.
When I worked there, I used to take every opportunity to walk through the stacks, sometimes imagining what kind of conversations those books might have with their neighbors. That concept is not my invention, by the way, but the result of reading the book The Name of the Rose, in which Umberto Eco imagines books in a large library conversing with each other. One might have a sense of wholeness in a large library, that ideas are almost flowing from one book to another.
Who knows what those books might do in the dark of the night, when no one is around, considering that such books have such close connections with each other? Some books may have the same author, they may even have similar titles; nearly all nonfiction books, whatever the subject, have Notes and Bibliographies, which will send the researcher to other nearby books she may not have thought about, but may find useful.
Who says this? What is their source of information, and is it reliable? Is it first-hand information? What is the writer's reputation, and what are his credentials? Who stands to gain—or lose—by it?
Starting out, a writer may not know exactly in which direction the book will take her. Writers need to be alert to new ideas, new directions, new ways to tell or to take the story that she hadn't previously considered. Research can do that for a writer, if the she is open to it.
While looking for one thing, a writer can find any number of other things which can open up ideas, concepts, even stories. For my novel, Mr. Rochester, I was looking for information about sugar-cane farming in Jamaica in the early-to mid-nineteenth century, because we know from Jane Eyre that Rochester spent some time in his early adulthood on that island. I searched first on Wikipedia for variations on "Nineteenth Century Jamaican sugar plantation" and found a number of lithographs which gave me a visual idea of life at that place and time.
Then I went to the Michigan Electronic Library, which accesses virtually all the public and university libraries in the state, and some non-public special libraries as well. Using similar search terms, I discovered many books that looked as if they could be helpful, including Marley, the story of a sugar planter in Jamaica. It purported to be a novel, but I later learned it was assumed to actually be a "disguised" autobiography. Marley  turned out to be a real gift: published more than 150 years before I needed it, it told me everything I hadn't yet realized that I needed to know in creating Edward Rochester's experiences in Jamaica.
When a writer needs to gather more esoteric or abstruse information, she needs to know how and where to search, and that's when the training of a reference librarian or a collections expert comes into play. Librarians have learned how to look, and, more important, where to look. A good reference librarian can help a researcher on the hunt.
One of the most important things I taught in university classes about the use of the library was how to tell whether or not a piece of information is trustworthy. Who says this? What is their source of information, and is it reliable? Is it first-hand information? What is the writer's reputation, and what are his credentials? Who stands to gain—or lose—by it?
When I began researching Children of the Catastrophe, I already know that there seemed to be general agreement on who set the fires in Smyrna in 1922, although the Turkish government has always denied responsibility. So I returned to the Michigan Electronic Library and searched "burning of Smyrna," and found a number of books: there was a book written by the daughter of a woman who experienced the fires; another written by George Horton, the American Counsel General in Smyrna, who, on more than one occasion, witnessed men setting the fires; there was a title written by the Head Mistress of the American School for Girls in a suburb of Smyrna, who also witnessed men setting the fires. The two latter books were in agreement about who had set the fire, contradicting the official statements I had read before. All the information I needed to tell my story was there, at my fingertips, recorded decades upon decades earlier.
Libraries and librarians have been sharing knowledge about how to find trustworthy information far longer than Wikipedia and social media have been in existence, and more reliably, too. In the end, everything (well, nearly everything) you want to know—everything you need to know is in a library. And the librarian there, if he knows his business, can help you find it.
____________________________________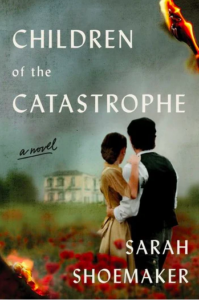 Children of the Catastrophe by Sarah Shoemaker is available now via Harper Paperbacks.
---