A First-Hand Account of Severe Autism
What It's Like to Not Be Able to Thank Your Mom on Mother's Day
Naoki Hidishida has severe, nonverbal autism. Using an alphabet grid he was able to document his experiences of autism in his first book, The Reason I Jump, when he was 13 years old. Fall Down 7 Times, Get Up 8 (excerpted below) is his further account of life as a young adult navigating the world with autism, and was translated by the novelist David Mitchell with KA Yoshida.

 I.
Mother's Day 2011
There are children who cannot say "Thanks for everything, Mom." There may be mothers who are saddened by this, and there may be mothers who feel a kind of grief over never receiving a bunch of carnations on Mother's Day. I'll never truly experience the sorrow these mothers are feeling, I'm afraid, but I do know exactly what those children who can't express their gratitude are going through. Mother's Day is supposed to be the time of year when we show our appreciation for everything our mothers, who we love, do for us. In my case, however, I'm unable to utter even a simple "thank you." It's wretched and it's miserable. I'm sure that if a nonverbal person like me could speak fluently all of a sudden, the very first words he or she would utter would be, "Thanks so much for everything, Mom." Please remember: there are young people, like me, who dream of a day in the future when we too can say these few words.
II.
"It's Raining!"
A sudden shower arrived out of nowhere. As soon as Mom heard the sound of rain she cried, "It's raining!" and dashed upstairs to the balcony to gather in the washing without looking out of the window. I just watched her, no doubt seeming a bit vacant. What follows is a chronology of what went on inside my head as this scene unfolded:
1) A million pitter-patter-pitter-patter sounds.
2) I wonder, What could that noise be?
3) Mom cries, "It's raining!" Then the noise must be rain.
4) So I look out of the window . . . ​
5) . . . ​and watch the rain, mesmerized; yet as I watch now, I hear nothing; it's like a close-up scene of rain in a silent movie.
6) Only now does the sound of the rain start to register.
7) I seek to connect the concept "rain" to its sound; I search for common aspects between all the downpours in my memory and the rain now hammering down outside.
8) Upon finding common aspects, I feel relief and reassurance.
9) I wonder, How come it's raining now? It was clear earlier.
10) Up to this point, my mother hadn't crossed my mind. Now she comes downstairs, saying, "That shower was on us all of a sudden, wasn't it?"
11) I recall Mom running to the balcony to save the laundry.
12) How could she realize so quickly that it was raining?
If I couldn't communicate via my alphabet grid, my questions would go unanswered and I'd be sad to my core about how little I understood. As it is, I was able to consult my mother about how she identified the rain by the sound alone. She told me: "Well, because that sound's the sound of rain and when it starts raining, we bring in the washing. The weather forecast was saying it might rain today, remember?" I did recall the weather forecast, although to have done so of my own volition would have been impossible. As I remembered the relevant section of the report, the forecaster's words returned and I understood a little more clearly why the rain appeared from nowhere, which eased my confusion and frustration.
What remains a mystery is how to infer that it's raining purely from the noise. To me, the sound of rain is an abstract. Identifying the voices of my family or the trill of a phone, the barking of dogs or meowing of cats, these are relatively easy. Some sounds, however, take me forever to figure out, like the chirruping of cicadas at the start of summer. I sense that I've heard these sounds before but without further clues their origins remain obscure. Even if I could identify the source of rain-noise, making the jump from the thought It's raining! to bringing in the laundry would be virtually out of the question. I'd be too occupied just sitting there, entranced.
Rain is a special case. I have certain memories within which rain has left a lasting impression. When I see rain, bitter incidents I have come to associate with it come back to haunt me. Fun things must have happened on rainy days as well, yet somehow it's only the sad scenes which summon themselves up. I have to put a lot of effort into distinguishing "memory rain" from real rain if I want to avoid triggering bad flashbacks. To do so, my mind tends to give first priority to organizing my memories ahead of thinking about what actions I need to take right at this moment. All these transactions are a part of what I need to factor in as I work toward behaving like a neurotypical person.
III.
Impossible Things
It was when I was trying to close an umbrella that had been drying out that I ran into trouble. One of its two snap-fasteners wouldn't snap shut. Normally it clicks into place in no time at all, so I felt a surge of annoyance and managed to call out, "Mom, to come!" I asked her to close up the umbrella—but my mother couldn't do it either. She peered at the fastener and said, "Ah, it's gone all rusty—that's why it won't snap shut." Being unable to do what I normally can—​even very trivial things—is a big deal for me, in a bad way. So I just handed the umbrella back to Mom—that was my way of asking her to try again. This time she showed me how corroded the little fastener thing was, and said, "See? It's all rusted up. There's no way this umbrella can be closed now." Once upon a time, even with this clear explanation, I might have lost it completely and gone to pieces. By this point, however, I was able to accept the situation and give up on trying to close the umbrella.
None of the above was down to greater patience leading to stronger powers of endurance. Rather, I think that my brain, upon fully grasping the cause of a problem, was able to say to itself, It's okay, that's impossible to fix, you can move on now.
On the whole I feel I've always understood the causes of the obstacles I've run up against, but my emotions could still be quite inflammable. It helps me very much that whenever a new issue arises my mother gives short, positive, clear guidance and instructions. People with autism might need more time, but as we grow there are countless things that we can learn how to do, so even if you can't see your efforts bear fruit, please don't quit. Our lives are still ahead of us. Some kinds of success can be won by, and only by, sheer effort and sweat. We all have to bear in mind that adulthood lasts a lot longer than childhood. This is what I've been constantly reminding myself.
__________________________________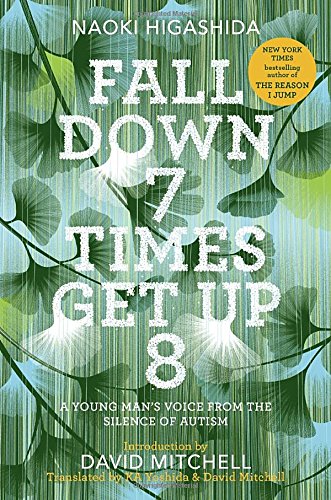 Excerpted from Fall Down 7 Times Get Up 8 by Naoki Higashida, translated by KA Yoshida and David Mitchell. Copyright © 2017 by Naoki Higashida and David Mitchell text. Excerpted by permission of Random House. All rights reserved.
---