A Dreamer of Worlds: Anna Badkhen Explores Ethiopa (and the Etymologies of Maps)
"What each map always implies is the observer, you."
The word "map" entered the English language in the sixteenth century via the French from the Medieval Latin mappa mundi, map of the world. Mappa—napkin, cloth, tablecloth, signal cloth, flag—is said to be of Semitic origin, perhaps related to the Mishnaic menaphah, a fluttering banner, a streaming cloth. But the oldest known maps were series of hollows, scars, notches—portholes—scooped out of bone, chinked into rock. Some of them appear to depict landmarks, some the starry sky. What each map always shows is a relationship between elements of some space; what each map always implies is the observer, you. Each represents our effort to make sense of ourselves in a particular place—and thus, each charts our reach for meaning.
On my last morning in Addis Ababa, two local acquaintances and I stop at a bistro called Keli's Gourmet Burger, not very far from my hotel. We sit outside on small wrought-iron chairs and order coffee and banana beignets. None of us can imagine as yet the profound suffering the pandemic will bring, and the mind still drifts to petty things: For instance, that this is my last chance to sit at an outdoor café for weeks or maybe months, since Philadelphia, where I am headed, is already in quarantine.
A man is handing out bread loaves to mendicants outside a church down the street, and my friends—let's call them E. and Y.—talk about how cataclysms inspire acts of humanity and imperil the vulnerable. They talk about Ethiopia's economy, which is so dire that three million people are internally displaced by poverty, and tens of thousands each year risk the maritime crossing to Yemen's warscape in search of jobs. They talk about how much worse life will become for the country's poorest if the government imposes a curfew or bans the cheap kiosks and outdoor markets to curb the spread of the virus. There will be riots, says Y.
Keli's Gourmet Burger serves Eurocentric fare, burgers and beignets and salade Niçoise, in a neighborhood where the United Nations has its offices and expat housing. Most of the UN foreign staff is gone and dust has begun to settle on the fleet of white trucks stenciled with olive branches parked in a large lot down the street: The country has closed its borders for entry, and there are rumors that within days there will be no more international flights. The other customers at the café are three young Ethiopian men and a white Anglophone family with a little girl, the parents visibly distressed because the world is shutting down and they must decide whether to stay or leave, and how expensive it would be to evacuate. Actually, I don't know why they are distressed. One of the reasons I like outdoor cafés is because I can imagine the lives of strangers.
What each map always implies is the observer, you. Each represents our effort to make sense of ourselves in a particular place—and thus, each charts our reach for meaning.
From our table I can see the tall IOM building with a banner that reads MANAGING MIGRATION FOR THE BENEFIT OF ALL; the parking lot with the dormant UN trucks; and, between them, a long stucco wall painted with maroon-and-yellow stripes in imitation Moorish ablaq, with an unmarked teal metal gate. When we leave the café E. points at the wall and says, "This is a torture place, for political prisoners."
"During the Red Terror?" I ask. The Derg junta ruled Ethiopia in the seventies and eighties, when my friends and I were children; during those years my mother, in Leningrad, would brew Ethiopian coffee, imported into the Soviet Union from the new client state.
"No," says E. "Up until now."
"Maybe they're still doing it," says Y.
Later, reading human rights reports, I will confirm that political prisoners were definitely interrogated in this place during this century; that it was once a military office building; that, in the 1960s, it hosted the Peace Corps; and that until recently, the area around it—home now to the UN quarters and Keli's Gourmet Burger—was a slum of more than a thousand households, which the government demolished to make way for multimillion-dollar real estate development, and only a third of the displaced families were issued compensation. But when I stand before the wall it is so tall that I cannot see the compound behind it, even when I rise to my tiptoes: just the powdery crowns of grawa trees and a single frangipani in pink bloom. A rusted white van with a blue Nike swoosh on the side noses out of the gate and drives off, and Y. says, "Here we have a saying: May we live our whole lives and never find out what's inside."
I want to take a picture of the wall. I leave my companions by a shoeshine man and walk down the road a bit by myself, and at the end of the block I take out my phone and immediately two young men appear out of nowhere, I swear they were not in the street just a second ago. They are wearing jeans, plain T-shirts—one white, one yellow—and disposable gloves. Blue surgical masks hang slack around their necks. For a fraction of a second I think, They must be essential workers. They rise before me and say, very sternly, in English, "No pictures."
*
It is no accident, I think, that mappa—a cloth, a flag, an object that flaps in the wind, that shrinks and fades and stretches on a bias—connotes a kind of unsteadiness. Maps are objects that, historically, we are taught to rely on, but they are historically unreliable. Is it any surprise that we fumble as we look for the road ahead?
Take, for example, the first known map to depict both North and South America, called Die Neüwen Inseln. The German cartographer Sebastian Münster drew it in 1550. This map of the Western Hemisphere shows India in China and places a nonexistent sea west of what would become North Carolina, where explorers at the time envisioned a passage to the Pacific Ocean. A mapped landscape is always tailored to reflect the cartographer's desire, the way when we say "acts of humanity" we mean "kindness," though humanity is just as likely to commit atrocities. For what is a cartographer? A dreamer of worlds.
Maps are objects that, historically, we are taught to rely on, but they are historically unreliable. Is it any surprise that we fumble as we look for the road ahead?
So do we map out the world: seeing our own projections, filling in the blanks with imaginary stories or leaving them blank. Some things we don't want to imagine, so we dismiss them, the way many of us and our governments dismissed the pandemic when the virus was already killing people all over the planet by the tens of thousands.
Other things we'd rather not see, so we omit them, the way the Google map of Addis Ababa omits the black site behind the fake-ablaq wall, though you can see the compound plainly on the satellite image: a dozen or so rectangular roofs flanked by trees, and a paved yard in which there stand some white cars and what appears to be a white van with a rusted roof.
The second, dated, Oxford definition for map: a person's face. Sometimes I imagine that there is a secret laboratory where scientists are working on a map that, like Jorge Luis Borges's The Book of Sand, has neither a beginning nor an end: It is infinite, all-encompassing of our virtues and iniquities. It holds the man handing out bread by the church and each frangipani tree in waxen bloom and all the torture chambers in every country and each rubber raft and pirogue full of people crossing the Red Sea and the Gulf of Aden and the Mediterranean and the Atlantic and the Rio Grande.
I imagine that such a laboratory must be somewhere in Eastern Europe, in a World War I barracks built for Austro-Hungarian cavalry officers, though it is not on any map except the one being created in it. No global calamity, no matter how great, ever interrupts the labor of the scientists, who are constantly catching up to our transgressions and our feats, and when a scientist dies that, too, is recorded on the map, which will never be finished.
The lab is subdivided into sections, and each section focuses on one particular part of the world, though I am not sure whether the parts would be physical or metaphysical. No scientist ever leaves their assigned section, and no one has ever seen the map in progress in its entirety, but I imagine that if anyone does, they would die instantly of grief-ache. Then their death also would be entered into the map, using a particular map key that has already been designed for it.
___________________________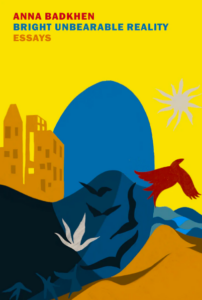 Excerpted from Bright Unbearable Reality by Anna Badkhen, available from NYRB
---