A Brief History of the Creepiness of Human Bones
Roy A. Meals, Bone Expert, Has the Skinny
Halloween evokes images of black cats, witches on brooms, pumpkins, and skeletons. Years ago, the skeletal images for such seasonal revelries were mere cardboard cutouts of human bones that pivoted at major joints. When the festivities were over, the flat prop could be condensed by spinning its knees up to its shoulders and its elbows to its hips and interring Mr. Bones in the bottom of a storage box until next year. Now websites ceaselessly, and stores seasonally (at least pre-pandemic), offer molded plastic skeletons of dogs, cats, bats, unicorns, dinosaurs, and humans. Some talk, moan, or dance, and they come in all sizes. For instance, this year one of Home Depot's new offerings was a 12-foot tall human skeleton. At $299, they sold out, and resellers on eBay are presently offering them for three to four times that shocking price. All of these bony props are amusing for certain, delightful to some, but definitely not scary.
That has not always been the case. The history of Halloween is rooted in an ancient Celtic fall festival, when the nights were becoming longer than the days. The celebrants would light bonfires (literally bone fires) to fend off the dark and don costumes to ward off ghosts, at least the ones who had not been properly restrained. For instance, archaeologists have found rather well-preserved human bodies, including skin and sometimes clothing, from as far back as 10,000 years in Scandinavian peat bogs. Many show signs of violent deaths suggested by the presence of nooses and stab wounds and the absence of heads.
Scattered more widely across Europe, centuries-old skeletons have been unearthed that were buried face down, shackled in leg irons or handcuffs, or held down with metal stakes and heavy stones. Were these steps taken to prevent vampires and witches from returning? Nobody knows, but the thought is terrifying and was likely even more so to people of the time, who had no awareness of bacterial and viral diseases and who could easily attribute death to ghosts and sorcery.
The time when the depiction of a human skull first symbolized death is ancient and debatable. The portrayal extends back at least to the early Christian era. A tabletop mosaic discovered at Pompeii depicts a human skull positioned beneath a carpenter's square and plumb bob, which together represented death—the great leveler. By the next century, skulls and crossed thigh bones began showing up on catacomb crypts in Italy. Several hundred years later, Crusader knights adopted the skull and crossbones for their banners, perhaps co-opting the symbol—one of ferocity and gravity—from pirates cruising the nearby Mediterranean.
By the Middle Ages, skeletons began conveying messages of remembrance. Funeral art and architectural detail included stone carvings of skulls. Paintings on canvas soon followed, and these stark messages became known as memento mori(remember that you must die).
Memento mori took two forms, both morbid. Dutch artists popularized a genre known as vanitas (Latin for futility) and filled still-life canvases with skulls, candle stubs, rotting fruit, bubbles, hour glasses, and … well, you get the idea. People of the time had probably made the association already, because the plague, of unknown cause and for which there was no effective prevention or treatment, was killing every third European. Considering that today we have means of avoiding and remedying infectious diseases, the plague must have been particularly unnerving. Poet and mystic William Blake was perhaps unnerved himself when he scrapped the Dutch painters' assorted reminders of death and conveyed life's fleeting nature by painting a skeleton in an exaggerated fetal position (not all that different from Mr. Bones contorted in his Halloween box, but with much greater impact).
The history of Halloween is rooted in an ancient Celtic fall festival, when the nights were becoming longer than the days.
Contrasted to still-life warnings, the other memento mori art form also featured skeletons, but now they were dancing. On frescos, oils, and woodcuts, artists depicted royalty and commoners cavorting with corpses and skeletons. This allegorical genre became known as danse macabre—dance of death. Musicians adopted the theme, the most famous of whom was Camille Saint-Saëns, whose 1874 symphonic poem features the xylophone to represent the dancers' rattling bones. To me the music sounds more jovial than ominous.
Painters in the nineteenth century began lightening up too. Cézanne painted a skull next to pieces of his archetypal, non-rotting fruit. He also painted three skulls resting on a draped fabric covered with daisies and leaves. He was not apparently obsessed with death or trying to worry viewers. I wonder if he became bored painting peaches and pears and, without intending any social statement, took on the challenge of depicting a skull's pale curved surfaces and black voids. Van Gogh, on the other hand, portrayed a skeleton clinching a cigarette in its teeth as if the artist (a heavy smoker) wanted to poke a finger in the grim reaper's eye. By further contrast, in various still lifes, Picasso's grossly distorted and barely recognizable human and bull skulls accompany images of newspapers, guitars, and vases, all of which seem entirely incapable of stirring fear.
From a bone lover's perspective, some currently available skeleton costumes for Halloween distort nature almost as much as Picasso's renditions. One cannot begin to look like a skeleton if the costume has open shoulders, short sleeves, fishtail skirt, absent hood, or plunging neckline. Yet such offerings are available on the internet. Frightening? Certainly not. Alluring? Perhaps.
Halloween aside, skulls stare at us daily from a wide range of consumer products ranging from Alexander McQueen's haute couture to perfume bottles and beer packaging. These images do not focus my attention on death, rather they reinforce my awareness that bones have morphed all the way from generators of fright to images of commercialism, amusement, and delight. This has occurred while the messages conveyed by images of witches and black cats have remained unchanged. In other words, how and why have bones made this transition?
Unseen and therefore a bit mysterious, bones support their original owners throughout life, and then they may disappear for millions of years before resurfacing as fossils, something pumpkins and witches have not managed, although cats' bones have. Bone's unique composition accounts for its amazing resiliency and durability. With just two main ingredients, bone is simpler than a witch's brew, yet far more useful. The first ingredient is the collagen protein fiber that is stronger than steel when stretched. It forms a meshwork on which the other ingredient, a calcium crystal, resides. The mix provides a rigid composite, which is conceptually similar to man-made, time-tested building materials–mud mixed with straw and plaster pressed onto lath.
From a bone lover's perspective, some currently available skeleton costumes for Halloween distort nature almost as much as Picasso's renditions.
Bone's structure, however, is far more orderly, not only when it first forms, but also as it grows and when it responds to stress, including when it breaks. Bone's calcium crystals have a unique property that initiates repair and remodeling. This is because when the crystals sense pressure, they generate an electrical charge—an alarm signal. This tiny cat-yowl warning attracts bone-forming cells to the danger area, and the cells go to work and make the necessary structural improvements. This phenomenon underlies the sage advice to jog or walk regularly. In other words, when you make your bones yowl a bit, they respond by staying fit. Riding a broom, on the other hand, has not been proven to promote bone health.
Better known than the skeleton's composition and structure are its constituent's names. Here, however, familiarity may be deceptive. Latin was the language of science when our bones were named, and the anatomists were just being descriptive, although some of the terms seem arcane now because of our general unfamiliarity with Latin. The scapula, for instance, a broad flat bone, was named for its resemblance to a shovel blade. The smaller of the two leg bones looked like a large pin, hence fibula. Tossing the Latin names around now may make the speaker seem learned, but meaning is equally conveyed with terms like shoulder blade and skull. And how erudite it sounds when one describes the large opening at the skull's base through which the spinal cord passes as the foramen magnum. Yet the naming anatomist was not being obtuse, he just described what he saw—the big hole.
Similar assumptions regarding the total-body bone count can be equally deceptive. The textbook number is 206, but bone lovers know otherwise. For instance, the three tiny middle ear bones on each side are counted, but a much larger, pea-sized bone present behind the knee in about a quarter of individuals is not. Most people have 12 pairs of ribs. Those with 13 pairs do not get extra credit. Sometimes two bones in the wrist or forearm develop as just one. Sadly, all Halloween costumes are anatomically incorrect in these nuances.
The bottom line is that bones are unique and generate a sense of Halloween delight in bone lovers. For others, bones are at least worthy of amazement and esteem, now and throughout the year. Are bones frightful? Maybe 2000 years ago, but not anymore, even if you see some plastic replicas pushing through your neighbor's lawn. Happy Halloween.
__________________________________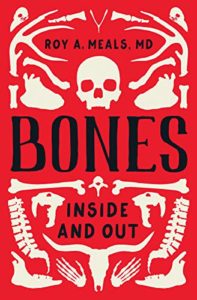 Bones: Inside and Out by Roy A. Meals, MD is available now via W.W. Norton and Company. 
---