A Brief History of Social Media Platforms, from LiveJournal to Meme Warriors
The Internet Has Reshaped Society... But the Result Was Anything But Inevitable
The internet did not cause the insurrection. But it enabled it. The technology of any age in human history shapes the culture of that time. With the advent of agriculture and farming tools, humans developed stationary civilizations and abandoned thousands of years of itinerancy. The printing press made the written word accessible, heralding in the enlightenment. The telephone connected disparate communities, and the television ushered in an era of national culture, so that no longer did towns have little contact with the communities outside themselves; suddenly everyone in a country was watching the same show at night and laughing at the same jokes. A new generic "American accent" was born. Behavior and identity shifted.
So too did the design of the wires and tubes that make up the internet reshape our society and our behavior. The anonymity of the internet made people bold and free, and also able to distance themselves from the impacts of their words. Blogs democratized the publication of long-form words, while social media took the place of many in-person gatherings.
Who needed a high school reunion when you had Facebook telling you who got fat and who got divorced? And it turned image-based memes and memetic slogans into a super powerful and efficient method for sharing ideas. Image macros, the most common form of internet meme, in which words are placed over a picture, require little skill to make and share, and are ubiquitous across the social web.
The internet could have been shaped differently. Social media "platforms" were not inevitable. Early social platforms like LiveJournal, BlackPlanet, Friendster, and Myspace were similar to telephone books with the added capacity to share posts, links, and comments. Similarly, today's biggest Silicon Valley tech companies began from modest intentions: a desire to connect people for specific reasons.
The anonymity of the internet made people bold and free, and also able to distance themselves from the impacts of their words.
But then in 2006, Google's YouTube began to describe itself as a platform, a label that eventually took hold in the public lexicon to describe highly interactive websites with the capacity to upload user-generated content. Platforms wrap together a bunch of older communication technologies from radio, print, and television, alongside personalized content distribution and advertising. Their success is largely owed to a few mutually reinforcing coincidences: broadband, mobile phones, and wifi create a ubiquitous computing environment, where we are all jacked in to the matrix all day long.
There is no more "offline" to speak of. How did this happen? Concurrently with massive uprisings across the globe in 2011, Silicon Valley was still haunted by the specter of the dot-com bubble of the early 2000s, which bankrupted many online shopping companies who were spending far too much on television and print advertising in order to "get big fast" as a business strategy. The "get big fast" idea was simple; the sooner everyone knows your company exists, the more market share your company has early on, ergo market dominance later on. Though this had failed, tech investors didn't abandon the strategy; they adjusted the tactics.
With Web 2.0, social networking sites didn't sell anything, nor did they buy anything. Searching for profit drove design decisions about expanding the user base, remodeling advertising, and converting users into market value. Personal data was an artifact of time spent on these services. By leveraging people's networks and their content, a business plan began to emerge over the course of several years: turn the people into the product and sell their data. The digital economy converted every click, like, share, and mouse movement into "insights," an industry term for the ways marketers track user behavior.
Shoshana Zuboff calls this data extraction process "surveillance capitalism," where users' online footprint becomes a valuable commodity. As digital marketing grew as an industry, there was an unmarked shift from social networking into social media. These sound the same, but they are different. The business model of social networking was to connect people to people and litter those pages with ads, but social media connected people to people and to ad-laden "content"—information, pictures, videos, articles, and entertainment—all in one place. The change resulted in a digital economy built on engagement, where content farms and clickbait mimicked the tone and style of news websites, but whose real intention was to make money off advertising. Clickbait ushered in an era of "fake news," which led us to the disinformation age of the 2020s, where it's so hard to tell truth from fact online that bad actors have figured out how to get what they want—be that money or power or something else—by spreading intentionally false information.
As personal data became a cash cow for social media companies, user experience could be tailored to meet the minutiae of user's interests to prolong their time on a site. The consequence was the development of personalized information ecosystems, where platforms centralized and formatted communication streams based on sets of user characteristics. No longer did everyone on the internet see the same information; algorithmic echo chambers shaped individual news feeds and timelines. It's now common for two people sitting side by side to receive very different online recommendations based on their past behaviors online. Political polarization was embedded into the back end of every tool we used to express ourselves, and into the ways we get our news.
But it's not simply that social media delivered content to users. It wasn't just some natural evolution of radio or television, or a means of independent broadcasting. It also became an opportunity for everyone to make money. In 2007 YouTube introduced a profit-sharing model that made average users into content producers. Over the next decade this created an influencer culture, where entrepreneurial creators cultivated networks of followers and subscribers and then monetized them through donations, subscriptions, or sponsored content. Creators, marketers, and activists understood social media as promotional spaces, where the convergence of professionals, hobbyists, and amateurs blended with corporate and grassroots approaches to cultural production and consumption. This mishmash of styles and powers and approaches made for an eclectic collection of personalities and content. In a word, the internet was "weird"—and, for some, profitable.
Some people are still making lots of money off the internet, but it isn't weird anymore. According to ancient internet parlance, the normies used to be the folks who weren't online. Now those people barely exist. The internet is where we do our banking and sign up for COVID tests. The internet itself is normie now. And it is this fact that makes it the perfect terrain for you to be drafted into a meme war. As you go about your day, reading the news, checking your feeds, googling around for businesses, and reading reviews, you might not realize you are walking through a minefield, but you are. Everywhere you traverse, a hole may be hiding—in the form of a hashtag, maybe, or a recommended video—into which you can fall, until you reach the lesser-known corners of the internet, the ones that are still fringe, the ones from which, if the memes are powerful and resonant enough, you may never emerge.
Everywhere you traverse, a hole may be hiding—in the form of a hashtag, maybe, or a recommended video—into which you can fall, until you reach the lesser-known corners of the internet, the ones that are still fringe…
One of the key ways that meme warriors suck people down into these rabbit holes is through the artful use of red pills, which they scatter across the open internet, waiting for you. In this way, red pills are provocative ideas that challenge the status quo, and which meme warriors might send out in tweets, or drop into a comment section, or call in to a radio show to plug. The hope is that you might be driving your car and hear one of these ideas—which often take the form of memes—and your mind will be instantly changed, or at least you'll be curious enough about what you just heard to look into it, following the path into the rabbit hole that your research will lead you down.
The idea of a "rabbit hole" was first put into the popular imagination by author Lewis Carroll, who riffed on the long, winding tunnel systems that rabbits dug in his Alice in Wonderland, using it as a metaphor for a pathway to an unusual or unsettling environment. When applied to the internet, rabbit hole refers to a path that memes can entice you down as you follow them from website to website, particularly ones that are disturbing or taboo.
Rabbit holes are ultimately just a series of links clicked in succession, and are built into the design of social media. This design confers incredible power on people able to harness what we call the four Rs of media manipulation: repetition, redundancy, responsiveness, and reinforcement. These four Rs are integral to successful memes.
Repetition is simply the act of posting, reposting, retweeting, linking, or sharing to circulate content to the widest possible audience instantaneously. Repeating something ad nauseam plays into our cognitive biases and gives the impression that the thing being repeated is important and legitimate, especially if the viewer sees the same or similar content with lots of engagement over the course of a few days.
Redundancy occurs when content is shared across multiple platforms. Repetition and redundancy online can produce "connective action," which refers to the ability of a loosely affiliated group to take action together without knowing one another, as with hashtag movements. Responsiveness refers to the reactions that posts evoke, such as comments, likes, hearts, or retweets, which signal excitement about a particular topic. Social media is the only form of mass media where there is consistent interaction on a range of topics. This can be positive—or disastrous, leading to coordinated harassment or the recruitment of white supremacists and extremists. Responding brings communities together in replies, where more and more context and discussion occurs. Finally, reinforcement is conferred upon a topic by algorithms, which personalize experiences for users and promote similar types of content in recommendation and search returns. If you can game the algorithm such that it surfaces your ideas, as opposed to others', then you'll be more likely to win your meme war.
__________________________________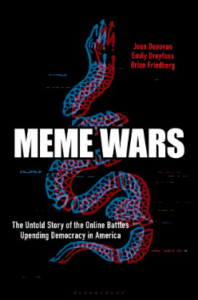 Excerpted from Meme Wars: The Untold Story of the Online Battles Upending Democracy in America. Used with the permission of the publisher, Bloomsbury. Copyright © 2022 by Joan Donovan, Emily Dreyfuss, Brian Friedberg.
---