A Brief and Awful History
of the Lobotomy
Groundbreaking Discoveries... But at What Cost?
On November 19, 1948, the two most enthusiastic and prolific lobotomists in the Western world faced off against each other in the operating theater at the Institute of Living in Hartford, Connecticut. They performed before an audience of more than two dozen neurosurgeons, neurologists, and psychiatrists. Each had developed a different technique for mutilating the brains of the patients they operated on, and each had his turn on the stage.
William Beecher Scoville, professor of neurosurgery at Yale, went first. His patient was conscious. The administration of a local anesthetic allowed the surgeon to slice through the scalp and peel down the skin from the patient's forehead, exposing her skull. Quick work with a drill opened two holes, one over each eye. Now Scoville could see her frontal lobes. He levered each side up with a flat blade so that he could perform what he called "orbital undercutting." Although what followed was not quite cutting: instead, Scoville inserted a suction catheter—a small electrical vacuum cleaner—and sucked out a portion of the patient's frontal lobes.
The patient was then wheeled out and a replacement was secured to the operating table. Walter Freeman, a professor of neurology at George Washington University, was next. He had no surgical training and no Connecticut medical license, so he was operating illegally—not that such a minor matter seemed to bother anyone present. Freeman was working on developing an assembly-line approach so that lobotomies could be performed quickly and easily. His technique allowed him to perform 20 or more operations in a single day. He proceeded to use shocks from an electroconvulsive therapy machine to render his female patient unconscious and then inserted an ice pick beneath one of her eyelids until the point rested on the thin bony structure in the orbit. A few quick taps with a hammer broke through the bone and allowed him to sever portions of the frontal lobes using a sweeping motion with the ice pick. The instrument was withdrawn and inserted into the other orbit, and within minutes, the process was over. It was, Freeman boasted, so simple an operation that he could teach any damned fool, even a psychiatrist, to perform it in 20 minutes or so.
Tens of thousands of lobotomies were performed in the United States from 1936 onward, and both these men would continue operating for decades. Lobotomy's inventor, the Portuguese neurologist Egas Moniz, received the Nobel Prize in Medicine for his pains in 1949. Major medical centers in the United States—Harvard, Yale, Columbia, the University of Pennsylvania—regularly performed variations on the basic operation well into the 1950s.
Article continues after advertisement
It has become fashionable in recent years among some medical historians to argue that the operation was not the medical horror story that popular culture portrays it as being. These scholars suggest that, when considered within the context of the times, lobotomy was perhaps a defensible response to massively overcrowded mental hospitals and the therapeutic impotence of the psychiatry of the time. That is not my view, and Luke Dittrich's book Patient H.M.: A Story of Memory, Madness and Family Secrets (2017) adds to evidence from elsewhere that Scoville (like Freeman) was a moral monster—ambitious, driven, self-centered, and willing to inflict grave and irreversible damage on his patients in his search for fame. He certainly had no time for the Hippocratic injunction: "First, do no harm."
Ironically, Scoville was quick to denounce the crudity of Freeman's procedure, a position the neurosurgeons in the audience were happy to endorse. Freeman, in turn, was scornful of the notion that his rival's suctioning away of portions of the brain was "precise," as Scoville and his supporters contended. On these points, at least, both men were for once correct.
At this point, a cautious surgeon would have cut the surgery short, since there was no obvious lesion to justify further intervention. Scoville was not such a person.
Dittrich devotes considerable space to this remarkable surgical contest in Hartford, which he views with a suitably skeptical eye. But he opens his narrative much earlier, with the story of an accident that befell Henry Molaison, a young boy of six or seven, one summer evening. En route home for dinner, Henry stepped into the street and was struck from behind by a bicycle. The impact threw him through the air, and he landed on his head, sustaining a concussion that temporarily rendered him unconscious. Henry eventually recovered from his injuries, but only partially.
He began to suffer from epileptic seizures that increased in frequency and severity as the years went by and made his life a misery. Drugs didn't help. Finally, in 1953, Henry's parents brought him to see Dr. Scoville. Unlike most of the other patients subjected to psychosurgery, Henry was sane. Scoville informed the family that the epilepsy might be tamed by the brain surgery he was pioneering, and within a matter of months, Henry was wheeled into the operating theater. What occurred next made him one of the most famous patients of the 20th century.
Following his usual procedure, Scoville cut into Henry's skull, exposing portions of his brain to view. His target on this occasion, however, lay further back, behind the frontal lobes that he usually targeted for his lobotomies. The electroencephalograph had failed to reveal any epileptic focus. Now, using a flat brain spatula, Scoville pushed aside the frontal lobes to expose deeper structures in the temporal lobe—the amygdala, the uncus, the entorhinal cortex—searching for any obvious defects or atrophied tissue. Nothing. At this point, a cautious surgeon would have cut the surgery short, since there was no obvious lesion to justify further intervention. Scoville was not such a person. In his own words, "I prefer action to thought, which is why I am a surgeon. I like to see results." Results he obtained, although not the ones his patient was hoping for. Using a suction catheter, Scoville proceeded to destroy all three regions of the temporal lobe bilaterally.
Article continues after advertisement
Patient H. M., as Henry became known in the trade, suffered absolutely devastating losses. Though his intellect remained intact, he had in those few minutes lost all but the very shortest of short-term memory. Henceforth, as Scoville noted, he was left essentially helpless and hopeless, with "very grave" memory loss, "so severe as to prevent the patient from remembering the location of the rooms in which he lives, the names of his close associates, or even the way to the toilet or the urinal." And, of course, much else besides. Those words constituted, as Dittrich puts it, "the birth announcement of Patient H.M. It was also the obituary of Henry Molaison."
The first of many surprises Dittrich springs on the reader is the news that William Beecher Scoville was his grandfather, someone he came to know well over many years. Those family ties gave Dittrich access to all manner of materials that no outsider could have obtained, and he is clearly both a talented and persistent journalist and an excellent storyteller. I found it all the more disappointing, then, that he and his publisher elected to provide neither footnotes nor any systematic documentation of his sources. What we are left with is a gripping story, but one whose provenance is at times unfortunately quite murky.
A second surprise concerns Dittrich's grandmother, Emily Barrett Learned, whom he affectionately refers to as Bam Bam. Emily had been a high-spirited young woman before she married the handsome Bill Scoville in June 1934. By 1944, they had three children, and Bill was serving in the Army medical corps, leaving her alone much of the time in the small town of Walla Walla in eastern Washington State. Then she found out that her husband was having an affair. She began to hallucinate and tried to hang herself. She was placed in a secure ward of a local hospital until, a few weeks later, the entire family left for Hartford, Connecticut. There, she was rushed to the Institute of Living, one of America's oldest mental hospitals, and where her husband would perform most of his lobotomies (though not the operation on H. M.). Scoville had been on staff there since 1941.
The Institute of Living (previously the Hartford Retreat for the Insane) was a ritzy private establishment catering to the wealthy in surroundings that superficially resembled a country club. Its grounds had been laid out by Frederick Olmstead, the architect of Central Park in New York. Its inmates were referred to as "guests," though these were guests deprived of any voice in their fate. The superintendent, Dr. Burlingame, aggressively employed all the latest weapons of 1940s psychiatry: insulin comas, metrazol seizures, hydrotherapy, pyrotherapy (insertion into a coffin-like device that allowed the patient to be heated until the body's homeostatic mechanism failed and an artificial fever of 105 or 106 degrees Fahrenheit was achieved), and electroshock therapy (ECT) in its unmodified form (which produced violent seizures).
Emily received many of these so-called treatments, to little effect. Her unsympathetic psychiatrist commented that her husband's infidelity "has upset her to an unusual degree," and her case notes reveal someone frightened of the ECT and still in the grip of psychotic ideation. Her subsequent release seems a bit mysterious. She was henceforth withdrawn and rather lacking initiative, a pattern that makes more sense when we learn, in the book's closing pages, that Dr. Scoville had personally lobotomized her. One of the many poignant scenes in Dittrich's book is his recital of a Thanksgiving dinner at his grandparents' house, during which Emily sat silently amid her family while her ex-husband and his new wife (a younger, more attractive model) presided over the proceedings.
She made a number of pathbreaking discoveries about memory through her work with him, including the finding that humans possess two distinct and independent memory systems.
His book's title notwithstanding, Dittrich spends many pages exposing these kinds of family secrets. But he eventually returns to the case of the memory-less H. M. Here was a scientific prize. Unlike the legions of lobotomized patients Scoville left in his wake (he continued to perform his orbital undercutting procedure into the 1970s, claiming it was "safe and almost harmless"), H. M. was not mentally ill, and his intellectual abilities remained intact after the surgery. That made him an ideal subject for research on human memory, and the findings of that research were what made Henry so famous (not that he was capable of appreciating that).
Early on, an eminent neuroscientist from McGill University in Montreal, Dr. Brenda Milner, was the primary psychologist studying H. M., and she made a number of pathbreaking discoveries about memory through her work with him, including the finding that humans possess two distinct and independent memory systems. One of these had survived in H.M., the one that allowed him to acquire and improve on learned skills. The other, memory for events, was utterly extinguished.
Dr. Milner soon moved her research in a different direction and lost touch with H.M. In her place, one of her graduate students, Suzanne Corkin, took over. Subsequently, Corkin obtained a faculty position at MIT. H.M. became, in effect, her possession. For as long as he lived, Corkin controlled access to him, forcing other researchers who wanted to examine him to dance to her tune, and building a good deal of her career as one of the first women scientists at MIT on her privileged access to this fascinating subject. From 1953 until his death in 2008, H.M. was regularly whisked away to MIT from the Hartford family he had been placed with, and later from the board-and-care home where he resided, to be poked and prodded, examined and re-examined, each time encountering the site and Dr. Corkin as though for the first time.
Corkin, it turns out, also had a connection to Dittrich. She had lived directly across the street from the Scoville family and had been Dittrich's mother's best friend when the two girls were young—not that it seems to have helped Dittrich much when he sought to interview her for his book. She first evaded meeting him and then sought to put crippling limitations on his ability to use whatever he learned from talking to her. How much this affected Dittrich's attitude toward her is difficult to say, but it seems inarguable that he developed an extremely negative view of her behavior.
As Dittrich points out, Corkin and MIT obtained millions of dollars in research grants due to her control over H. M. Not a penny of it reached poor Henry's pockets. He subsisted on small disability payments from the government, and not once did he receive any compensation for his time and sometimes suffering. He once returned to Hartford, for example, with a series of small second-degree burns on his chest—the result of an experiment to determine his pain threshold. After all, he couldn't remember the experiment, so why not subject him to it? Belatedly, it seems to have occurred to Corkin that she should get some legal authorization for her experiments, since H. M. was manifestly incapable of giving informed consent. Making no effort to locate a living blood relative (a first cousin lived only a few miles away), she instead secured the court-ordered appointment of a conservator who never visited H. M. but who routinely signed off on any proposal she put in front of him.
Henry Molaison does not seem to have had much luck at the hands of those who experimented on him. Scoville cavalierly made use of him to see what would happen when large sections of his brain were suctioned out, and Corkin seems to have taken virtual ownership of him and then exploited her good fortune for all it was worth. According to Dittrich, H. M.'s travails did not end with his death. Quickly preserved, his remains were transported to the West Coast, where Jacopo Annese, a neuroanatomist and radiologist at the University of California at San Diego, carefully harvested his brain and began to reveal its secrets. The Italian-born physician Annese comes across as a superb scientist, eager to share what he was finding with the world, but also a naïf in shark-infested waters.
As his work proceeded, he discovered an old lesion in H.M.'s frontal lobes, presumably brought about when Scoville maneuvered them out of the way to reach the deeper structures in the brain he sought to remove. All the memory research on H. M., including Corkin's work, rested on the assumption that only temporal lobe structures had been damaged, so this was a potentially important finding. Coincidentally or not, after being alerted to this discovery, Corkin called on MIT's lawyers to reclaim H. M.'s brain and all the photographs and slides Annese had meticulously prepared. Annese had neglected to secure any sort of paper trail documenting his right to these materials, and UCSD's lawyers hung him out to dry.
Waiving a document she had secured from the court-appointed guardian she had personally nominated, Corkin, aided by MIT's attorneys, successfully reclaimed the lot. Annese promptly resigned his faculty appointment, his research career in tatters and his slides and photographs now lost. According to Dittrich, Corkin then made one final twist of the knife. In an interview with him before she died of liver cancer in May 2016, she announced that she planned to shred all her raw materials and the laboratory records relating to her work with Henry Molaison and that she had already shredded many of them. For the last 50 years of H.M.'s life, Corkin had essentially owned him. And she planned to carry with her to her grave whatever secrets lay hidden in her files.
______________________________________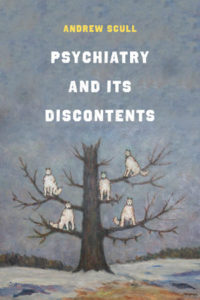 Excerpted from Psychiatry and Its Discontents by Andrew Scull, published by the University of California Press. © 2019 by the Regents of the University of California.
---