9 Sci-Fi and Fantasy Books to Jazz Up Your June
Featuring New Books by Katherine Addison, Melissa Albert, Alix E. Harrow, and More
As we hit the halfway mark for the year, June has a bevy of new releases in the sci-fi and fantasy space—and it doesn't look like summer will slow down at all. For this month, take your pick from a wealth of retellings: The Iliad's Achilles as a trans woman; Snow White's Evil Queen struggling to escape the toxic cycles that wind up with her dead every time; a Grimm Brothers tale of cannibalism and rebirth that's about an old city becoming modern.
Then there are the books and novellas with contemporary inspirations, including a life-changing fake emergency alert and the promise of Universal Basic Income. No matter which you choose from June's new SFF, your worldview will be tilted just enough to see things differently for the rest of 2022.
*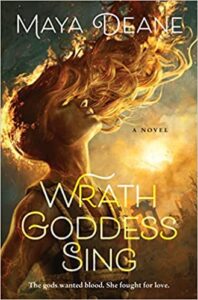 Wrath Goddess Sing by Maya Deane
(William Morrow, June 7)
Sing, O muse, of the rage of Achilles, a woman, being forced to fight as a man. In this vivid and vicious retelling of The Iliad, when Odysseus comes looking to recruit the famed fighter in the Trojan War, he finds Achilles transformed by her mother Athena into the cis female body she has always longed for—a bargain in exchange for joining the war. But this epic also features a reinterpretation of Helen of Troy as a cruel immortal who both loathes and loves her new rival. The face that launched a thousand ships will meet her match in the young woman who possesses as many identities: daughter, warrior, priestess… mother?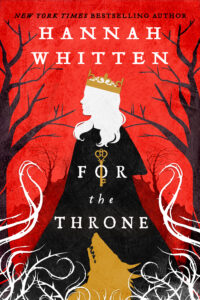 For the Throne by Hannah Whitten
(Orbit Books, June 7)
Whitten did something clever with For the Wolf, her first novel in the Wilderwood duology: She established that the First Daughter is for the Throne, and the Second Daughter is for the Wolf. As the first Second Daughter born in centuries, that book's protagonist Red had no choice but to live out a retelling of Red Riding Hood. But neither Whitten nor her dark fantasy world forgot about Neve, the First Daughter whose story comes second: Separated from her sister in the Shadowlands, she must contend with the spirits of the Old Kings as she seeks to claim her birthright, even if doing so means harnessing the dangerous powers of the gods themselves.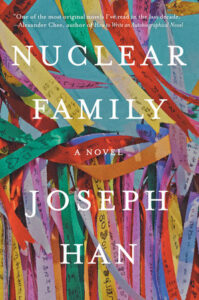 Nuclear Family by Joseph Han
(Counterpoint Press, June 7)
Remember the false missile alert sent to the residents of Hawai'i in 2018, that had them fearing for their lives for 38 excruciating minutes? Han's debut roots the Korean-American Cho family a few months before this stranger-than-fiction moment in modern history, then layers on a ghost story. While Mr. and Mrs. Cho are crossing their fingers that a Diners, Drive-ins, & Dives shout-out could boost the future of their Korean plate lunch delicatessen, a viral video of their son Jacob trying to cross over into North Korea could send shockwaves throughout the family, including his sister Grace. But Jacob is possessed by his grandfather's ghost, with the unexpected chance to get to know a lost ancestor. And that's before a harrowing alert shows up on his family's phones…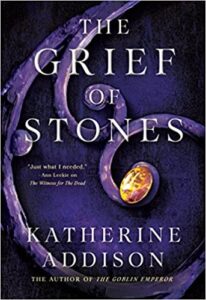 The Grief of Stones by Katherine Addison
(Tor Books, June 14)
Addison's 2014 novel The Goblin Emperor hit the very niche spot of cozy fantasy while still having very dark underpinnings; after all, it's about how young half-goblin Maia Drazhar unexpectedly inherits the throne when his estranged father is assassinated. As Addison has built out the world of Amalo with follow-up books, she has kept that note of death and how it affects the living. Last year's The Witness for the Dead focused on Thara Celehar, a supporting character in Maia's court, who speaks for the dead. The Grief of Stones is a direct sequel that examines what happens when our titular Witness begins forging more relationships among the living, yet is still compelled to exhume one of the city's most gruesome secrets.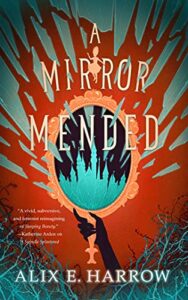 A Mirror Mended by Alix E. Harrow
(Tordotcom Publishing, June 14)
Harrow's multiverse-hopping fairy tale novella series had a triumphant start with A Spindle Splintered, which saw dying girl Zinnia Gray launched into dozens of different Sleeping Beauty stories that she helped unravel in order to return to her world. But the real proof-of-concept for the Fractured Fables series will be if Harrow can make readers root for the villainesses. Enter the Evil Queen from Snow White, who may be destined to poison her young rival with an apple but wants to see if she can rise above such venomous envy. I can't wait to see how Zinnia's multiverse burnout will clash with a baddie pushing for her own happily ever after.
January Fifteenth by Rachel Swirsky
(Tordotcom Publishing, June 14)
Talk about speculative fiction: Swirsky's novella takes the polarizing debate over Universal Basic Income and imagines a near-future in which the UBI program has been around long enough for various present-day predictions about it to come true—and to envision UBI scenarios beyond what's currently being pondered. Titled for the day on which UBI is disbursed, January Fifteenth visits the women whose lives government money could change, like a single mother fleeing her abusive partner or a cult's pregnant child-bride, and those who would waste it, like a rich girl and her shallow high school friends. Linking them all is the freelance reporter trying to find a new angle when UBI becomes old news.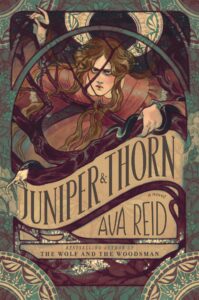 Juniper & Thorn by Ava Reid
(Harper Voyager, June 21)
Dark even by the Brothers Grimm's standards, "The Juniper Tree" provides the roots of Reid's second fairy tale retelling (after The Wolf and the Woodsman), but her take grows into its own brutally compelling version: Marlinchen and her witchy sisters are kept at home by their reclusive wizard father, allowed only to interact with the people of Oblya who come to them for tourist-trap charms that conjure nostalgia for the olden times. Because the city is shifting into modernity with the rise of industry and the introduction of art like the ballet theater, where Marlinchen is drawn by the spell of a beautiful dancer. It's this in-between state that intrigues me most about Reid's fantasy world, and I have no doubt she'll show how ancient horrors don't disappear, they just change with the times.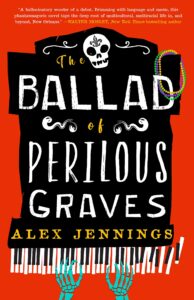 The Ballad of Perilous Graves by Alex Jennings
(Redhook, June 21)
Inspired by his move to New Orleans the summer after Hurricane Katrina, Jennings' urban fantasy debut imagines Nola as a supernatural town whose beating heart is magical music keeping the sky trolleys afloat and the haints dancing. But when nine songs disappear from Doctor Professor's piano, failed magician Perilous "Perry" Graves must track down the missing notes. As Jennings movingly explains, Perry is a mashup of Pippi Longstocking's independence by way of the grim reality of Black children separated from their parents by Katrina, while honoring his father with the kind of fantasy hero he would have liked to see as a child. As much as the music, it's Perry himself who sounds like the kind of character not soon forgotten.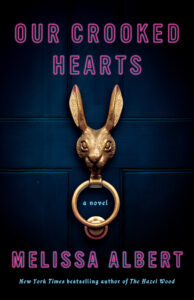 Our Crooked Hearts by Melissa Albert
(Flatiron Books, June 28)
In so many fairy tales, the death of the mother is the first ingredient in the spell, her loss a gaping hole for her daughter to fill with magic or adventure or self-knowledge. But Albert's contemporary fantasies pull off the admirable: Her mothers are living, complicated beings, and in the case of Dana, terrifying. Seventeen-year-old Ivy knows it's bizarre to be so afraid of her cold mother, but so is everyone else. And when a strange sighting of a mysterious woman in the woods leads into gruesome business involving rabbits, Ivy pushes past her family's strange unspoken boundaries to discover just what secrets her mother has buried (figuratively and literally). At the same time, readers are let in on the parallel account of sixteen-year-old Dana, the summer she met the other maladjusted teenagers who would become her sisters and her coven. As young Dana says, a mother can be a ghost or a photograph, but she can also be a cipher.
*
Natalie Zutter is a Brooklyn-based playwright and pop culture critic whose work has appeared on Tor.com, NPR Books, Den of Geek, and elsewhere. Find her on Twitter @nataliezutter.
---