9 Off-the-Beaten Path Horror Books to Read this Halloween
From Comics Anthologies to Genre-Bending Novels and More
As early as August, department stores become the harbingers of Halloween, stocking garlands of bats, plastic pumpkins, and bags bursting with candy corn. There's no more better way to celebrate this spookiest of holidays than curling up with a good horror novel. In case you've already mined your library's stock of Stephen King and Shirley Jackson, we've pulled together a list of nine titles that lie off the beaten path. From genre-bending literary short stories to an anthology of comics, there's something here to frighten and delight even the most practiced of horror fans.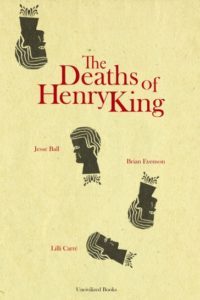 Jesse Ball and Brian Evenson, The Deaths of Henry King, illustratated by Lilli Carré
(Uncivilized Books)
The hapless Henry King meets a series of macabre demises in this wickedly funny book from horror experts Brian Evenson and Jesse Ball. One day, King awakes "with a hammer partway through his head." He proceeds to be eaten by a bear, asphyxiate in space, and even find death in a bottle of Viagra (don't ask). With black-and-white illustrations from Lilli Carré—which are eerily similar to gravestone carvings—this book will have you alternately laughing and groaning. The Deaths of Henry King is a great choice for anyone who enjoys the work of Edward Gorey and a healthy dose of schadenfreude.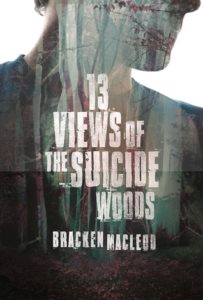 Bracken MacLeod, 13 Views of the Suicide Woods
(Chizine Publications)
You won't find any goblins or ghouls in this book. Bracken MacLeod's brand of horror is far more insidious than any jump scare or gore-a-thon. In the stories of 13 Views of the Suicide Woods, MacLeod strips the genre down to its bare essentials. He cuts right to the heart of what humans fear most—loneliness, helplessness, desperation—with subtle and poetic prose that will raise goosebumps before you even realize you are afraid. "MacLeod's characters, who are often working-class people with dangerously low expectations of life, remind me of the doomed protagonists of Cornell Woolrich's novels and stories, those hapless folks for whom everything, elaborately and implacably, sooner or later goes wrong," a review in the New York Times Book Review quipped, adding, "Sounds like horror to me."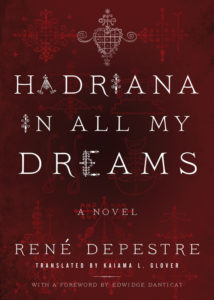 René Depestre, Hadriana in All My Dreams, trans. Kaiama L. Glover
(Akashic Books)
In the past decade, the horror genre has become saturated with zombies, from 28 Days Later to The Girl With All the Gifts. If you love tales of the undead but can't stand any more post-apocalyptic adventure movies, René Depestre has the antidote. Originally published in French in 1988, Hadriana in All My Dreams takes the zombie novel back to its roots in Haitian Vodou. A young woman (the titular Hadriana) mysteriously dies at the altar on her wedding. When she is resurrected days later by an evil sorcerer, the town is thrown into a panic. Don't dismiss this book as genre fluff: in the slim 245 pages of Hadriana in All My Dreams, Depestre manages to tackle the complexities of race and sexuality in 20th-century Haiti, as well as the dueling ideologies of colonialist Christianity and Vodou.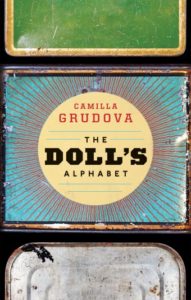 Camilla Grudova, The Doll's Alphabet
(Coffee House Press)
From the opening line of the very first story—"One afternoon, after finishing a cup of coffee in her living room, Greta discovered how to unstitch herself"—Camilla Grudova's writing crawls beneath your skin and gives you chills. The literary love child of Ludmilla Petrushevskaya and Margaret Atwood, Grudova alternates between stories of the supernatural and stories of humanity; it's difficult to say which is more unnerving. It may be incorrect to call this book strictly horror: Grudova's writing dances between true horror and literary fiction, twirling in the dark and grotesque and gory nature of the world. Whatever it is, it's strikingly beautiful, and this is definitely not a title to miss.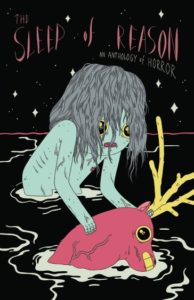 The Sleep of Reason: An Anthology of Horror, ed. C. Spike Trotman
(Iron Circus Comics)
Clocking in at 360 pages, The Sleep of Reason features 26 stories by beloved artists ranging from Steven Universe comics illustrator Melanie Gillman to Ignatz Award winner Gabby Schulz. This anthology has everything, from classic horror staples (like creepy murderous kids and flesh-eating aliens) to fresh, inventive terrors (like a monster who lures in its victims by mimicking the cries for help of those it's already killed). Even the familiar tropes, however, are flipped on their heads, with each panel filled with twists and turns that will make sure you keep the light on long after putting the book down.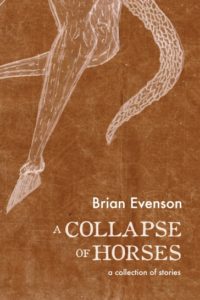 Brian Evenson, A Collapse of Horses
(Coffee House Press)
Yes, this is technically the second Brian Evenson title on this list, but when you've been a finalist for the Edgar Award, the Shirley Jackson Award, the World Fantasy Award, as well as the winner of the International Horror Guild Award and the American Library Association's award for Best Horror Novel, you've earned it. Like many titles on this list, Evenson's horror is subtle and minimalist, but his writing tunes specifically in to the human psyche. Though you'll find unsettling paranormal activity in this book—like a stuffed bear's heart that beats with the rhythm of a dead baby's—the real terror comes from Evenson's narration, and the way he captures all the tics and paranoia of the human mind cannibalizing itself. If you've already devoured A Collapse of Horses, be sure to check out the other volumes in Evenson's short story quartet, including Last Days, Father of Lies, and The Open Curtain.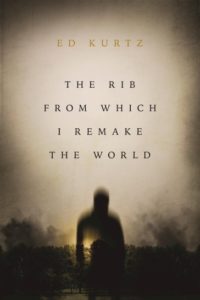 Ed Kurtz, The Rib from Which I Remake the World
(Chizine Publications)
The Rib From Which I Remake the World begins with the façade of a hard-boiled noir: a grizzled old ex-cop with a complicated past is sucked back into the world of crime when a travelling picture show comes to town. At a special midnight viewing, each member of the audience finds themselves watching a film of their deepest fears. From there, the book takes a sharp turn into a supernatural, rattling along at a breakneck pace until its shocking conclusion. Genre mash-ups like this one are difficult to execute, but Kurtz navigates it deftly, with writing so visceral and evocative it feels less like reading a book and more like watching a film in real time.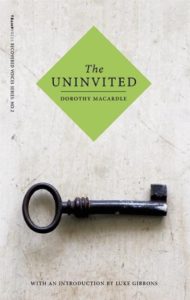 Dorothy Macardle, The Uninvited
(Global Book Sales/Tramp Press)
Like Hadriana in All My Dreams, The Uninvited is a story that has maintained its potency over several decades. The Uninvited is rich with the gothic atmosphere that pervaded much of Irish literature in the 1940s. When journalist Roderick Fitzgerald hears of a beautiful house overlooking the Devon Cliffs that is rumored to be uninhabitably haunted, he immediately purchases the property and moves in with his sister. The ghosts of the house quickly prove to be more than just rumors, and Roderick must unravel the mystery of their existence before it is too late. Though this book may sound like many other ghost stories of the genre, what sets it apart is the complete and utter conviction with which Macardle writes. The characters—living and dead—leap off the page. The book was adapted into film in 1944, and Martin Scorsese has since called it one of the scariest horror stories of all time.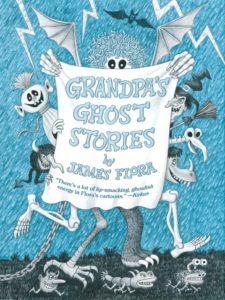 James Flora, Grandpa's Ghost Stories
(Feral House Press)
A classic collection reprinted for the first time since 1978, Grandpa's Ghost Stories is the perfect fit for anyone who spent their youth devouring the Goosebumps series or Scary Stories to Tell in the Dark. Halloween is a time of year that encourages everyone to let out their inner child, and these ghoulish stories and madcap illustrations are sure to delight adults who are looking for something equally silly and scary. Grandpa's Ghost Stories are best served aloud, lit by a single flickering candle, with plenty of friends around.
---