8 Great SF and Fantasy Books for September
Bone witches, mechas, and folklore retellings from Ling Ma, Tamsyn Muir, Neon Yang, and more

If your summer TBR stack was full of witches, mechas, and folklore retellings, get ready to spend the fall with… (bone) witches, mechas, and folklore retellings! Clearly we haven't gotten enough of these compelling archetypes, and what's truly exciting is to see how different authors approach each story in unique ways. Plus we've got climate change dystopia, VR fantasy horror, and a new collection from the author of Severance!
*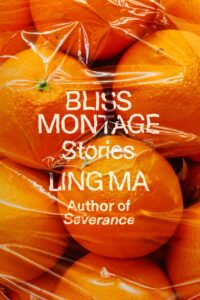 Bliss Montage by Ling Ma
(Farrar, Straus and Giroux, September 13)
Ling Ma's debut novel Severance came to us in 2018, before we knew how badly we'd need it; now, her eagerly anticipated follow-up Bliss Montage is a short fiction collection that seems ideally situated to the moment. The majority of the eight stories involve engaging with other people at a time when we readers may feel rusty and unaccustomed to doing so: There's "G," in which two sort-of-friends linked by little more than their shared identity as Chinese immigrants take an invisibility drug but have different approaches to fading away. A "Los Angeles" home houses a woman, her husband and au pair, and 100 of her exes. And "Returning" pairs up two immigrant authors, but when they ironically return to the husband's (fictional) home country, the wife finds herself absurdly abandoned by her husband.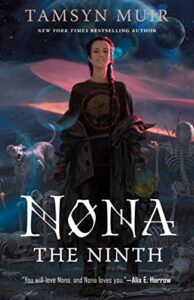 Nona the Ninth by Tamsyn Muir
(Tordotcom Publishing, September 13)
After Gideon the Ninth left us howling with grief and Harrow the Ninth had us feeling like we'd been the recipient of bone brain surgery, Nona the Ninth is a refreshing installment in the snarkily devastating Locked Tomb series: Sweet, unassuming Nona just wants to have her birthday party with her friends, despite her planet being on the brink of war and a bevy of necromancers, cavaliers, and resistance fighters operating under familiar and unfamiliar aliases. But of course there's a mystery, not just surrounding who Nona is but how she might change everyone around her. You'll want to reread the last act of Harrow (or find a fan wiki) so that every clever reference really slaps and offhand allusion delivers the proper intended gut-punch.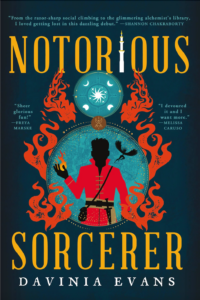 Notorious Sorcerer by Davinia Evans
(Orbit Books, September 13)
Despite being nothing more than a glorified courier between parallel planes of existence, Siyon Velo dreams of someday attaining the venerated title of alchemist. But something has upset the planes, limiting alchemy only to the elite, who employ errand boys like Siyon to bring them necessary ingredients. But when his new assistant and potential friend Zagiri Savani is in danger, Siyon's attempt to save her life gets him slammed with the crime of using unlicensed magic. As Siyon must face the possibility that he has unintentionally picked up shreds of sorcery on his errands—and that it might actually qualify him to become the Power of the Mundane—all of Bezim is watching, because they love nothing more than a spectacle.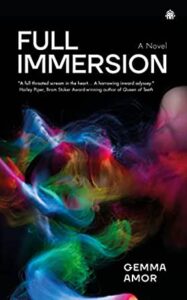 Full Immersion by Gemma Amor
(Angry Robot Books, September 13)
Bram Stoker Award-nominated Gemma Amor is well known for her self-published horror fantasy novels including Dear Laura, as well as the creepy stories she's penned for the NoSleep Podcast, but Full Immersion is her traditional publishing debut. Desperate Magpie, pushed to the brink after attempting all manner of "wellness" routines to keep her demons at bay, enrolls in an experimental virtual reality study. As patient and practitioner both observing the process, ostensibly Magpie should be able to experience what happens if she gives in to the dark impulses and comes out on the other side. Instead, she witnesses her own corpse, a familiar stranger, a vast mystery—and amnesia that wipes out her understanding of how she's supposed to move forward.
Thistlefoot by GennaRose Nethercott
(Anchor Books, September 13)
GennaRose Nethercott's Baba Yaga retelling brings in the new and compelling element of estrangement among a family of traveling entertainers, with two siblings offered one last chance for reconciliation… in the form of Thistlefoot, a sentient, chicken-footed house. As Ballantine and Isaac retrace their tender childhood in a folklore-infused road trip, they are stalked by the Longshadow Man, who like Thistlefoot has left Russia for the United States, but his motives have nothing to do with bringing the Yaga family back together. Nethercott herself spent her early years as a tiny clown named Chickenbump with her family's traveling act, and is bringing her own traveling hand-cranked puppet show (just like in Thistlefoot) on her book tour.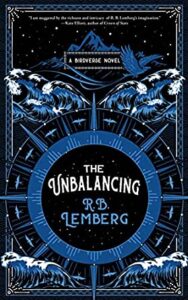 The Unbalancing by R.B. Lemberg
(Tachyon, September 20)
R.B. Lemberg's joyfully queer and neurodiverse Birdverse has been nominated for Hugo, Nebula, Otherwise (formerly Tiptree), and Rhysling awards for its collected short works. Over the past few years, Lemberg's Birdverse stories have lengthened, from the novella The Four Profound Weaves to this first novel-length work. The Unbalancing presents the meeting between starkeeper Ranra Kekeri and the poet Erígra Lilún—unbalancing, to be sure, as Erígra has been sent by their ancestor Semberí to take over the starkeeping helm, propelled by visions sent from powerful goddess Bird. But when poet and starkeeper meet, they discover an immediate attraction that will only complicate things, from a potential relationship to the fate of a star that stirs beneath the waters of the islands of Gelle-Geu.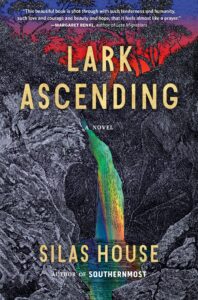 Lark Ascending by Silas House
(Algonquin, September 27)
Appalachian writer Silas House's eighth novel is a tender dystopian tale set against an increasingly familiar near-future ravaged by climate change—here, it's wildfires that burn across the world, from Australia to America. Lark and his family are displaced, first from Maryland to Maine, where in the mountains he falls in love with a family friend, Arlo. But as the rise of fundamentalist militias endanger queer people, Lark's family is forced to flee the United States for a rumored refuge in Ireland. The sole survivor washing ashore, Lark joins up with a woman named Helen and a dog named Seamus, forging yet another temporary but vital family unit as they continue to journey toward hope and survival.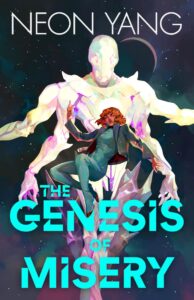 The Genesis of Misery by Neon Yang
(Tor Books, September 27)
What good fortune to have multiple mecha novels coming out this year! And even better, that they reflect the variety of tones and influences from across the spectrum of storytelling. Whereas Alex White's August Kitko and the Mechas from Space (from our July SFF roundup) embodies more of Pacific Rim's campy vibe, Neon Yang's electric debut novel hearkens back to the dark core of the subgenre, Neon Genesis Evangelion, with a Chosen One who is equally likely to be a saint as they are to be utterly mad. Blessed with the ability to manipulate holystone but plagued by the voice of an angel (or a complete hallucination), Misery Nomaki tries to hide their power for fear of reliving their mother's descent into voidmadness. But as the voice gets stronger, it drags Misery into the middle of a galactic conflict, where they will no doubt become a divine figure—but whether it's a savior or a destroyer, they have no way of knowing.
*
Natalie Zutter is a Brooklyn-based playwright and pop culture critic whose work has appeared on Tor.com, NPR Books, Den of Geek, and elsewhere. Find her on Twitter @nataliezutter.
---