77 Strange, Funny, and Magnificent Book Titles You've Probably Never Heard Of
From How to Cook Husbands to Frog Raising for Pleasure and Profit
"What's in a name?" mused Shakespeare in Romeo and Juliet (first published in print in 1597 as An Excellent Conceited Tragedie of Romeo and Juliet). Would he have said the same, one wonders, if he'd been around to hear that F. Scott Fitzgerald's The Great Gatsby was at one point titled Trimalchio in West Egg; or that for Dracula, Bram Stoker considered The Dead Un-Dead? There is certainly an art to the great title, as demonstrated by the late English humourist Alan Coren, who when choosing a name for a collection of essays in 1975 noticed that the most popular books in Britain at that time were about cats, golf and Nazis. So he called his book Golfing for Cats and slapped a swastika on the front cover.
We also learn that care should be taken to avoid tempting an ironic fate. Bill Hillman, the American author of the 2014 guide Fiesta: How to Survive the Bulls of Pamplona, was gored by the bulls of Pamplona that same year—and again the next year. And in the 2017 British national election, the Conservative politician Gavin Barwell, author of How to Win a Marginal Seat, lost his marginal seat.
The humorous literary award known as the Bookseller/Diagram Prize for Oddest Title of the Year has been running since 1978, with past winners including Oral Sadism and the Vegetarian Personality (1986) by Glenn C. Ellenbogen, The Joy of Waterboiling (2018) by Achse Verlag and The Dirt Hole and its Variations by Charles L. Dobbins (2019). But we can go back centuries earlier to find their ancestors. The following are some of the more curious lurking in the corners of library catalogues.
*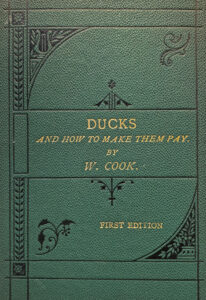 Ecloga de Calvis; or, In Praise of Bald Men (c.910) by the French monk Hucbald
The First Blast of The Trumpet Against the Monstrous Regiment of Women (1558) by John Knox
The Loathsomenesse of Long Haire … with the Concurrent Judgement of Divines both Old and New Against It. With an Appendix Against Painting, Spots, Naked Breasts, etc. (1654) by Rev. Thomas Hall
On the Conciliation of Spirits, or: How to Get Acquainted With Ghosts (1716) by H. A. Matcke and G. E. Hamberger
Arse Musica; or, The Lady's Back Report … (1722) by the Countess of Fizzle Rumpff (Jonathan Swift)
Satan's Harvest Home: or the Present State of Whorecraft, Adultery, Fornication, Procuring, Pimping, Sodomy, And the Game of Flatts, (Illustrated by an Authentick and Entertaining Story) And other Satanic Works, daily propagated in this good Protestant Kingdom (1749) by Anonymous
An Essay on the Art of Ingeniously Tormenting; with Proper Rules for the Exercise of that Pleasant Art (1753) by Jane Collier
The Egg, Or The Memoirs Of Gregory Giddy, Esq: With The Lucubrations Of Messrs. Francis Flimsy, Frederick Florid, And Ben Bombast. To Which Are Added, The Private Opinions Of Patty Pout, Lucy Luscious, And Priscilla Positive. Also The Memoirs Of A Right Honourable Puppy. Conceived By A Celebrated Hen, And Laid Before The Public By A Famous Cock-Feeder (1772) by Anonymous
The Adventures Of An Irish Smock, Interspersed With Whimsical Anecdotes Of A Nankeen Pair Of Breeches (1783) published by George Lister
An Essay upon Wind, with Curious Anecdotes of Eminent Peteurs (1787) by Charles James Fox
The Adventures of a Pin, Supposed to be Related by Himself, Herself, or Itself (1790) by J. Lee
Sun-beams May Be Extracted From Cucumbers, But the Process is Tedious (1799) by David Daggett
The Adventures of an Ostrich Feather of Quality (1812) by Sherwood, Neely and Jones
Memoirs of an Old Wig (1815) by Richard Fenton
Holidays with Hobgoblins (1861) by Dudley Costello
How to Ride a Velocipede: Straddle a Saddle, Then Paddle and Skedaddle (1869) by Joseph Firth Bottomley
Heaven: Where It Is, Its Inhabitants, And How To Get There (1881) by Dwight L. Moody
Ducks; and How to Make Them Pay (1890) by William Cook
Ghosts I Have Met, and Some Others (1890) by John Kendrick Bangs
How to Cook Husbands (1898) by Elizabeth Strong Worthington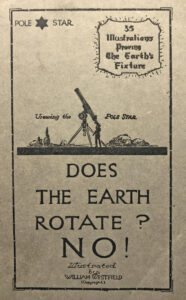 A Treatise on the Use of Flogging in Medicine and Venery (1898) by Johann Heinrich Meibom
Fishes I Have Known (1905) by Arthur A. Henry Bevan
The Absent Treatment of Disease, With Particular Reference to Telepathy (1906) by Sheldon Leavitt, MD
Moles and their Meaning … Being a Modernised and Easy Guide to the Ancient Science of Divination by the Moles of the Human Body (1907) by Harry De Windt
An Irishman's Difficulties with the Dutch Language (1912) by Cuey-Na-Gael
Old Age, Its Cause and Prevention (1912) by Sanford Bennett
Pigs: How to Make Them Pay (1918) by C. Arthur Pearson, Limited
Does the Earth Rotate? No! (1919) by William Westfield
The Radiation Cookery Book (1927) published by Radiation Ltd, Birmingham
A Handbook on Hanging (1928) by Charles Duff
What Would Christ Do About Syphilis? (c.1930) by Dr Ira D. Cardiff
Psychic Self-Defense: Practical Instructions for the Detection of Psychic Attacks, & Defence Against Them (1930) by Dion Fortune
Thought Transference (Or What?) in Birds (1931) by Edmund Selous
Your Answer to Invasion – Ju-Jitsu (1941) by James Hipkiss
Who's Who in Cocker Spaniels (1944) by Marion Frances Robinson
Cabbages and Crime (1945) by Anne Nash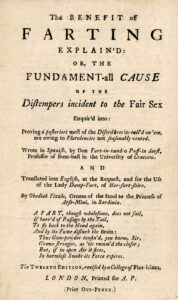 The History and Romance of Elastic Webbing (1946) by Clifford A. Richmond
Mrs. Rasmussen's Book of One-Arm Cookery (1946) by Mary Laswells
Harnessing the Earthworm (1949) by Thomas J. Barrett
Shag the Caribou (1949) by C. Bernard Rutley
Frog Raising for Pleasure and Profit (1950) by Dr Albert Broel
Practical Kinks for Coal Mining Men (1950) by Anonymous
Your Feet Are Killing You (1953) by Dr Simon J. Wikler (see also Your Feet Are Literally Killing You (1979) by T. O. 'Tip' Berg)
The Boring Sponges Which Attack South Carolina Oysters (1956) by Bears Bluff Laboratories
A Weasel in My Meatsafe (1957) by Phil Drabble
Atomic Gardening for the Layman (1960) by Muriel Howorth
The Inheritance of Hairy Ear Rims (1961) by Reginald Ruggles Gates and P. N. Bhaduri
Onions and Their Allies (1963) by Henry Albert Jones, Louis Kimball Mann
Brainwashing is a Cinch! (1966) by James Maratta
Barbs, Prongs, Points, Prickers and Stickers: A Complete Catalogue of Antique Barbed Wire (1970) by Robert T. Clifton
Be Bold with Bananas (1972) by Crescent Books (Editor)
The Jewish-Japanese Sex and Cook Book and How to Raise Wolves (1972) by Jack Douglas
Gleeful Guide to Occult Cookery (1974) by Will Eisner
Proceedings of the Second International Workshop on Nude Mice (1977) edited by Tatsuji Nomura et al.
The Madam as Entrepreneur: Career Management in House Prostitution (1978) by Barbara Sherman Heyl
Highlights in the History of Concrete (1979) by C. C. Stanley
That Amazing Ingredient, Mayonnaise! (1979) by Pat Morrison
Gravity is a Push (1979) by Walter C. Wright
The Joy of Chickens (1981) by Dennis Nolan
The Theory of Lengthwise Rolling (1981) by G. S. Nikitin, Alexander Tselikov, S. E. Rokotyan
The Trombone in the Middle Ages and the Renaissance (1982) by George B. Lane
Nuclear War: What's in it for You? (1982) by Ground Zero Fund, Inc. (Editor)
A Basic Guide to the Occult for Law Enforcement Agencies (1986) by Mary Jane Herold
Manifold Destiny: The One! The Only! Guide to Cooking on Your Car Engine! (1989) by Chris Maynard, Bill Scheller
How to Avoid Huge Ships (1993) by John W. Trimmer
Dating for Under a Dollar: 301 Ideas (1999) by Blaire Tolman
How to Good-bye Depression: If You Constrict Anus 100 Times Everyday. Malarkey? or Effective Way? (2000) by Hiroyuki Nishigaki
The Bible Cure for Irritable Bowel Syndrome (2002) by Don Colbert, MD
Everything I Know about Women I Learned from My Tractor (2002) by Robert Welsch
People Who Don't Know They're Dead: How They Attach Themselves to Unsuspecting Bystanders and What to Do About It (2005) by Gary Leon Hill
Does God Ever Speak through Cats? (2006) by David Evans
Ghosts: Minnesota's Other Natural Resource (2007) by Brian Leffler
Collectible Spoons of the Third Reich (2009) by James A. Yannes
After You Shoot: Your Gun's Hot. The Perp's Not. Now What? (2010) by Alan Korwin
The Origin of Feces (2013) by David Waltner-Toews
How to Date Buildings: An Easy Reference Guide (2017) by Trevor Yorke
Open Wide for the Handsome Sabertooth Dentist Who Is Also a Ghost (2017) by Chuck Tingle
__________________________________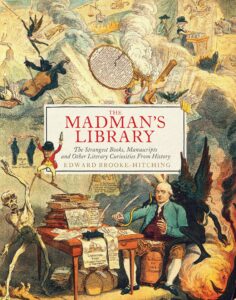 The Madman's Library: The Strangest Books, Manuscripts and Other Literary Curiosities from History by Edward Brooke-Hitching is available now via Chronicle Books.
---