7 of the Year's Best Debut Novelists on Their First
Literary Loves
Featuring Crocodiles, Scary Stories, a Scottish Port Town, and Much More
Every year, we ask The Center for Fiction First Novel Prize Finalists to reminisce about the first book they fell in love with. This year, we asked Finalists to reflect not just on the first story that stole their heart, but the story that seeded curiosity and empathy for the plight of others and opened the doors to new realms of identity and experience.
Register for the virtual First Novel Fȇte on December 3rd for literary trivia and a reading of the First Novel Finalists' work performed by Leon Addison Brown, Marin Ireland, Eisa Davis, Austin Scott, Morven Christie, and Pearl Sun. Stay tuned for the virtual Annual Awards Benefit directly following the Fȇte where the winner of the 2020 First Novel Prize will be announced.
*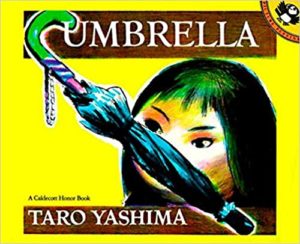 Amina Cain, author of Indelicacy, on
Umbrella by Taro Yashima
When I was little, my parents and I would go to the library a couple of times each month, loading up on books to bring home with us. I can visualize now the stacks of books with which we left the library, and then the stacks sitting around our house. We were a family of readers, and I'm grateful to have grown up in a house where reading was important.
My parents were pretty good at buying me books by authors, and about children, from cultures and countries outside my own, for which I am also grateful, like Umbrella by Taro Yashima, in which a little girl named Momo waits excitedly for rain so she can use her new umbrella and rain boots. Though most of my books from childhood are long gone, I still have Umbrella. The illustrations are simple, yet beautiful, kind of soft and blurred, like how a landscape or cityscape appears when rain is falling on it.
Looking at Umbrella now, I see that all of the elements are present for the kind of fiction I would later go on to write: a girl in a city, weather, desire, atmosphere, strong and colorful imagery. And I wonder if Umbrella, along with the other books I read then, are part of what has always made me want to go beyond myself, beyond my own reality, into another's, if that for me was part of the excitement of reading, and part of the excitement of living too.
*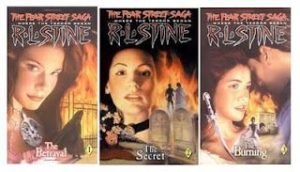 Maisy Card, author of These Ghosts Are Family, on
Fear Street Saga Trilogy (The Betrayal, The Secret, The Burning) by R.L. Stine
In seventh grade, I was admitted to a magnet school in Manhattan. On my first day, I woke up at 5:00 a.m. and my mother rode the Q9 bus with me from South Ozone Park, Queens to the E train at Jamaica Center and showed me how to transfer to the 6 in Midtown. The trek took me over an hour and thirty minutes each way. By the time I got there, half-asleep and sweaty, I already regretted letting my sixth grade teacher and my mother talk me into going.
Throughout the day, every teacher told us how lucky we were to have gotten in, what it meant for us to be admitted into this exclusive club, but I already had the feeling that I didn't belong there. I was one of two Black kids and the only Black girl in all of my classes, which created a kind of cognitive dissonance and culture shock that I wasn't prepared for.
During homeroom some kid bragged proudly about reading encyclopedias for fun and no one rolled their eyes. When I said that I liked reading R.L. Stine, a girl I'd just met said, "How did you even get in here?" Later, in English class when we were asked to name our favorite book, I tried to rack my brain for a different answer. Other kids were claiming Jane Eyre, David Copperfield, or titles by Jane Austen.
When my turn came, not able to think of anything else, I told the truth. I loved the Fear Street Saga Trilogy (The Betrayal, The Secret, The Burning) by R.L. Stine. I loved them all equally; I couldn't choose. No one laughed or said anything rude, but no one nodded in agreement either, and there was a moment of uncomfortable silence. Then our teacher admitted that she'd never heard of the books and another student explained what they were about (witches and ghosts), as I sat quietly, embarrassed, promising myself I'd read "smart" books from then on.
But I'd always been drawn to horror. My mother told me that she grew up in a haunted house, built over canefields, and a few of my uncles had seen ghosts. Their stories terrified me but I always sat and listened. I realize now that my family's stories and horror fiction were what first inspired me to write, though I didn't know how to begin back then. I was also ridiculously quiet all throughout middle and high school; I hardly spoke and rarely shared my feelings with people. I liked the idea that our emotions—rage, pain—created an imprint that lingered through time.
That first day, at lunch time, friendless and unfamiliar with the city, instead of eating lunch, I wandered around the upper east side until I found a bookstore. My mother had given me lunch money meant to last the entire week, but in a last act of defiance,  I spent it on the first book in the Goosebumps series, Welcome to Dead House, even though I felt that I was too old for it, and sat in the school courtyard happily reading by myself.
*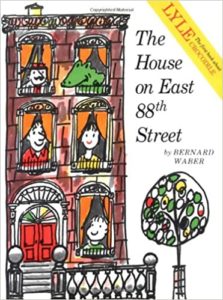 Hilary Leichter, author of Temporary, on
The House on East 88th Street by Bernard Waber
I was doomed from the start, and it was a crocodile's fault. What could be more delightful, unexpected, (or as fiction writers are wont to say, "unexpected and yet inevitable") than a crocodile who lives in the bathtub of a New York City apartment? Nothing, as it turns out. I am still so smitten with the adventures of Lyle, the aforementioned crocodile, and his family, the Primms. Did I mention that Lyle also knows how to perform, and is something of a celebrity? A crocodile, and also, a ham. This is my wheelhouse.
The House on East 88th Street, with its sprightly, warm illustrations, is only the first entry in the Lyle Literary Universe, but it's the sweetest, I think, the most open to the idea of play. That's the idea that I have yet to put back in my toy chest; I can't seem to write anything unless it feels like a game of tag, or a game of dress-up.
I've been putting crocodiles in my stories for years—not real crocodiles, but things that are off-kilter, zany, even obscure. Literary crocs. Lyle is an arbiter of fun, and so is his version of New York. Nora Ephron has her sweatered walks through an autumnal Central Park, and Lyle has Turkish caviar, potted pistachio trees, reptiles who are beloved by crowds, and spontaneous parades. It's Eloise with a wink, or, with a tail.
What stays with me about Lyle and his family is the idea of acceptance. The fact that a crocodile has made his home in an apartment is not the most surprising thing about Waber's books. It's that the family allows him to stay. It's this empathy and openness that I find profound, the idea that we can make our families bigger, make room for something inconvenient, and open our doors to the world. And then the world comes in, making an apartment a home. As Mrs. Primm declares, "Every home should have a crocodile." And why not every book, too?
*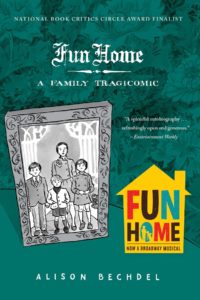 Raven Leilani, author of Luster, on
Fun Home by Alison Bechdel
When I started reading Alison Bechdel's graphic memoir Fun Home, I felt immediately that I had not encountered anything like it before. It opened my mind, and made a case for the freedom one ought to bring to the page. Bechdel writes candidly about the complexity of family, about the parts of ourselves that are unknowable and held carefully out of view.
She renders a father-daughter dynamic on the page that feels unvarnished and deeply humane. I was in awe of her honesty and her total mastery of both visual and textual mediums. The writing is careful, and the art is intricate and clean. The way Bechdel depicts the body and its subtle expressions makes apparent a deep level of study and care. Every bit of it felt like a revelation to me, proof that a story can dictate its own form.
*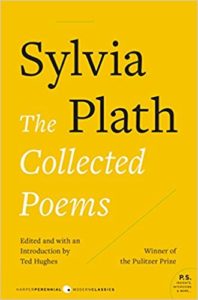 Corey Sobel, author of The Redshirt, on
The Collected Poems by Sylvia Plath
How does a nine-year-old boy learn about Sylvia Plath? I can't remember. My fourth grade class in Massachusetts did have a poetry component that assigned verse for us to memorize (Robert Frost, E.E. Cummings), as well as had us write poems of our own (leading to an early masterpiece entitled "The Talons of the Hawk" that laments a poor mouse on the verge of being dinner for the eponymous raptor). But I'm fairly sure our teacher wouldn't have asked us to recite "Daddy."
Still, I heard about Plath, and if I don't know how this happened I know perfectly well why I sought her out—she was the lady who'd killed herself by laying her head in an oven. Her tragic fate was bait for my precocious morbidity (see: that hawk poem), and was so intriguing that I begged my big brother Conor to buy The Collected Poems for me the next time we found ourselves wasting an afternoon at the Natick Mall.
My childish, sensationalist idea of Plath was obliterated as soon as I opened that book. Here was language as I'd never encountered it, by turns blade-sharp and blunt, violent and delicate, forthright and retiring. I was nine, and seldom understood more than a few lines of a given poem; but even then I could sense just how alive this collection by a dead woman was.
A Boston native who had found a way to give shape to dark feelings I sometimes experienced myself—a sun-freckled sandy blond in the pictures I found of her—a mother close to the age of my own. Again, I was nine, and these biographical details, like her verse, ultimately remained difficult and mysterious to me, and I wonder if Plath was so seismic because she was the first writer to show me that difficulty and mystery are not always things that warn you away from an experience, but rather your reward for being willing to undergo one.
*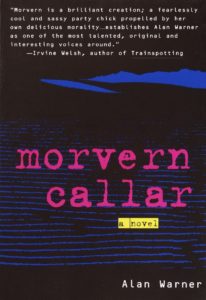 Douglas Stuart, author of Shuggie Bain, on
Morvern Callar by Alan Warner
A funny thing about growing up in Scotland in the 1980s: all the books that we were taught in school were written by middle-class Englishmen. So it was in my twenties that I set out to discover myself on the page. For a period I devoured nothing but queer or working-class or Scottish Literature.
The first book I ever truly fell in love with was Morvern Callar by Alan Warner. Set in a West-coast, Scottish port town, Morvern is a shelf-stacker in the local supermarket who wakes one morning to find her boyfriend has committed suicide. She changes the name on his unpublished manuscript and then hides his festering body. When the stolen manuscript becomes a success and the money starts to pour in (ha-ha-ha!), Morvern seizes her one chance to escape the run-down town.
This was one of the first books that showed me defiant, determined, working-class lives on the page. It will resonate with anyone who knows the sinking feeling of being stuck in a small town/small life. I can relate to Morvern's hedonism during the bleakest of times: how she longed for the obliteration of drink and parties, or the simple joy of sun on her skin after a life spent in a damp grey town. It's a cracking ode to self empowerment and freedom.
*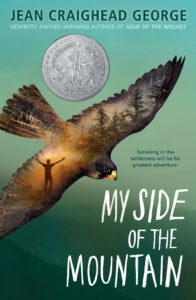 C Pam Zhang, author of How Much of These Hills Is Gold, on
My Side of the Mountain by Jean Craighead George
I lived in Kentucky when I first read My Side of the Mountain by Jean Craighead George, near one end of the Appalachian mountains that give the book its name. And so, unlike other books we read in the classroom, this novel was as close to me as it was far. In that vibration between intimacy and distance there was a thrilling sense of potential.
It is a book whose main character steps outside of his conventional life in a crowded house and into another, making a home in the hollow of an enormous tree, eating roots and berries, training a wild peregrine falcon to hunt with him. The pages teem with descriptions of animal life and drawings of edible plants, presenting the wild as not wild but knowable, burgeoning, generous to those who meet it with curiosity.
A part of me is still the kid who wants to escape and find a deeper, surer, straighter connection to the natural world, which we are killing slowly every day.
---