7 New Poetry Collections to Read in June
Rebecca Morgan Frank Picks Poets Navigating the Natural World and Wandering Global Cities
This first poetry round-up of summer includes the launch of a new press, a mystery of a missing painting, the inaugural offering of a new series for immigrant writers, a re-issue of a Ronald Johnson collection, and a Wendy Guerra translation that has been a long time coming. Whether entering in poetic conversation with visual artists—from painters Agnes Martin and Arthur Dove to photographer Malick Sidibé—navigating the natural world, or wandering global cities, these seven poets offer transport through their vision. Small presses dominate this early summer list, reminding us that American poetry thrives year-round. Head out to your June gardens, real or imagined­, and start reading.
*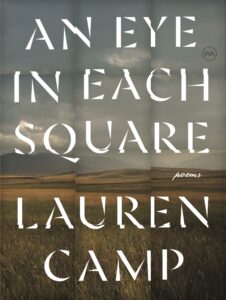 Lauren Camp, An Eye in Each Square
(River River Books)
Poets Amorak Huey and Han VanderHart launch River River Press this month with two 2023 titles, one of which is Lauren Camp's riveting sixth collection, An Eye in Each Square. Agnes Martin's life and work serve as both subject and way of seeing as Camp slants the world with her own precision of line and her own inquiries: "How do you recover / from a decisive wound? A line, a line: it never leaves you." The speaker begins with a biography of Martin in hand, and later poems emerge from Martin titles, although as the notes admit, "the reference may end at the title." Camp achieves a fine balance between independence from, and allegiance to, her subject.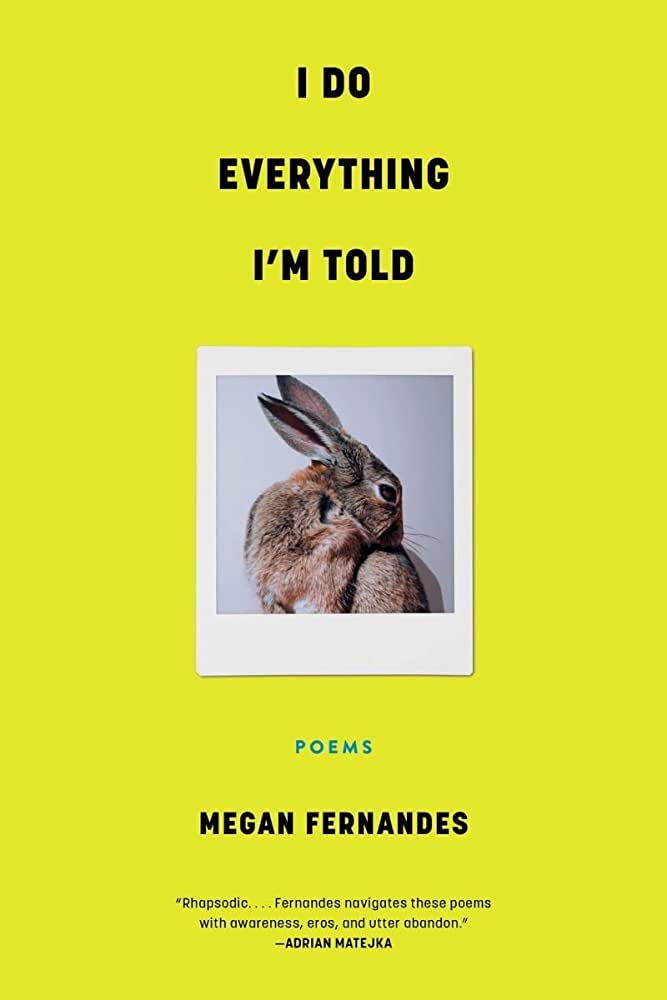 Megan Fernandes, I Do Everything I'm Told
(Tin House)
Megan Fernandes sets the tone for her third collection by opening with a love poem titled "Tired of Love Sonnets." Whether the speaker is having an "ugly cry" before "hopping along" at a K-pop dance class in Shanghai or asking a grocery store clerk whether they sell dignity, the conversational, playful movement of these poems bounces successfully off a formal control that extends to a "Fuckboy Villanelle" in which "Eurydice's tomb / was lousy with my amours." These aren't simply poems about fisting films and exes–breast lump "debris," toxic masculinity, and "[losing] a job at a woman's college to a dude" bring different kinds of mourning center stage. As the speaker says, "One must look for signs / to believe in them."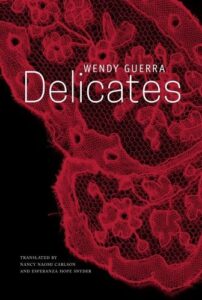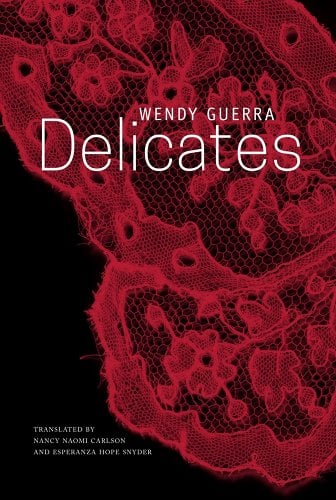 Wendy Guerra, Translated by Nancy Naomi Carlson and Esperanza Hope Snyder, Delicates
(Seagull Books)
Some readers may recognize Cuban writer Wendy Guerra from her novels, including Revolution Sunday, which centers around a poet whose work, like Guerra's, is banned in Cuba. Carlson and Snyder's translation of this particular collection–for which they chose the title Delicates over the more literal translation "Underwear"–was thirteen years in the making. Guerra boldly rifts and morphs her imagery on her way to dramatic endings in poems ranging from the volcanic sex of "From Pompeii" to other intimate and political exiles. The result is a restless and provocative interrogation of power: "I ask permission to show my naked body in the drawings   it's me on paper / The glass of my tears   Cuba under my skirt."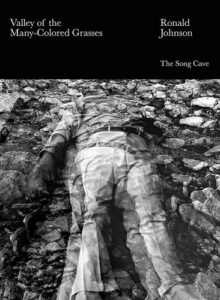 Ronald Johnson, Valley of the Many-Colored Glasses
(The Song Cave)
Brooklyn-based publisher The Song Cave's reissue of Kansas poet Ronald Johnson's 1969 Valley of the Many-Colored Grasses, which itself reprints much of his debut, A Line of Poetry, A Row of Trees, will be one of the most talked about books of poetry this year–at least among poets who weren't already fans. These early poems reflect not only his experience hiking the Appalachian trail and the Lake District with then-partner Jonathan Williams, but expansive influences both evoked and collaged in by line. Expect the Romantics, Black Mountain School poets, Walt Whitman, the music of Charles Ives, and the "visionary harvest" of landscape painter Samuel Palmer, as well as Arthur Dove, from whom he shapes, "Color is a condition of the plant–/ color of the flower, / & pod, // embedded in the bud."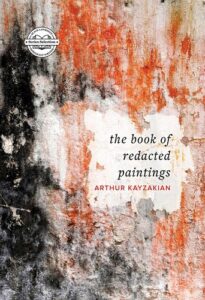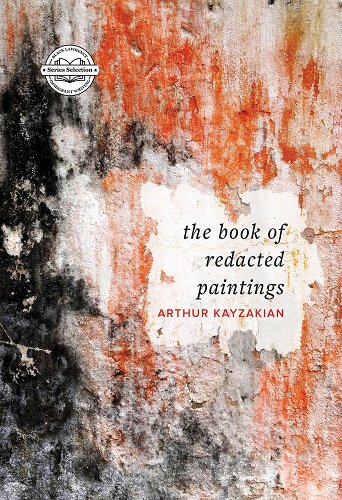 Arthur Kayzakian, The Book of Redacted Paintings
(Black Lawrence)
You're never quite sure what you're looking at in Armenian-Iranian American Arthur Kayzakian's The Book of Redacted Paintings. The missing painting of a father drives this debut collection, but, spoiler alert, maybe there is no painting after all. Yet the book is packed with imagined paintings through "Bibliography of Paintings that Never Made it to the Wall." Is a painting, a place, or even a person as real when imagined or reflected?  As the speaker says, "Sometimes I am the cousin of a mirror, / I look like the surface of a lake when spoken to." A standout first selection for the new Black Lawrence Press Immigrant Writing Series.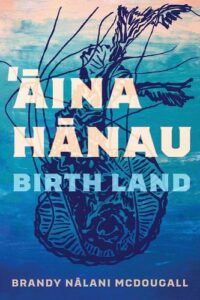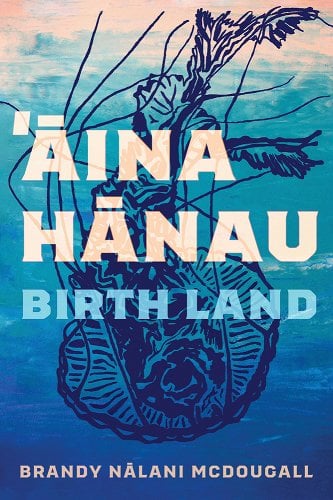 Brandy Nālani McDougall, ʻĀina Hānau, Birth Land
(University of Arizona Press)
Kanaka ʻŌiwi poet Brandy Nālani McDougall's second collection offers an urgent mapping of her birth land and its history. The "how-to" poem meets Google Maps in a tour of who gets access to sacred landscapes without payment or proof. "Stand here," the speaker commands, placing the reader at sites of violent occupation, including where "Americans drilled and cracked / the reef and bombed coastal cliffs / to build battery after battery / for seacoast guns" before "decommissioning them all." This is a book of resistance as well as love, rendered most powerfully in a poem that moves from creation of a land to the speaker's experiences of both birth and miscarriage.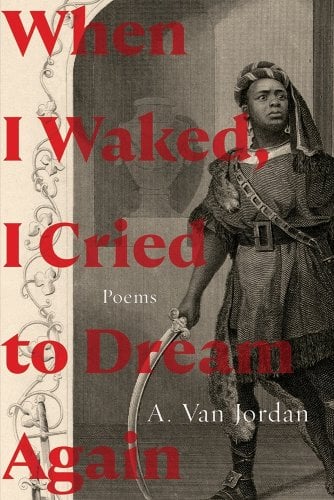 A. Van Jordan, When I Waked, I Cried to Dream Again
(Norton)
From a collaboration with filmmaker Cauleen Smith in response to Malick Sidibé's photographs, to a fictional oral history project involving a "code switching" Shakespeare scholar who shapes "critical fabulation" from the "master thief," the interdisciplinary projects of A. Van Jordan's moving fifth collection offer rigor and substance. Responses to other Black artists' engagements with Shakespeare include a sequence on Tamir Rice that turns to Aimé Césaire's A Tempest and an expansive ghazal for Duke Ellington and Billy Strayhorn's performance of Such Sweet Thunder at the Stratford Festival: "Your ideas must speak the language that be jazz."
---