7 Author-Owned Bookstores That You Should Visit
In Celebration of Indie Bookstore Day, Erin McCarthy & the Team at Mental Floss Offer Their Recommendations
Spend a few minutes chatting with a bookseller and you'll likely walk away with excellent book recommendations, intriguing details about books and authors, or both. That beloved bookshop experience is something the Mental Floss team has tried to emulate in their new book The Curious Reader: A Literary Miscellany of Novels & Novelists, which includes everything from lists of facts about classic novels to a list of authors who loved cats. To celebrate the book's release on May 25,  in honor of Independent Bookstore Day 2021, here's another list for bibliophiles: seven bookstores owned by acclaimed authors that you'll want to put on your must-visit list.
*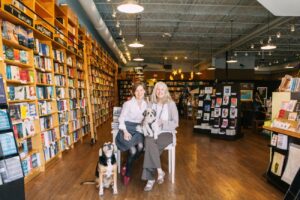 Parnassus Books
Co-owned by Bel Canto author Ann Patchett
(Nashville, Tennessee)
In 2011, soon after Nashville's two main bookstores shuttered, Ann Patchett teamed up with publishing sales representative Karen Hayes to fill the void. The inspiration for their shop was Patchett's favorite childhood bookstore, a place where booksellers "remembered who you were and what you read, even if you were 10," she explained. They named It after Mount Paranassus, a cultural hub of literature and learning in Greek mythology.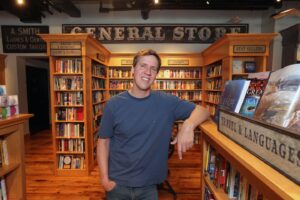 An Unlikely Story
Co-owned by Jeff Kinney, author of the Diary of a Wimpy Kid series
(Plainville, Massachusettes)
When Jeff Kinney and his wife, Julie, bought a crumbling 19th-century building in downtown Plainville in 2012, they hadn't yet decided what it would become—and they still haven't really had to. An Unlikely Story, open since May 2015, is definitely a bookstore but also houses a café that serves breakfast, lunch, and even alcohol. Upstairs is the Second Story, a multi-purpose event space that hosts everything from yoga classes to karaoke nights.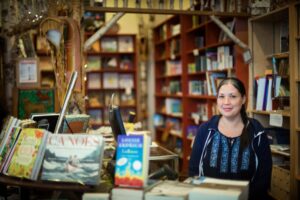 Birchbark Books & Native Arts
Owned by The Round House author Louise Erdrich
(Minneapolis, Minnesota)
Birchbarck Books & Native Arts lives up to every part of its name. Founded by National Book Award-winning author Louise Erdrich in 2001, the shop features branches from actual birch trees (blown—not chopped—down) installed around books of all genres, with an emphasis on Native American authors; Erdrich herself belongs to the Turtle Mountain Band of Chippewa. In addition to jewelry, and other goods made by mostly local Native American artisans.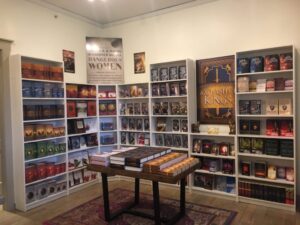 Beastly Books
Owned by George R.R. Martin, author of A Game of Thrones
(Santa Fe, New Mexico)
George R.R. Martin's Jean Cocteau Cinema was never just a movie theater; authors regularly graced its lobby for book readings and signings, too. Space was tight, though, so in 2019 Martin transformed an old hair salon next door into Beastly Books, a full-fledged bookshop complete with a coffee bar and a corner to Martin's own works.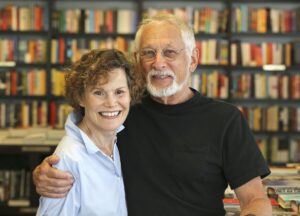 Books & Books @ The Studios of Key West
Co-owned by Tales of a Fourth Grade Nothing author Judy Blume
(Key West, Florida)
Judy Blume and her husband, George Cooper, had long hopes that Mitchell Kaplan would bring his Florida bookstore chain, Books&Books, to Key West. He finally agreed on the condition that the couple find a suitable location for it, which they did—in an Art Deco nonprofit arts center. Blume and Cooper opened the store in January 2016 and are active in its daily operations, which often include author events hosted by Blume herself.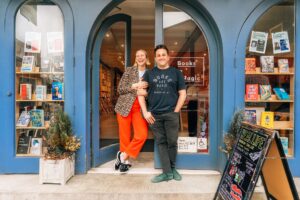 Books Are Magic
Co-owned by The Vacationers author Emma Straub
(Brooklyn, New York)
Despite having "absolutely not a drop of business experience," as Emma Straub told Fast Company, she and her husband, designer Michael Fusco-Straub, opened a bookstore that continues to be a hotspot for locals and tourists nearly four years after its founding. (You may recognize its "Books Are Magic" mural from Instagram.) The owners, who live nearby with their two sons, consider the shop "their third child."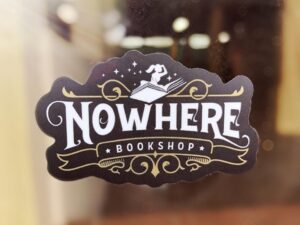 Nowhere
Owned by Furiously Happy author Jenny Lawson
(San Antonio, Texas)
Though the pandemic derailed the opening of memoirist and blogger Jenny Lawson's new bookshop last year, the place hasn't exactly been dormant. Lawson has kept things lively with creative window displays, curbside pickup, and fun surprises. In February 2021, for example, she wrapped a bunch of books in brown paper and left them on a table outside the store, free for anyone interested in a "Blind Date With a Book."
__________________________________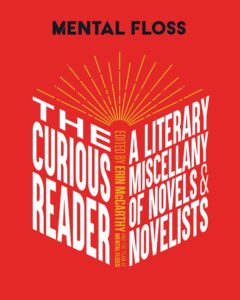 The Curious Reader: Facts about Famous Authors and Novels Book Lovers and Literary Interest a Literary Miscellany of Novels & Novelists by Erin McCarthy & the Team at Mental Floss is available May 25, 2021, via Weldon Owen.
---