6 Books by Texan Writers You Need to Read
Kimberly King Parsons Recommends Tales from the Lone Star State
I left Texas 15 years ago, but I can't seem to shut up about it. My family goes back six generations—I was born in Lubbock and raised near Dallas; my mom and dad are from tiny, neighboring panhandle towns: Quitaque (pronounced kitty-kway) and Turkey, populations 382 and 389, respectively. Their parents and grandparents and greats are from places so small they could hardly be called towns at all. It took me a long time to appreciate my home state, and it took me even longer to write about it, but my collection Black Light is full of the gas stations, highways, and bowling alleys of my youth.
Texas is one of those places that never lets you forget where you are, but because it's so huge, it means different things to different people. Texas is oil money, horses, pollution, boarding schools, prisons, tech companies, and jaw-dropping poverty. It's a lot of dusty nothing, but it's also vibrant borderlands, mountains, dirty beaches and urban sprawl, tidy, well-to-do suburbs. The literary voices coming from or focused on Texas are just as disparate as the landscape. You've likely read some of them—Katherine Anne Porter, Larry McMurtry, Cormac McCarthy—but the ones on this list are those I hadn't heard of until I got homesick one summer and did a little digging.
These six lesser-known Texas writers concern themselves with different parts of the state; they have distinctive prose styles, interests, and intentions. Some, like me, write about feeling listless and trapped in hateful places, about wanting to run away. Some, also like me, write about the terrific mythos of the state, how gorgeous and strange it is and how lucky they are to call it home. Much of this work is, to my ear, as timeless and relevant as anything being published today (and the books that haven't aged as well are still quite charming). These writers have been irrefutably shaped by living in Texas, and all of them are worth reading or revisiting.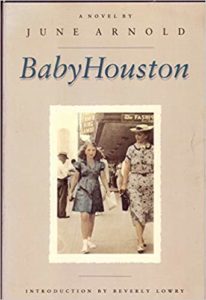 June Arnold, Baby Houston
When June Arnold's Baby Houston (Texas Monthly Press) was published posthumously in 1987, Phillip Lopate called it "simply the best novel ever written about Houston." Arnold—a lesbian activist and co-founder of the feminist press Daughters, Inc.—spent time living in Vermont and New York, but in 1978 returned to her hometown with the sole intention of writing a novel based on her mother's life. Centered on the tender complexity of mother-daughter relationships, Baby Houston also touches on authority, control of family wealth, and sibling relationships.
The prose is stylish, and the first-person narrator, Baby, is funny and appealing—about motherhood she says, "I have managed to indoctrinate my daughters into believing that public approval is vital: the sole precondition, I know, for unhappiness. When a mother brands you, you stay branded. I feel like a callous cowboy with a red hot iron. Now I want to scrape off the dead, scarred skin and let the hairs grow back." Arnold's particular version of the city is one of privilege and money: covert high-stakes gambling on riverboats, mink capes, lunches at the Warwick Hotel, and children in boarding schools. This is nothing like the Houston I know, but still I find Baby's witty observations and quirky, irresistible voice to be utterly endearing.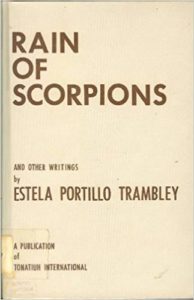 Estela Portillo Trambley, Rain of Scorpions
Estela Portillo Trambley was born in 1936 in El Paso, Texas but she was raised on both sides of the border. She earned degrees from the University of El Paso and taught high school English. An outspoken feminist, Portillo Trambley hosted local radio and television shows, wrote essays, short stories, poetry, plays, and a novel—her work touching on immigration, the natural world, racism, sexism, and class. In 1975, she became the first woman to win the Premio Quinto Sol award for her book Rain of Scorpions, a collection infused with Mexican cosmology and Western myth.
Rain of Scorpions deals largely with disruption of societal norms—in one story a strange woman comes to a small village and challenges patriarchal roles; in another, a woman kills a violent king but instills an equally violent feminine regime. Portillo Trambley's use of archetypes—along with hypnotic, dreamy descriptions and lots of visceral brutality—makes these stories read like ultra-dark, empowering feminist fairytales. In "The Burning" the young woman, Lela, yearns to find the "larger self" that her small, traditional village stifles. She wanders deep into the pines, strips off her clothes, and gets into a cold spring, a place where "her oneness knitted all the little gods unto herself, until she felt the whole of the earth."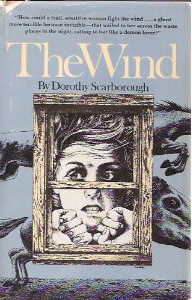 Dorothy Scarborough, The Wind
When The Wind (University of Texas Press, 1925) was published anonymously, readers criticized it for being "anti-Texas propaganda," believing it to have been written by an outsider. The novel angered people, but it also immediately went into a second printing, this time published under Texan Dorothy Scarborough's name. An acclaimed folklorist and scholar, Scarborough's 1917 Columbia University dissertation, "The Supernatural in Modern English Fiction," was so well received, it became a noted reference work. Scarborough stayed on as a creative writing professor at Columbia—Carson McCullers was one of her students—and The Wind pulled from her lifelong fascination with folklore.
Set during the devastating drought of the 1880s in Sweetwater, the railroad town where Scarborough spent her childhood, it's the story of Virginia transplant Letty's struggle to survive in a strange new place. Scarborough said she wanted "to write a story which would show the effects of the wind and sand on a nervous, sensitive woman, of the type not prepared to cope with it." In the opening scene a stranger on a train warns Letty, "Don't you know this is cyclone country you're coming to? Hasn't anybody told you that the settlers dig themselves storm cellars to run to, almost before they build their houses?" Soon enough, the wind turns into a vengeful, paranormal force, hellbent on wrecking Letty's life.
The wind as metaphor for female desire wears thin, and at times Letty's lack of agency borders on hilarious (The wind makes her get married! It makes her cheat on her husband! It—spoiler alert—leads her to murder!) and yet I was also thoroughly entertained by this melodramatic story. Like Letty, I'm fascinated by Texas's extreme weather, the sudden dark skies and twisters and sandstorms (every home movie of me as a little kid in Lubbock is drowned out by howling winds), and this book is fun because it's so over the top, such a time capsule of the style, preoccupations, and anxieties of the mid 1920s. "It's the wind has ruined me!" Letty cries at the end of the novel. "The wind and the sand and the lonesomeness—but mostly the wind!"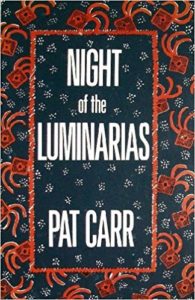 Pat Carr, Night of the Luminarias
Pat Carr was born in Wyoming, but she came to west Texas as a young girl, where she still lives. She earned degrees from Rice and has published 18 books, including an Iowa Fiction Prize Winner and a Pen Book Award finalist. Her short story collection Night of the Luminarias (Slough Press, 1986) is set in the borderlands of El Paso-Juarez, and it's dark and quietly devastating. Of all the books on this list, this one really hits me in the heart. The women in these stories put themselves at risk—they have affairs with their bosses; they get into cars with drunk, angry strangers; one woman ends up inadvertently smoking heroin with a drug smuggler. The men are impotent, childish, suicidal—they cross the border to buy drugs and cheap liquor; they frequent dog races and bullfights; they are terrible lovers and even worse husbands.
Most of Carr's protagonists are divorced or in ugly custody battles, and everybody drinks too much aguardiente (licorice-flavored "water-with-teeth"), but for all of this intensity, Carr's El Paso isn't totally bleak. These flawed characters are in full control of their (admittedly terrible) decisions, and Carr, in spare, precise prose, makes each of them magnetic. It's a desire for connection and a hope for greater things that fuels the wrongheaded choices and casually vicious actions of these characters. A woman who drinks sherry at breakfast, martinis at lunch, and a bottle of Southern Comfort as a nightcap insists that she's "not an alcoholic. It was just that there was nothing for her to do on the mountain beneath the sky so much like a faded pottery bowl that sometimes she wanted to throw something at it, crack it apart to see what the real sky beyond would be like."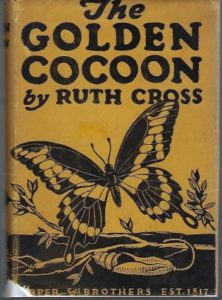 Ruth Cross, The Golden Cocoon
Novelist and playwright Ruth Cross was born in 1887 in Sylvan, Texas, a small gristmill town 80 miles from the Arkansas border. In 1924 Harper published her debut, The Golden Cocoon, and the following year Warner Brothers filmed the movie version, to much success. It's the story of young Molly Shannon, a girl in a tiny Texas town "cursed" with ambitious dreams of becoming a writer. Molly is trapped and listless; her very first line of dialogue is, "I hate men, I hate marrying, I hate children!" Depressed by her family's poverty, and stifled by the expectation that she should grow up to be anything like her sharecropper parents, she makes a secret internal life by reading voraciously, "her lust for books abnormal and depraved, like a craving for liquor or drugs."
Eventually, she earns a full scholarship to the University of Texas and moves to Austin, where she escapes her town and familial obligations. She wants to become a writer, "like a thousand other cheerful idiots," but ultimately, she puts down her dream and defers to a string of men—some good, some bad, all of them derailing her. Molly's choices are maddening, and Cross's prose tends toward the melodramatic, but there's a fierce spirit and cunning commentary at the heart of The Golden Cocoon. We know from the very first pages that our protagonist will be punished for her desires—"Poor Molly! She had yet to learn that life does not permit hatreds against the natural order of things without exacting swift and full and terrible payment."—but perhaps there's a bit of a wink coming from Cross, a child-free, prolific writer who worked until the day she died at 88 years old.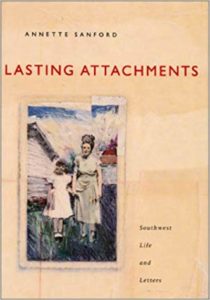 Annette Sanford, Lasting Attachments
Lasting Attachments (SMU Press, 1990) is a plainly told, deeply affecting collection published by Annette Sanford as part of the Southwest Life and Letters series. Born in 1929 in Cuervo, Texas, Sanford spent her life in Ganado, a tiny cattle town in the south east part of the state, where she taught high school English for 25 years before resigning to become a writer. Widely published and anthologized, Sanford received two fellowships from the National Endowment for the Arts, and her story "Trip in a Summer Dress" was published in Best American Short Stories 1979, with Joyce Carol Oates calling it "exquisitely rendered."
These regional stories are focused on the domestic—a husband and wife try to process the sudden death of their son while simultaneously dealing with their failing farm; a daughter cares for her aging mother after she has surgery to extract every last one of her teeth; a young girl in a small, judgmental town gets pregnant and, after some resistance, allows her parents to raise her son as her brother. These stories are infused with the desolation and loneliness of the stark east Texas landscape.
One character is comforted by the distant sound of coyotes "tuning up in the hollow," another contemplates her place in the world as she tries to fall asleep: "Through the window she saw one star. It always struck her as funny that stars had names. That spots of light way off in the sky were Mars or Jupiter or Saturn. As if you could buy a ticket to go there. As if, like people, you could come to know them." Some of Sanford's endings tip into the sentimental, but for the most part her elegant prose beautifully depicts the everyday lives of working-class Texans.
____________________________________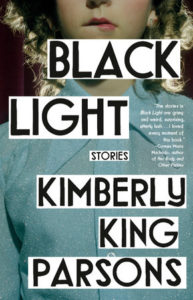 Kimberly King Parsons' book of stories, Black Light, is out now from Vintage.
---