5 Important Books Bearing Witness to America's Carceral State
Introducing Literature for Justice, a New Project from
the National Book Foundation
About Literature for Justice
Literature for Justice (LFJ) is the National Book Foundation's three-year campaign, made possible by the Art for Justice Fund, that aims to call attention to and encourage the reading of literature that contextualizes and humanizes the experiences of incarcerated people.
The Foundation has brought together esteemed authors who also are experts and leaders within the space of mass incarceration and social justice, to serve on the Literature for Justice Committee. This committee is tasked with the creation and elevation of a contemporary reading list of five books each year that will help shift public perception and understanding of mass incarceration through the power of storytelling. Selected books will bear witness to America's criminal justice system and what that means for all citizens.
Respected voices in the national conversation, the LFJ Committee will work alongside the Foundation to actively amplify the curated reading list and to encourage readers of all demographics to read these selected books. These books will also be highlighted in a national event series; with targeted public programs will take place in states with the highest rates of prison populations.
These five selected titles will be part of the larger, overarching narrative that will include 15 titles over three years, and will be digitally archived by the National Book Foundation. Join the National Book Foundation and the Los Angeles Public Library to celebrate the launch of the initiative on October 24th.
From the committee:
The Literature for Justice initiative of the National Book Foundation is pleased to select five books that shine a necessary light on the American criminal justice system and provide crucial perspectives that help further the nation's understanding of this massive apparatus that impacts the lives of citizens and non-citizens alike. In the inaugural year of this initiative, the selection committee chose a body of literature that critically and anecdotally explores our nation's prisons and the crisis of mass incarceration. The committee felt it essential to select readings that would illuminate myriad elements of this issue—why this country came to lock up more people than any other, how different groups in our society experience prison, and how this society can build new methods and systems to respond to the myriad social ills that land so many behind bars. Equally important to the committee was selecting readings from various genres, from historical nonfiction and memoir to fiction and poetry. Throughout the selection process the 2018 selectors were also deeply committed to foregrounding the work of formerly incarcerated authors.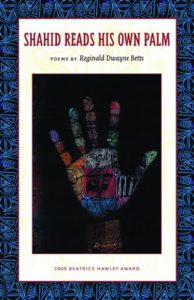 Reginald Dwayne Betts, Shahid Reads His Own Palm
(Alice James Books, June 2010)
For most Americans, mass incarceration is an abstraction sometimes quantified on the news and in documentaries with graphs and large figures. For others, it's an American crisis in need of committed reform efforts. For 2.2 million other Americans, mass incarceration is a catchall phrase inadequate in describing the albatross of their everyday life. As a Yale educated lawyer and criminal justice advocate, Reginald Dwayne Betts has evidenced himself as one who understands mass incarceration as a national crisis.
With his award-winning debut poetry collection Shahid Reads His Own Palm, Betts also reveals himself among the too-many millions who own intimate knowledge of living behind the walls. Betts recalls the world of count times and chow times and yard calls and shanks and kites. There are poems in which he reflects on the details of the carjacking that landed him as a teen behind the walls, a moving poem in which he imagines his mother receiving the call that he's been arrested. There's a poem in which he recounts a fellow inmate jumping to his death from a tier, a poem in which he reminisces on feeling bereft of a woman's touch, another where he recalls falling in love with a woman who's visited a fellow inmate. His poems are revelatory, wise, poignant and help to re-envision mass incarceration and the prison industrial complex as what they are at the elemental level: humans failing humans.
–Mitchell S. Jackson
Inside This Place, Not Of It: Narratives From Women's Prisons (Voice of Witness), ed. Ayelet Waldman and Robin Levi
(Verso Books, July 2017)
Inside this Place, Not of It: Narratives from Women's Prisons, a collection of oral histories by real people about the astonishing facts of their lives and experiences being incarcerated, is a remarkable work of art. It is insistently, urgently readable. Every story is so different. Those who speak in the book range in age, gender identity, sexual orientation, ethnicity, race, and cultural background. What they have in common is the crushing experience of prison, and also, the wisdom and insight that comes from that experience. They are all riveting storytellers: experts on their own lives, and on the cruelty of institutions. The editors, Robin Levi and Ayelet Waldman, both dedicated human rights lawyers, conducted all the interviews, and did all the editing, which is masterful. The speakers are all incredible raconteurs.
The honesty in this book, and the wide range of voices, make it an obvious choice for a reading list aiming to highlight awareness of the experiences of those sucked into the justice system. And the ethical project of Voice of Witness—the series in which Inside this Place was published, which aims to provide oral histories by those directly impacted by human rights violations—seemed exactly in tune with our project, and the books we wanted to highlight. Mostly, this is a book you really will stay up all night reading. And you will finish not only with a better sense of who the book's storytellers are, but with real admiration for them."
–Rachel Kushner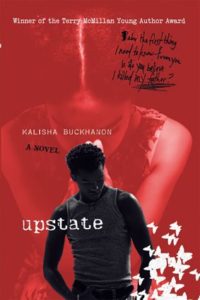 Kalisha Buckhanon, Upstate: A Novel
(St. Martin's Press, January 2006)
Upstate masterfully takes as its subject a lost world. It's a toxic world where incarceration is treated as a rite of passage, one created by all of us but too often ignored by artists. Kalisha Buckhanon captures it all perfectly. Antonio and Natasha are indelible and individuated but also tragically emblematic. And this is the novel's forceful achievement: that the dirty secrets of this country's mass incarceration program, the great civil rights malfunction of our time, can feel so lyric and personal.
The committee is pleased to draw more attention to this powerful work that highlights the role fiction can play in resisting social injustice. The book can only further our understanding of the devastating impact decades of illegitimate policing has had and should be required reading for anyone hoping to contribute to meaningful reform.
–Sergio de la Pava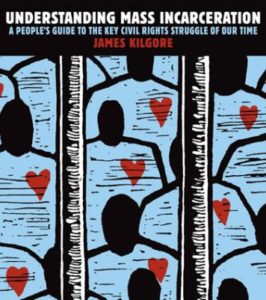 James Kilgore, Understanding Mass Incarceration: A People's Guide to the Key Civil Rights Struggle of Our Time
(The New Press, September 2015)
In the inaugural year of the Literature for Justice program, the committee felt it essential that readers were given an understanding of mass incarceration's origin story—how it is that the United States came to imprison more people than any other country in the world—as well as some thoughts on how we might imagine a more humane and equitable justice system in the future. In ways powerfully and accessibly James Kilgore's Understanding Mass Incarceration: A People's Guide to the Key Civil Rights Struggle of Our Time offers just this sort of historical background while also helping us all to appreciate the the vast reach and destructive impact of today's carceral apparatus and why we should indeed try to create a different justice future. Kilgore, a formerly incarcerated educator himself, narrows the lens on the complexities of mass incarceration, offering readers history, critique, and a blueprint for moving forward which makes this book an essential selection to include in the launch of this initiative.
–Dr. Heather Ann Thompson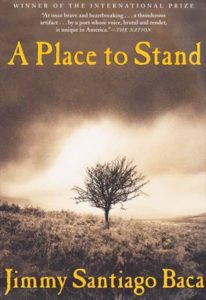 Jimmy Santiago Baca, A Place to Stand
(Grove Press, June 2002)
Poet Jimmy Santiago Baca's intimate and emotionally raw memoir A Place to Stand takes us from Baca's tumultuous childhood in Santa Fe, New Mexico, to his nearly seven-year incarceration, and beyond. Baca describes a childhood punctuated by alcoholism, abuse, and illiteracy, an early adulthood scarred by imprisonment and isolation, and an adulthood consumed by the challenges of re-entry and redemption. A Place to Stand also reminds us that while mass incarceration is often viewed as a black-white binary, the Latinx community makes up 20 percent of the U.S. incarcerated population. Baca's lyrical first-person account of life before, during, and after incarceration is both tender and gut-wrenching. It will leave readers asking what we can do to send fewer people to prison in the first place, and how we can help those who are incarcerated return to our communities successfully.
–James Forman Jr.
---