5 Great Debut Memoirs to Listen to While You're Traveling
James Tate Hill Recommends Lauren Hough, Gina Frangello, and More
A year has passed since a global pandemic moved all book launches online. While most bookstores have reopened, few if any have resumed in-store events. Quarantine has been especially tough on debut authors, who are trying to launch careers as well as books. With that in mind, this month I'm recommending five audiobooks of debut memoirs that deserve a large audience.
If you're among the many newly vaccinated readers taking your first trip in over a year, let the run times of these audiobooks determine how far you travel.
*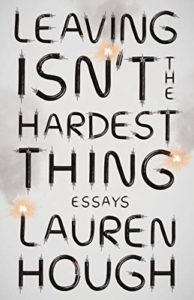 Leaving Isn't the Hardest Thing: Essays by Lauren Hough
Narrated by Lauren Hough and Cate Blanchett · Vintage/Random House Audio
9 hours and 10 minutes
"In the South, when someone wanted to know if I was gay," writes Lauren Hough in her brilliant, hilarious debut, "they'd ask if I was family. Entirely possible I'd have made more friends were it not for my visceral reaction to the word and the kneejerk denial. Though I hadn't chosen to join the cult, I had chosen to join the Air Force, and neither wanted me. I was fucking done joining."
Hough chronicles her brief time in the Air Force in the opening essay, "Solitaire," a stint most notable for a court martial in which she stands accused of vandalizing her own car with a homophobic slur. The seriousness of the situation—and a lonely, tumultuous life that began in a cult—doesn't stop Hough from cracking wise on every page. Her blend of humor with emotionally resonant insights is a unique achievement bordering on the miraculous.
Hough splits audiobook narration duties with Academy Award-winner Cate Blanchette, who is as excellent as one would expect Cate Blanchett to be. Not surprisingly, the actress makes for a livelier narrator than the author, but Hough delivers her lines with deadpan precision.
Hough's own narration also betrays an emotion and hard-earned wisdom of a life that has seen the inside of a jail cell and the residence of Dick Cheney. The latter she describes in "Cable Guy," an essay, like the book, that thoroughly entertains while it offers insights into gender, race, and class.
Blanchett and Hough complement each other wonderfully, revealing different facets of the author's story. For a collection that builds to a crescendo of self-acceptance, it feels important for the author to narrate parts of it in her own voice.
"Allowing myself to be exactly who I've always been, not feigning interest in video games or zombie shows," Hough writes, "means I end up with the sort of friends I once fantasized of having: people who read books, people who've been other places, people who tell the truth, people on the edges who've never fit in and were way ahead of me in accepting that, but I never noticed them because I was trying so desperately to be normal."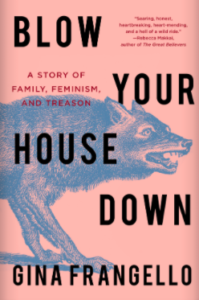 Blow Your House Down: A Story of Family, Feminism, and Treason by Gina Frangello
Narrated by Hillary Huber · Counterpoint/HighBridge
11 hours and 31 minutes
The author of four acclaimed books of fiction, Gina Frangello is hardly a debut author. Blow Your House Down is her first memoir, however, and it feels every bit as fresh and bold as a debut.
Frangello charts the downward spiral of her marriage after confessing to an affair with a writer who is also married. It's also much more than a story of divorce, illness, and reinvention. The book crackles with an exquisite energy of a woman wrestling with her decisions, as well as the world that has shaped those decisions.
"What happens," she asks, "if my affair has become inextricable from awakening to my own anger, a taboo force that scares me more than all the cumulative male rage I have seen and faced?"
Frangello's anger, heartbreak, and all points in between come through in the virtuosic work of audiobook narrator Hillary Huber. Navigating a tightrope of heightened emotion and lyrical introspection, Huber plays with the pacing of sentences to convey constantly shifting emotions. It's a remarkable performance, both intricate and subtle.
The affair begins in earnest when Frangello learns about the death of a close friend. Before this, she watches her father, who lives with her in a duplex, slip further into declining health. And what is left of her marriage to a man prone to furious outbursts?
"There is only one way to tell the truth, but there are myriad ways to live a lie," writes Frangello in a memoir filled with quotable lines. Blow Your House Down is the truth she finds after deciding she'd "Rather be a woman who regretted things I had done than things I hadn't."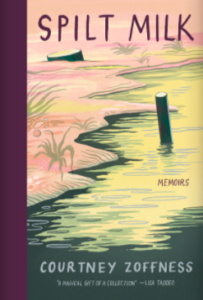 Spilt Milk by Courtney Zoffness
Narrated by Courtney Zoffness · McSweeney's/HighBridge
4 hours and 41 minutes
The constantly expanding essays in Courtney Zoffness's debut have as much to say about contemporary America as they do the author's life. Exploring personal and family history, Spilt Milk reveals the sometimes-invisible web connecting the past to our present.
Zoffness's mother's past includes a music career in the late '60s and early '70s that saw her open for The Doors. An inscribed photograph of Jimi Hendrix prompts a confession that Hendrix once proposed to her, but she'd been in love with her songwriting partner. In the days before the internet contained info about her mother's career, before Sony Japan rereleased her band's albums, Zoffness searched libraries for details. The search dovetails poignantly with her own development as a writer.
Zoffness has an appealing voice, in prose and in her narration of the audiobook. Few authors who narrate their own work can match the polish or emotive skill of a professional narrator, most of whom are trained actors, but with memoir, that's okay. There's another pleasure in the raw, unmediated reading of the material by the author who has lived it. Funny and vulnerable, Zoffness's narration also conveys the openness and curiosity of her essays.
In "The Boy in Blue," Zoffness pivots nimbly between the humor and gravity of her son's fixation on policemen. The family lives two doors down from the local precinct, and officers treat mother and son with kindness when they tour the station. But how to reconcile their kindness with current events? How to explain to her son what they are protesting after the death of George Floyd?
"Dramatic play, experts say, can help children sort out fantasy from reality, can help them learn about symbols. What, I'd like to know, does a lethal weapon symbolize?"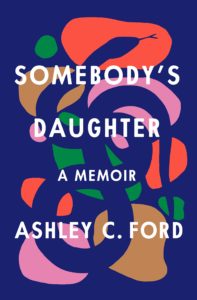 Somebody's Daughter: A Memoir by Ashley C. Ford
Narrated by Ashley C. Ford · Flatiron Books/Macmillan Audio
8 hours and 44 minutes
"When you write about you and me, just tell the truth," says the father of Ashley C. Ford the first time she visits him as an adult. "Your truth," he clarifies. "Don't worry about nobody's feelings, especially not mine. You got to be tough to tell your truth, but it's the only thing worth doing next to loving somebody."
Ford is visiting him in prison, where he's been as long as she can remember. Ford's memoir, Somebody's Daughter, begins with the news from her mother that he is about to be released. Ford's complicated reaction foreshadows a story more complex than this opening premise.
Ford rarely takes us down the path we expect, not revealing her father's crime until halfway into the book. Her father's guilt and the American justice system are not the memoir's focus. This isn't a story of crime and punishment, but of family and the ways it defines and doesn't define us.
More than her father, in fact, Ford's mother dominates much of the narrative. Their strained relationship will be familiar to many parents and children, but Ford's vivid storytelling allows us to understand both sides. "I wanted to be seen," Ford writes, "but I didn't want to be watched."
Narrating the audiobook herself, Ford is a natural. With her mellifluous voice, she could have pursued a career in broadcasting. Her light touch with conversational diction keeps dialogue engaging without undermining the book's seriousness.
The audiobook includes an hourlong conversation between Ford and Clint Smith, author of  How the Word is Passed: A Reckoning with the History of Slavery Across America. Spontaneous and far-reaching, their discussion makes a strong argument for including long-form interviews on more audiobooks. Comments from both authors on recording their own audiobooks offer a rare glimpse into a process still a mystery to most.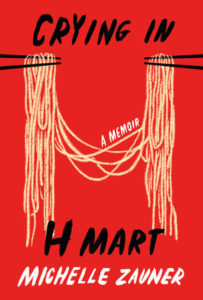 Crying in H Mart: A Memoir by Michelle Zauner
Narrated by Michelle Zauner · Knopf/Random House Audio
7 hours and 23 minutes
H Mart, for those who have never been to one, is a Korean-American supermarket chain that represents "freedom from the single-aisle ethnic section in regular grocery stores." After the loss of her mother, it's where Michelle Zauner finds herself "sobbing near the dry goods, asking myself, am I even Korean anymore if there's no one left to call and ask which brand of seaweed we used to buy?"
The only child of a Korean mother and a white American father, Zauner writes of a difficult relationship with both parents, especially in her teens. Her mother's tough love "was brutal, industrial-strength, a sinewy love that never gave way to an inch of weakness. It was a love that saw what was best for you ten steps ahead and didn't care if it hurt like hell in the meantime." In an argument that turns physical, Zauner's mother blames her for a pregnancy she terminated when Michelle was a child.
The two bond deeply over food, however, and Zauner's descriptions of the many dishes they ate and cooked together echo with wonder. Listen closely to her audiobook narration and you'll hear the joy whenever she recalls trying dishes for the first time.
Zauner possesses a rich, sonorous voice as clear as her prose. It's worth noting that she is also a musician who performs under the name Japanese Breakfast. This reader is so out of touch that he only discovers new bands when their singers write moving memoirs, but having now listened to Japanese Breakfast, I can confirm she is as gifted a singer as she is a writer and audiobook narrator.
Many books have been written about the loss of a loved one, but Crying in H Mart belongs among the best of them. More than loss, it's a memoir about holding on and making sense.
"I had thought fermentation was controlled death," writes  Zauner, revising her understanding of kimchi after her mother is gone. "Left alone, a head of cabbage molds, decomposes. It becomes rotten, inedible. But when brined and stored, the course of its decay is altered… its color and texture transmute… it enjoys a new life altogether."
---