July is National Culinary Arts Month. (It's also apparently National Hot Dog Month, National Horseradish Month, and National Lasagna Awareness Month. Hey, I don't make the rules. I just report them.) To observe National Culinary Arts Month, I recommend taking yourself to your favorite restaurant, sitting down with a large plate of whatever you love best, and perhaps bringing one of these food memoirs along as a dinner companion.
*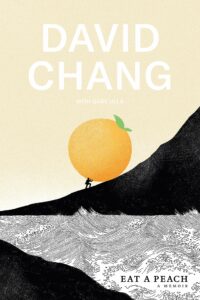 David Chang, Eat a Peach
(Clarkson Potter)
From the man that brought the world Momofuku comes a memoir about becoming a chef and the winding path of success. David Chang speaks frankly about his religious upbringing, his time spent teaching English in Japan, his struggles with mental health, and the revelations and perseverance that brought him where he is today. It's a raw telling of the good, the bad, and the ugly when it comes to opening a restaurant. There's a lot of food for thought to be found here!
Kwame Onwuachi, Notes from a Young Black Chef
(Vintage)
If you're a Top Chef fan, you might recognize Kwame Onwuachi from his stint in season 13. If you're a reader of restaurant reviews, you might recall his restaurant Kith/Kin receiving a few raves. Notes from a Young Black Chef gives us his honest (at times heartbreaking, at times inspiring) backstory: from living in Nigeria temporarily to the temptation of gangs he faced as a teenager to opening his own restaurant in his 20s. It's at once a celebration of the power of food and also a gutting recounting of racism in America, definitely something for us all to chew on.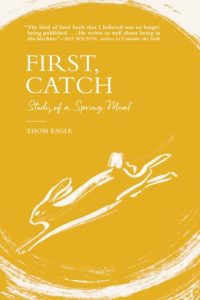 Thom Eagle, First, Catch
(Grove)
This gorgeous 200-page book is dedicated specifically to the making of one (1) spring meal. Described as a "cookbook without recipes," First, Catch masterfully plays with the camera lens. He makes you feel like your meal is an odyssey. One moment, Thom Eagle might ruminate on the life our food had before it arrived at our kitchen; the next moment, he'll be cooly walking you through vegetable dicing. Whatever he turns his attention to, his writing is sharp as a butcher's knife. (Speaking of which, there may or may not be a bit about eating rabbits that your resident vegetarian might want to skip over…)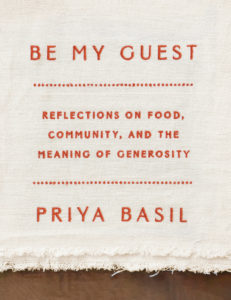 Priya Basil, Be My Guest
(Knopf)
There is no better person to break bread with than Priya Basil, whose book is an ode to, yes, food but also to the kinds of conversations that are possible around a dinner table. Be My Guest combines a generous dose of personal and family history with a few pinches of philosophy. It is a rich rumination on the meaning of hospitality, open-mindedness, and community. Pull up a chair!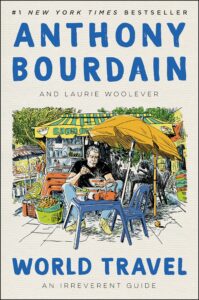 Anthony Bourdain and Laurie Woolever, World Travel
(Ecco)
What foodie list would be complete without a trip around the world's cuisines with the beloved Anthony Bourdain as your guide? World Travel will whisk (sorry) you away to New York, Buenos Aires, Shanghai, and so many places in between. It bubbles over with sage advice and love.