5 Books You May Have Missed This May
From Wandering Australians to Interspecies Intrigue
Readers (you're out there, aren't you?), I just returned from this year's Book Expo, where I was on a panel about "Finding Hidden Gems." I think what I contributed made sense, but I was too busy listening to my fellow panelists to be sure, and that's fine. My takeaway from the panel is that the phrase "hidden gems" means different things to different critics. One writer might be searching for a book on a certain subject, another for a book so unique no one has previously written about its subject. We might have different criteria for what constitutes a hidden gem; what we all agreed on is that books that are hidden gems make reviewing the more mundane titles worthwhile.
May's new titles included big big books, like a new Paula Hawkins, a new Dennis Lehane, and a new J. Courtney Sullivan, along with some terrific midlist entries like Susan Rieger's The Heirs, Richard Russo's story collection Trajectory, and Rich People Problems by Kevin Kwan. However, I was busy combing the stacks for the books that constitute hidden gems to me: Books that haven't found their way onto the Best of Summer lists, books by women and by people of color and by writers from other countries, books that I hope will surprise and delight you with their perspectives and literary worth.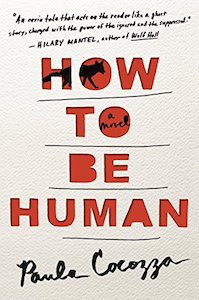 Paula Cocozza, How to Be Human
How to Be Human is Paula Cocozza's debut. A writer for The Guardian, Cocozza says in her bio that she has "a garden full of foxes," a cheeky nod to her novel's vulpine London, a city in which such gardens are common. Protagonist Mary has a fox in her own garden, a baby next door, and difficulty fixing her own identity in a world that doesn't need her skills or want her child-free status. She may be going mad, but soon Mary is transfixed by the fox, even in love with him—a downward spiral that has echoes of Pond by Claire Bennett in the narrator's self-absorbed world. "His rudeness riled her. . ." thinks Mary. "He was trespassing brazenly." But the fox and Mary both know that he isn't, know that humans and foxes are interdependent, even as the humans suspect the fox may have had something to do with the next-door baby being plopped onto Mary's back steps. A chilling story about what happens when our supposedly civilized world overlaps with that of supposed beasts.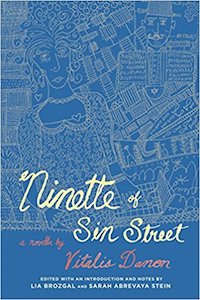 Vitalis Danon, Ninette of Sin Street (trans. Jane Kuntz)
Yes, Ninette of Sin Street by Vitalis Danon was first published in 1938—but you haven't read it yet, have you? Stanford University Press has re-issued this classic of Franco-Tunisian-Jewish literature with letters, notes, and an editors' introduction to introduce Danon's novel of colonial realism to a new millennium. The eponymous Ninette is a prostitute who wants her son to have all the education and chances she did not. As it opens, Ninette is speaking, in her trademark blunt style, to the director of the Jewish school she hopes will accept her son. "My son's name, you ask? I just said it, didn't I? Israel. Israel what? How am I supposed to know? You're cleverer than me: What do you call a kid who's missing a father?" Co-edited by UCLA professors Lia Brozgal and Sarah Abrevaya Stein, Danon's plainspoken, canny heroine comes to life not only as a classic example of rags-to-riches, but also as a universal example of colonial hardship.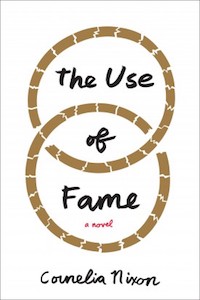 Cornelia Nixon, The Use of Fame
Cornelia Nixon's The Use of Fame was released by Counterpoint on May 1, and perhaps over the summer more readers—and reviewers—will find their way to this gorgeous examination of marriage and its discontents. Nixon, to my mind, deserves extra kudos for managing to make a marriage between two creatives (literature professor Abigail McCormick and poet Ray Stark) the stuff of imaginative, and not insufferable, fiction. Abby (60) and Ray (52) have been married for 25 years and currently live on opposite coasts—Ray is at Brown, Abby at Berkeley. There is financial and medical instability, sexual and emotional infidelity, and much more, showing that the terrain of commitment can be just as difficult to negotiate as any other. More important—what defines commitment? What defines long-lasting love? Ray and Abby don't have a traditional relationship, but they also don't want to give each other up or deny their history, and in this respect Nixon has written something if not precisely modern, at least refreshing in its honesty.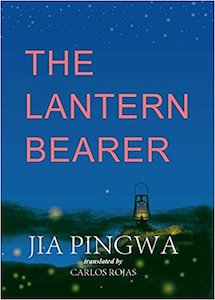 Jia Pingwa, The Lantern Bearer
Jia Pingwa is the winner of Mao Dun Literature Prize, Pu Songling Literature Short Story Prize, French Prix Femina ètranger and more than ten other prizes. Perhaps with The Lantern Bearer readers in the United States will be won over by this Chinese novelist whose previous books include Ruined City, Turbulence, and Happy Dreams. In a small community called Cherry Town deep in Shanxi's Qinling Mountains a young woman named Daideng is appointed the director of the office of social management. "Daideng" means "lantern bearer," connoting "firefly," and she lives up to her name as she attempts to illuminate her community's problems. Pingwa has set many of his stories in barren Shanxi, a region whose natural resources were plundered over centuries by various dynasties intent on the area's once-plentiful hardwoods and wildlife. The novelist understands that arid geography can still have the detailed mundanity of human existence that all great literature holds.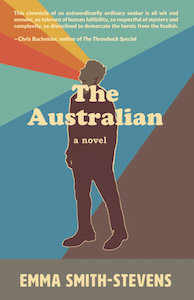 Emma Smith-Stevens, The Australian
The Australian by Emma Smith-Stevens proves that the picaresque will never die, not as long as there are characters like her titular, never-named fellow. It's a bit like reading a loose biography of Jemaine from Flight of the Conchords, if Jemaine were Australian instead of from New Zealand and an aimless git instead of a musician git, but the tone is the same: Droll, quick, and occasionally cruel. Some reviews have said the novel is as aimless as its protagonist, but those miss the true dilemma at the heart of being The Australian—never feeling completely at home, as traveling from one continent to another (and sometimes another, and another) seems to increase distance from home and self in equal proportion. When The Australian returns to visit his ill mother, he hopes to reach the peace that eludes him elsewhere. Will he, or won't he? Readers won't care, because Smith-Stevens keeps the irony coming even in the tenderest moments (after The Australian decides to become a devoted parent, for example, he witnesses a father pulling out a potty in the middle of a supermarket). We wouldn't want it any other way.
---