5 Books You May Have Missed in January
Bethanne Patrick Recommends Alina Bronsky, Mckenzie Cassidy, and More
Recently I spoke to a colleague about literature in translation and it reminded me of how undersung are the people who translate novels, poetry and more. This month only two of the books I've selected are works in translation, and that reminds me of how colonial a language English is. If you're not reading books from other nations, cultures, and languages, please consider doing so. Support literary translators, and support languages other than your own. You'll gain something for it.
*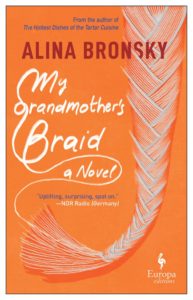 Alina Bronsky (trans. Tim Mohr), My Grandmother's Braid
(Europa Editions)
Bronsky had me on her first page, with the sentence, "I was nearly six, and I knew a thing or two about love." When Max, who lives with his grandparents in a German home for refugees, sees that his grandfather has fallen hopelessly in love with their neighbor Nina, he and the reader both know that chaos will ensue. Max's titular grandmother is unforgettable, and not because she's a sweet old lady. More like a nasty old lady, who hates Jews: "Not because of Jesus of anything. I have genuine, personal reasons." This, despite gaining refugee status by claiming to be Jewish.
Although My Grandmother's Braid starts out with the acerbic comedy of The Hottest Dishes of the Tartar Cuisine, Bronsky's bestselling debut, it morphs into something richer and sweeter. That doesn't mean happier, not with Bronsky, but in this book the theme of survival sends small shoots toward the future.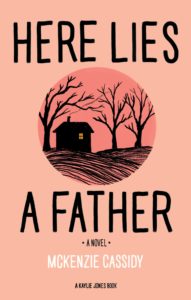 Mckenzie Cassidy, Here Lies a Father
(Kaylie Jones Books)
Here Lies a Father asks a big question: What do you do when everything you've been taught as right and good is upended by a parent's secret life? Fifteen-year-old Ian Daly heads to his father's funeral, driven by his older sister Catherine. While there, they learn that their father had abandoned two other families before starting theirs. Although Ian wants to contact those wives and children, Catherine and their mother would rather save face. Set against the bleak early-winter background of rural upstate New York, Cassidy's debut is affecting, told from the first-person perspective of an adult Ian who now understands the signs of hopelessness in both landscape and home life, as well as the ways to look for hope in his own emotional terrain. In other words, like the best coming-of-age novels, Here Lies a Father grounds its big concerns in the exquisite particulars of one person's life.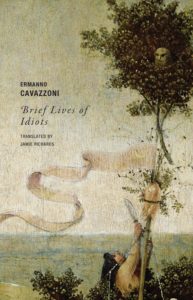 Ermanno Cavazzoni (trans. Jamie Richards), Brief Lives of Idiots
(Wakefield Press)
The absurdist Ermanno Cavazzoni belongs to OpLePo, an Italian spinoff of the OuLiPo (Workshop of Potential Literature). Fun fact: Ermanno Cavazzoni's first novel was made into Fellini's last film, The Voice of the Moon. In his new novel, Cavazzoni parodies those medieval "Lives of the Saints" compendia that offered the faithful a daily tale of holiness—but here, the days of the month, 31 in total, are devoted not to the sanctified, but to the stupid. "What follows is one calendar month. Each day holds the life of a kind of saint, who experiences agony and ecstasy the way traditional saints do. Then our month ends, because everything in this world must end, even our brief idiot lives." Each "week" of this calendarium ends with a list of suicides, evidently held as the most idiotic of all for giving up their chance at life. Because, ultimately, that's what Cavazzoni celebrates in his odd, funny, maybe even beautiful book that has to be read to be believed. Only, please don't believe any of it, lest you be cast among the idiots.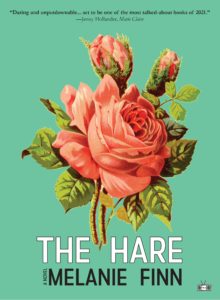 Melanie Finn, The Hare
(Two Dollar Radio)
Rosie Monroe, raised by a stern grandmother in a Massachusetts boarding house, gratefully starts art school in Manhattan in the 1980s. When she meets Bennett at a museum, she believes the dashing older man will teach her all she needs to know about life. But soon, she finds out that the Connecticut estate where they live and to which she brings home a baby named Miranda is just part of his life's scam. Finding herself dependent post-childbirth, Rosie winds up heading with Bennett to Vermont's Northeast Kingdom, where she learns to use a woodstove, snowshoe, forage, even trap game. Between Bennett's faux-WASP history and Rosie's determination to survive, The Hare has a lot, and maybe even enough, going on. But Finn chooses to place the second half of the book in Rosie's future, a 2019 where she is a 54-year-old bookkeeper, still living in the Vermont cabin—and trying to answer Miranda's questions about why their lives have taken this shape.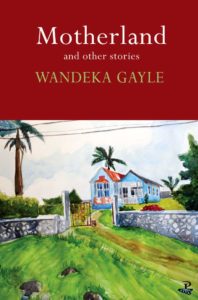 Wandeka Gayle, Motherland: And Other Stories
(Peepal Tree Press Ltd.)
Wandeka Gayle is an Assistant Professor of Creative Writing at Spelman College whose stories here center on mostly young, Black women from her home country of Jamaica, as they negotiate the world outside its borders. Roxanne, Ayo, Sophia, and others engage with the white world while knowing that the people they meet in it probably couldn't understand theirs, and mostly don't want or need to do so. The irony, of course, is that these protagonists are more honest about their own forms of racism, more willing to understand a different way of life, than those they encounter. With that in mind, one can read these stories as quests to define home, for the work any immigrant has to do in choosing how to live layered with the much more difficult work any Afro-Caribbean person has to do in choosing the people they can consider safe, restful, anchors in life's storms.
---