5 Books You May Have Missed in December
From Japanese Noir to Speculative Cli-Fi and More
This is not technically a column about literature in translation. I keep reminding myself of that. However, it does make me happy when I can feature books written in English from other countries (even if that means the author's country and/or education was affected by colonialism). I'm hopelessly devoted to global ideas, stories, and voices. This may also be the first time I've featured two books from the same publisher in one list; I'll try not to do that again, but the two are so different and so good I had to include them. Thanks for sticking around as I begin my eighth year writing this column.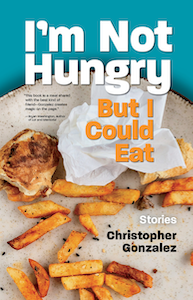 Christopher Gonzalez, I'm Not Hungry But I Could Eat
(Santa Fe Writers Project)
Co-fiction editor at Barrelhouse magazine, Christopher Gonzalez hits the book-publishing ground running with a story collection about gay and bisexual Puerto Rican men. In these tales, appetites for sex compete and intertwine with appetites for food. Shame about size and appearance, social class and finances, weigh these characters down literally and figuratively, especially because the people in their lives disapprove of their urges, too. One man's sister foists diet books his way while shaking her head at his sexual orientation. Another orders an overlarge dinner on a date and keeps eating despite his embarrassment because "he was raised to be a garbage disposal." Gonzalez clearly has great tenderness for these men, but his style is sharp and clean. "Tag-a-Long" details a number of bad encounters explicitly, without any kind of judgment, good or bad. Whether they've had more sex with men, no sex with men, or some sex with women, the people Gonzalez writes about hunger for connection more than they do another plate.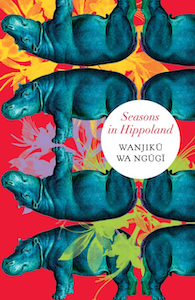 Wajinkū Wa Ngūgī, Seasons in Hippoland
(Seagull Books)
In Victoriana, the Emperor-for-Life is dying, but few pay any mind to that fact since his disease is not acknowledged and, anyway, the Emperor chooses what is fact and what is fiction. (Sound familiar? Fake news!) But when a girl named Mumbi learns from her Aunt Sara that there is a porcelain bowl that has healing powers, people in Westville want to believe. Author Wajinkū Wa Ngūgī comes from a literary family—her father is highly regarded Kenyan novelist Ngũgĩ wa Thiong'o, and her brother Mũkoma wa Ngũgĩ 's Unbury Our Dead with Song was released in 2020. Wajinkū Wa Ngūgī was most recently director of the Helsinki African Film Festival, and her knowledge of cinematography comes to the fore in her second novel (the first was The Fall of Saints) with its magical realism as Mumbi meets the Emperor, who demands that the produce the wondrous bowl. What the potentate fails to understand is that the bowl's powers may change more than just his own ability to see a different future for his country.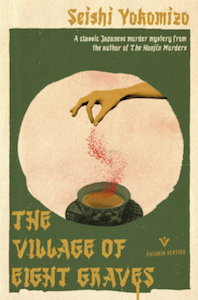 Seishi Yokomizo, The Village of Eight Graves
(Pushkin Vertigo, trans. Bryan Karetnyk)
Seishi Yokomizo's first mystery novel came out in 1946, but The Village of Eight Graves is only his third to be translated into English. Since he wrote 77 novels, if Pushkin Vertigo doesn't work fast (they've previously published The Inugami Curse and will soon release Gokumon Island), we could be well into a new millennium before anyone in this country reads even half of his work. What a shame that would be, because his protagonist Kosuki Kindaichi resembles, by all accounts, Peter Falk's shambling Columbo—at least in screen adaptations. Known as "the Japanese John Dickson Carr" after that creator of many a Golden Age mystery, Yokomizo is really Carr's polar opposite. Kindaichi is never elegantly clad or solving murders from behind a desk; he's out in the street, bodies piling up as he puzzles over a mountain of clues. That's right! Scandi-Noir actually began in mid-century Japan. . . While that might be up for debate, what remains clear is that Yokomizo never shied away from contemporary societal ills. For example, in House of Hanging, he tackles the trauma of World War II.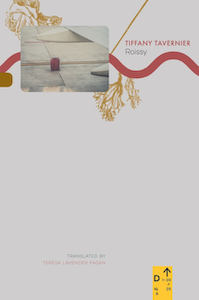 Tiffany Tavernier, Roissy
(Seagull Books, trans. Teresa Lavender Fagan)
Remember The Terminal, that Tom Hanks movie from 2004 in which he plays a man from Eastern Europe who can't leave JFK because there's been a coup in his native land? Steven Spielberg based the film on the real-life saga of Mehran Karimi Nasseri, who lived in Paris's Charles De Gaulle Terminal One for 18 years as a political exile. While Hanks's character was fictional and Nasseri's story was complicated, the airport-terminal resident in French novelist Tiffany Tavernier's Roissy is a homeless woman, unlikely to receive attention from anyone. Each day she walks purposefully from terminal to terminal, dragging a suitcase, engaging in conversation with various travelers, but never boarding a plane. She's a maestra at sharing just a little information and no more, but when she meets a man consumed by grief, she lets down her guard. As "Anne" (his name for her) truly engages with another person, she begins the process of reclaiming her own identity, and helping him move on to a new stage of his own.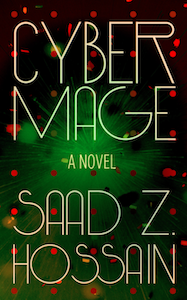 Saad Z. Hossain, Cyber Mage
(The Unnamed Press)
How do you solve global warming? Use human bodies! That's the conceit Saad Z. Hossain uses in his new novel Cyber Mage, where in 2089 Bangladesh the city of Dhaka runs on biological nanotech. Of course, for that to work, everyone has to stay put, and it's wouldn't be human to suppose that's eternally sustainable. Djibrel, a mercenary, carries a machete so that he can behead anyone who gets in his way—but he doesn't realize he's surveilled by the Cyber Mage, the teenaged Murzak, who hacks for a Russian crime syndicate. Murzak's dream is to attend high school in real life, but a new type of AI operating on the dark web means he and Djibrel will soon square off against each other. Look, sign me up for a sci-fi/fantasy mashup that features a character who longs to go to high school; it's like Freaks and Geeks, with djinns and golems, set in the East and put through a Ninja blender that makes laughing sounds. In other words, an absolute delight.
---