5 Books Making News This Week: the FBI, Friendship, and Father-Daughter Duos
Julie Buntin, David Grann, Hannah Tinti, and More
Valeria Luiselli, Viet Thanh Nguyen, Orhan Pamuk and Hanya Yanagihara make the Dublin Literary Award shortlist. Dani Shapiro's latest is a raw and emotional marriage memoir, Sarah Gerard's new essay collection is suffused with the atmosphere of Florida, New Yorker writer David Grann writes a true crime book about the serial murders of Osage Indians a century ago, Julie Buntin's first novel draws comparisons to Elena Ferrante and Zadie Smith. And more on Hannah Tinti's Twelve Lives of Samuel Hawley.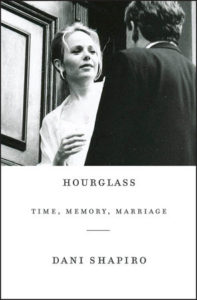 Dani Shapiro, Hourglass
In her fourth book of memoir, Shapiro searches through her 18-year marriage and finds wisdom.
Maria Popova (Brain Pickings) raves:
That delicate, ferocious act of unsweeping ourselves from the river of time and unplundering its instants is what Dani Shapiro explores with uncommon elegance in Hourglass—at once a memoir and a quiet manifesto for how, despite the cavalcade of losses and the exponential narrowing of possibility marking the passage of the years, it remains possible to have an expansive and creatively invigorating existence. In Shapiro's virtuosic hands, time compresses and expands—an accordion playing the sorrowful yet redemptive melody that is life.
Shapiro "has never written anything as raw, dark, or brave as Hourglass," writes Priscilla Gilman (Boston Globe).
Meredith Maran (Christian Science Monitor) concludes:
Reading Hourglass is like spying on the slow, intimate dance of two imperfect, well-intentioned humans, moving through their devotion and their doubts, riding the quotidian tides of passion and contentment and antipathy. They lose the beat for a moment, and we hold our breath, anxious for them to fall back into step. She looks over his shoulder, scanning the room, and we silently urge her to focus on this perfect moment, on her imperfect, chosen man.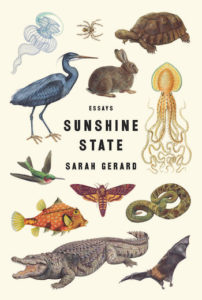 Sarah Gerard, Sunshine State
Gerard sets most of these essays in the Tampa-St. Petersburg area where she was raised; all are infused with a pervasive sense of Florida.   
"One of the themes of Sunshine State, Sarah Gerard's striking book of essays, is how Florida can unmoor you and make you reach for shoddy, off-the-shelf solutions to your psychic unease," notes Dwight Garner (New York Times).
Jason Heller (NPR) calls Sunshine State a "penetrating and deeply felt debut collection of essays."  He adds:
"Mother-Father God"—the piece in Sunshine State that comes closest to straightforward autobiography—uncannily evokes that time and place, right down to the Jimmy Buffett T-shirts, banks of palms and "lakes teeming with alligators." . . . Gerard strikes just the right balance between objective distance and glimpsed emotion. She also establishes the dynamic she uses to great effect throughout the book: unflinchingly candid memoir bolstered by thoughtfully researched history.
"It takes someone with orange juice in their veins and alligators in their heart to truly bring the lessons of a place as complex as Florida to bear," writes B. David Zarley (Paste). "To look past the banalities and old-hand shorthand which marks our discourse over the state—most of it joking—requires a native. Sarah Gerard, of Pinellas County, is just that person."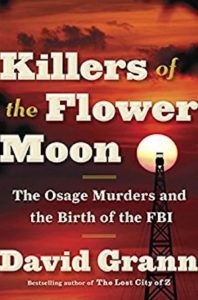 David Grann, Killers of the Flower Moon
The New Yorker staff writer and author of The Lost City of Z (the basis for the newly released film starring Brad Pitt) looks at the mostly unsolved serial murders of Osage Indians in Oklahoma a century ago. Grann spent a year filling out Freedom of Information Act requests for documents relating to the case, he told The Daily Beast's Lewis Beale. Then he returned to Oklahoma, where he found "that many Osage were very welcoming. So many of them have stories that have not been told, so many of them are chasing ghosts. Justice was never brought to their cases."
"Killers of the Flower Moon explores a dolorous period when the 'world's richest people per capita were becoming the world's most murdered,'" writes Michael Washburn (Boston Globe). "Between 1921 and 1926, at least two dozen Osage were slain. Some were shot, some poisoned. In one instance, a house was dynamited. People were thrown off trains. Witnesses were intimidated. At one point, Grann writes, 'All efforts to solve the mystery had faltered. Because of anonymous threats, the justice of the peace was forced to stop convening inquests into the latest murders.'"
Jordan Michael Smith (Columbia Journalism Review) notes, "But although death hovers over much of Killers of the Flower Moon—the blood cries out from the ground, as one character says—the gory details stay in the background. That is not to say the book is boring; on the contrary, it is deeply intriguing. But its narrative is so prominent that many readers might forget they are learning about a dark, forgotten chapter in American history".
Claire Howorth (Time) concludes, "Grann has an eye for cinematic tales and the film rights to Flower Moon have already sold for an astronomical $5 million. But the end of Flower Moon leaves the reader with a sense of injustice not truly avenged, and it's no fault of the author—it's American history."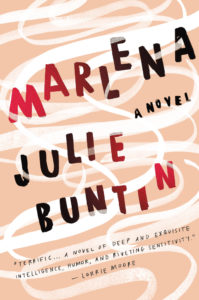 Julie Buntin, Marlena
Buntin grew up in Northern Michigan, the setting for Marlena, in which her narrator Cat, reflects upon her teenage best friend. Booklist calls this first novel "Ferrante-esque." Rolling Stone's Jason Diamond goes one further: "Maybe kinda like Robin Wasserman's Girls on Fire meets Ferrante?"
"Upon moving to a small town in Michigan, Cat, the 15-year-old narrator of Buntin's mesmerizing debut becomes quickly, inextricably entangled in the recklessly alluring world of her neighbor, a promiscuous and rule-breaking teenager a few years her senior," writes Lauren Christensen (Harper's Bazaar).
"If Marlena carries within it a more potent sense of regret, it's because it's inspired by a real friendship and a real loss," points out Sophie Gilbert (The Atlantic). "In 2014, Buntin published an essay in The Atlantic titled 'She's Still Dying on Facebook,' in which she remembered her teenage friend Lea, who died of liver failure at age 22 after lapsing into addiction, but whose presence still materializes on social media."
Like Ferrante's Lenù and the narrator of Zadie Smith's Swing Time, notes Megan O'Grady (Vogue) "Cat is a keen observer of all the markers of upward mobility: in this case, a New York life complete with a literary job and a kind, stable husband who makes dinner. The novel's most impressive passages concern the watermark that remains, visible in the light of too many after-work martinis, and in attempts at adult friendships."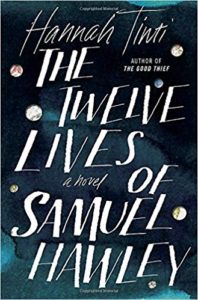 Hannah Tinti, The Twelve Lives of Samuel Hawley
Tinti's second novel (after The Good Thief) continues to seduce critics.
"For the first half of The Twelve Lives of Samuel Hawley—a sweeping, perspective-jumping novel from Hannah Tinti—I struggled to find a way to relate to the main characters, Hawley and Loo," writes Alli Hoff Kosik (The Rumpus). "Having grown up in a household without guns, it was difficult for me to find common ground with the violent, fast-living, secretive existence of this scrappy father-daughter duo. By the book's conclusion, however, I'd made the connection. Despite the fact that the world Tinti has created in Twelve Lives is vastly different than my own (and even, perhaps, any world in which I would choose to live), she has cleverly illustrated the tender relationship between a father and his little girl, the respect a daughter has for her dad, and the lengths that both of them will travel to protect one another."
Pete Hamill (New York Times Book Review) writes, "There are surprises . . . And diversions. And mysteries. There is an extended scene with Hawley's long absent father, who vanishes again when it ends: A vision? A delusion? We don't know, but we read on, carried by Tinti's seductive prose. She has a deep feeling for the passage of time and its effect on character. And when it's appropriate, she can use her vivid language to express the ripping depth of human pain."
Melissa H. Pierson (Barnes and Noble Review) concludes:
Reaching the end of a novel this meticulously constructed is like standing in the stairwell of a multistory building and looking down the vertiginous drop at the many geometric coils of the stair you climbed to get here. The years Tinti spent working on this novel are reflected in it in both good and bad ways, just as its characters are a seamless mix of morally questionable and hearteningly kind. Every writer is of course the god of her own work, rearranging the landscape of creation and animating all who wander in it. This one is very much like an invaluable pocket watch it describes, timepieces being one of almost too many musically repeated figures, whose worth is dependent on the number of "complications" it contains. (That's a term both technical and symbolic.) The Twelve Lives of Samuel Hawley displays such a high degree of polish any trace of the maker's hand is removed. Every sentence perfect, every circumstance layered with meaning, effect, intrigue, and forward motion. Can a writer be too good?
---
Listen: Dani Shapiro talks to Paul Holdengräber about the grueling nature of book tours, the difficult task of writing while reading, the "unthought known," and… marriage.
---