5 Books Making News This Week: Parents, Publishing, and Palestine
Richard Ford, Pamela Paul, Hala Alyan, and More
Colson Whitehead's The Underground Railroad, already a Pulitzer Prize and National Book Award winner, takes the Heartland Prize and makes the six-book shortlist for the Arthur C. Clarke award for best science fiction novel. The Rea Award for the Short Story goes to Jim Shepard. "In the course of visiting other centuries, a range of nations, and the homes of ordinary citizens, Jim Shepard has—in five stellar collections of stories and seven novels—proved himself an original, darkly funny, and deeply humane writer," note judges Deborah Eisenberg, Amy Hempel and Joy Williams, all former Rea winners. Idra Novey's Ways to Disappear wins the $100,000 Sami Rohr Prize for Jewish Literature, for "emerging writers who explore the Jewish experience."
The $18,000 Choice Award goes to Daniel Torday's The Last Flight of Poxl West: A Novel. Best Translated Book Awards go to Lúcio Cardoso's 1959 novel Chronicle of the Murdered House (translated by Margaret Jull Costa and Robin Patterson) and poet Alejandra Pizarnik's Extracting the Stone of Madness, translated by Yvette Siegert. The first-ever $50,000 Simpson Family Literary Prize for a mid-career writer goes to novelist T. Geronimo Johnson. "T. Geronimo Johnson is a brilliantly inventive, audacious, ever-surprising yet warmly sympathetic chronicler of our turbulent America of the early 21st century," notes judge Joyce Carol Oates.
Novelist Richard Ford pares down his prose for an intimate memoir, Halma Alyans' first novel explores the disruptions within a Palestinian family over several decades, Dennis Lehane's new thriller is his first from a female point of view, Pamela Paul shares her intimate life as a bibliophile, and Penelope Lively writes her first short story collection in decades.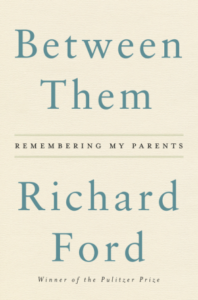 Richard Ford, Between Them
His father, his mother. Seeds for a lifetime of writing, now addressed in Pulitzer Prize winner Ford's side-by-side portrait of his parents.
Cheryl Strayed (New York Times Book Review) calls Between Us a "slim beauty of a memoir," and notes, "There's a vulnerability that I've not observed in Ford's work before, a tender surrender to the search. What makes this book so moving is, in part, Ford's glorious engagement with the unknowable that we, paradoxically, come to memoir for—it's only in fiction, after all, that a writer has the luxury of omniscience, of being the god of the who, how, when, where, what and why."
"At its strongest, with simply etched sentences and slow stabs of wisdom, this memoir conjures Rock Springs, Ford's faultless 1987 story collection," writes William Giraldi (Washington Post).
Dawn Raffel (San Francisco Chronicle) concludes:
Between Them is a powerful reckoning with the in-between: the chemistry between two people—man and woman, parent and child—the gap between what we wish we'd done and what we did, and the inexpressible feelings that reside in the space between words.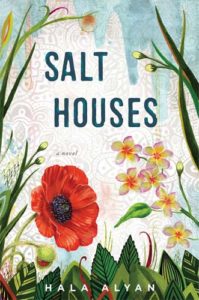 Hala Alyan, Salt Houses
Poet and clinical psychologist Alyan's first novel focuses on a Palestinian family disrupted by the conflict. "For a very long time I felt like I belonged nowhere," Alyan tells NPR's Steve Inskeep. "I've gotten a little bit less attached to the idea of a physical place needing to be big enough to hold me, and hold my culture, and hold everything that's important to me."
"The Yacoub family has a unique definition of home," writes Melissa Ragsdale (Bustle). "Readers follow the family over six generations, from 1963 to 2014, as violence drives them from Palestine and forces them to build (and rebuild) their lives in different parts of the world. Each chapter jumps forward in time and shifts point-of-view, and because of this unique structure, the book reads like a collection of short stories, each about a different member of the family."
Steve Donoghue (Open Letters Monthly) notes, "This is a heartfelt book but also an unobtrusively skillful one, making Salma's family, including, eventually, Alia's own husband and children, all the more moving by making them all flawed and relatable, concerned with the thousand little personal compromises exiles are forced to make."
"In many ways, then, this is a novel about privilege," writes Ilana Masad (Los Angeles Review of Books). "Alyan takes groups we often see as disadvantaged, demonstrates their advantages, but shows us that privilege is still relative, and that trauma can still be experienced within such constructs. This is also a book about mourning—for what is lost, for who is lost, and for where is lost. It examines a part of this conflict and these lives that is rarely discussed in Western fiction, while not discounting the way people's roots and their lack of a stable home can affect them. It allows for insight into nuanced generational and inherited trauma within the middle class. Alyan is doing important work through this novel, even without the discussion of these deeper meanings. Thus, Salt Houses can be read very simply as a family drama, proving Alyan's talent as a master of both the family drama genre as well as the depths and complexities of the Palestinian displacement.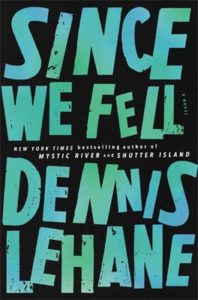 Dennis Lehane, Since We Fell
In his 14th book, Dorchester-born Lehane takes a woman's point of view for the first time, writing a thriller that is part domestic drama. "The novel sprang from a desire to 'do a Hitchcock'—to tell a story where the danger is related to the personality of the main character, a mystery in which the risk is psychological and physical," he tells New York's David L. Ulin.
Colette Bancroft (Tampa Bay Times) calls Lehane's opener "worthy of Raymond Chandler or James Cain," and continues, "the rest of this novel—a sleek thriller that, despite its turbocharged pace, explores the nature of love and evil—is just as gripping."
Since We Fell "is a pleasantly twisted character study and a love story told in no particular rush," writes Neely Tucker (Washington Post). "It turns, down to the very last page, on the captivating heart of a disgraced television journalist named Rachel Childs. It's about identity, too—how you picture yourself internally and how that contrasts with the outer personality you use to face rest of the world."
Sarah Weinman (Book of the Month) concludes:
Since We Fell is the embodiment of the "literary thriller." The plot twists as fast and as sharp as your favorite roller coaster, but not until we've gone far inside Rachel Childs's mind to fully know and care about her. Savor the book first, then be prepared to keep pace at the end.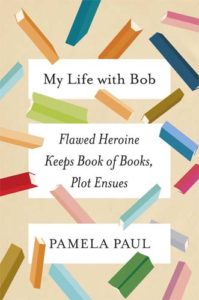 Pamela Paul, My Life with Bob
The editor overseeing the New York Times Book Review and the Times' book coverage pens an intimate bibliophile's memoir built around the Book of Books ("Bob") she started in 1988. "I thought of this as a book about books, and therefore not entirely about me, but of course I realized while writing that it was indeed a memoir," she tells Newsday's Wendy Smith.
Megan O'Grady (Vogue) writes, "Pamela Paul recalls the stories that have given shape to her own narrative in her appealingly roving memoir."
"As one of the most influential editors in the publishing industry, Paul is no ordinary bibliophile," notes Christina Ianzito (Washington Post). "And she acknowledges the oddity of her position, transformed from starry-eyed wallflower to belle of the literary ball. 'In this new, still surreal reading life,' as she puts it, she finds herself interacting with the heroes of her youth, the Judy Blumes and Salman Rushdies."
Meredith Maran (Christian Science Monitor) concludes, "My Life with Bob is a fun, accessible, well-written bookalogue; the kind of memoir Pamela Paul would have raved about in the venerable New York Times Book Review if she hadn't written it."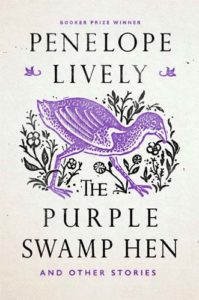 Penelope Lively, The Purple Swamp Hen and Other Stories
For her fifth collection, Lively turns to short stories after decades focused on novels, including Moon Tiger, which won the 1987 Man Booker prize. "They suddenly came back," she tells NPR's Scott Simon. "They're the most perverse things, short stories," she says, "but they're wonderfully different from writing a novel, which is hacking at the rock face. A short story, the idea comes and then you can get down to it."
In an admiring profile, Charles McGrath (New York Times Book Review) writes:
Lively's new book contains at least one story, "A Biography," that could easily have been a novel on its own. It compresses the entire life of a prominent academic into a series of interviews and recollections, and its real subject is unknowability, the impossibility of ever understanding someone completely—a theme that Lively says has more resonance with her as she gets older. There are also a couple of ghost stories (the past again, refusing to go away); one, the title piece, told from the point of view of a bird present at the destruction of Pompeii; and, in what may be a sly comment on Lively's own vocation, a story about an elderly woman, still sharper than people suspect, who used to be a spy.
Boris Kachka (New York) writes, "Despite the emergent theme, Lively's collection is a smorgasbord of styles and tones, surprising in its surrealistic turns and also in its switchbacks to more pedestrian situations."
---