5 Books Making News This Week: Memory, History, and Anxiety
Amy Tan, Richard Aldous, John Green, and More
Margaret Atwood, who turns 78 on November 18, gathers more honors—the German Booksellers' Peace Prize at the Frankfurt Book Fair, and in Prague, the Franz Kafka International Literary Prize. Tomorrow night she's being honored with the PEN Center USA Lifetime Achievement Award. George Saunders' first novel wins the Man Booker Award, Emily Fridlund's first story collection coincides with her being shortlisted for the Man Booker for her first novel, Amy Tan's memoir draws ringing praise, the publisher of Elena Ferrante "opens a new door on Southern Italy," and a new biography of Arthur Schesinger, Jr., the historian who shaped the JFK White House.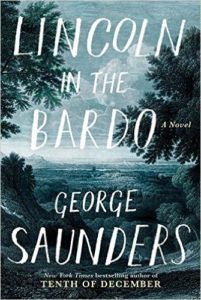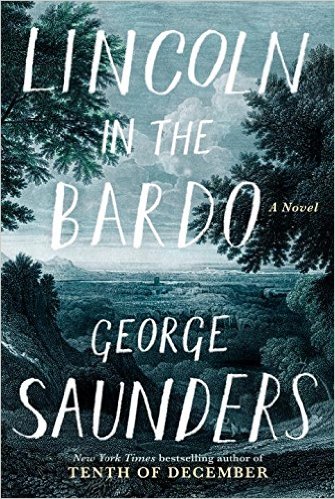 George Saunders, Lincoln in the Bardo
Saunders is the second American (after Paul Beatty in 2016) to win the Man Booker Prize. "The form and style of this utterly original novel, reveals a witty, intelligent, and deeply moving narrative," noted Baroness Lola Young, chair of the judges. " . . . Lincoln in the Bardo is both rooted in, and plays with history, and explores the meaning and experience of empathy."
Colson Whitehead's review in the February 9, 2017 New York Times Book Review begins:
It's a very pleasing thing to watch a writer you have enjoyed for years reach an even higher level of achievement. To observe him or her consolidate strengths, share with us new reserves of talent and provide the inspiration that can only come from a true artist charting hidden creative territory. George Saunders pulled that trick off with Tenth of December, his 2013 book of short stories. How gratifying and unexpected that he has repeated the feat with Lincoln in the Bardo, his first novel and a luminous feat of generosity and humanism.
"In a year in which writers and artists have wrestled with the question of how to tackle the increasing prominence of hate in the political sphere, the Man Booker judges seemed to respond to Saunders's humanizing portrait of a leader felled by grief," notes Sophie Gilbert (The Atlantic).
Devdan Chaudhuri (Wired) explains that "bardo is a word coined by a Buddhist, that has entered the world via Tibet," and suggests, "The prize to an experimental novel that taps into a 'foreign' cultural idea – of the bardo – opens up many new possibilities. Indian Anglophone authors might finally think of adapting ideas and concepts from the vast philosophical and spiritual traditions of the East, to frame their works in the future, and won't wait for the Western Anglophone authors to show the way."
Emily Fridlund, Catapult
Reason to pay attention to Catapult: Fridlund earned a spot on this year's Man Booker shortlist for her first novel, History of Wolves, and this, her first story collection, won the Mary McCarthy Prize in Short Fiction.
Neyat Yohannes is enthusiastic:
With each passing page, Fridlund conjures up the unsettling notion that we know nothing. She whisper-shouts intimations that suggest a reworking of the truisms we've come to live by—as her stories reveal, nothing about humanity is sacred. Truths become half truths, relationships sprouted from stillness are uprooted and suddenly frenetic. And relationships built from chaos must be reconciled as they inevitably grow stale. That said, there's a certain comfort in knowing that the present isn't—as Peggy Lee crooned in '69—all there is.
Catapult, writes Cole Meyer (Masters Review), "burrows under the skin to reveal what hurts the most. It shines a light on the ugly truths in relationships, discovers all the ways in which its characters aren't quite compatible with one another and forces them into (often quiet) confrontations. This collection is as intelligent as it is incisive. I was continually impressed by the depth of Fridlund's emotional well; it seemed as though every other sentence was another bit of wisdom, and the sentences in between only added further depth."
Noah Sanders (East Bay Review) concludes:
Even when Fridlund's stories overextend, her writing is always spot on. She describes a mosquito's face as, "like an important utensil"; an elderly dog is "only slightly more animated than an eroded boulder." Fridlund's writing—deft and observant, pockmarked with little bursts of joyful description—will pull you forward, even if the outcome isn't always as satisfying as it might be."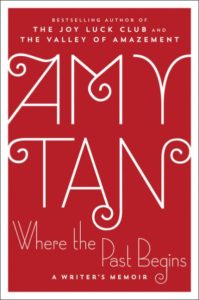 Amy Tan, Where the Past Begins
The author of novels The Joy Luck Club, The Valley of Amazement, and others, offers a finely turned memoir that explores elements of her life that led her to become a writer. "When you're a child dealing with uncertainty and the moods of a mother who might kill herself, you observe what's going on," she tells NPR's Lynn Neary. "So I don't know whether I would have been [as] observant of people's intentions, their emotions, pretenses, their secret desires. I certainly think that the bad experiences … in my life shaped me as a writer."
"In her ambushing and revealing memoir, beloved novelist Tan chronicles with striking candor, sharp wit, and storytelling magic stranger-than-fiction traumas," writes Donna Seaman in her starred Booklist review.
Tan's memoir, notes Nora Krug (Washington Post) "looks candidly at the experiences that have shaped her fiction: her difficult relationship with her mother, the deaths of her father and brother when Tan was a teen, the haunting tales of her grandmother, who died of an opium overdose—and more. There's enough here for another Amy Tan novel."
Moira Macdonald (Seattle Times) writes:
Reading Where the Past Begins feels like taking up temporary residence in Tan's swift mind, a place where metaphors bloom like flowers (my favorite: writing a novel's narrative is "a laborious and confounding experience tantamount to conducting an orchestra of ghosts") and where cinematic memories live.
Tan writes—not chronologically, more impressionistically—of her childhood in Oakland, California; of struggling to please her immigrant parents, who were more focused on the brilliance of her older brother. She puts us inside the family car during a harrowing experience after church one Sunday; something that she had never written about and which left her physically shaking, half a century later, from the effort of getting the words on a page.
The "the memoir's dark heart is in the many anguished stories about Tan's family," notes Emily Gray Tedrowe (USA Today). "When she was 15, both her father and her older brother died of brain tumors within a year, a devastating concurrence Tan suggests may have resulted from her father's work with transformers as an electrical engineer, which he often demonstrated for his family. The losses unhinged Tan's already emotionally unstable mother, leading to erratic decisions and violent scenes. As Tan works through her memories of the many times her mother, a Chinese immigrant who fled an earlier abusive husband, threatened suicide and harm, the book takes on a somber tone."
Gayle Brandeis (San Francisco Chronicle) notes, "Fans of Tan's fiction will love how she reveals some of the dramatic family stories behind The Joy Luck Club and Tan's other best-selling novels, but the biggest revelation here is what Tan calls her 'pinball mind' in all its quirks and reveries. 'I hit a pinball it goes off in angles, then I hit it again. It is endless,' she writes."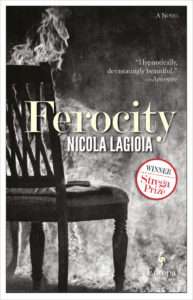 Nicola Lagioia, Ferocity
Ferocity, the first English translation by Lagioia, won Italy's 2015 Strega Prize for its depiction of familial and societal corruption.
"Nicola Lagioia's English-language debut comes from the publisher of Elena Ferrante and opens a new window on to southern Italy," writes Lettie Kennedy (The Guardian). "The downbeat towns of Lagioia's Puglia are dominated by towering industrial buildings, corrupt officials and local kingpins whose women are either stony-faced matriarchs or virgin-whores, while around the novel's human drama crowds a natural world red in tooth and claw. Ferocity is a portrait of a family tragedy, but also at its heart explores two competing visions of humanity: one ferocious and deterministic, the other transcendent and free-willed."
M.  Bartley Seigel (Words Without Borders) notes, "Thankfully, this book is not an amalgam of Flynn, Franzen, and Ferrante, alliteration aside, but is instead a deeply satisfying read all its own, unique in more ways than it is similar. A page-turner, sure, but smart, smart, smart."
Deborah E. Kennedy (Los Angeles Review of Books) concludes:
Ferocity is as much about the corrosive nature of power as it is about family, sex, and the scars etched on the earth by human hands. Corruption colors everyone and everything bruise-purple, and while Lagioia allows Vittorio to mellow somewhat over the course of the novel, . . . he makes it clear that his wealth and influence have come to him not through merit but through a systemic hypocrisy that favors the hollow and self-deluded: "If businessmen failed to keep their thresholds of awareness high, if they allowed thoughts to emerge that, once on the surface, would explode in all their total contradictory essence, then they'd never be able to rule the world as they do." It's impossible to resist the temptation to read some of these lines as an indictment of the Berlusconi administration, and now, with this English translation, a whole new set of readers can draw their own conclusions about ruthless real estate moguls freed from the burdens of conscience to bend both man and land to their will.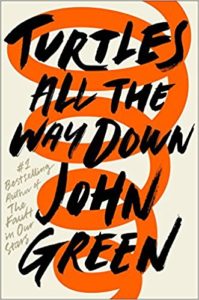 John Green, Turtles All the Way Down
The best-selling YA author takes on anxiety and obsessive-compulsive disorder to great effect in his new novel. Green took a social media break while writing the book, he tells Buzzfeed News AM to DM's Isaac Fitzgerald. ""I couldn't be alone enough while on Twitter all day."
"[Green's] novels, including his 2012 best-seller, The Fault of Our Stars, are deceptively light-handed, remarkably seamless blends of themes and tones that would ordinarily clash with each other," notes Laura Miller (Slate). "Turtles is a confectionary romantic comedy and a tear-jerker and a detective story and a high school friendship drama and a problem novel (the term used for young adult fiction illuminating a social issue like drug abuse or teen pregnancy). Its narrator may not actually be aware that she's the imaginary creation of a man named John Green, but she knows all too well how a story has the power to hijack your life."
Constance Grady (Vox) points out, "In his new book, . . . Green turns his single-minded intensity to the question of what it is like to be a teenager struggling with an anxiety disorder and obsessive-compulsive disorder. The result is deeply claustrophobic and resolutely unromanticized: Green's signature whimsy pops up from time to time in his characters' conversations, but his depiction of mental illness focuses on the sheer monotonous grind of it. It's less a sweet love ballad than it is a scream."
Jennifer Senior (New York Times) concludes:
I still wasn't prepared for the ending of this novel. It's so surprising and moving and true that I became completely unstrung, incapable of reading it to my husband without breaking down. One needn't be suffering like Aza to identify with it. One need only be human. Everyone, at some point, knows what it's like when the mind develops a mind of its own.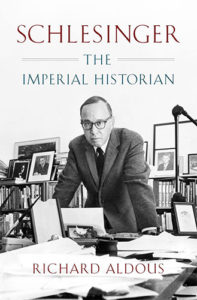 Richard Aldous, Schlesinger: The Imperial Historian
Bard professor Aldous writes the first biography of the historian and intellectual who shaped the Kennedy White House. PW's starred review calls it a "judicious, balanced account" written in "a lively, incisive style worthy of his subject."
Schlesinger is "compellingly narrated and well-researched," writes David Marcus (The Nation). Marcus continues, "Schlesinger always believed that his vital centrism was at the behest of a more egalitarian society—the welfare state in the United States and social democracy in Western Europe. But his instrumental view of politics was also always at risk of hardening into an ideology of its own. Like all forms of political and moral realism, the means could quickly become ends and power the sole prize."
Jeff Shesol (Washington Post) calls it "a convincing portrait, rendered with skill and sensitivity, sympathetic toward its subject while capturing the quirks that made him, in the words of one contemporary, 'so Arthurish.' "
"To read this account is to appreciate that Schlesinger's America, shaped by the Great Depression, World War II, and the Cold War, has also vanished," concludes Andrew J. Bacevich (Boston Review). "And with it so too has Schlesinger's brand of liberalism. In the era of Donald Trump a seemingly unbridgeable divide exists where the 'vital center' once stood. You don't have to be a liberal to mourn all that has been lost as a consequence."
---